Surefire A2L-HA LED Aviator
Reach For The Sky. A classic SureFire design, the dual-output Aviator flashlight features a primary white LED and secondary colored LED in one sealed head, both focused into a useful beam with ample reach and surround light by our proprietary Total Internal Reflection (TIR) lens. Pull and twist Aviator's self-locking selector ring to set it to white or colored light, no filter required; a system-disable setting prevents accidental activation. Show your discriminating attitude at any altitude.
Choose from four separate models:
Amber improves contrast and does not degrade scotopic or night adapted vision
Blue clearly defines shapes outdoors and helps identify blood and hydraulic fluid
Red improves contrast and aids in reading red-light-readable topographic maps
Yellow-Green is complementary to the color spectrum used in most aircraft cockpits.

A2L-Aviator® Dual Output/Spectrum LED
PN: A2L-HA-BL (Blue)
NSN: 6230-01-596-3178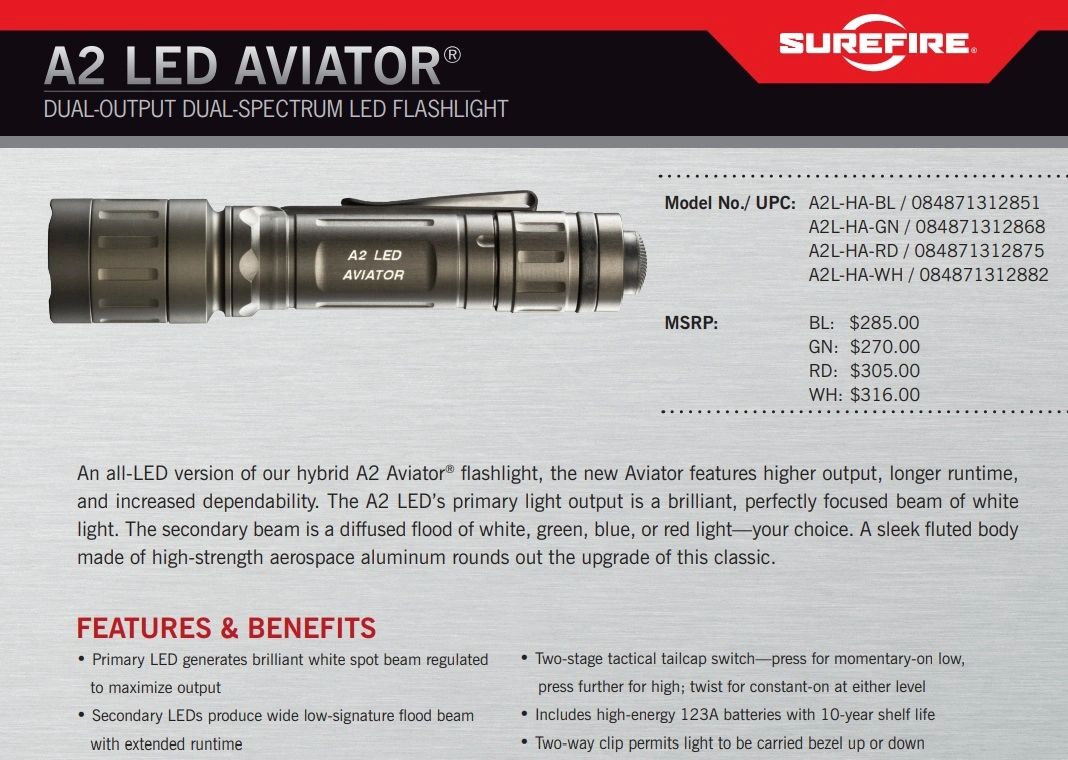 The A2 LED Aviator is a compact dual-output flashlight that provides two distinct beam types and optional output colors. It uses virtually indestructible power-regulated LED emitters and a precision micro-textured reflector to produce both spot and flood beams in your choice of white, red, green, or blue. The Aviator's tactically-correct two-stage pushbutton tailcap switch lets you instantly select an output level: press for a momentary-on 10-lumen long-runtime (color-option) flood beam for general night use, close work, or where you need to preserve your night vision; press further for a momentary-on 120-lumen white spot beam—six times the light of a big two-D-cell flashlight; twist for constant-on low beam, twist further for constant-on high beam.
Operator's Manual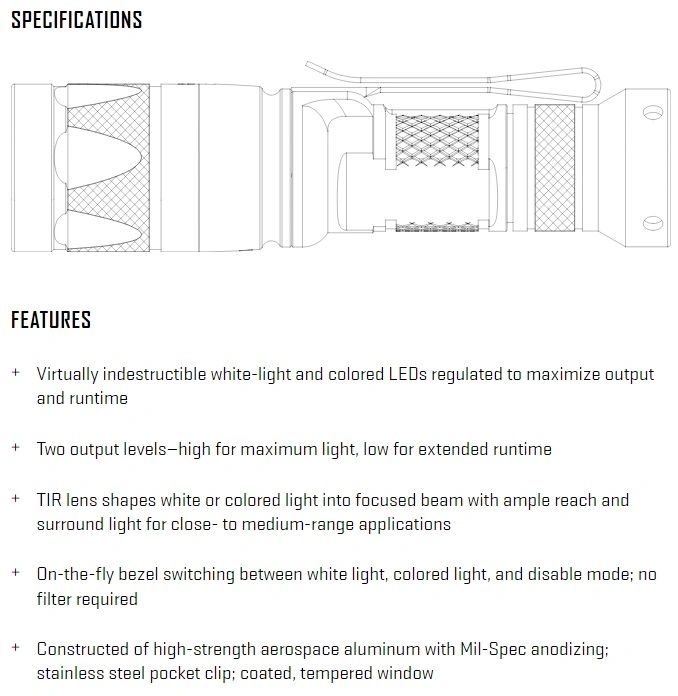 Specifications

Name:

 A2L Aviator®

Ordering Part Number:

 A2L-HA-RD

Max/High Output:

 120.0 Lumens

Tactical Runtime*:

 2.5 hours

Low Output/Runtime:
 10.0 lumens/17 hours
Output Type:

 Dual-Output LED

Length:

 5.4"

Bezel Diameter:

 1.13"

Weight w/Batteries:

 4.3 oz

Batteries:

 (2) 123A

Body Color:

 Black

LED Color(s):

 White/Blue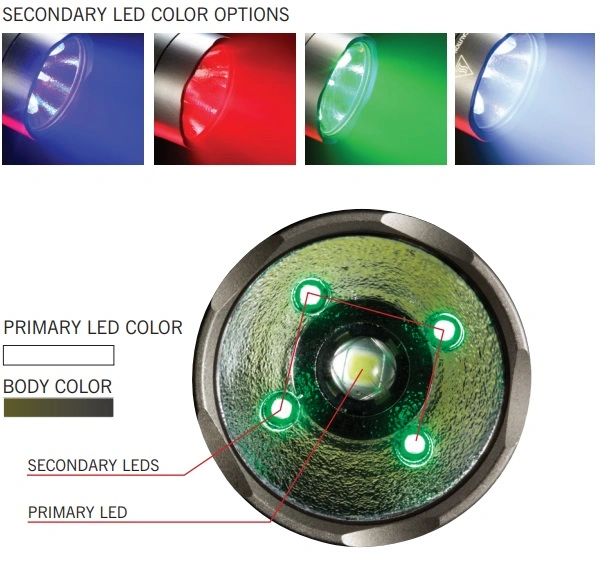 Features

    Primary LED generates a brilliant white spot beam,
    Secondary LED produces optional white or color flood beam
    Precision Micro-Textured reflector creates a smooth, optimized beam
    Coated tempered window resists impact, maximizes light
    High-strength aerospace aluminum body, Mil-Spec hard-anodized for extreme durability
    Two-stage tactical tailcap switch:
    —press for momentary-on low power output
    --press further for high power output
    --twist for constant-on at either output level   
    Steel clip provides multiple carry options
    Weatherproof O-ring and gasket sealing
    Includes high-energy 123A batteries with 10-year shelf life
SureFire illumination tools are recognized around the world for delivering maximum power in a minimal form-factor. Their flawless high-output beams, exceptional quality, and extreme durability qualify them as force-multipliers that could temporarily blind, unbalance, and disorient a threat.
Originally designed for the dual needs of professional pilots, SureFire's A2 LED Aviator flashlight delivers high performance on demand, or a lower level of illumination for discreet or subdued operations. The A2L is configured with a two-stage illumination option - the first level delivers a 120 lumen tactical-level white-light spot beam, while the second option offers a softer 10 lumen blue-light flood-beam.
The A2L is based on the time-tested success of the original A2, with a few upgrades - the A2L's illumination is 100% LED - this has significantly increased the light's output while extending its run-time considerably. Also, the A2L's housing features a more user-friendly and comfortable fluted styling.
White spot beam: 120 Lumens
Blue flood beam: 10 Lumens
Fluted hard anodized aluminum housing
Tailcap switch:
Press for momentary-on flood - press further for momentary-on spot
Twist for constant-on flood - twist further for constant-on spot
Precision-machined reflector creates smooth circle of illumination
Solid-state LED: virtually indestructible, no filament to burn out or break, lasts for thousands of hours
SureFire A2 Specs
Maximum Output
120/10 Lumens
Construction
Machined aluminum
Waterproofing
Weatherproof
Battery
2 CR123A batteries
Runtime
White: 2 hr
Blue: 15 hr
Dimensions
5.4" / 13.7 cm
Weight
0.25 lb / 116 g