ELCAN SpecterOS ATOS3.OA2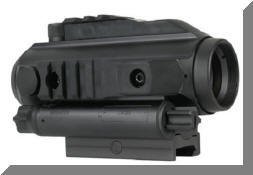 (1) ATOS3-OA2 Available
Free ScopeCoat w/purchase of this ELCAN
An affordable Weapon Sight designed specifically for Military, Homeland Security, Police and Security Professionals. Built to the same legendary rugged standards as other ELCAN® weapon sighting systems, the SpecterOS Combat Optical Sight is a shock and water-resistant sight that will withstand the forces generated by repeated recoil.
The SpecterOS3.0 family of 3X Optical Combat Rifle Sights is also marketed as ATOS3.0 in certain markets. Designed as a lighter and more compact replacement for the 3.4x series of rifle sights, the SpecterOS features internal zeroing adjustment (in the optical assembly, rather than in the mount assembly) and models are supplied with a Picatinny "Flat Top" Mount.
All ATOS3.0 sights feature rubber bumpers as well as the proprietary RAF
Rapid Aiming Feature
Ballistic Reticle that provides ideal accommodation for both long range and CQB applications. Reticles are illuminated with a battery-powered LED and may be user adjusted through a broad range of visible and Night Vision compatible settings.
     The 'B' series features 'Marksman' Elevation and Windage adjustments calibrated for popular NATO 5.56 military cartridges. Please be sure to ask for the optional Anti-Reflection Device (ARD) or Killflash.

The SpecterOS 3.0 is a lightweight and rugged 3x Optical Sight designed for modern military and security applications. Incorporating an illuminated reticle with a range finder, the SpecterOS 3.0 has the unique ability to offer rapid engagement in CQB applications while providing precise aiming at distant targets.
      A one-piece aluminum housing coupled with shock-absorbing rubber bumpers enable the sight to withstand the severe stresses of modern combat operations. Supplied with either a Ballistically Calibrated Reticle or External Elevation & Windage adjustments, and may be mounted directly to flat-top receivers.


Once sighted-in to a particular weapon, the sight may be interchanged with other ELCAN® optical and electro-optical sights zeroed for the same weapon in a matter of seconds and without noticeable change in point of impact.
System Technical Specifications

Optics

Eye Relief

●

  66mm

FOV

●

  6º

Exit Pupil
●
  8mm

Fixed Focus Range 

●
 20m to infinity (≈ 21 yards)

Adjustment Range 

●
 120 Minutes of Angle

Adj. Resolution 

●
 0.5 MOA (Minute of Angle)

Magnification

●
 3.1X Nominal

Reticle

 Weapon Types: 5.56

●
 M4, M16, MK46, M249

Ballistic Calibration

●
 200 to 600m for 5.56 NATO (in reticle)

Model A2 

●
 5.56 NATO (in Reticle)

Model B2 

●
 100m-600m external adjustment for 5.56 or 7.62

Reticle 

●
 Dual-Thickness crosshair w/RAF Rapid Aiming Feature

Illumination Source 

●
 Battery Powered LED

Illumination Settings 

●
 11 Visible, 3 Night Vision

Physical Characteristics

Weight

●
 lbs. (415g), oz.

Size in mm

●
 135mm x  65mm w/bumpers x 77mm w/bumpers

Size in inches

●
 L=5.3" x W=2.56" x H=3.03"

Internal Battery

●
 CR123, 3V Lithium

Base Requirement

●
 MIL-STD-1913 "Picatinny Rail" 

Attachment 

●
 Single wing nut w/return to zero repeatability 

Battery Life

●
 3.1 Years, typical

Exterior Finish 

●
 Black Anodized Aluminum

Operating Temp

●
 -50°F to +120°F

Waterproof 

●
 66' for 2 hours

Shockproof 

●
 450 g's

Options 

●
 Rubber Bumpers, MIL-STD-1913 Rails, Lens Covers, ARD
Eye relief (Cheekweld) and bore sighting remain constant

                  Large, low light exit pupil remains constant

                  High efficiency coatings for extended low light performance

                  Integrated lever-lock mount for optimum weight reduction

                  Rugged, Reliable Performance

                  Shock Protected Precision Optics

                  One Year Warranty