ELCAN ELCM145 3.4X
DISCONTINUED - Information Purposes Only
OUT of STOCK -Please Visit the New DFOV14, DFOV156 or DFOV139  for updated Products
     The M145C Optical Sight combines ELCAN's legendary robustness and optical brilliance with a Ballistically calibrated LED-illuminated ranging reticle. It is designed for application to Machine Guns, M4 Carbines, M16/AR15 and AR10 rifles and has been proven to withstand the rigors of modern combat.
The ELCAN M145C has proven its effectiveness on a variety of high-powered rifles and machine guns, permitting tracer rounds and fall of shot to be clearly seen at extended ranges.
Features

        Black Finish, Rubber Armored and Rugged

        MIL-SPEC Waterproof to 20 Meters (66 Feet) for 2 Hours

        Eye relief (Cheekweld) and bore sighting remain constant

        Large, low light exit pupil remains constant

        High efficiency coatings for extended low light performance

        Retains Zero Time-After-Time for Dependability with your Accuracy

        Rugged, Reliable Performance

        Shock Protected Precision Optics

        Torque Knob Mount (Included) fits any MIL-STD-1913 Picatinny Rail

        Military members may order optional LASER Filters

        LED Illuminated Reticle Center for M240/M249 Machine Guns

        One Year Warranty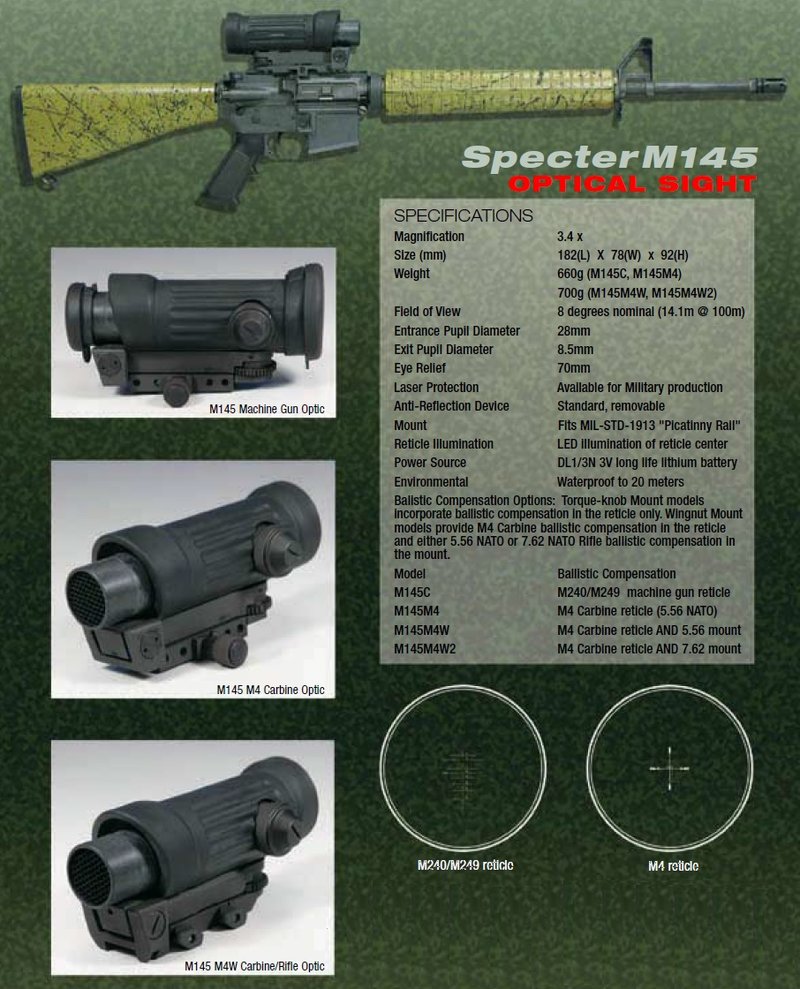 The ELCAN M145C 3.4x Combat Optical Sight, M240/M249 Reticle, Torque Knob Mount (ELCM145C) was developed specifically for the U.S. Army to be used as the main battle sight for their M240 and M249 machine guns.
     For Military applications the front objective can be fitted with a LASER Filter and Anti Reflection Device (ARD), also known as a "Killflash". The ARD and Lens covers are standard equipment that is included for all customers.
     The Rotary Knob on the side has 1 Off position and can be adjusted through (11) Brightness settings for the illuminated 10-1200m Ranging Reticle. Rear and front lens covers flip down for storage and transportation.
     The Torque Knob models incorporate ballistic compensation in the Reticle only. This sight can be mounted to any MIL-STD-1913 rail in seconds, and will retain zero when removed and re-attached to your weapon, time after time. This is the kind of dependability that you should come to expect from ELCAN.  

     The M145C is built to stringent specifications and is designed for extreme-duty applications where only the most rugged equipment will suffice.
ELCM145C Reticle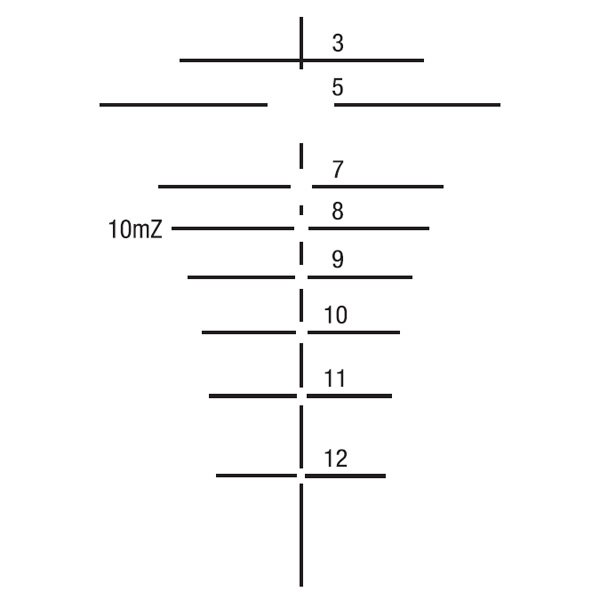 ELCM145M4 Reticle
ELCM145C System  Technical Specifications
Eye Relief:              

●
  70mm
Field of View (FOV):

●

  8º nominal 14.1m(146.3')@100yds
Apparent FOV:
●
  27.2º
●  3.4X 
LASER Protection:
●  Military Production Only
Anti-Reflection Device (ARD):

 ●
 Standard, Removable (Threaded)
Ballistic Compensation:
●  Blended 7.62/5.56 NATO
●  M240/M249 Machine Gun
Reticle:

● M240/M249 Machine Gun
● Calibrated Crosshair w/Range Estimation
● US Army Machine Gun Ranging Reticle, Center
● Illuminated Ballistic Calibration 300 - 1200 m
●  LED illumination of center reticle
● 11 Brightness Settings
●  MIL-STD-1913 Picatinny Rail Base Requirement
Attachment:
●  Torque Knob (ELCM145C & ELCM145M4)

●  Wingnut Mount (ELCM145M4W & ELCM145M4W2)
●  660g (23.3 oz) (ELCM145C & ELCM145M4)
●  700g (23.7 oz)
(ELCM145M4W & ELCM145M4W2)
Size in mm:
●  182(L) x 78(W) x 92(H) 
●  7.165(L) x 3.071(W) x 3.622(H)
Internal Battery
●  DL 1/3 N, 3V Lithium (Included)
●  28mm (1.102")
Exit Pupil Diameter: 

●  8.5mm (.3346")
●  Dry Nitrogen Purged
Fixed Focus Range 
●  20m (21.87 yards) to ∞ (infinity)
●  0.25 mil Detent zeroing adjustments
Line of Sight 
●  Identical to ELCAN Optical Sight ≈ M16/AR15 Iron Sight
●  175 hours typical
Exterior Finish 
●  Black Anodized w/Chemical Resistant Rubber Armor Casing
●  -50°F to +120°F (-45°C to + 49°C)
●  20 m (66') for 2 hours
●  Designed to survive standardized NATO drop test