ELCAN SFOV4
DISCONTINUED - Information Purposes Only
The SFOV4 SpecterOS4X is a revolutionary optical design that offers precision fire ranged combat features into a single, low profile Single Field-Of-View (SFOV) sight.
Combine any ELCAN SFOV4, DFOV14 or DFOV156 with a $399.00 XOPTEK Micro Reflex Sight and take $50.00 Off, PLUS we'll include the $81.00 Mount absolutely FREE.
Armament Technology is pleased to announce the arrival of the new Micro Reflex Sight XOPTEK™
Available in both 4 MOA and 6 MOA dot sizes, the optic includes everything you need to mount the product to your Specter scope. With a retail value of $399.00, for a limited time we are offering one at $50.00 Off with every purchase of a SpecterDR Product (excludes SpecterTR 1x/3x/9x). NOW: While supplies last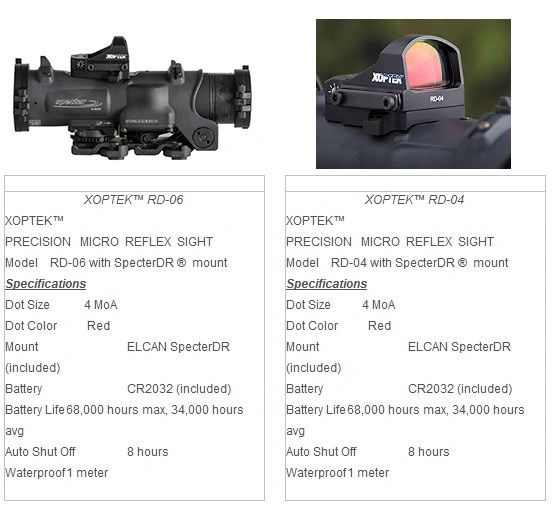 ELCAN SpecterOS 4x Optical Sights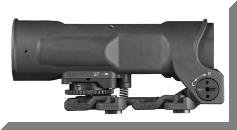 The ELCAN SpecterOS4x™ lightweight optical day sight provides the shooter with a fixed 4X magnified sight with a Field-Of-View of 6.5°. This bright, high resolution 4-power optic provides long-range target identification and precision marksmanship capability out to 800 meters.
Choose between two reticle options; The SFOV4-A1 model offers the Chevron reticle and the SFOV4-C1 model offers the crosshair reticle, both ballistically calibrated for the 5.56 round. 

The ELCAN SpecterOS4x™ is a rugged lightweight optical day sight (LDS) designed for 5.56 NATO Carbines and utilizes the superior optics and mechanics of the commercially available ELCAN SpecterDR™. The ELCAN SpecterOS4x™ is a fixed 4X magnification optical sight with a large exit pupil and long 70mm eye relief. Superior situational awareness is achieved due to the ultra wide viewing angle and unmatched viewing in low-light conditions. The sight is fitted with an illuminated reticle that attracts the eye to the aim point of the sight.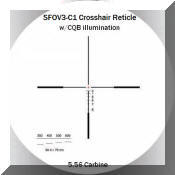 Depending upon the situation, the user may light the central part of the reticle with brilliant LED illumination for CQB applications, or select lower-level illumination of the entire reticle for low-light operations. Because the reticle is etched in glass, it is plainly visible even in the case of loss of electrical power due to battery failure or EMP (Electromagnetic Pulse). The SpecterOS4x is an extremely rugged tool designed to withstand the rigors of modern professional use.
The sight is covered with a one-year warranty against manufacturing defects. SpecterOS with its Single-Role capability, comes with an integrated LED that illuminates just the center and lets officers move safely through buildings or confined areas.  The reticle itself also has 5 Red LED illumination settings, 2 are NV compatible.
Attached onto a Mil-Std-1913 Picatinny base with A.R.M.S. throw lever mounts, zeroing is incorporated in the integral mount.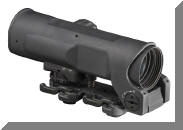 The SpecterOS sight has a Single Field-of-View which incorporates an LED illuminated reticle. This feature provides the shooter with a "both eyes open", extremely fast target acquisition, close combat sight that is necessary in modern urban warfare. The 4X Magnified sight provides long-range target identification and precision marksmanship capability out to 800 meters using a bullet drop compensation reticle.
DFOV14 SpecterDR System Technical Specifications

Eye Relief

●

 70mm (2.756")

FOV @ 1X

●

 Fixed 6.5º at 1X @ 100yds

Magnification

●
 4X

5.56

●
 M4, M16, MK46, M249

Ballistic Correction

●
 CX5755 Reticle: 100 to 800m for 5.56 NATO

Ballistic Correction

●
 CX5855 Reticle: 100 to 800m for 5.56 NATO

SFOV4-A1 Reticle 

●
 CX5755 Dual Illuminated Ballistic CQB Chevron

SFOV4-C1 Reticle 

●
 CX5855 Dual Illuminated Ballistic CQB Crosshair & VSOR Rangefinder

CQB illumination.

●
 5 Settings, PVS-24, PVS-27, PVS-14 Night Vision Compatible

Whole Reticle Adj.

●
 5 Settings, PVS-24, PVS-27, PVS-14 Night Vision Compatible

Attachment

●
 ARMS Throw Lever Mount

Weight

●
 1.135 lbs. (515g), 18.17 oz.

Size in mm

●
 153 x 67 x 65 

Size in inches

●
 6.024" x 2.638" x 2.559"

Internal Battery

●
 DL 1/3 N, 3V Lithium

Entrance Pupil Dia.

●
 32mm (1.26")

Exit Pupil Dia.  

●
 7.8mm (.3")

Fixed Focus Range 

●
 20m to infinity (65.6')

Adjustment Range 

●
 120 Minutes of Angle

Adj. Resolution 

●
 0.5 MOA (Minute of Angle)

Battery Life

●
 600 min. to 3000 hours typical

Exterior Finish 

●
 Anodized Aluminum, Dark Earth

Operating Temp

●
 -50°F to +120°F (-45°C to +48.9°C)

Waterproof 

●
 66' for 2 hours (20m)

Shockproof 

●
 450 g's
The sight is a fixed 4x magnification telescopic scope which provides the shooter with long-range target identification, surveillance and with a precision marksmanship capability out to and beyond 600 meters range.
ELCAN is proud of its reputation as a one-stop solution provider to defense and homeland security customers.  In addition to the Specter and Phantom products shown in this section, ELCAN is also able to design and manufacture custom rifle sights and "next-generation" fire control systems for their military and commercial customers.  Their experience in merging the best minds with the latest technologies makes ELCAN the best mission partner for developing advanced, cost-effective sighting systems
Combat Modes:
CQB - 1X with Red Dot, Both Eyes Open
Long Range - 4X with Ballistic Drop Reticle
Machine Gun - 4X with Red Dot and Ranging Mount
Iron Sight - Emergency Defense and Heavy Rain
 
    An affordable Weapon Sight designed specifically for Military, Homeland Security, Police and Security Professionals. The uses a bright Red Spot for fast Close-Quarters aiming, plus a ranged NSN Reticle for accurate engagement to 600 meters.
 
- Eye relief (cheek weld) and bore sighting remain constant

- Large, low light exit pupil remains constant

- High efficiency coatings for extended low light performance

- Integrated lever-lock mount for optimum weigh reduction

- Rugged, Reliable Performance

- Shock Protected Precision Optics
    Built to the same legendary rugged standards as other ELCAN® weapon sighting systems, the SFOV4 is shock and water-resistant and will withstand the forces generated by repeated recoil.
     Once sighted-in to a particular weapon, the sight may be interchanged with other ELCAN® optical and electro-optical sights zeroed for the same weapon in a matter of seconds and without noticeable change in point of impact.