Aurora Black C011600
(Call for Military, LE and First Responder Discounts)

Meet the ALL NEW stealthy and tactical, Aurora Black. Featuring an all-black design to conceal one's self within the dark from other inhabitants of the night. Experience digital color night vision under near moonless starlight. Weapons rated and designed for rugged conditions. Take back the night with Aurora Black.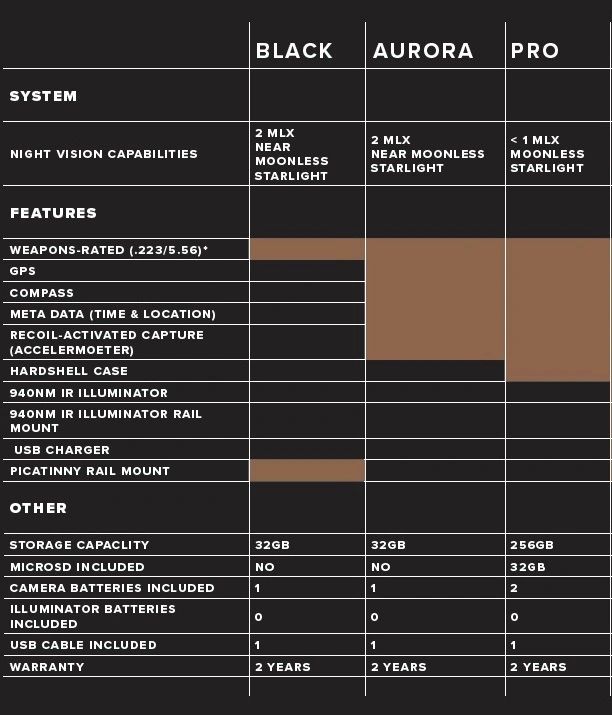 You can mount your SiOnyx with an existing optic setup. When pairing with an optic, you can either place the SiOnyx in front of the optic or behind, depending on your personal preference. The camera will sit at 1.5" off the rail with our Picatinny Rail Mount.

Many users prefer to pair the SiOnyx with a 1x or 3x scope, mounting the SiOnyx in front of the scope.




The SiOnyx Aurora Black is an affordable COLOR Digital Night Vision Camera. The Aurora Black was designed to be stealthy in the night and weapons rated for rifles. Add a new level of safety when navigating the woods or urban areas at night with our proprietary color night vision technology. Use the cameras internal wireless connection to stream night vision to your favorite Apple or Android Tablet (or phone) at your helm station. Whether you're heading out early in the morning to get first catch, or navigating back home late at night, add the Aurora Black and gain confidence when hunting in the dark.