Steiner 2033 MM830 8x30 Binoculars
Tactical Binoculars
Facing a determined, possibly deadly adversary; patrolling a long border, a dark street, a coastline or keeping a neighborhood safe; there are times and places where only the sharpest, toughest, most reliable optics will do. Because one blurry image, one costly mistake, could be a disaster – and one bright, clear view could give you a life-changing advantage. This elite mission worthy  Military/Marine Optic will give you that edge.
The civilian version of Steiner's proven military binoculars, adapted for rugged all-around use are as sharp, clear and battle-worthy as the warrior models they're based on.
Lightweight, with an ergonomic design that makes them easy to handle helps produce crisp, bright images.
A wide field of view keeps your intended target centered for steady viewing, even on the move.
Please note that due COVID delays and this recent nonsense of de-funding the police, inventory levels are hard to maintain and some products may not be available for weeks. Please call before you place your order if you are not willing to wait to make sure the item is available.
The traits that earn Steiner binoculars such respect in combat – incredible toughness, exceptional clarity and reliable optical performance – are found in the civilian STEINER Military-Marine® Series. And, they feature Steiner's Sports-Auto-Focus™ system for crisp, sharp images near and far without constant adjustment. Just set the focus to your eyes once, and you'll have a constant, clear view of objects from 20 yards to infinity.
Light and easy to handle, with for bright images and a wide field of view for steady viewing, even on the move.

Product Features: 
Floating Prism System
-
uses flexible silicone lens mount to absorb severe shock, impact and abuse without damage
Sports-Auto Focus™ System
-
lets you focus each eyepiece to your vision once, then keeps images razor sharp from 20 yards to infinity. No more chasing focus on moving objects.
Makrolon® Housing
-
is durable Polycarbonate with NBR Long Life rubber armoring, creating a lightweight, rugged chassis that withstands 11 Gs of impact.
Compact Design
-
is comfortable to carry, fits neatly in your pack, shifts balance into the palms for comfortable, long-time observation.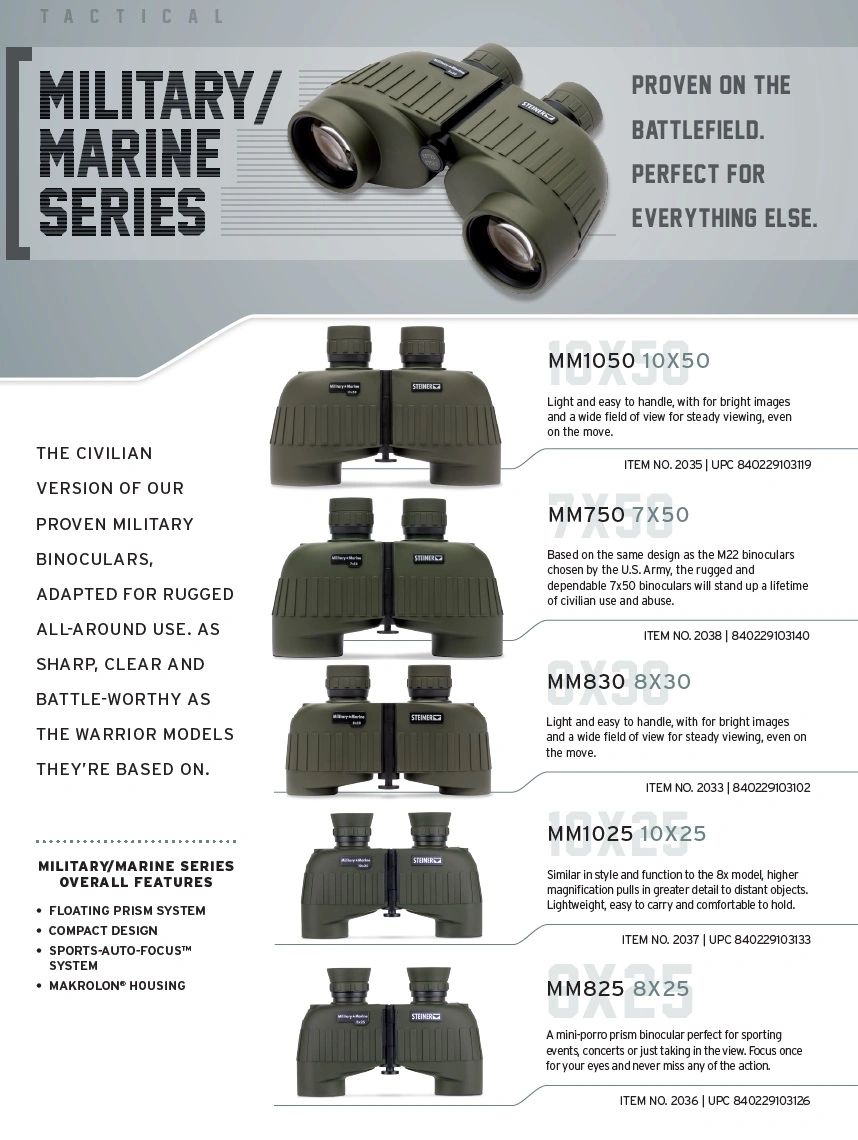 Optical Performance
2033 MM830 - 8x magnification enables observations of subjects without sacrificing exit pupil diameter

Field of View

Large 50mm objective lenses boost low-light performance

Traditional Porro prism optical path affords a more rich depth of field versus similar roof prisms

Fully multi-coated optics improve light transmission for bright high-contrast images with accurate color rendition

Floating prism mounting system helps to absorb impacts to avoid damage and maintain optical path alignment

2033 MM830 - 362-foot field of view at 1000 yards
Use and Handling
Sports-Auto Focusing System

Fold-down rubber eyecups for comfortable use with or without eyewear

15mm Eye Relief for the MM830 and 16mm Eye Relief for the MM750 & MM1050 makes long-duration observation sessions comfortable with reduced eye strain

2035 MM1050 - Large 5mm exit pupil will completely cover most pupils when they open and become dilated to keep views full and clear

2037 MM750 - Ultra-wide 7.1mm exit pupil will completely cover pupils when they open and become fully dilated in low light to keep views bright and clear
Sports-Auto Focusing System:
Individual eyepiece focusing

Requires only one initial individual focus adjustment per user

Eliminates the need for refocusing for targets at ranges from 22 yards (20m) to infinity

Enables the tracking of fast targets without the need to refocus

Construction Details
Lightweight and impact-resistant Makrolon Polycarbonate chassis remains a comfortable temperature regardless of air temperature, and resists expansion/contraction common in metal chassis that can cause the optics to move out of alignment over time

O-ring sealed to be waterproof for use in light rain or snow

Oil, petroleum, and chemical-resistant NBR synthetic rubber armor offers improved grip security, especially in cold and wet weather
Key Features:
Traditional Porro Prism Optical Path

Fully Multi-Coated Optics

Individual Sports-Auto Focusing System

Shock-Resistant Floating Prism System
Designed and built for low-light performance in most weather conditions, the…
Steiner Optics 8x30 Military/Marine Binocular
…combines multiple technologies and features to ensure clear and crisp views from first light through to twilight.
     Designed and constructed for fast-glassing on the move in most weather conditions, the Steiner MM830 8x30 Military/Marine Binocular combines the best features and technologies to provide clear and crisp views without weighing you down. The MM830 owes its performance to a traditional Porro Prism light path and fully multi-coated optics which work together to provide you with a color rich depth of view that is defined by bright and clear high-contrast views and accurate color rendition. To keep the optical components properly aligned, Steiner engineered a floating prism system which utilizes a flexible silicone mount - this absorbs shocks and impacts without damaging the optical system alignment and ensures crisp & sharp images for the life of the binocular.
     To complement the optical performance, attention to detail in the construction phase allows the binocular to withstand the rigors of the outdoors. These details begin with Steiner's proprietary Sports-Auto Focus System, which allows you to focus each eyepiece, just one time, and eliminates the need to refocus again regardless of how near or far the subject is — even if it is moving. The chassis is made of a lightweight and impact-resistant Makrolon Polycarbonate material that is wrapped in an oil, petroleum, and chemical-resistant synthetic NBR rubber armor that offers improved grip security, especially in cold and wet weather. Raised ridges on the housing also improve grip security, while the interior of the tubes is O-ring sealed to be waterproof against rain, snow, or spraying water.
     The Steiner Military/Marine MM830 binocular has been engineered to provide superior optical performance in challenging light and environmental conditions, while granting you freedom to move quickly & efficiently, whether in an Urban or Rural environment.