Steiner H4Xi (5251) 4-16x56 LRS Riflescopes
We've been informed that inventory for this product is no longer available. A new and improved scope is slated to be released next year so we hope you return to us at that time.



Hunting Scopes
Once you're after that trophy, nothing can hold you back. So in addition to providing the deadliest image you can get, Steiner optics survive the worst conditions you can face. Low light or heavy glare, high water to deep cold, rock slams and grit storms, no matter. The view is always crystal clear and dead certain. Even after countless monster-obsessed pursuits, Steiner optics are eager for more and ready to go. Not unlike yourself.
The H4Xi Riflescope is equipped with the Steiner Plex S1 reticle.
Ballistic lines help determine holdover for distance and help compensate for crosswinds. The two biggest challenges to shooting at long range are determining hold over for distance and hold off for wind drift. The Steiner Plex S1 reticle provides a simple, uncluttered and easy-to-use solution for both variables. To better determine holdover and compensate for bullet drop, the reticle incorporates hash marks on the lower vertical crosshair that are calibrated to provide dead-on aiming at 200, 300, 400, 500 and 600 yards for many of the most common hunting cartridges.
For calculating wind drift, the Plex S1 reticle has a series of small cascading dots, placed to the left and right of the reticle. These dots represent the effect of a 10 mph crosswind for most big game hunting cartridges. For a 5 mph cross-wind, simply hold into the wind half the distance to the dot. If the crosswind is 20 mph, simply hold into the wind twice the distance from the center post to the dot.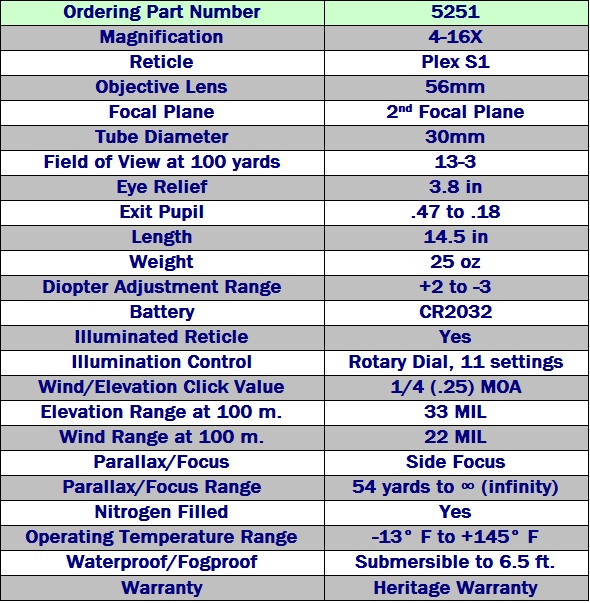 High-contrast optics delivers clarity at dusk and dawn with light transmission greater than 90%.
A powerful all- around Hunting Riflescope. Lightweight, with a large Field of View (FOV). High light transmission and precise illumination adjustments delivers perfect performance in any light.
Steiner's powerful all-around hunting scope. The 3-12x model fits the sweet spot for most hunting needs, with enough field-of-view and forgiving eye-box to make in close shots easy, but 12 times zoom for extreme precision at longer distances.

Made in Greeley Colorado, but implementing some of the better European-demanded features, like the huge 56mm objective end. It gathers immense light, making this scope crystal clear and bright even in very poor conditions.
High-contrast optics deliver clarity at dusk and dawn with light transmission greater than 90%.
Lightweight, with a large field of view. High light transmission and precise illumination adjustments delivers perfect performance in any light.
Uses the Plex S1 reticle. This is an illuminated scope with 11 brightness settings
Magnification 4x-16x
High Contrast Optics
Wider Field of View

Tube Diameter 30mm
Length 14.5"
Weight 25 oz
Item no. 5251 (Plex S1)
    Both H4Xi scope models are equipped with illuminated Plex S1 reticles with Stadia lines for holdover as well as 10 mile per hour windage dots. The reticle provides basic holdover and windage adjustments without being extremely cluttered. There's an illumination adjustment dial which is powered by a single 3 Volt CR2032 battery that can be replaced by simply unscrewing the cap. The H4Xi offers 11 illumination settings with an intermediate off position between each brightness level. This feature is great for hunters since you may be waiting to take a shot at an animal in low light and, while waiting for it to take a few more steps, you can turn off the illumination and rest your eyes. When the shot presents itself, simply turn the illumination knob to the next position and the reticle automatically turns red. The Steiner's illumination dial also doubles as a parallax adjustment knob on the 4-16x56 model.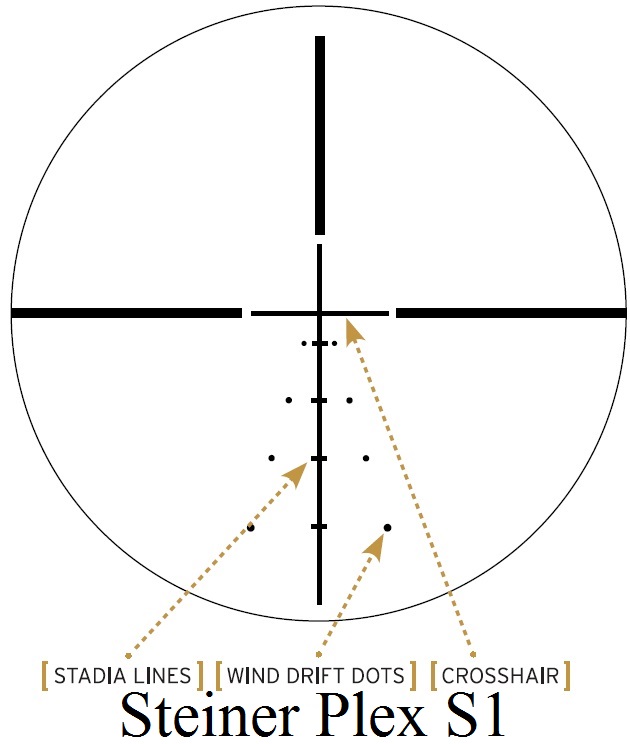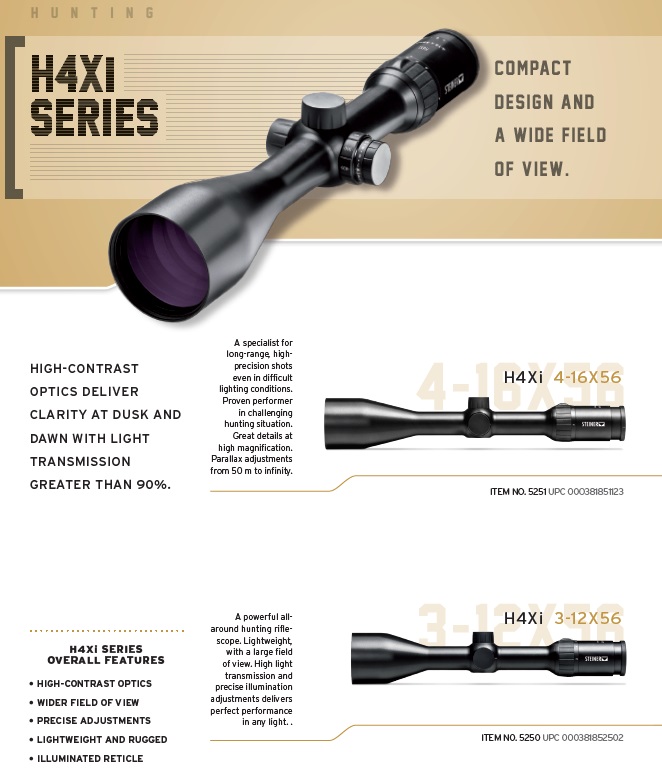 Technology might have changed the scope market, but there are some constants regarding optics. One of those is that you can't get a crisp, clear image without good lenses and premium coatings, and the H4Xi offers both of those. The lenses are made of precision-ground German glass and the lens coatings repel dirt, dust, moisture and debris so you'll be able to see clearly each time regardless of the weather or conditions. Steiner uses superb components that provide edge-to-edge clarity in the field.