SureFire 2211 Wristlight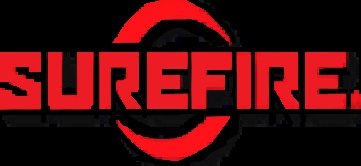 Surefire 2211-A-BK Rechargeable Variable-Output LED Wristlight
SureFire, 2211 Compact Wrist Light, White LED, 180/60/15 Lumen Multi-Stage Output, Rechargeable, UPC 84871320269

Surefire 2211 LED Wristlight
Developed with input from active-duty cops, the ambidextrous SureFire 2211 WristLight straps securely to your firearm support-hand wrist and utilizes a virtually indestructible high-performance LED and specially developed optic to unleash a wide, brilliant 180-lumen beam with a press of either of two ergonomic button-type switches. In close-quarter engagements this is more than enough light to overwhelm an aggressor's dark-adapted vision and properly identify and assess threats. Pressing either switch again within one second drops the output to 15 Lumens, perfect for closer work while minimizing degradation of the user's dark-adapted vision. Another press of either switch turns the light off.

Pressing both switches simultaneously gives 15 Lumens of output; continuing to hold both switches down cycles the output to 60 Lumens of powerful general-purpose illumination, then to 180 Lumens. There is a .7 second interval between output changes.

The 2211 is constructed of lightweight Hard-Anodized Aerospace Aluminum and features an adjustable nylon band that is durable and holds the light securely in place. It is powered by a rechargeable lithium-ion battery with a built-in LED fuel gauge that lets you know when it's time to recharge which is simply done by using the included USB cable. The 2211 was built for the streets but it's available to anyone who demands an innovative, hands-free tactical-level illumination tool that can also serve as a handgun light when used with a normal firing stance.
SureFire 2211-A Features
Virtually indestructible LED regulated to maximize output and runtime
Tactical-level output shaped by refractive optic creates diffused beam perfect for close-range applications
Ergonomic, ambidextrous pushbutton switching
Construction High-strength aerospace aluminum with Mil-Spec anodizing; adjustable nylon wristband with O-ring-type strap
Built-in LED fuel gauge lets you know when to recharge battery
Features and Specifications:
Output: High 180 Lumens, Medium 60 Lumens, Low 15 Lumens


Runtime: Tactical/High* 4 hrs

Weight (w/batteries): 5 oz

USB Charging Port

Virtually indestructible LED emitter regulated to maximize output and runtime

High-strength aerospace aluminum body, Mil-Spec hard-anodized for extreme durability

Coated, tempered window resists impact and thermal shock, maximizes light transmission

Fuel gauge indicates battery charge level

Weatherproof O-ring and gasket sealed
Manufacturer's Part Number: 2211-A-BK
A great hands-free flashlight that will suit all of your tactical needs, the
SureFire 2211® WristLight Rechargeable Wristlight, 300L
straps directly to your wrist for instant access to a high quality lighting tool. With a
MaxVision faceted reflector
that shapes the light into a 180 Lumen wall of intense light, these wrist mounted Flashlights from the illumination professionals at SureFire have a broad beam that automatically aligns downrange to provide tactical illumination that will overwhelm a target's night-adapted vision. Powered by a
rechargeable lithium-ion battery
with
internal fuel gauge
, the SureFire 2211® WristLight Rechargeable Wristlight can easily be charged using the included micro-USB cable. For an amazing way to make sure you have the ideal hands-fee illumination tool, choose the
SureFire 2211® WristLight Rechargeable Wrist Flashlight
.