SureFire M620V-A-TN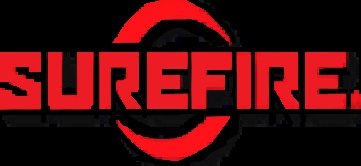 Surefire M620V-A-TN LED Weaponlight, Tan

SureFire Weaponlight, LED SCOUT Light, VAMPIRE, 150 Lumens White/120mW IR LED's, Swing Lever M93 Mount, Includes: UE07 7" Tape Switch & Z68 Click ON/OFF Tailcap, TAN UPC 084871321174

Surefire M620V-A-TN
The M620V ScoutLight WeaponLight from SureFire is a dual-spectrum LED weapon light built for tactical professionals. With a twist of the self-locking selector ring at the base of the lamp assembly, the operator can switch between the illuminator's white and infrared light sources. What differs this M620V Weaponlight from the M600V Weaponlight is the M93 Swing-Lever mount, which securely clamps to a Picatinny rail using a throw-lever, making attachment to an AR forend both quick and easy. The digitally regulated LED light sources are designed to maximize battery life and provide a constant brightness level.
White Light Output: 120 Lumens


White Light Runtime: Tactical/High: 1.8 Hours

Infrared Output: 120mW

Infrared Runtime: 8 Hours
This configuration of the Scout Light can be activated using either the pushbutton tailcap switch or included tape switch that enables fingertip activation while in the firing position. The remote activation tape switch has a self-sticking hook-and-loop backing for convenient placement in the operator's desired location. Both lights are focusable using the Total Internal Reflection (TIR) lens, which allows the operator to collimate the light for increased range of illumination or defocus for broader peripheral illumination. The Scout Light's aerospace aluminum housing is anodized for corrosion-resistance and gasket sealed for waterproof performance, making this tactical accessory ready for almost any battlefield condition.
The M620V attaches solidly to your Picatinny rail via our Swing-Lever™ clamp, which self-adjusts to out-of-spec rails and features a lever lock to prevent loosening from recoil or impact. Built to withstand the rigors of combat, the M620V is constructed of high-strength aerospace aluminum with Mil-Spec hard anodizing for superior toughness and corrosion resistance and optically coated tempered glass for durability and maximum light transmission. It's also O-ring and gasket sealed to keep out dust, dirt, and moisture.

SureFire M620V Features
Virtually indestructible LED regulated to maximize output and runtime
Tactical-level output shaped by refractive optic creates diffused beam perfect for close-range applications
Construction High-strength aerospace aluminum with Mil-Spec anodizing; adjustable nylon wristband with O-ring-type strap
M93 Throw-Lever Mount Installed
Weight (w/batteries): 5.5 oz


Coated, tempered window resists impact and thermal shock, maximizes light transmission

Includes high-energy 123A batteries with 10-year shelf life

Weatherproof O-ring and gasket sealed
Manufacturer's Part Number: M620V-A-TN
Solid-state, recoil-proof LED generates 150 Lumens with a runtime of 1.3 hours
Self-Locking output selector ring
Total Internal Reflection (TIR) lens creates versatile beam with enough reach for medium-range applications and sufficient surround light for peripheral vision
Ergonomic tactical switching: click-on/off tailcap and pressure-activated tape switch (both included)
Length: 5.4" (137mm)
Bezel diameter: 1.125" (28.6mm)