Steiner (5126) T5Xi 5-25x56
If an item is out of stock and you want to put one on order, please give us a call at (702) 324-6463.
DO NOT select any of these freebies at checkout unless you want to pay for spares.
Once your order is placed, we will contact you for your T-Shirt Size and Hat Color Preference.
Compare our prices against the so called "Big Boys" and see for yourself that we are much lower, plus we offer Free S&H and other Goodies. Our customer service is second to none. Ask ANYONE who has ever bought from us. We answer our phones and email to answer your questions and we provide you with 100% satisfaction, before, during, and after the sale.
German-engineered So Nothing Escapes
When You Pull The Trigger
Steiner Riflescopes utilize the latest German optics technology to deliver the finest lines of gun-mounted optics in the world for global law enforcement and military personnel.
Tactical Scopes: T5Xi 5-25x56
     The ability to see what others don't. That's what Steiner brings to your side: razor-edge image clarity, optimum depth And color, superior ability to probe, plan and engage with force-multiplying stealth, surprise and impact. After 67 years of deployment and constant improvement, no optic serves your mission and your troops better.
Included Accessories: Battery, Lens Cloth, Lens Cover, Sunshade, Allen Wrench, Throw Lever

P/N: 5122 (SCR Reticle)
5-25x56mm Tactical RifleScope, UPC: 000381851222

P/N: 5126 (SCR-MOA Reticle)
5-25x56mm Tactical RifleScope, UPC: 000381851260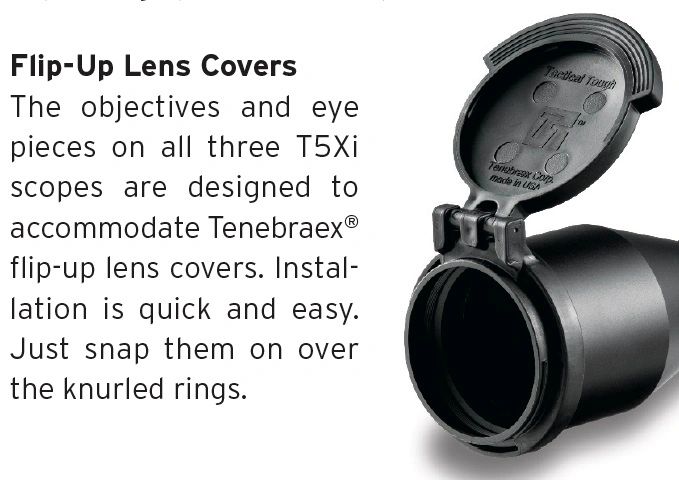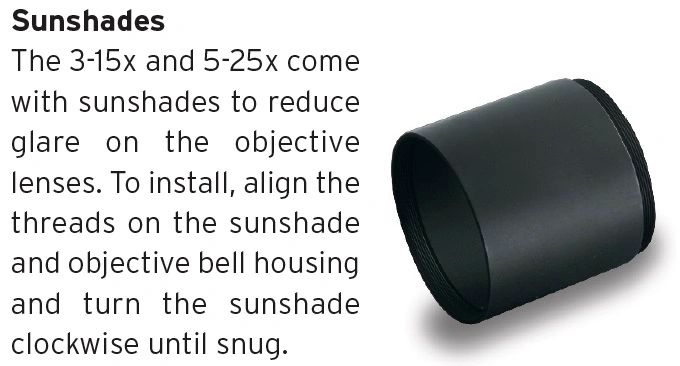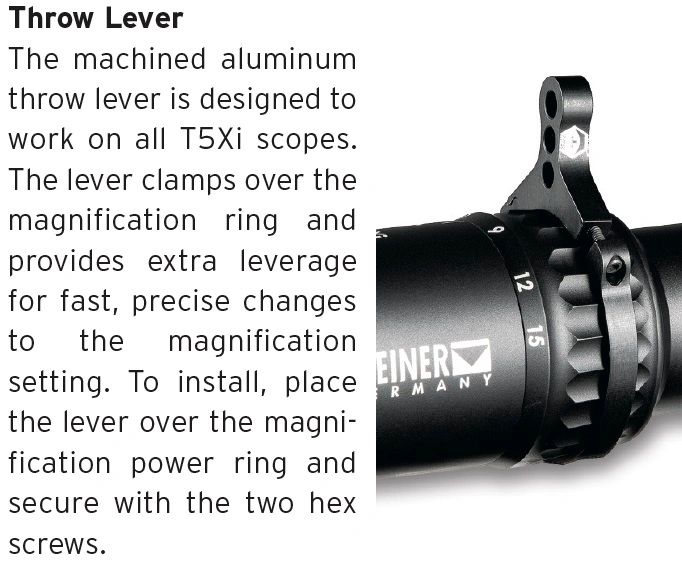 ---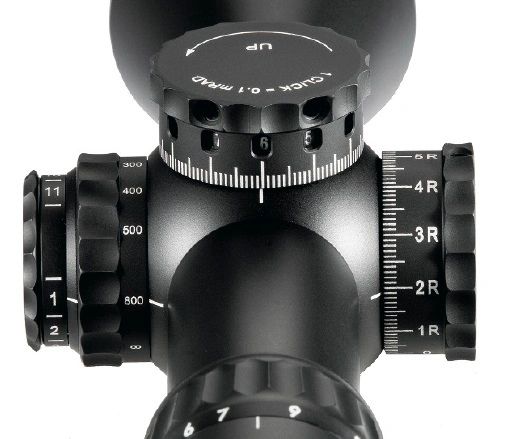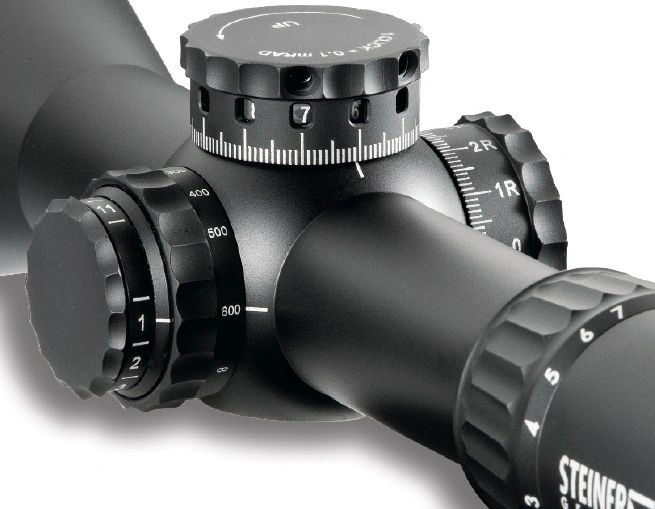 Never Lost™ Turrets - Second Rotation Indicator...a Steiner exclusive, that shows each Mil of elevation trough the indication window on the elevation turret. After the first revolution of 120 clicks, the mil numbers scale change automatically preventing the shooter from getting lost on the dial.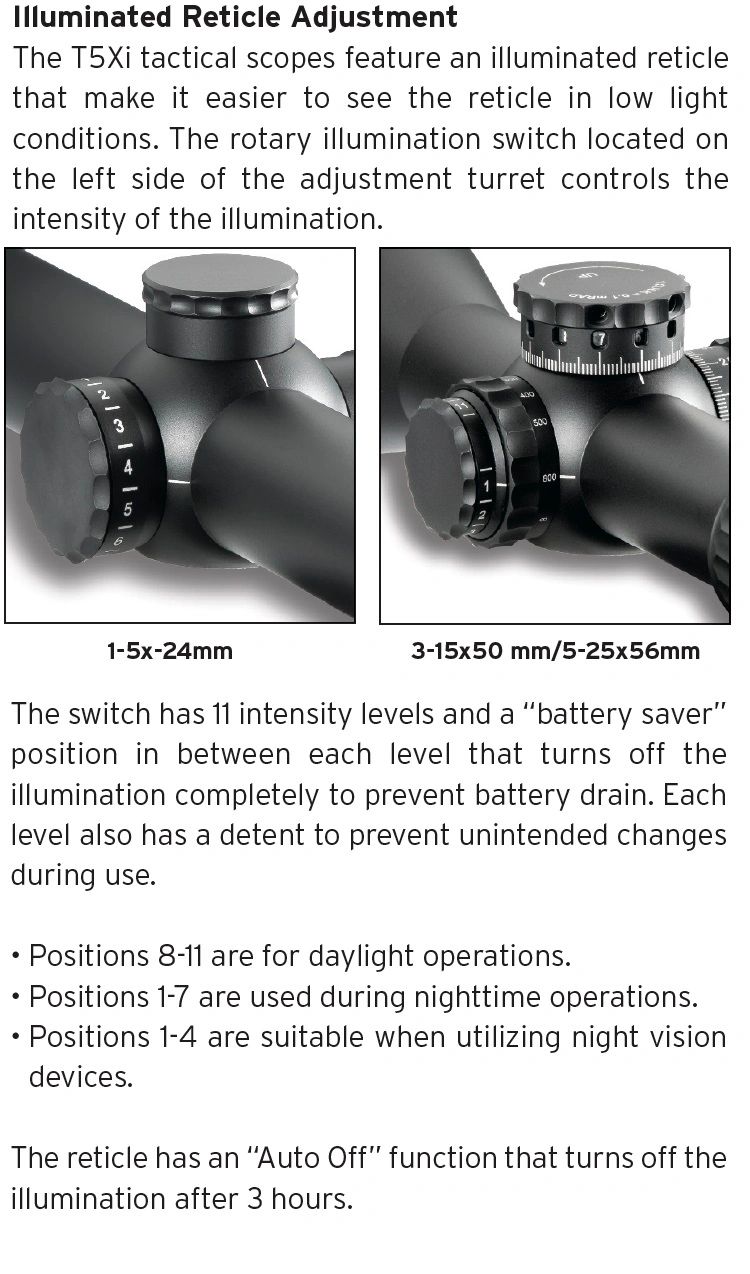 The  T5Xi Series brings unmatched clarity, accuracy and self-assurance to any situation, from combat to competition. Precise German engineering, rugged U.S. construction, slick Never-Lost™ turrets, and new SCR™ Reticle gives you the victor's edge in close-quarter battle, mid and long-range shooting.
     Long range scope with 34mm tube, illuminated etched glass, first focal plane featuring the Special Competition Reticle (SCR™) and Second Rotation Indicator that shows each MIL of elevation through the indication window on the elevation turret.
     The T5Xi series Riflescopes are the next generation of rugged, dependable optics from Steiner. Featuring an optical system that was engineered in Germany, yet proudly designed, machined and assembled in the USA. Three models offer the ultimate in precision, ruggedness and versatility.
The T5Xi 5-25x56mm is a Long Range Tactical Combat Scope with an oversized 34mm tube.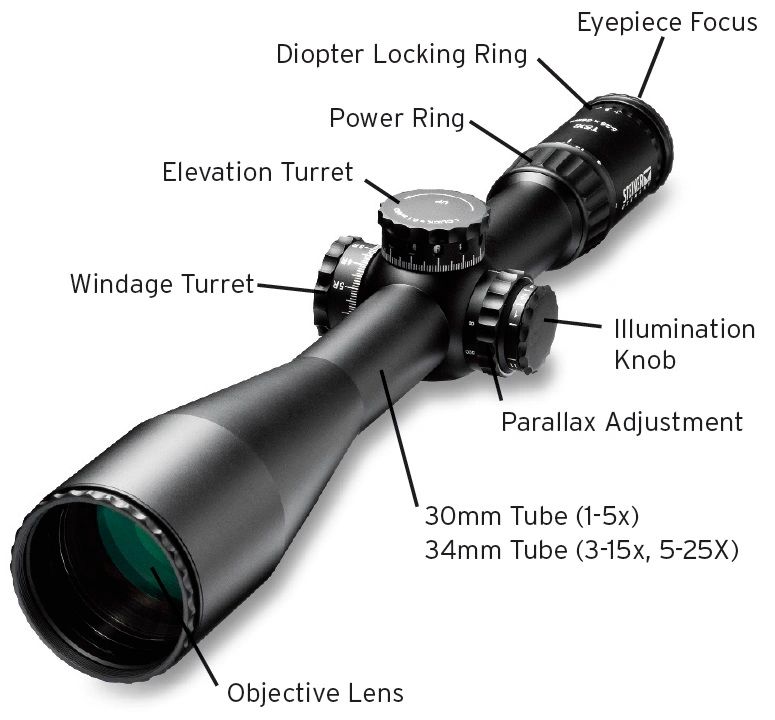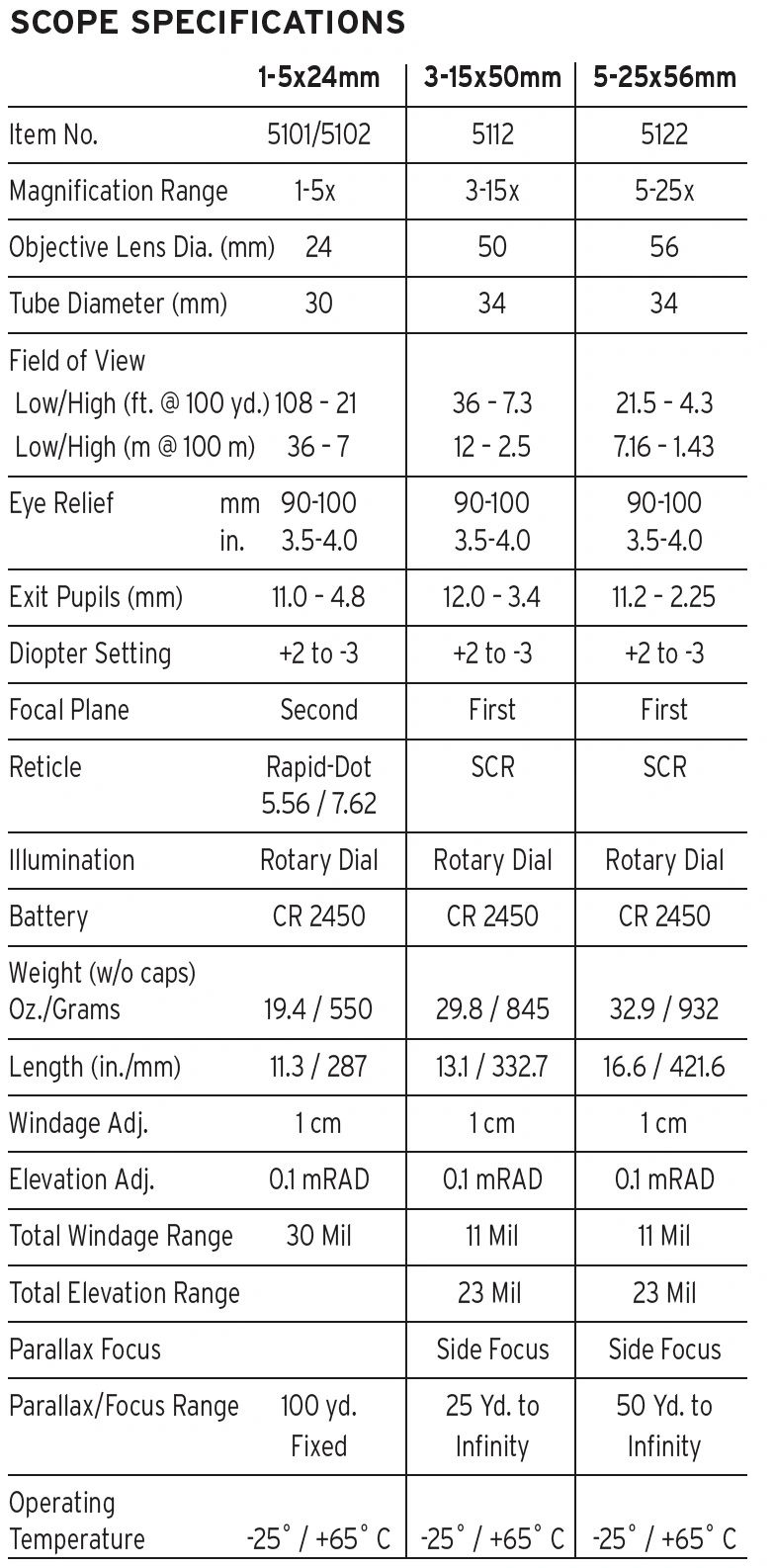 PRODUCT FEATURES: 
ONE PIECE OVERSIZED 34mm TUBE...Increases strength and reliability and provides greater elevation and windage adjustments for longer ranges.
SPECIAL COMPETITION RETICLE (SCR™)...designed by Steiner for precision competition use. Located on the first focal plane, it offers an extended illumination area, 2/10-mil windage and 1/2-mil holdover lines. 1/10-mil ranging brackets allow for precise distance ranging.
LARGE (EASY TO GRIP) WINDAGE/ELEVATION/PARALLAX/ILLUM KNOBS...for positive, non-slip adjustment of the Diopter, reticle and parallax settings.
LOCKING DIOPTER...to prevent accidental rotation of the Diopter.
TENEBRAEX LENS COVERS...protect the lenses from dust, scratches, and moisture.
THROW LEVER...that allows for quick, easy magnification changes.
CONSISTENT EYE RELIEF...and a generous eye box throughout the magnification range eliminates the need to re-position your eye when changing the magnification.
TAPERED, ALL METAL MAGNIFICATION RING...is angled so the shooter can see his magnification setting while positioned directly behind the scope.
ILLUMINATED RETICLE...with 4 Day & 7 Night illumination levels with "Off" positions between each setting that completely disconnects the battery at each position to prevent battery drain.
WATERPROOF/FOGPROOF/SHOCKPROOF...durable construction you can trust to stand up to any cold or wet conditions. Waterproof to depths of 10 meters (33 Feet) and impact tested to 900 G's on all optical and electronic components.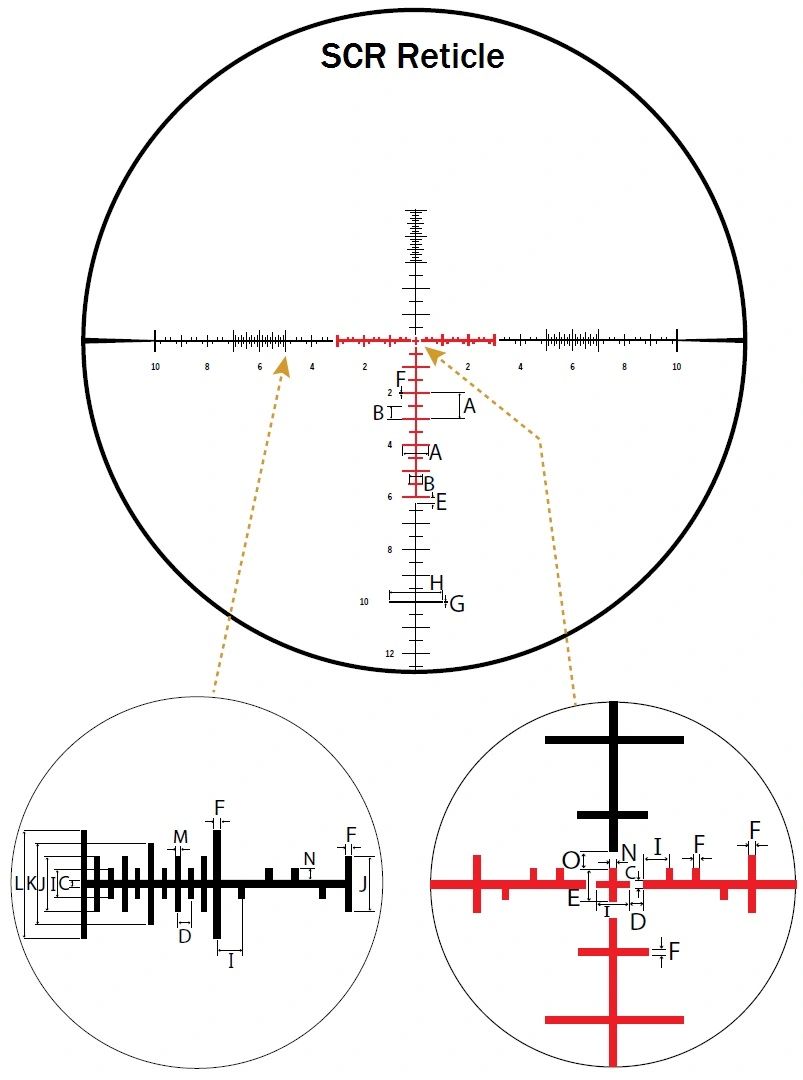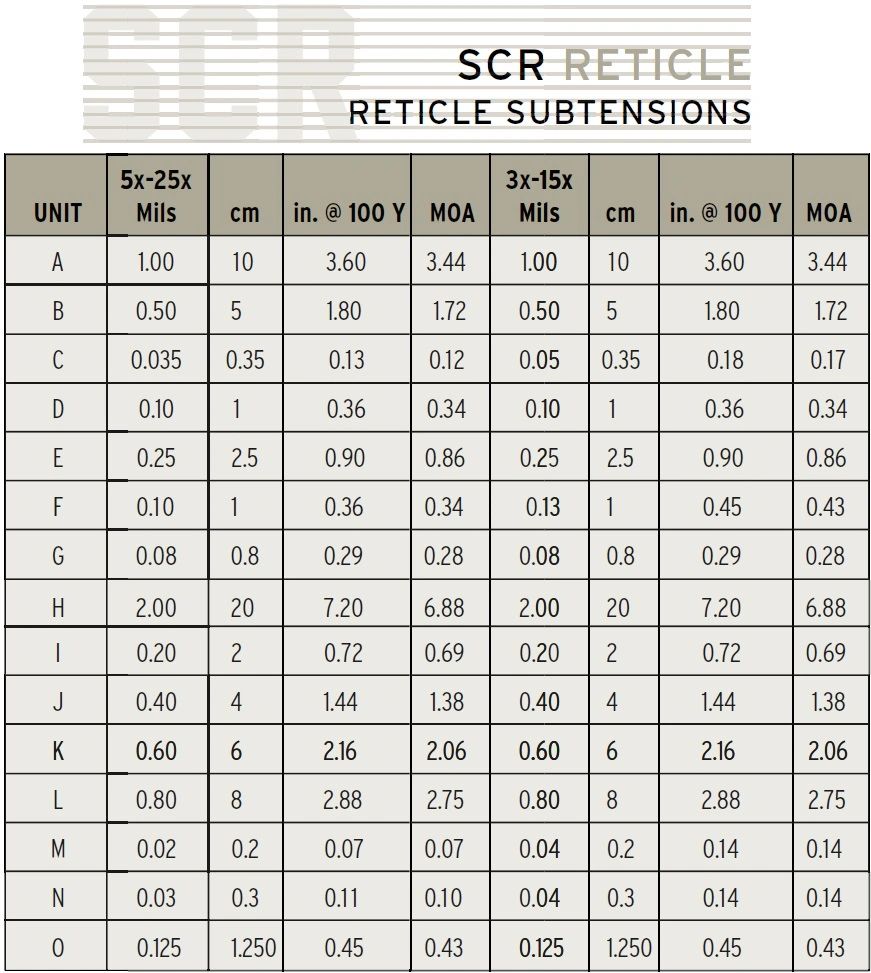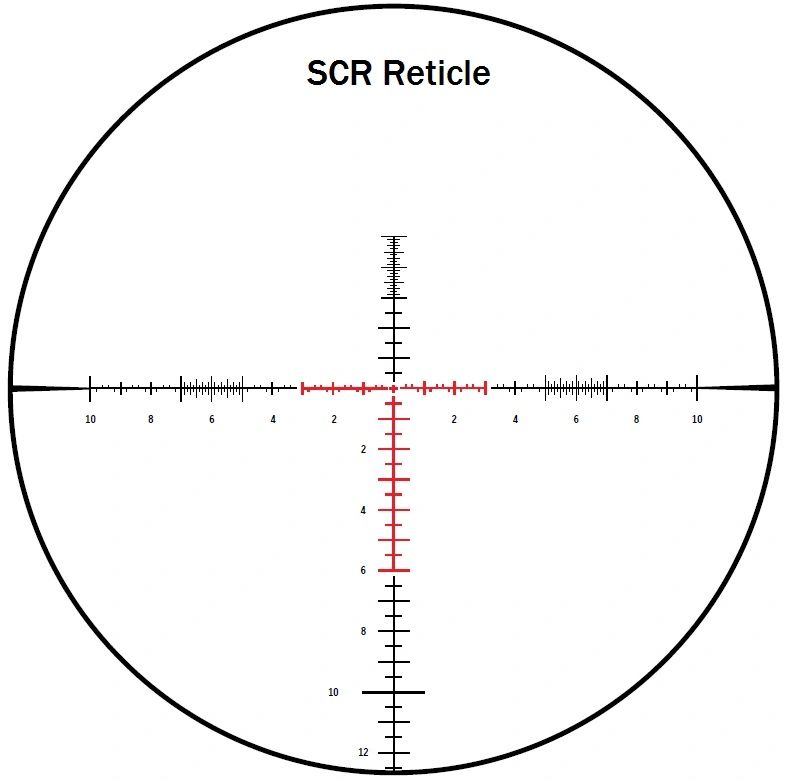 | | |
| --- | --- |
| Ordering Part# | 5122 Spec Sheet |
| Magnification | 5-25X |
| Objective Lens Size | 56mm |
| Tube Diameter | 34mm |
| Focal Plane | 1st |
| Field of View (FOV) @ 100 yards | 21.5 - 4.3 |
| Eye Relief | 8.9 - 10.9 cm (3.5 - 4.3 in) |
| Exit Pupil (mm) | 11.2 - 2.3mm |
| Length | 16.1" (42cm) |
| Turret Direction | Counter-Clockwise |
| Weight | 33 oz (935 grams) |
| Diopter Adjustment Range | +2 to -3 |
| Reticle | 5112 - SCR™ / 5126 - SCR MOA |
| Illumination Control | 4-Day/7 Night Levels |
| Elevation Adj. Knob | Resettable Zero |
| Wind/Elevation | 1cm (0.1 mrad) |
| Windage Range @100m | 150cm (15 MILS) |
| Elevation Range @100m | 260cm (26.0 MILS) |
| Parallax/Focus | Side Focus |
| Parallax/Focus Range | 45 m (50 yards) to infinity ∞ |
| Rubber Armoring |   |
| Nitrogen Filled | Yes |
| Operating Temp Range | -13°F to +145°F |
| Objective Lens Cover | Included |
| Waterproof/Fogproof | Submersible to 10m (33 Feet) |
| Battery | CR2450 |
| Special Features |   |
| Warranty | Heritage Warranty |
| Color | Black |