ELCAN TFOV139
Free Flip Cover Set Included with the Purchase of this sight
The unique three field-of-view design maximizes combat effectiveness by providing precision close quarter, mid-range, and long range engagement capability.
The 1X FOV (Field-of-View) provides a 16° viewing angle and provides an extremely   fast "both eyes open" target acquisition capability maximized by a red aiming dot and at  least 70mm eye relief. This provides the Close Quarters "CQB" element necessary for   entry teams. The second setting provides a 3X Magnified Sight with a Field-of-View of 6°,   range compensating reticle, and precision mid-range marksmanship capability. At the   9X setting, a crystal clear 2° viewing angle provides unmatched long-range target   detection, identification, and engagement capability, all in a compact, lightweight 1264mm, 829g (scope and mount) telescopic package. The magnification of the SpecterTR™ Tri-FOV weapon sight by ELCAN switches easily and quickly using a 3-position dial mounted on the side of the optical housing.
Armament Technology Inc., the distributor of the ELCAN optics, unveiled   the switchable ELCAN SpecterTR 1-3-9x Optical Weaponsight at SHOT Show 2014. With a MSRP of $3,888.00, the new ELCAN SpecterTR (Tri-Role) competes against the new high-end 1-8x scopes with the traditional scope design.
 
     Like their popular SpecterDR DFOV14 (1X - 4X) &  DFOV156 (1.5X - 6X) models, the new ELCAN SpecterTR also utilizes a prism based optical design. The new SpecterTR model features a switchable 1X-3X-9X Magnification, similar to the DR model, as there is no "in-between" in each of those three magnification settings.
   SpecterTR 1-3-9 Optical Sight
TFOV139 SpecterTR System Technical Specifications

Eye Relief

●

  (1X) 78.6mm, (3X) 70.4mm, (9X) 74.1mm

FOV @ 1X

●

  16º at 1X

FOV @ 3X
●
  06º at 3X
FOV @ 9X
●
  02º at 9X

Magnification

●
 Unity 1X, Mid Range 3X or Telescopic 9X

5.56

●
 M4, M16, MK46, M249
7.62
●
 M240, MK43 MK48, M60E4 

Ballistic Correction

●
 100 to 800m for 5.56 Carbine

Ballistic Correction

●
 up to 1000m for 7.62

Reticle 

●
 Center Crosshair at 100m

Reticle 

●
 Ranging lines to 800m for 5.56 and to 1000m for 7.62

Reticle 

●
 Target Ranging Pattern

Reticle Adj.

●
 5 Red Dot Brightness Settings for 1X Magnification Night Vision Compatible

Reticle Adj.

●
 5 Reticle Illumination Settings for 3X and 9X Night Vision Compatible

Combat Modes

●
 CQB
 
●
 Long Range
 
●
 Machine Gun
 
●
 Iron Sight

Weight

●
 1.9lbs. (850g),  oz.

Size in mm

●
 265 x 81 x 74 

Size in inches

●
 10.43" x 3.19" x 2.91"

Internal Battery

●
 CR2032

Entrance Pupil Dia.

●
 

(1X) 12mm, (3X) 30mm, (9X) 30mm

Exit Pupil Dia.  

●
 

(1X) 11.7mm, (3X) 10mm, (9X) 3.33mm

Coaxial Alignment

●
 <1.5 MOA between fields

Fixed Focus Range 

●
 20m to infinity

Adjustment Range 

●

 Elevation +90 MOA / -30 MOA minimum

 Azimuth +60 MOA / -60 MOA minimum

Adj. Resolution 

●
 0.1 mil/click in Elevation and Windage

Battery Life

●
 300 min. to 2000 hours typical

Exterior Finish 

●
 Anodized Aluminum, Black

Operating Temp

●
 -50°F to +120°F

Mount 

●
 Quick-Disconnect Mount for Picatinny Rail

Shockproof 

●
 450 g's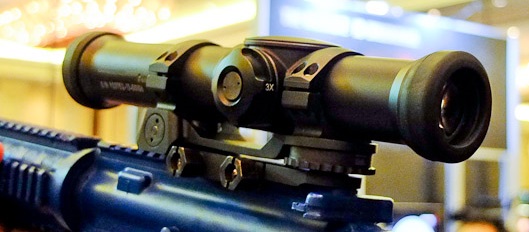 ELCAN uses only the best German glass in their sights. While the new SpecterTR model retains the ELCAN signature external adjustment base, it has been upgraded to use the MIL system. Each click is now 0.1 MIL of adjustment. The ELCAN SpecterTR offers a true 1x magnification.
   To protect that glass, you should also invest in a set of Flip-Up Lens Covers.
  The new SpecterTR uses the standard CR2032 lithium battery instead of the lesser common DL-1/3N battery. The reticle is illuminated in all three magnification settings. At the 1x, the reticle is a daylight visible red color dot. At the 3x and 9x magnifications, the whole reticle is illuminated. The ELCAN SpecterTR will be offered with two different reticles for the 5.56mm caliber w/BDC (Bullet Drop Compensation) to 800 meters, and the 7.62 x 51mm NATO version w/BDC to 1000 meters.
    Instead of the switch-lever utilized on the DR model, the new SpecterTR uses a large dial on the left side of the optic for changing the magnifications. The same dial also switches the reticle illumination types between each magnification setting. There's also the possibility of having a different Quick-Disconnect or QD mount on the production model. For the new SpecterTR, Armament Technology and ELCAN no longer uses the  ARMS QD lever, which was a U.S. military requirement on the previous ELCAN sights.
The ELCAN SpecterTR is longer and heavier than the 1x/4x model, and is 10.4 inches in length and weights in at 30.4 ounces with the integral external mount base. However, the ELCAN SpecterTR is slightly shorter than other 1-8x scopes and the weight is comparable when a heavy duty SPR rings is added to those.
 

 

DFOV14

DFOV156

TFOV139

●

70mm (2.756")

(1X) 78.6mm

●

70mm (2.756")

(3X) 70.4mm

●

 

 

(9X) 74.1mm

●

26º @ 1X / 48.8m / 146.3'

16º @ 1.5X / 28.7m / 86' 

16º at 1X

●

6.5º @ 4X / 11.4m / 34.2'

4º @ 6X / 7m  / 21'

06º at 3X

FOV @ 100 Yards

●

 

 

02º at 9X

●

<1.5 MOA between fields

●

39mm

 

 

●

30mm

42mm (1.65")

 

●

1.5X 6 MOA

●

6X 1.5 MOA

●

 

 

9X MOA

Ballistic Correction 5.56

●

100 - 600m Carbine
700 - 1000m LMG
 

100 - 1000m NATO

100 - 800m NATO

Ballistic Correction 7.62

●

100 - 1000m NATO

100 - 1000m NATO

●

Dual-Thickness Ballistic Crosshair w/Red Dot, VSOR Rangefinder, Area Fire (Beaten Path) Circles

●

C1/T1 = 5.56 (CX5395) ; C2/T2 = 7.62 (CX5396)

C1 = 5.56 (CX5455)
C2 = 7.62 (CX5456)

C1 = 5.56 (CX)
C2 = 7.62 (CX)

●

Battery Powered LED (650nm)

●

5 Brightness Settings Night Vision Compatible

●

5 Brightness Settings Night Vision Compatible

●

 

 <44mm @ 60m

 

Base Requirement

●

MIL-STD-1913 Picatinny Rail (Weaver Compatible)

Attachment

●

A.R.M.S. Dual Throw Levers

Quick-Disconnect Mount

Combat Modes

●

Iron Sight

Combat Modes

●

CQB

Combat Modes

●

Long Range

Combat Modes

●

Machine Gun

●

M4, M16, MK46, M249

7.62

●

M240, MK43 MK48, M60E4

●

1.485 lbs / 674g / 23.8 oz. 1.687 lbs / 765g / 27 oz.

1.9 lbs / 850g / 30.4 oz

●

153 x 74 x 78

183 x 75 x 73 

265 x 81 x 74

Size in inches (L x W x H)

●

6.024 x 2.913 x 3.071

7.205" x 2.953" x 2.874"

10.43 x 3.19 x 2.91

●

± 60 MOA

± 60 MOA

 

●

0.5 MOA (Minute of Angle)

0.1 mil/click Elevation & Windage

●

120 MOA (Minutes of Angle)

Elevation +90 MOA / -30 MOA min

●

120 MOA (Minutes of Angle)

Azimuth +60 MOA / -60 MOA min

●

28mm (1.102")

42mm (1.654")

(1X) 12mm

●

28mm (1.102")

42mm (1.654")

(3X) 30mm

●

28mm (1.102")

42mm (1.654")

(9X) 30mm

●

8mm (0.315")

7mm (0.2756")

(1X) 11.7mm

●

8mm (0.315")

7mm (0.2756")

(3X) 10mm

●

8mm (0.315")

7mm (0.2756")

(9X) 3.33mm

●

20m to infinity (.7874")

●

37.5m @ 1X / 150m @ 4X

105m @ 1.5X / 300m @ 6X

●

Lanyard Retained

 

●

DL 1/3 N, 3V Lithium

CR2032

●

600 Hrs Minimum @ Max Brightness / 3000 Hrs Typical

300 Hrs Minimum @ Max Brightness / 2000 Hrs Typical

●

Class III Hard Anodized Aluminum

●

Grey/Black or FDE

Grey/Black

Grey/Black

●

-50°F to +120°F (-45.56°C to +48.89°C)

●

66' for 2 hours

●

>40 Hrs @ 5%

●

NBC & Cleaning

●

450 g's