1-Week Food Supply
Ready Hour 1-Week Food Supply Ammo Can (2,000+ calories/day)
HAVE THE TACTICAL ADVANTAGE WITH READY HOUR FOODS
Ready Hour foods put you in the position of not worrying about where you will get your next meal, because it will be stored right in your own home. No need to worry about bulky cases, either—this Ammo Can with 7 days of food that provide 2,000+ calories per day is the perfect carrier for your emergency preparedness plan. Convenient and lightweight to carry, you will want this by your side when it's time to bug out. Ammo can measures 14" x 7" x 8.5."
IDEAL FOR EMERGENCIES
When each person in your household has a 1-Week Food Supply Ammo Can, you'll be prepared for: 
Power outages
Getting lost or stranded
Natural disasters or evacuations
Supplemental meals during financial hardship
Outbreaks and mandated quarantines
Camping or cabin trips
Ready Hour foods provide enough calories per day to get you through an emergency situation where survival is based on the amount of energy you have to expend.
Cheesy Broccoli Soup – 8 Servings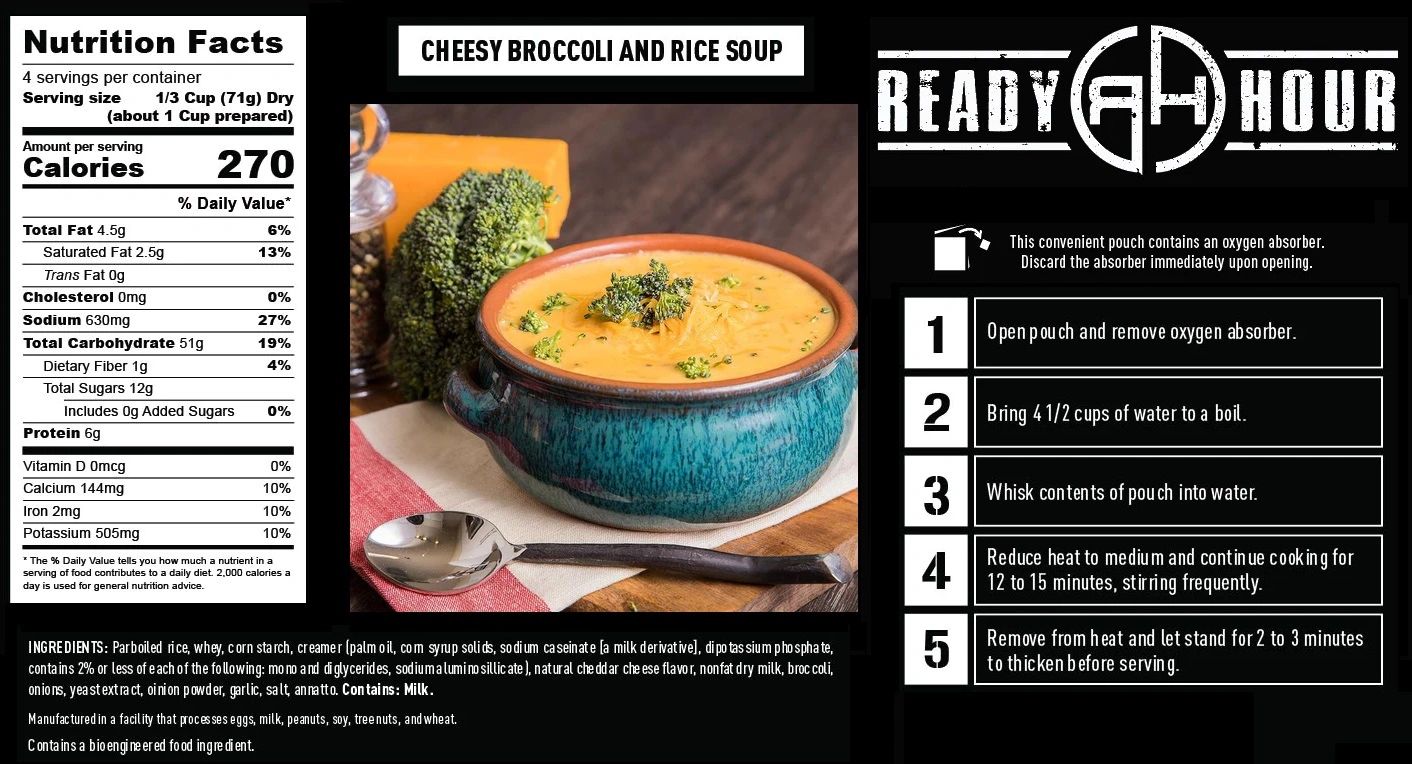 Strawberry Flavored Creamy Wheat – 8 Servings
Orange Energy Drink Mix – 8 Servings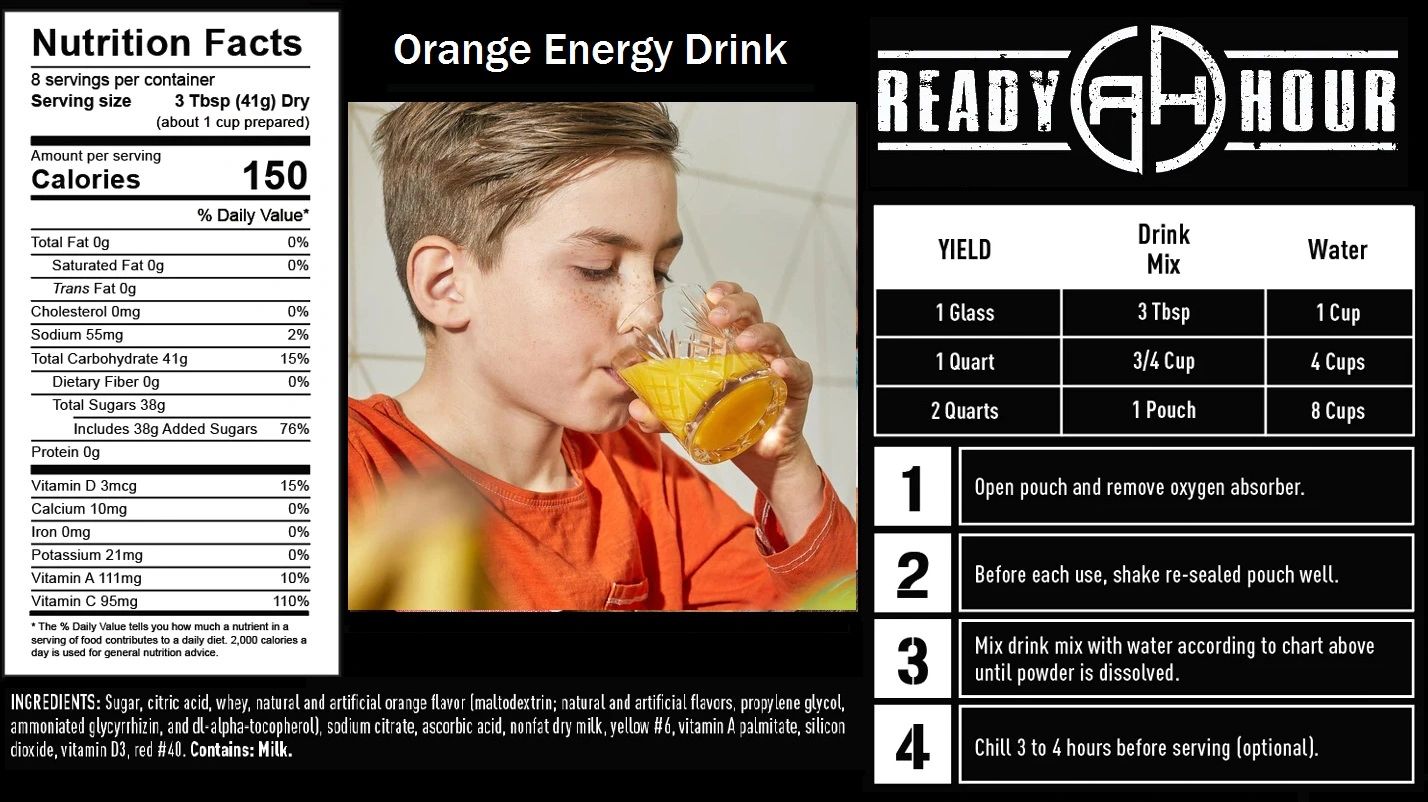 Maple Grove Oatmeal – 8 Servings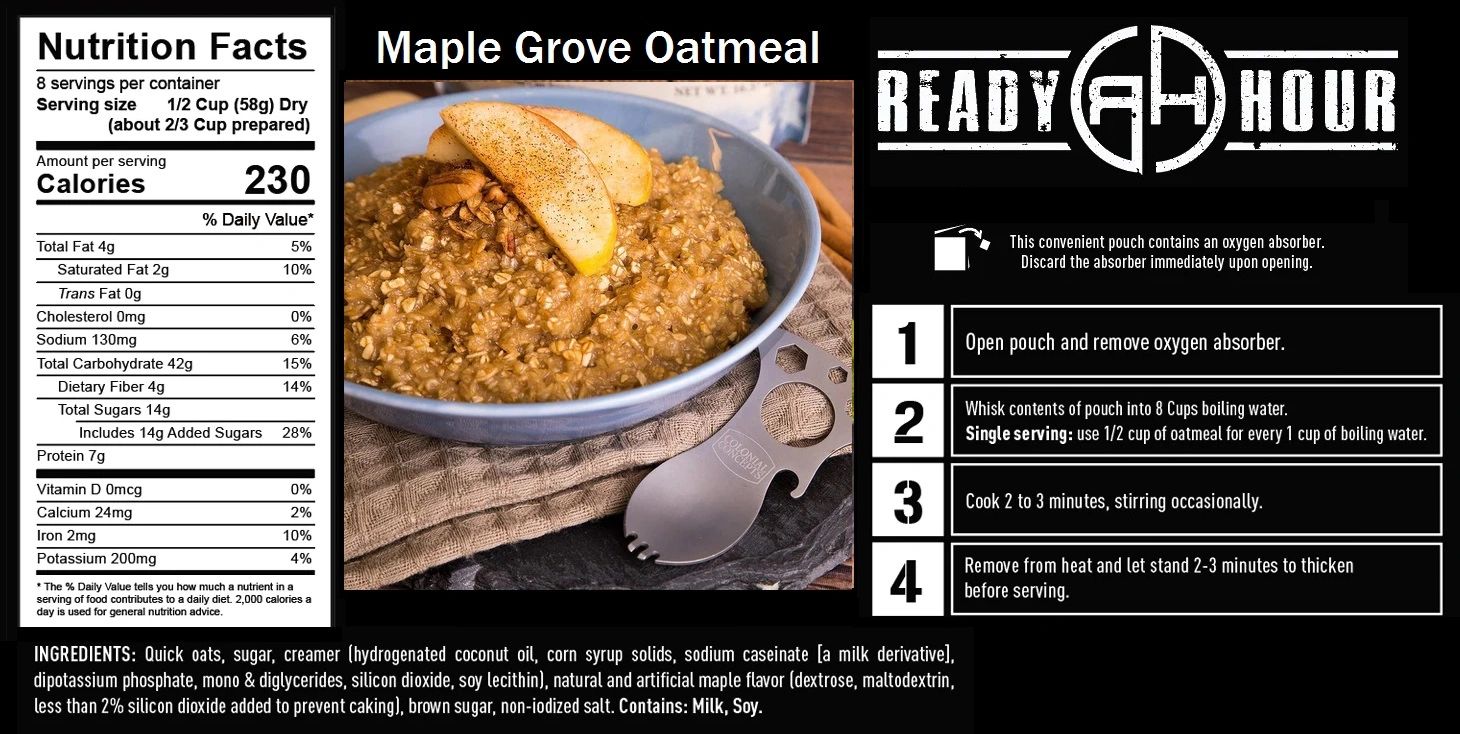 Long Grain White Rice – 10 Servings
Mac & Cheese – 4 Servings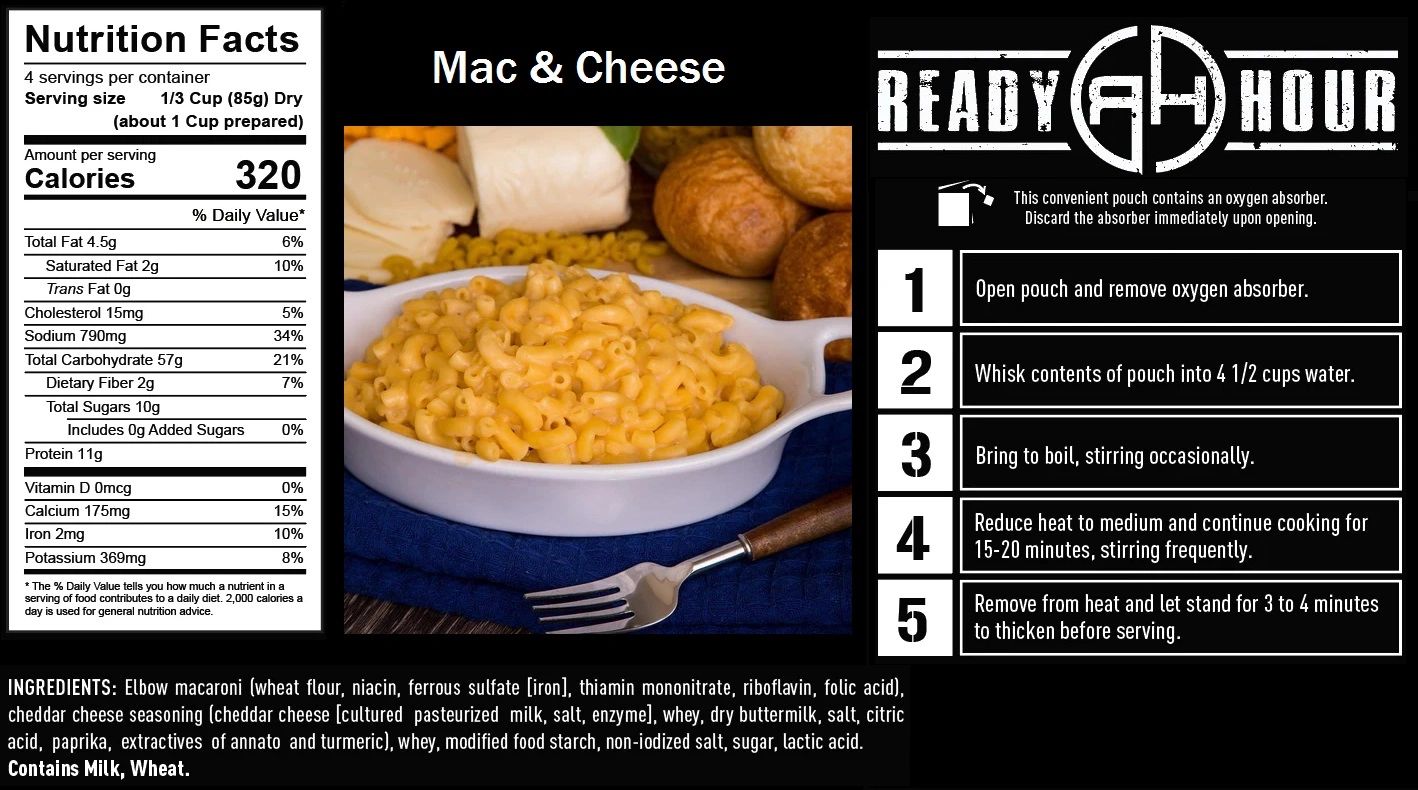 Creamy Chicken Flavored Rice – 8 Servings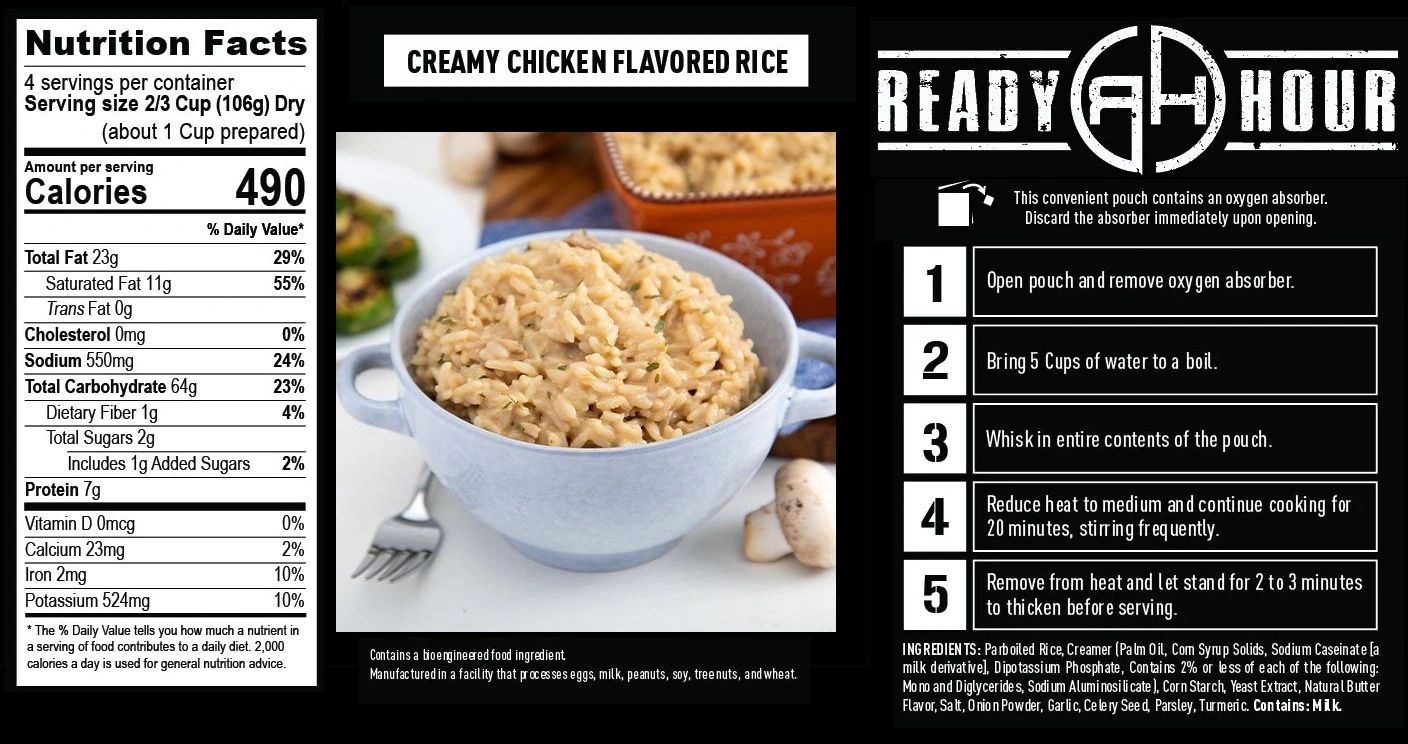 Homestyle Potato Soup – 4 Servings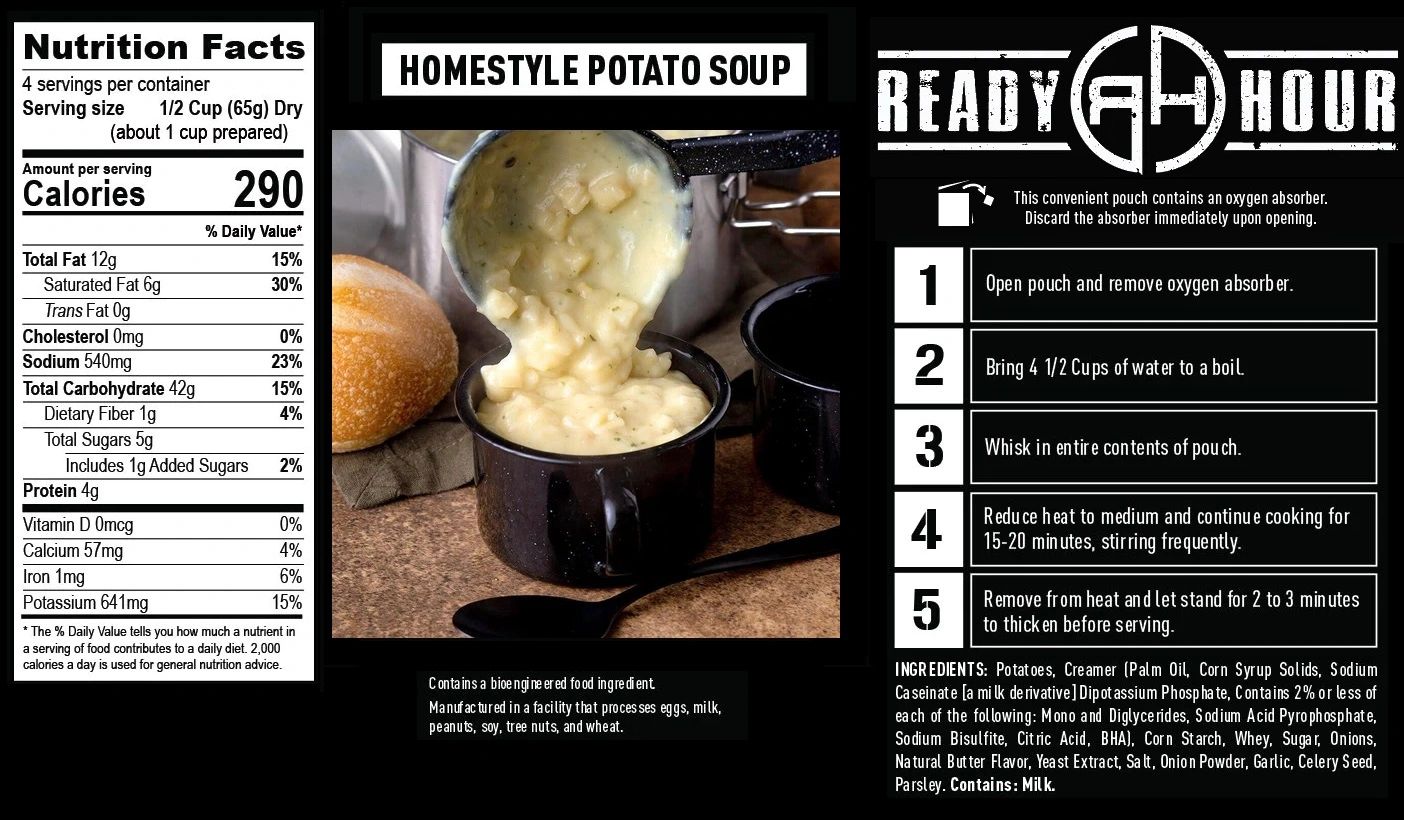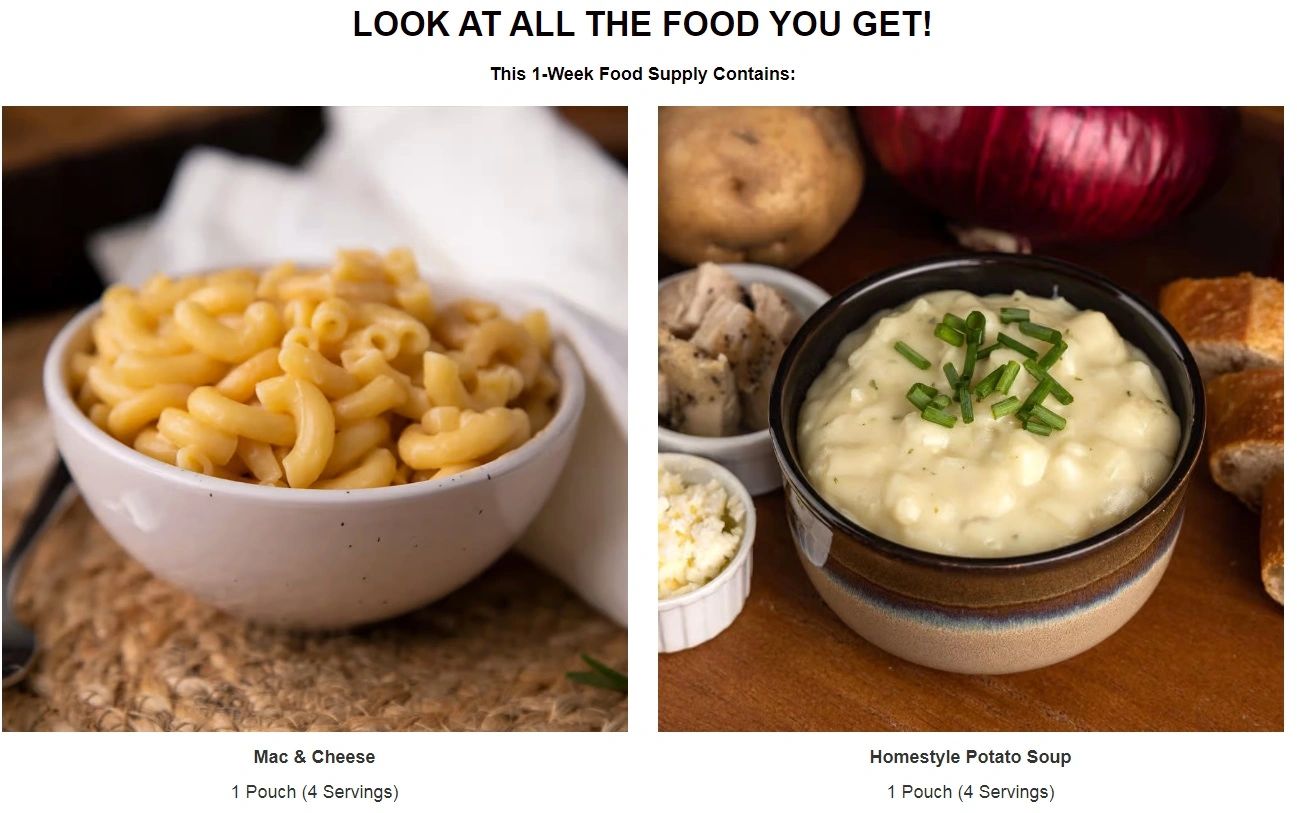 Our 1-Week Food Supply Ammo Can will provide one person with 2,000+ calories a day for 7 days. The meals are hearty and delicious, plus full of the vitamins, protein, and calories you'll need to not only survive, but thrive. While everyone else is trying to figure out how they will get through, you'll have the advantage of Ready Hour foods. In this kit, you'll have 58 servings of food proudly packed in the USA. Foods last up to 25 years in optimal storage conditions.
You can have these ready to eat within 15 minutes. With an easy grab-n-go case, you can take this with you wherever you need to go. It's great for protecting your food from water, light, and damage from outside sources.
Packaging features resealable zipper tops and heavy-duty 4-layer pouches with oxygen absorbers inside to extend shelf life. Weighs 9.95 pounds. Total water needed to prepare entire kit is 3.6 gallons.
Disclaimer: Based on inventory levels, Ready Hour may substitute a food and/or drink product with like items of equal or greater value to expedite delivery. 
All Ready Hour foods are proudly made in the USA. 
Just the Thing for Grab 'n' Go Emergencies
The 1-Week Food Supply Ammo Can gives you 8 varieties of food, all packed into a sturdy ammunition canister for long-term storage. It will feed 1 person for 7 days when eating 2,000 calories per day.*

NO SKIMPING ON YOUR SURVIVAL

 – Meals provide 2,000+ calories per day on average

DECADES-LONG SHELF LIFE

 – Meals can be stored for up to 25 years**

NO FOOD BOREDOM

 – 8 flavorful food and drink varieties

HIGH-QUALITY PACKAGING

 – Meals packaged in resealable, heavy-duty 4-layer pouches with multiple oxygen absorbers

DISASTER-DURABLE AMMO CAN

 – Pouches sealed in a sturdy, lockable container that's resistant to heat and moisture and built for long-term storage (weighs 10 pounds)

EASY TO TRANSPORT

 – This 14" x 7" x 8 1/2" container comes with a collapsible carrying handle for easy transport

HOMEGROWN

 – Made in the USA without MSG
EXCEEDS INDUSTRY STANDARDS
All Ready Hour foods and packaging undergo regular, rigorous testing to ensure they exceed industry standards for safety, quality, and shelf life.

Ready Hour also conducts regular analytical, microbial, and oxygen level inspections, as well as sensory testing of raw materials and finished goods in a food-testing lab.
DON'T DELAY—PREPARE TODAY!
When an emergency is on the way, give KERIF Night Vision a call today! 

Don't wait for disaster to strike. Order before the storm to be queued up for lightning-fast delivery!