NV3 NOPTIC w/LED Bulb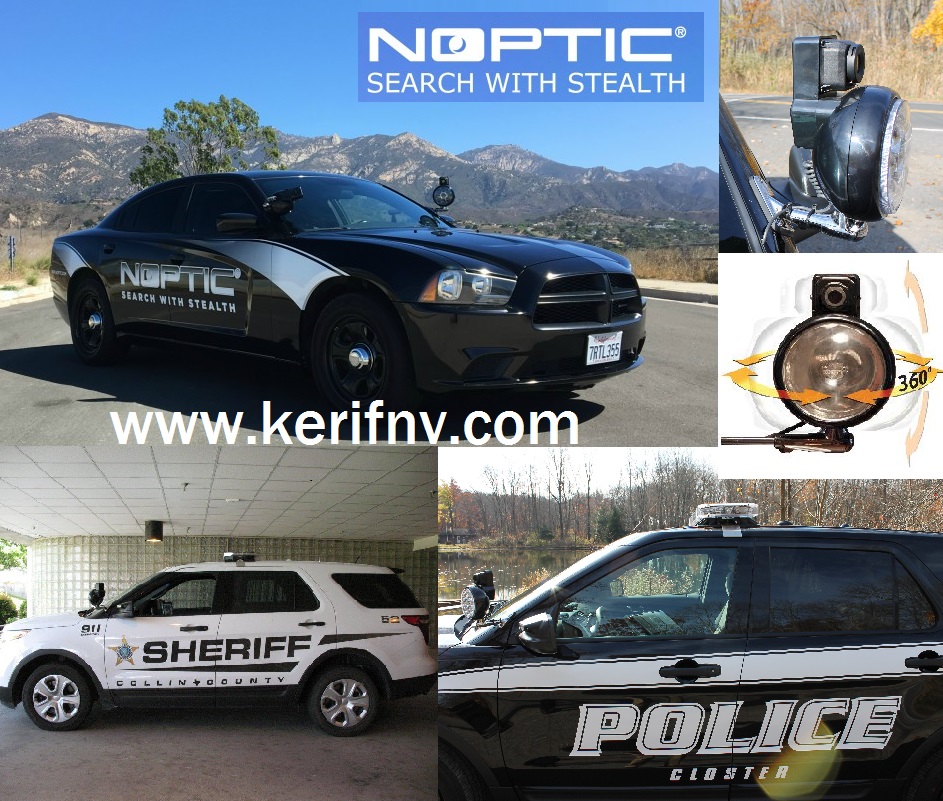 ◊ Enhanced 24° FOV, f/1.4 Lens
◊ Provides the powerful advantage of sight in the dark
◊ Easily Mounts on existing vehicle spotlight
◊ Monitor perimeters Night or Day of restricted facilities
◊ Identify lost boaters or stray objects on the water
◊ Observe prowlers and criminals without their knowledge
◊ Digital NTSC Video out for remote monitor or recording device
◊ Quickly scan between buildings, alleys or even under vehicles
◊ Built in Heaters for cold climates 
P/N: PSV-3000 NV3 NOPTIC MSRP List: $4,200.00
KERIF Price: ONLY $3,400.00 w/LED Bulb 
LE/Govt.: Demo Units Available - Call or email for Discount


  
DEALERS WELCOME - Please Call
 



The NOPTIC NV3 is the one and only Spotlight Mounted Thermal Imaging Camera (patent pending) that provides quick pan and tilt capabilities required for successful surveillance.
There are other companies out there claiming to provide you with a product that is vastly different. They pretend to offer you a much better price for a superior product with propriety software, that is no different from what we offer. They claim we only serve Nevada, which isn't true...we serve EVERY State. If we listed all our Departments and Agencies, it would take up the entire page! KERIF Night Vision has been partnered with Autoliv Electronics (now Veoneer, Inc) since the very beginning and we have a solid track record of providing not only a great price, but exceptional customer service before, during, and after the sale. If there are any technical questions, we'd be happy to talk you through the troubleshooting steps. Still unsure? Call us and request a demo unit. We'll send one your way to test for a few weeks AT NO CHARGE!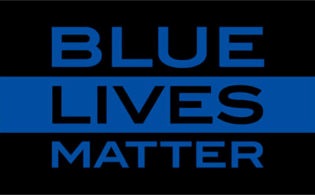 As a former Police Officer, Federal DOD SWAT Officer, Navy Veteran, and Electronics Engineer, I will always give you an honest and capable assessment.
      As a Taxpayer and Patriot, I will do my level best to get you as many NV3's within your budget as possible. I will never gouge you or sell you something you don't need. My aim is to provide you with the tools you need to do your job quickly, cheaply, accurately and most importantly...safely. Give us a call...WE ANSWER OUR PHONES and respond to EMAIL IMMEDIATELY!

Cheap imitators that move slow, or are fixed mounted, just can't deliver the results like a NOPTIC. The vehicle mounted thermal imaging camera enables you to conduct quick and easy Night Vision surveillance with its highly acclaimed panning and tilting capabilities. In addition, the ability to pan and tilt the camera, with the spotlight off, allows for the timely and tactical use of the spotlight.

The video below is from one of our satisfied customers.

https://www.youtube.com/watch?feature=player_detailpage&v=nZD-1Hr5R3s
Hand-held Thermal Imaging devices can spend most of their time in the trunk or back at the office, but the NOPTIC is at work all night, every night, Since the camera uses passive infrared sensing technology, it is not affected by oncoming headlights.  The camera operates in complete darkness and at temperature extremes of  – 40°F to 176°F. It also has a built-in lens heater that activates automatically at temperatures below 40°F to keep the lens clear of frost and ice.
     
FUNCTIONAL OVERVIEW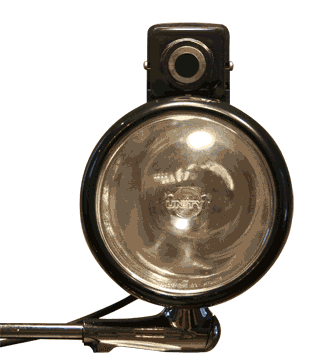 The NV3 NOPTIC comes with an entirely new Electronics Control Module and Video Software and is the newest addition to KERIF Night Vision's family of infrared Thermal Imaging Systems. Smaller and much cheaper than the discontinued Raytheon Thermal-Eye 4000 & 5000, the ATAC360, and almost every other Thermal Imager on the market. In addition to design accommodations, the NV3 NOPTIC is able to withstand the harsher environments of marine applications.
The NOPTIC contains an infrared sensor and the captured infrared scene is converted to a real-time black/white digital video signal, then transferred from the Electronics Control Module (ECU) to your Laptop via a Micro USB to Type-A USB Interface (which we include). For existing monitor systems that use RCA inputs, an optional RCA to USB capture device is available upon request. Stand alone systems may require RCA cable & Video Monitor or Recorder. The control module has a universal RCA jack for video output. Due to the many different cable connectors used in the various video systems on the market, you will need to determine and obtain the specific video input connector required for your video system. If your CPU is Trunk Mounted, we can also provide extended length cables.

 

ADVANTAGES

·        Accident Investigation (determining when brakes were applied; to what extent brakes were applied before the crash, and which brake marks belong to which vehicle)

·        No more "RANDOM Brake Inspections"for Tractor Trailers (Hot Brakes can be seen on the go)


·        Hidden compartment detection / Drug Interdiction

·        Identify overloaded commercial vehicles while in-motion or stopped (liquid-line in propane tanks, commercial passenger buses just to name a couple) - Heated Suspension


·        Hot Spots in structural/vehicular fires

·        Pointing K-9 officers in the right direction when searching for fleeing suspects (Handprints & Footprints remain visible after subject has fled)

·        Quickly scan open fields, bodies of water, and any area for lost/missing persons


·        Pin-point the location of live shooters DAY OR NIGHT


·        Identify recently operated vehicles (heat signature)

·        Identify potential concealed weapons

·        Recovery of spent casings

·        REDUCE TIME SPENT/MANPOWER FOR ROUTINE PATROLLING

·        And the list goes on……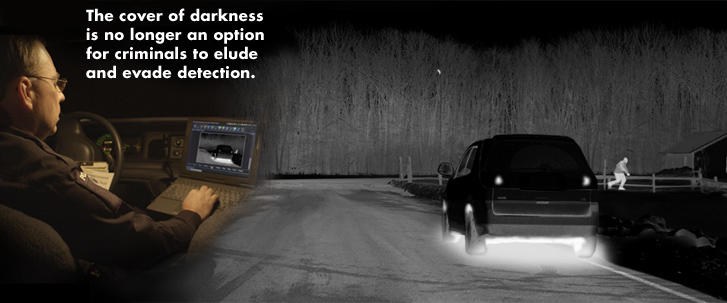 INFRARED IMAGING AND APPLICATIONS  
     Visible light, the rainbow of colors that can be sensed by the human eye, is electromagnetic radiation within a certain frequency band. 'Infra-' means 'below' and 'red' is the lowest frequency in the visible spectrum. Hence, 'infrared' (or 'IR') refers to that range of electromagnetic wavelengths just below that capable of sight by the human eye. In the IR range, energy from a scene is not sensed by sight (light) but rather by temperature.

     Most objects that you see are not radiating visible light but instead, are reflecting light radiated from another source. Most objects have to be heated to extreme temperatures before they radiate energy in the visible light spectrum. However, energy in the infrared range is being radiated by all objects that are above absolute zero (-459F). Hence, everything has a thermal signature, regardless of light conditions.
The NV3 NOPTIC infrared detecting system distinguishes between very small differences in thermal (infrared) radiation, converts it to electrical signals, amplifies those differences, and reproduces them correspondingly in the visible light (video) range. Powerful advantages are achieved in being able to turn a pitch black night into a black and white TV image of the scene. As your infrared knowledge and experience grows, further applications will develop as you recognize heat clues beyond the naked eye in both day and night conditions.
Some advantages and success stories that can be achieved thru application of your NV3 NOPTIC are:

SAFETY
* See without being seen. Allows stealth surveillance and approach from within safety of vehicle.
* Element of surprise gives better situational control. Reduces opportunity for suspect flight and high speed chases.
* Night viewing by sight requires flashlights and searchlights which reveals the pursuer's position, giving advantage to the suspect who wants to stay hidden or surprise attack.
* Infrared viewing allows safer search capability while the suspect remains 'in the dark' until you are ready to illuminate them with your spotlight.
* In search and rescue, seconds count. Missing or injured persons can be located before lengthy search deployments are required.
* Docks, piers, boats, and other obstacles can all present dangerous hazards to marine navigation especially at night or in fog.

EFFICIENCY
* With the NV3 NOPTIC, these objects are clearly visible against the uniform temperature of the surrounding water.
* Infrared won't 'bloom' or become blinded when hit with bright light such as headlights.
* Wide areas can be scanned to 'clear an area', establish a perimeter or more quickly locate a missing person or "man-overboard".
* An area can be brought under control in less time.
* Manpower and equipment resources are saved by reducing the need for foot patrol, K-9, helicopter, and flashlight expenses.
* Warmth on a car's engine compartment or tires yields evidence of when it was last driven.
* A hot car hidden in a cold parking lot stands out.
* Also, a suspect vehicle that is cold might be considered abandoned, reducing the chance and need to wait for his return.
* Buoys and markers are easily "seen", even in pitch black or poor weather, allowing for efficient navigation.
EFFECTIVENESS
* While light reflects off of foliage, infrared from a person behind a bush is radiated through the foliage, allowing better detection in both day and night conditions.
* Tossed weapons and contraband are thermally evident against cold ground.
* Accident investigations yield heat clues in latent tire tracks and skid marks, unseen by sight.
* IR reflects off windows, metal structures, smooth concrete walls, and other opaque surfaces providing a mirroring ability around corners in day or night.
* Air gaps and surfaces touching each other can give heat clues as to hidden compartments, fluid levels, etc.
* Infrared is less prone to scattering and absorption by smoke, dust, and fog.
 
Side by Side Comparison
Thermal-Eye 5000xp
Noptic Technical Specs

IR Focal Plane Array, Type & Material 

Uncooled Ferroelectric, Barium Strontium Titanate (BST)
Uncooled Microbolometer, Vanadium Oxide (VoX)

Resolution/Pitch

 320 x 240 / 48.5μm
 320 x 240 / 25μm

Spectral Response

 7-14μm
 8-14μm

Window Type 

Silicon with durable hard carbon exterior coating
Germanium with durable hard carbon exterior coating

Start-up Time

 ~ 45 seconds
2 seconds

Contrast/Brightness

 Fully Automatic
 Fully Automatic

Range to Detect Human Activity 

Man-sized target at 1500ft (450m) depending on object size and contrast
Man-sized target at 1000ft (300m) depending on object size and contrast

Thermal Sensitivity

not specified
< 100mK NEdT

Optics Field of View (f/#)

 24° x 18° (f/1.0)
 36° x 27° (f/1.4)

Focus Method

Fixed (Auto-Compensated for temp variations)
Fixed (Auto-Compensated for temp variations)

Aperture

f/1.0
f/1.1

Output Format

NTSC Compatible
NTSC Compatible Frame Rate: Std. 30Hz (International 9Hz Models)

IR Polarity 

White Hot
White Hot

Power Input Voltage

 9.5 to 16VDC
9-16V (operating range), Protected against over voltage, jump start, reverse battery

Power Consumption

not specified
2 Watts

Environmental

Operating Temperature

 -40°C to 55°C
 -40°to 80°C, Functional to 12,000' @ +185°F

Storage Temperature 

not specified
-65°F to +200°F (non-operating range)

Water Resistance

 IEC level IPX6 (Not submersible)
IEC level IP67/69
(High pressure spray, and submersible)

Window Heater

N/A
Activates automatically at temperatures below 40°F to prevent ice formation

EMI/EMC

 FCC Part 15 Compliant
Camera is Automotive OEM compliant (which is more stringent than FCC Part 15 Compliant)
NOPTIC NV3 Infrared Focal Plane Array
Type & Material
Passive IR uncooled Microbolometer
Resolution/Pitch
320 x 240 /25 μm
Spectral Response
8 - 14μm
Window Type
Germanium w/durable hard carbon exterior coating
Thermal Imaging Performance
Start-Up Time
~ 2 seconds*Note 1
Contrast/Brightness
Fully Automatic
Detection Range
Man-Sized Target at 1000ft (300m)
Input Voltage
9 to 16 VDC Protected against over voltage,
jump start, reverse battery
Power Consumption
≤ 2W (Nominal)
Optics
Field of View
36° x 27° (f/1.4)
Min. Focus Distance
~ 25ft (8m)
Focus Method
Fixed, Automatically Compensates for Temperature Variations
Aperature
f/1.1
Infrared Video
Output Format
NTSC Compatible Frame Rate: 30Hz or 9Hz (to be specified by part number)
IR Polarity
White Hot
Pan/Tilt Functions
Pan Travel
Tilt Travel (Horizontal)
Full rotational movement controlled by normal spotlight manipulation
Pan Rate (Nominal)
Manual
Tilt Rate (Nominal)
Manual
DIMENSIONS
Length
Width
Height
Weight
2.9" (72mm)
2.3" (58mm)
2.2" (56mm)
Less than 1 lb
ENVIRONMENTAL DATA
Temperature Range
-40°C to +80°C (-40°F to +175°F)
Max Storage Temp.
-54°C to +94°C (-65°F to +200°F)
Functional Altitude
Storage Altitude
Functional up to 12,000 ft @ +185°F
Storage up to 39,000 ft @ -65°F
Water Resistance
IEC level IP67/69, High pressure spray, Submersible
EMI/EMC
Exceeds FCC Part 15 Compliancy*Note 2
Optional Part Numbers
PSV-1000-USB
USB Cable Interface Cable w/Video Capture Software

NOTE 1: Video not present during the first 2 seconds after system turn on.

NOTE 2: (FCC Compliance) This equipment has been tested and found to comply with the limits for a Class A digital device, pursuant to part 15 of the FCC Rules. These limits are designed to provide reasonable protection against harmful interference in a residential installation.
Theft and Vandalism Deterrence
The NV3 NOPTIC method of installation was designed to provide easy, external mounting on existing spotlight hardware. 
Storage
NV3 NOPTIC can be stored at temperatures up to 200°F (94°C).
Power
The NV3 NOPTIC requires a power source between 9 to 16VDC that is capable of delivering at least 3 amps (12VDC is nominal) and is designed for use with a negative ground system. Improper connection could result in equipment damage.
Servicing
Do not attempt to service the NV3 NOPTIC system as it may void the warranty. The NOPTIC is not intended or warranted for the following environmental conditions.

RESTRICTIONS OF USE
| | |
| --- | --- |
| | Repeated exposure and operation in sand or other abrasive grit. |
| | Mounting orientations other than upright for the Pan/Tilt Camera. |
| | High vibration or shock beyond that of typical on-road, off-road, or sea-faring vessel conditions. |
| | Outdoor exposure to the elements for the Electronics Module. |
| | Applications that subject front of Pan/Tilt Camera to oncoming debris capable of breaking the front optics such as rocks and low hanging branches. (See 'Debris Protection' feature in Care and Maintenance section). |

Installation of the NOPTIC system is straight-forward. Utilizing the installation instructions included with your NOPTIC shipment, simply remove your existing post mount spotlight head and replace it with the NOPTIC camera /spotlight head assembly. The systems wiring can then be routed as noted in the Installation procedure. Your local fleet installer can also provide other options for wire routing in the vehicle depending on your particular viewing application. See your Video System Operating Manual to determine connector type and for ordering information on the compatible cable required with the RCA output jack on the controller.