EOTech HHS Kits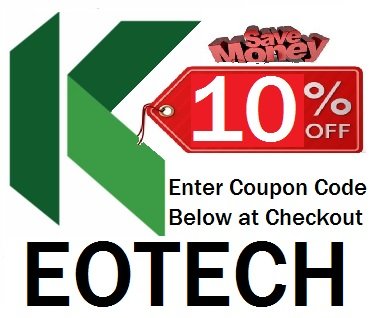 If an item is showing out of stock and you want to put one on order with no up front costs, please give us a call at (702) 324-6463. 
Holographic Hybrid Sight Sights + Magnifier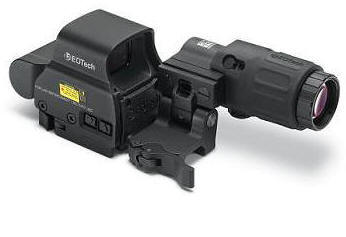 Regardless of the scenario this HHS provides an unparalleled advantage when transitioning from short to long range shooting. The EXPS2-2 offers true 2 eyes open shooting, a transversely mounted lithium 123 battery, 7 mm raised base offering iron sight access, and easy to adjust side buttons. The G33.STS 3x magnifier with switch to side mount provides superior light transmission and the large field of view puts the competition to shame. Both units offer an adjustable, locking, quick detach lever for easy attachment and removal.


• 3x magnifier with Switch-To-Side mount works with all existing HWS units.
• Reticle is a 65MOA circle with two 1MOA aiming dots
• Single transverse 123 battery to reduce sight length
• Shortened base only requires at most 2 3/4 inch of rail space
• Battery cap and latch are eliminated and replaced with a simple O-ring, tethered cap; better sealing is achieved
• Average battery life at brightness level 12 is roughly 600 hours
• Side buttons with an adjustable, locking, quick detach lever for easy attachment and removal
• Length/Width/Height:
     7.7" x 2.3" x 3.3" (195.6 x 59 x 83.9 mm)
 • Weight:
     22.4 oz (635.1 g)
 •Water Resistant:
     Submersible to 10 ft (3 m) depth
 •Mount:
     MIL-STD-1913 rail 1" Weaver
 •Eye Relief:
     2.2" (55.8 mm)
 •Field of View:
     7.3°

(Not Available in Tan)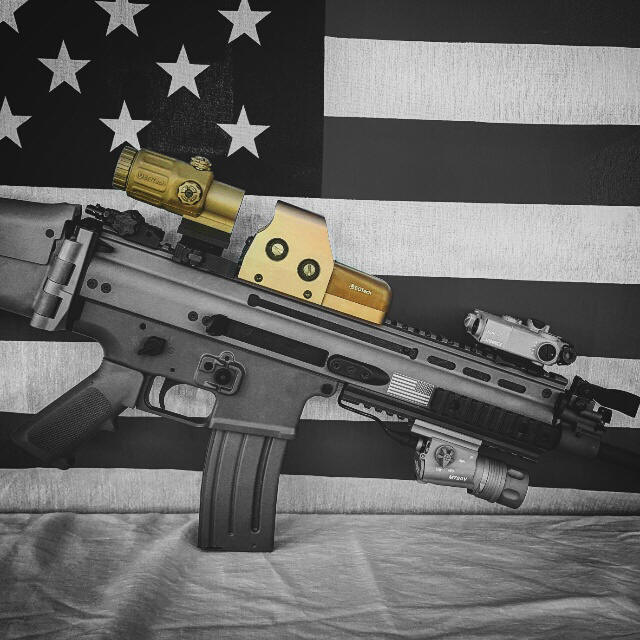 EOTech HHS-2 Holographic Hybrid Sight II is an ideal combination of state of the art EOTech tactical gear, optimized for precision accuracy in intense tactical situations at close or medium range. These EOTech red dot sights combine the high-accuracy optics of the EOTech EXPS2-2 Red Dot Sight and the zoom-enhancing properties of the EOTech G33 Red Dot Magnifier into a single potent reflex sight. The heart of the red dot sight is the EXPS2-2, a highly compact, tactically-oriented red dot sight that features a large ring reticle with two 1-MOA aiming dots. The reflex portion of the EOTech HHS2 Holographic Hybrid Reflex Sight w/ G33 Magnifier features true two-eyes-open aiming, allowing you to get a full picture of the battlefield while maintaining precision accuracy, and its 7mm raised base allows you to use iron sights even with the red dot sight equipped. EOTech has equipped the EXPS2-2 red dot sight with easy to adjust side illumination buttons, and its transversely mounted 123 lithium battery will rarely need replacement. The EOTech Holographic EXPS2-2 Hybrid Magnified Red Dot Sight is also highly versatile, capable of mounting to your weapon with the integrated locking quick detach lever.