Steiner 2442 Predator 10x26 Binocular

DISCONTINUED

Binoculars
German-engineered So Nothing Escapes You No Matter Where In The World You Are
Steiner binoculars utilize the latest in German optics technology to deliver the finest binocular lines in the world for hunters, law enforcement and military personnel, and adventure-seekers on land and sea.
Compare our prices against the so called "Big Boys" and see for yourself that we are much lower, plus we offer Free S&H. Our customer service is second to none. Ask ANYONE who has ever bought from us. We answer our phones and email to answer your questions and we provide you with 100% satisfaction, before, during, and after the sale.
Take another 10% Off the Sale Price Listed

Your Quarry Didn't Survive the Hunt, But Your Optics Will

Hunting Binoculars
Once you're after that trophy, nothing can hold you back. So in addition to providing the deadliest image you can get, Steiner optics survive the worst conditions you can face. Low light or heavy glare, high water to deep cold, rock slams and grit storms, no matter. The view is always crystal clear and dead certain. Even after countless monster-obsessed pursuits, Steiner optics are eager for more and ready to go. Not unlike yourself.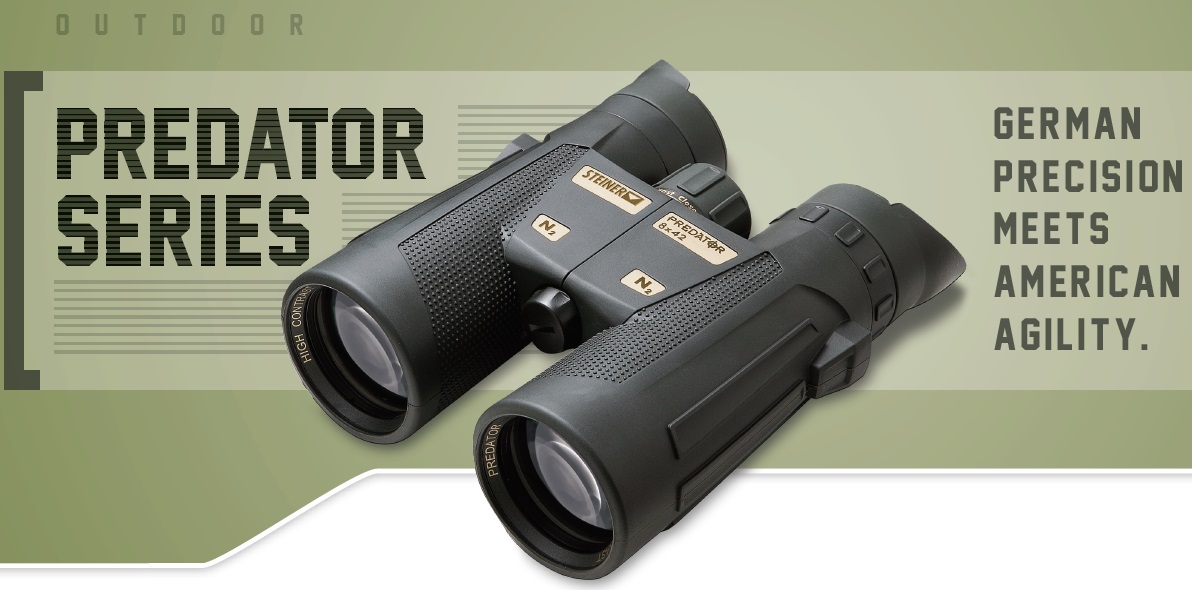 An all-around favorite. Versatile enough for western big game hunters or eastern whitetail hunters.
The Predator Series was made for hunters who demand all-around capability in their optics - mobility without weight, ease of use and bright picture in any light. With its lightweight roof prism design, game-revealing CAT™ (color adjusted transmission) coatings and excellent low-light performance, this is the perfect choice for turkey hunters, bowhunters, black powder enthusiasts and anyone who hunts the early season or in heavy cover.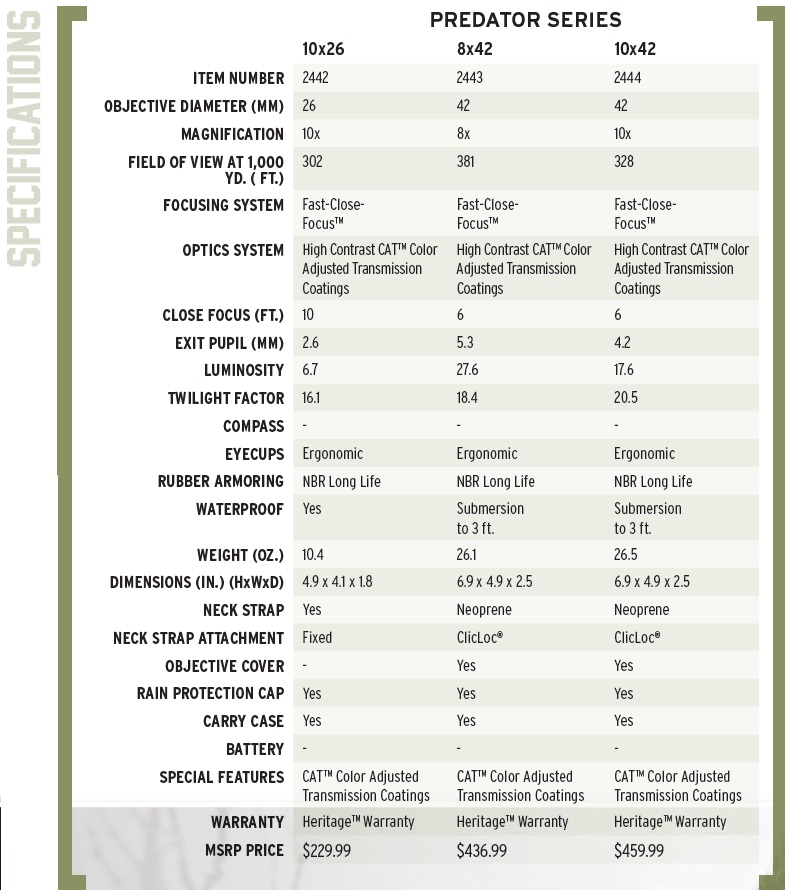 Product Features: 
CAT™ Color Adjusted Transmission - amplifies contrast in the peak human vision sensitivity range, to spot game in any environment.
Optimized Light Transmission - with latest generation advances in low light performance and brighter images and up to 3-4% better light transmission.
Lightweight Roof Prism Design - has less bulk to fit in your pack and stay out of the way while hunting
Fast-Close-Focus™ - central focusing wheel requires minimal rotation for quick, absolute sharpness from close up to infinity.
Makrolon® Housing - is durable polycarbonate with NBR Long Life rubber armoring, creating a lightweight, rugged chassis that withstands 11 Gs of impact which is impervious to harsh conditions for generations of trusted use.
N2 Injection™ System - seals 14-psi pressurized dry nitrogen into the optic, for fogproof clarity in any condition - from arctic cold to desert heat.
ClicLoc® Strap System - attaches and releases neck strap or harness instantly with push button ease and designed so binoculars hang straight and action-ready.