EOTech 518.A65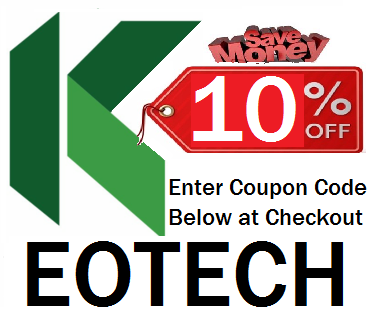 Description
The best just got better. The 518 runs on easy to find AA batteries but offers all of the features found in EOTech's EXPS top of the line sight. With side button functionality you can reduce rail space when partnering the 518 with an EOTech magnifier.  The 518 is also compatible with the drop-in Laser Battery Caps (Discontinued) that EOTech designed to enhance aiming through the use of visible and IR lasers.
Please note that due to this recent nonsense of de-funding the police and COVID-19 delays, inventory levels are hard to maintain and some products may not be available for weeks. Please call before you place your order if you are not willing to wait to make sure the item is available. The credit card company will NOT return the processing fees (up to 3.5%) so you will NOT receive a full refund if you cancel.
---
Product Details
Length/Width/Height:
5.6" x 2.2" x 2.9" (142.3 x 55.9 x 73.7 mm)
Weight:
13.8oz (391.2 g)
Water Resistant:
Submersible to 10 ft. (3 m) depth
Mount:
1" Weaver or MIL-STD-1913 rail
Brightness:
20 daylight settings
Mount:
1" Weaver or MIL-STD-1913 rail
Power Sourse:
Two 1.5 V AA batteries Support lithium, alkaline, or rechargeable
Power Sourse:
Lithium: 1,000 continuous hours at nominal setting 12 and room temp.
AA alkaline: 600 continuous hours at nominal setting 12 and room temp.
Great for nearly every shooter, the EOTech Holographic Weapon Sight, US Made, Black, Non-Night Vision Compatible 518.A65 allows you to quickly acquire prey, allowing you to become more efficient with your shots. An efficient red dot firearm scope enables you to find your target quickly and re-acquire after your shot. Because of the EOTech Holographic Weapon Sight, buying a top grade red dot riflescope has never been a more suitable approach.
Manufactured by using top quality optics and extremely robust housing supplies, these Red Dot Sights from EOTech can provide years of effective and effective service.
EOTech has been making some of the finest red dot sights for a very long time, and the 518.A65 is the proof of their dedication to offering you red dot sights that will not eradicate your bank account. For a great way to be certain that you're shooting with some of the greatest optics available to shooters, pick the EOTech Holographic Weapon Sight 518.A65.
Ordering Information
518.A65
518-2
UPC: 672294600527
UPC: 672294600589
Operation
Optics
Transmission Holography - 100% Parallax Free
Magnification
1X
Eye Relief
Unlimited
Sealing
Fog proof Internal Optics
Waterproof
Submersible to 10' (3 meters) depth
Adjustment (per click)
0.5 MOA (1/2" at 100 yards)
Adjustment Range
+/- 40 MOA Travel
Mount (Adj for Width)
1" (25.4mm) Weaver or MILSTD-1913 "Picatinny" Rail
Return to Zero
Repeatable to 2 MOA after Re-Mounting
Heads-Up Display Window
Optical Surfaces
Anti-Glare Coating
Window Dimensions
1.2" x 0.85" (30mm x 23mm)
Front Window Material
1/8" (3.17mm) Shatter Resistant Glass
Rear Window Material
Shatter Resistant Laminate 3/16" Thick
Field-of-View (100yds)
100yds (91m); 30yds (28m) at a 4" Eye Relief
Standard Reticle
518.A65: 65 MOA Ring and 1 MOA Dot
518-2: 65 MOA Ring and (2) 1 MOA Dots
Electrical
Brightness Adj. Range
146,000:1 brightest to lowest
NV Brightness Range:
1280:1 with NV Switch Engaged
Button Location:
Side
Power Source:
(2) 1.5V AA Batteries Supports Lithium, Alkaline, or Rechargeable
Battery Life (Room Temp)
Alkaline: 600 Hours at nominal setting 12
Lithium: 1,000 Hours at nominal setting 12
Brightness Settings
20 Settings with Scrolling Feature
Auto Battery Check Indicator
Flashing reticle upon start-up
Auto Shut-down
At 8 hrs- programmable to 4 hrs
DIMENSIONS
Length
Width
Height
5.6" (142.3 mm)
2.2" (55.9 mm)
2.9" (73.7 mm)
Weight
13.8 oz (391.2 grams)
ENVIRONMENTAL DATA
Temperature Range
-40ºF to 150ºF
Max Storage Temp.
-80ºC (176ºF)