Steiner Commander Series 7x50

Marine Binoculars
Commander 7x50       
Commander C 7x50 (Compass)
Take another 15

% Off the Sale Price Listed
25 Units Remain in stock!
It's not just wet. It's a whole different world. Fogbound mornings, afternoons of glaring sun and salt spray, nights like floating on ink. Always in motion, temperatures all over the board, distances that challenge land-bound perceptions. Steiner marine optics were built for this: waterproof, corrosion-proof, always crystal-clear, with special coatings, construction and capabilities specifically created for a water-borne life. Enjoy.
The military-grade Porro Prism Commander Series is the marine binocular choice for anyone who makes their living on the water – fishing guides, ship captains, tug boat operators, marine patrol and law enforcement. These binoculars are also for those who live aboard or spend weeks on the water - yacht owners, blue water sailors and racers - who need the best in marine optics. The Commander Series has every feature and all the performance serious watermen demand, backed by Steiner's unrivaled reputation for total performance on land and sea.
Delivers top of the line image clarity, sharp edge-to-edge definition and contrast, and high light transmission for navigating in low light or fog.

Rubber Armoring - All STEINER binoculars come standard with rhino tough rubber armor. Not only does this protect the binoculars from shock and damage, but it is also soft and comfortable in your hands. Premium models, like this Commander Model features STEINER's innovative NBR Longlife Armor formula, initially developed for increased durability under extreme conditions at sea and military applications. Clean all rubber armor only with damp cloth.
---
Magnification 7x
Weight 37.9 oz
Width 8.1"
Height 6.2"
Item no. 2304 Commander | 2305 Commander C
     The ability to see what others don't. That's what Steiner brings to your side: razor-edge image clarity, optimum depth And color, superior ability to probe, plan and engage with force-multiplying stealth, surprise and impact. After 67 years of deployment and constant improvement, no optic serves your mission and your troops better.
---
* Memory Diopter...provides handy mechanism to store and indicate your personal Diopter setting.
* Sports-Auto Focus™ System...lets you focus each eyepiece to your vision once, then keeps images razor sharp from 20 yards to infinity. No more chasing focus on moving objects.
* 7x Magnification...is the marine standard, with a wide, stable image for tracking other boats, buoys and bridge numbers even in rough water.
* Steiner Nano-Protection®...hydrophobic molecular coating creates a lens surface so smooth water sheets off and dirt, dust, snow and fingerprints are repelled for easy cleaning and a clear view.
* Makrolon® Housing...is durable polycarbonate with NBR Long Life rubber armoring, creating a lightweight, rugged chassis that withstands 11 Gs of impact. Impervious to harsh conditions for generations of trusted use.
*  N2 Injection™ System...seals 14-psi pressurized dry nitrogen into the optic, for fogproof clarity in any condition - from artic cold to desert heat.
*  High Drfination Optics...incorporates the finest index-matched glass and advanced lens coatings for best-in-glass image clarity. Lens coating formula reduces glare, increases clarity and maximizes optimal viewing in hazy light or after dark.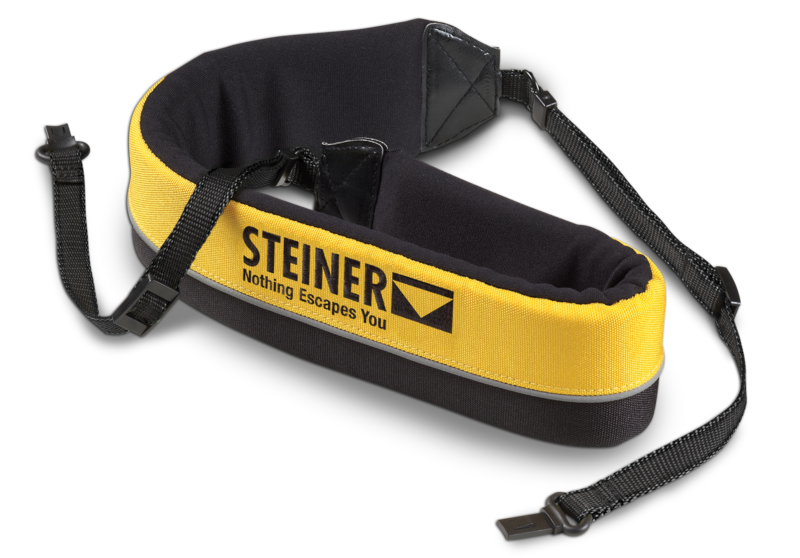 *  Floating Neckstrap... is comfortably padded and bright yellow. It features 3M reflective trim making it highly visible keeping your Commander afloat and easy to spot in case of accidental spills.
* ClicLoc® System... attaches and releases neck strap or harness instantly with push button ease and designed so binoculars hang straight and action-ready.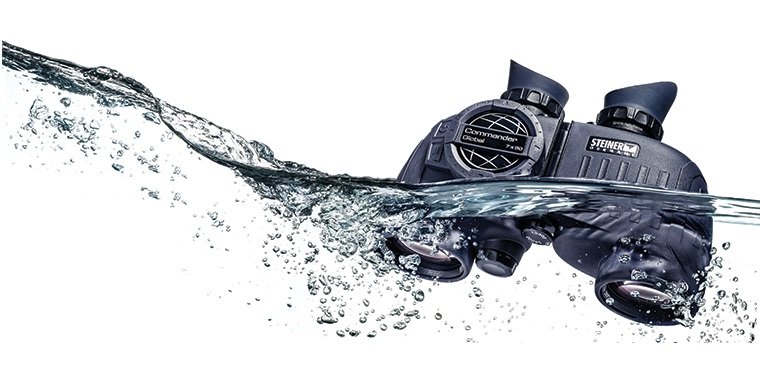 * Waterproof / Fogproof / Shockproof ... durable construction you can trust to stand up to any cold or wet conditions...Waterproof to depths of 33 feet...and rugged enough to withstand impact testing to 900 G's on all optical & electronic components.
---
Focus System: Sports-Auto-Focus™
Optics Systems: High Definition
Close Focus: 66
Exit Pupil: 7.1 mm
Luminosity: 51
Twilight Factor: 18.7
yecups: Ergoflex
Rubber Armoring: NBR Long Life
Waterproof: Submersion to 33 ft.
Weight: 38.4 oz.
Dimension (HxWxL): 6.2 x 8.1 x 3.0
Neck Strap: Floating Strap
Neck Strap Attachment: ClicoLoc®
Warranty: Heritage Warranty
Objective Cover: Yes
Rain Protection Cap: Yes
Carry Case: Yes
Click images below to View Video

---