Steiner 9073 MK5 Battle Light
DISCONTINUED - ONLY (2) Available

MK5 800 Lumen Battle Light, LED Weaponlight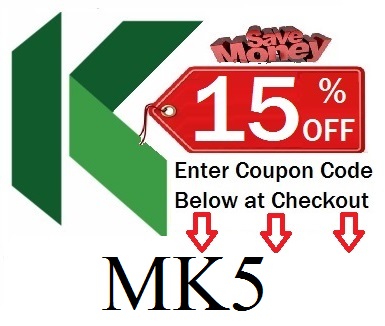 Part Number: 9073 (Black)



 
***Call Today...Ship Today...Free Delivery***

The Mk5 takes off where the Mk4 left off with the addition of an 800 Lumens White Light LED.
This powerful light illuminates to 500 meters, making the Mk5 one of the brightest pocket–sized, weapon-mountable flashlights available today.

These Battle Sights are proudly Made in the USA
Weight 6.1 oz.
Submersible to 5 meters
Item No. 9073

Specifications

Name:

 MK5 Battle Light

Ordering Part Number:

 9073

UPC:

 000381890733

 White High Output:

 800 Lumens)

 Operational Range (White):

 500m

 Infrared High/Low Output:

 N/A

 Operational Range (IR):

 N/A

IR Spectrum:

 N/A

Low Output/Runtime:
 N/A
Output Type:

 High Intensity White

Waterproof:

 Submersion to 5 Meters

Activation:

 

Push-button or Optional Remote Cable Pressure Pad
Weight w/Batteries:

 6.1 oz

Batteries:

 (2) 123A 6-Volt Operation

Body Color:

 Black

LED Color:

 White

Fits:

 

Handguns and Long Guns w/Picatinny or Universal Rails

Warranty:

Heritage Warranty 

One of the brightest handheld flashlights available today, this powerful light has a 800-lumen white light LED and illuminates up to 400 meters.

Weight 173 g (6.1 oz.)
Submersible to 5 m
Features
White 173 LED
Powered by two CR 123A Batteries
Integrated push-button operation
Handheld or weapon-mounted capability
Recoil-resistant white light LED
Robust waterproof construction
Temperature Range -10C to +65C
Heritage WarrantyTM
Specifications:
Lamp  -  White Light LED

Beam Divergence  -  10º

Range  -  ≥500

Battery  -  CR 123 A (2)

Battery Life (mode dependent)  -  ≥1 Hours

Reflection Lens  -  High Output Deep Dish

Material  -  Aircraft Aluminum

Color  -  Black

Weight (with battery and mount)  -  173 g (6.1 oz.)

MIL-STD-1913/Picatinny rail

Activation Switch  -  Integrated Push Button

Remote Cable Pressure Pad  -  Optional

Dimensions  -  16.36 cm (6.44 in.) L

Temperature  -  -10º to +65º C

Waterproof  -  Submersible to 5 Meters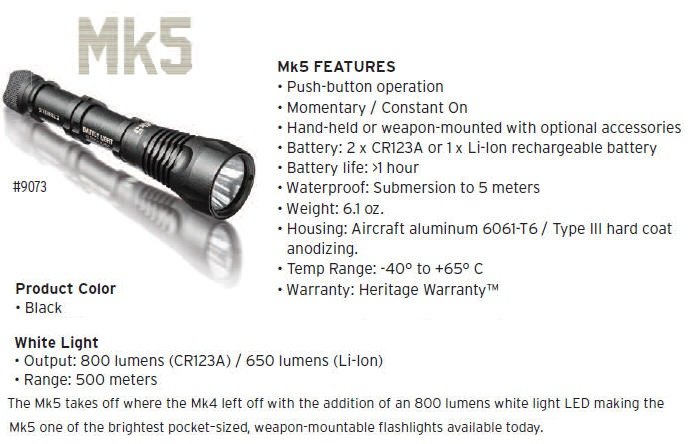 FEATURES

Name:

  MK5 Battle Light

Lamp

 White Light LED

Beam Divergence

  

8° spot / 10° flood
Range

 

≥500 m
Battery
  CR 123A (2)
Battery Life (mode dependent)

 

≥1 Hour
Reflection Lens

 

High Output Deep Dish
Warranty

  

Heritage™ Warranty
Material

 

Aircraft Aluminum
Color

 

Black
Weight (w/Batt & Mnt)

 

4.1 oz.
Dimensions
 6.44 (L)
Temperature Range
 -40° to +65°
Waterproof
 Submersible to 5 m
Mount
 MIL-STD-1913/Picatinny rail
Activation Switch
 Integrated Push Button
Remote Cable Pressure Pad

 

Optional