ARMS Mounts
A.R.M.S.®, Inc. is the original designer and manufacturer of the dovetail dimensions for Military and Civilian use since 1980.  Those original A.R.M.S.® dovetail dimensions were eventually adopted in 1995 as the Mil-Std 1913 Rail.
S.I.R. (Selective Integrated Rail) System
The Most Advanced Handguard in the World The A.R.M.S.® S.I.R. System has more unique and helpful features for the professional user than all other devices combined.  Only the A.R.M.S.® S.I.R. System allows you to have dovetail rails where you want them and not where someone else decided for you.  No other system keeps the weapon cool during firing as the A.R.M.S.® S.I.R. System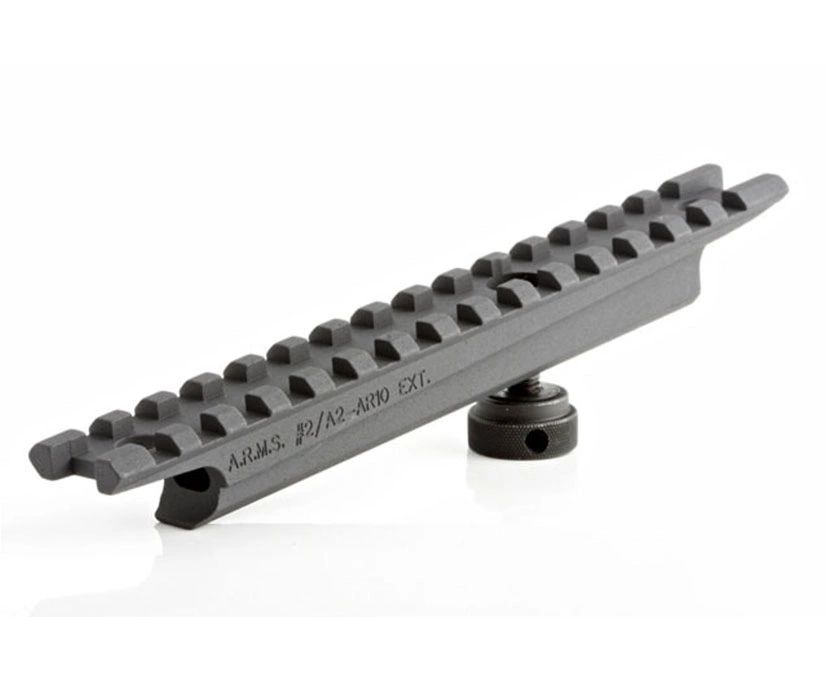 A.R.M.S.® #02™ Extended M16A1A2/AR-10 6.5″ Scope Mount
NSN 1240-01-574-2198
Mount for the AR-10 Rifle´s carry handle. Will Also work with AR15/M16. 100% MADE IN THE USA.
This is a longer version of our widely used #02™ carry handle mount. It measures 6.5″ long and attaches via a unique self-locking thumbnut that fits snugly in the hole in the carry handle for continuous zero hold. The #02™ extended carry handle mount features a wide angle TV shaped see-thru channel for use with iron sights.Weight: 3 oz