Steiner BluHorizon Binocular's

Buy any Steiner Safari Binocular and take another 15% Off INSTANTLY
German-engineered So Nothing Escapes You
No Matter Where In The World You Are
Steiner binoculars utilize the latest in German optics technology to deliver the finest binocular lines in the world for hunters, law enforcement and military personnel, and adventure-seekers on land and sea.
Outdoor Series Binoculars
You pass this way but once. Make sure you see it clearly - all the color and contrast, every breathtaking detail, all laid out with depth and clarity only Steiner's world-class optical technology and adventure-loving construction can provide. Every hike, cruise, outing and event has its own unforgettable high point. Make the most of it with the best companion you could have along: Steiner Nature and Travel binoculars.
World's First Sunlight Adaptive Binocular's
All the action without a glimmer of glare.
Exclusive AutoBright™ optics offset dazzling light automatically, for the best view under the sun.
With the 8x22 (2043) BluHorizon- Tuck this 4-inch marvel into your backpack, pocket or purse on your way out, for glare-free viewing from 6.6 feet to infinity. Fast-Close Focus, rainproof and rugged, with versatile 8x Magnification. It's the trimmest, lightest Sunlight Adaptive optic there is.
With the 10x26 - the AutoBright™ 10 Magnification eliminates glare, evaporates distance, and amps the fun of whatever you're doing. At just 10.6 ounces, you can take it everywhere. With powerful 10x Magnification, you're close to the action anywhere.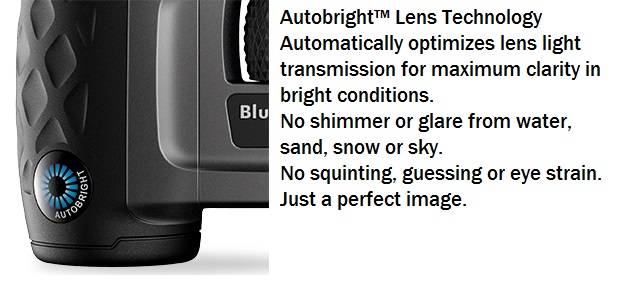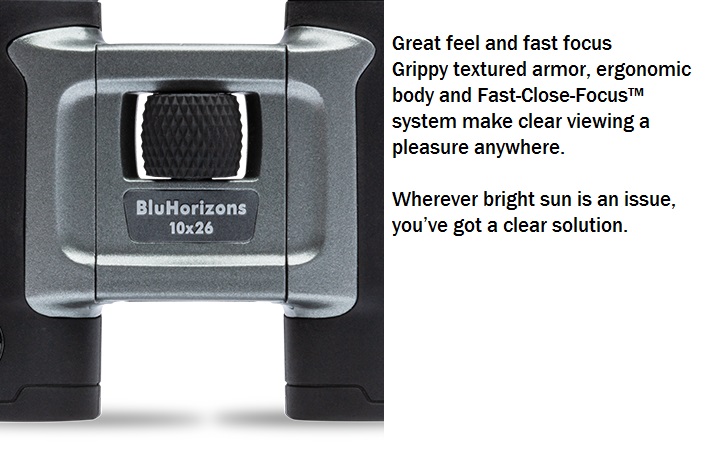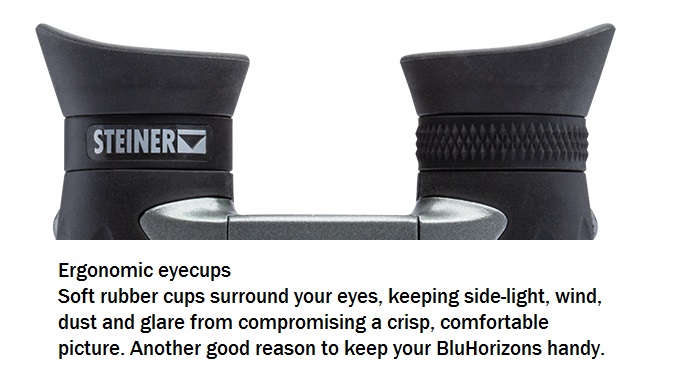 Outfitted with innovative technologies and designed for easy carrying, the Steiner Optics 10x26 BluHorizons Binocular is ideal for the beach, trail, or sightseeing around town.
Steiner's proprietary Autobright Lens Technology uses technology from the eyeglass industry to solve common problems—such as eyestrain, reduced contrast & clarity, and washed-out colors—when using magnified optics in extremely bright conditions. This photo-chromic adaptive system automatically dims the lenses in bright sunlight, much like popular transition eyeglass lenses that are clear when you're inside and will darken when you go outside. This reduction in excessive light, improves color rendition, contrast, clarity, and resolution while also making your viewing experience more comfortable. This works hand-in-hand with a wide apparent angle of view that minimizes the hand shake that is often experienced when holding high-power binoculars and which takes away from the experience. Winged eyecups block peripheral light from hitting your eyes further improves contrast and reduce distraction.
BluHorizon's lightweight housing is made of a impact-resistant polycarbonate material that is also temperature resistant—which makes it extremely durable over its lifetime of use. The chassis is wrapped in an oil-, petroleum-, and chemical-resistant synthetic Nitrile-Butadiene Rubber (NBR) armor that offers improved grip security, especially in cold and wet weather.
Standing just [4.5" tall and weighing 10.6 ounces with the 10x26(2044)] or [4' and 8.8 ounces for the 8x22 (2043)], these BluHorizon's will easily fit most backpacks, pockets, or purse and won't burden you when you have to carry it around your neck all day.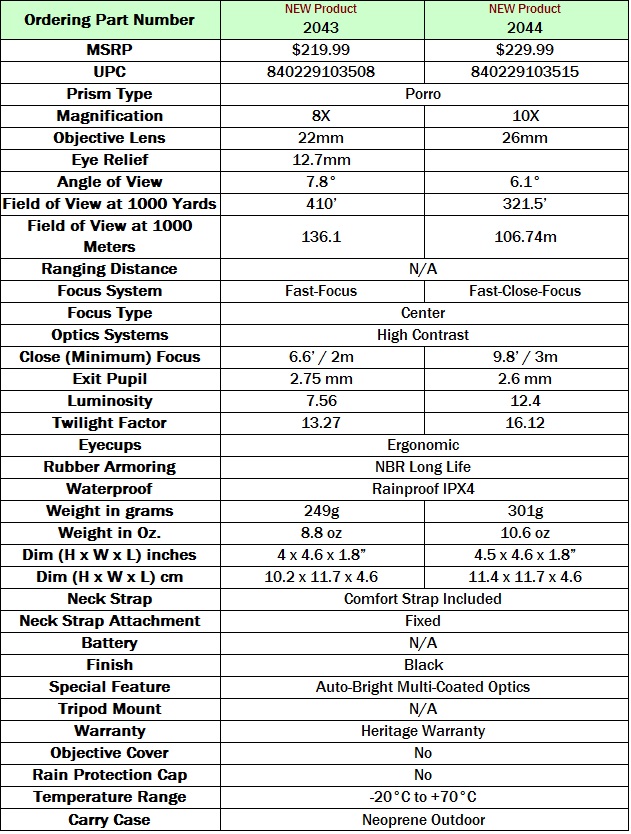 2043 8x22 Optical Performance
·         Moderate 8x power magnifies view without sacrificing field of view or exit pupil
·         22mm objective lenses ensure a compact and easy-to-use form factor
·         Roof prism design produces narrow optical tubes for easier handing
·         Proprietary Autobright adaptive lens technology automatically dims the view in extremely bright sunlight to prevent eye damage and improve contrast, clarity, and resolution
·         Wide 62.5° apparent angle of view presents an immersive observational experience
·         410-foot field of view at 1000 yards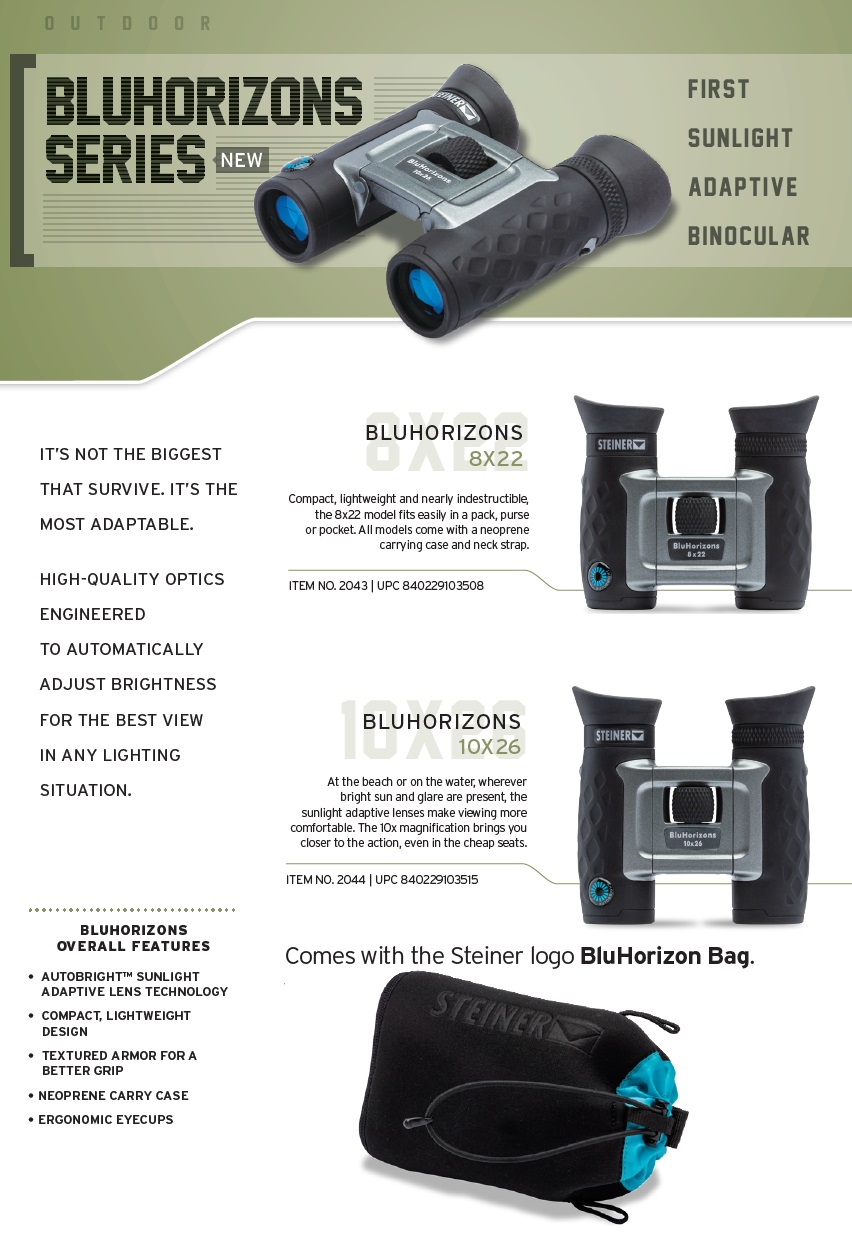 2044 10x26 Optical Performance
·         High 10x magnification brings distant subjects in close for detailed observation and identification
·         26mm objective lenses ensure a compact and easy-to-use form factor
·         Roof prism design produces narrow optical tubes for easier handing
·         Proprietary Autobright adaptive lens technology automatically dims the view in extremely bright sunlight to prevent eye damage and improve contrast, clarity, and resolution
·         Wide 61° apparent angle of view helps to offset the distracting hand shake often experienced when holding high-power optics
·         321.5-foot field of view at 1000 yards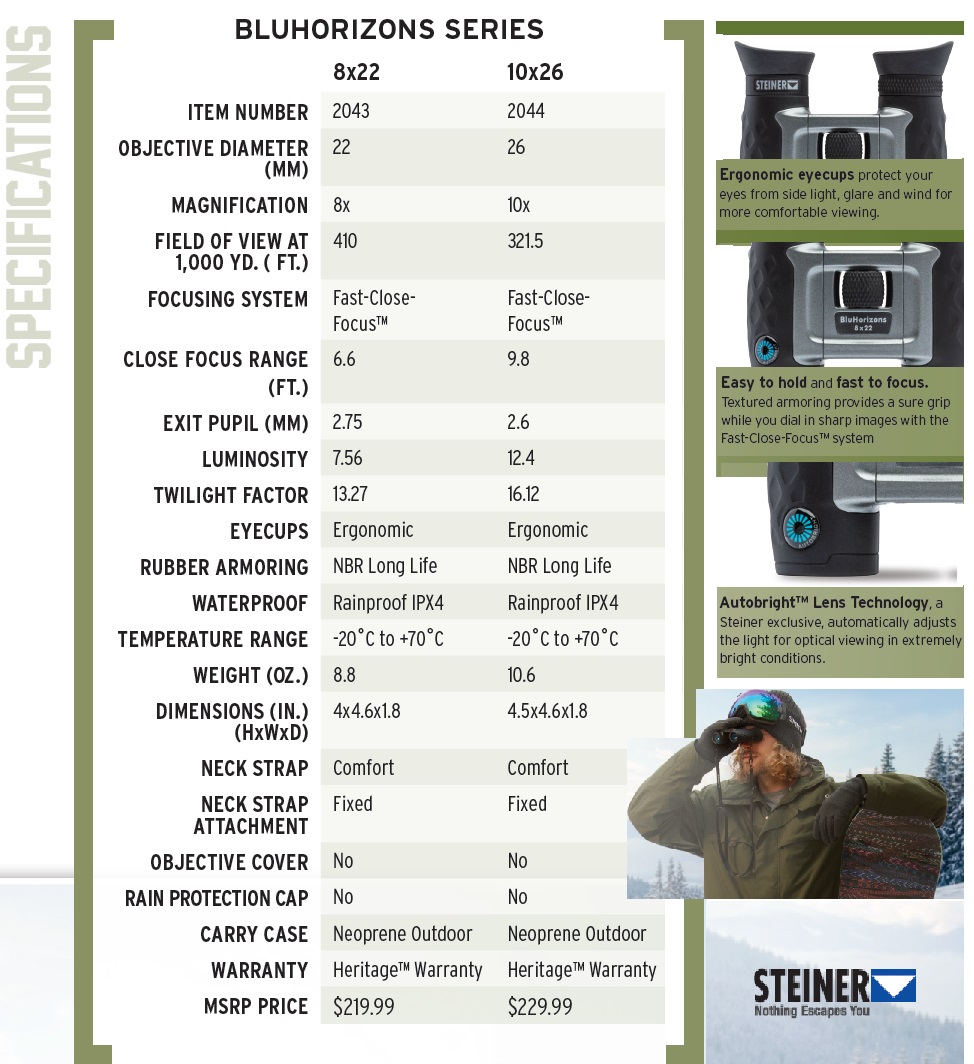 Use and Handling
·         Closed bridge configuration provides a solid platform for the internal focusing system
·         Fast-Close-Focus system requires minimal rotation to take the binocular from its minimum focus distance to infinity for faster and easier focusing capability
·         Low-profile textured center focusing wheel is easy to use with either hand
·         Left-eye Dioptric correction enables custom focusing for tack-sharp views
·         Fold-down rubber eyecups for comfortable use with or without eyewear
·         12.7 mm Eye Relief (2043) / 12.4mm eye relief (2044)
·         2.75 mm Exit Pupil (2043) / 2.6mm Exit Pupil (2044)
Construction Details for both models
·         Lightweight and impact-resistant polycarbonate chassis
·         Chassis material is also temperature resistant to prevent the expansion and contraction that occurs with metal that can cause the optical components to move out of alignment and prevent being able to focus properly
·         Oil, petroleum, and chemical-resistant NBR synthetic textured rubber armor offers improved grip security, especially in cold and wet weather
·         IPX4-rated to be weather resistant against rain and snow
·         Winged eyecups block peripheral light to avoid interfering with the view for improved contrast and comfort
·         Compact, lightweight design is easy to pack, carry, and handle
·         Includes padded neck strap and BluHorizon Bag
Broad -4 to 158°F (-20 to 70°C) operating temperature range