D740 NV Weaponsight
D740, 4X Magnification, Pinnacle, Night, Vision, Scope, Weaponsight 
Where "Top-of-the-Line" is always on "Top-of -our-Shelves"!
 DISCONTINUED - D750 & D790's are still available
* 4X Magnification, 10˚FOV
* C

ommon AA Battery Operation
* 7.08" x 3" x 2.95" and

Weighs only 32oz
* Shock Protected Optics that are Combat Proven
* High Resolution 57 - 64lp/mm Minimum
* Choice of Image Tubes, including High Performance White Phosphor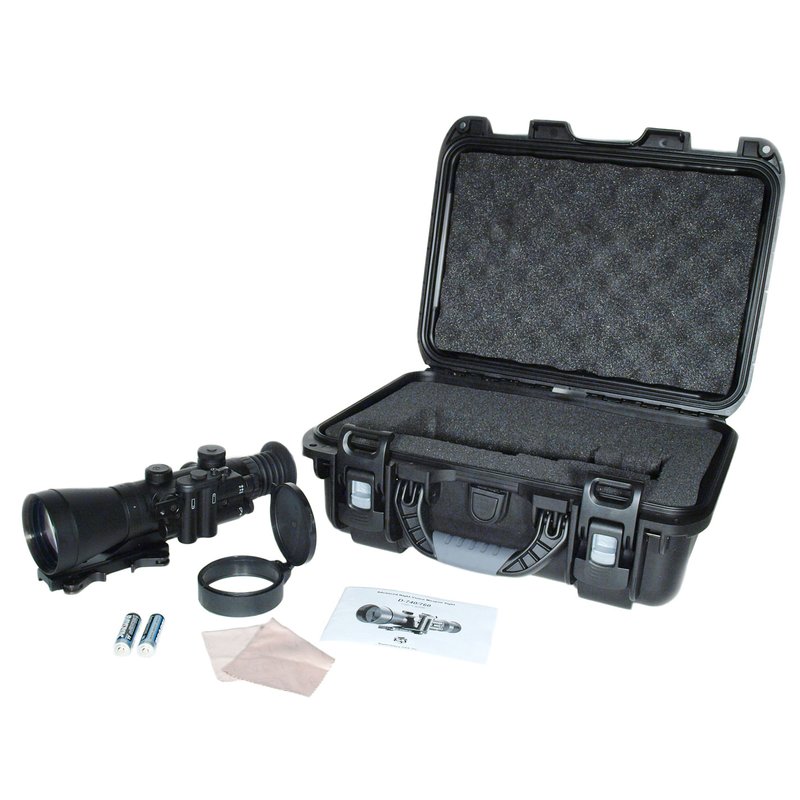 KIT INCLUDES: Padded Hard Case, Day Light Lens Cover, 2 AA Batteries, Operator's Manual, Lens Cleaning Paper, Shuttered Eyeguard, Weapons Mount
      The D740 is the latest iteration, GEN 3 Night Vision Weapon sight, utilizing the latest Ultra military image tube providing 21st Century technology. Rugged yet lightweight construction makes the D740 very reliable and is the most accurate imaging device designed to withstand the rigors of combat use. Designed to compete with the now discontinued 4X & 6X Raptors, the D740, D750, D760, and now the D790 Night Vision Weaponsights will astound you with what they have to offer. 
The D740 is a rugged 4X Night Vision Weapon Sight featuring state of the art electronics and optics, and a highly durable aircraft grade aluminum body for reduced weight and improved recoil resistance. The D740 has a detection range of 1795 feet with recognition range at 1548 feet.
The D740 is nitrogen purged and waterproof, and features high quality multi coated optics, as well as an illuminated green or amber Mil-Dot reticles, and a quick release Picatinny/Weaver rail weapon mount.
The D740 uses two AA batteries for a continuous run time of up to 60+ hours and is guaranteed with maintaining a zero boresight retention on weapons up to 7.62/.308 caliber. Available with Gen 3 Commercial, MIL GRADE or MIL SPEC Pinnacle Auto Gated image intensifiers, including the latest White Phosphor Tubes. Gen 3 systems are also available with optional gain control.
     Originally designed for military and professional demands for extreme long range accuracy, the D740 can easily be mounted on almost any weapon system. Optional mount adapters are available for specific mounting needs.
      Sighting is accomplished with a variable illuminated Green or Amber Mil-Dot crosshair ballistic reticle. The reticle is fully adjustable for bore sighting and has a separate control for optimal reticle brightness and contrast for all lighting conditions. The reticle offers 0.2 Mil Elevation and Windage adjustments.
D740 4X Applications:
          

Snipers and Professional Shooters

          

Corn Farmers with Feral Hog Problems

          

Ranchers with Coyotes and Varmint Problems
     A daylight cover protects the objective lens, as well as the image tube, against long term accidental exposure to bright light. This daylight cover can be utilized for training and bore sighting during low-light conditions such as dawn, dusk or overcast days. A pressure operated rubber eye guard provides operator protection from recoil and prevents light scatter from the image tube. 
| | |
| --- | --- |
| Model | SYSTEMS WITH GAIN CONTROL |
| D740G-ULT | 4X NV Weapon Sight w/Pinnacle Ultra MIL Spec Tube |
| D740G-VG | 4X NV Weapon Sight w/Pinnacle VG MIL Spec Tube |
| D740G-YG | 4X NV Weapon Sight w/Pinnacle YG MIL Spec Tube |
| D740G-HP+ | 4X NV Weapon Sight w/Pinnacle High Performance Tube |
| D740G-P+ | 4X NV Weapon Sight w/Pinnacle P+ Spec Tube |
| D740G-P | 4X NV Weapon Sight w/Pinnacle P Spec Tube |
| D740G-WP | 4X NV Weapon Sight w/Pinnacle White Phosphor |
| D740G-WHP | 4X NV Weapon Sight w/Pinnacle High Performance White Phosphor |
| D740G-XLS-1 | 4X NV Weapon Sight w/Non Gated Tube |
| D740G-XLS-2 | 4X NV Weapon Sight w/Non Gated Tube, Small Spot in Zone 1 |
| | |
| --- | --- |
| Model | SYSTEMS WITHOUT GAIN CONTROL |
| D740-ULT | 4X NV Weapon Sight w/Pinnacle Ultra MIL Spec Tube NO Gain Control |
| D740-VG | 4X NV Weapon Sight w/Pinnacle VG MIL Spec Tube NO Gain Control |
| D-740-YG | 4X NV Weapon Sight w/Pinnacle YG MIL Spec Tube NO Gain Control |
| D-740-HP+ | 4X NV Weapon Sight w/Pinnacle High Performance Tube NO Gain Control |
| D-740-P+ | 4X NV Weapon Sight w/Pinnacle P+ Spec Tube NO Gain Control |
| D-740-P | 4X NV Weapon Sight w/Pinnacle P Spec Tube NO Gain Control |
| D-740-WP | 4X NV Weapon Sight w/Pinnacle White Phosphor Tube NO Gain Control |
| D-740-WHP | 4X NV Weapon Sight w/Pinnacle High Performance White Phosphor Tube NO Gain Control |
| D-740-XLS-1 | 4X NV Weapon Sight w/Non Gated Tube NO Gain Control |
| D-740-XLS-2 | 4X NV Weapon Sight w/Non Gated Tube w/Small Spot in Zone 1 NO Gain Control |
GEN III Tube Specifications for Systems with Gain Control

GEN III Tube Specs
MIL SPEC-ULT
MIL SPEC-VG
MIL SPEC-YG
Power Supply:
Pinnacle
Pinnacle
Pinnacle
Signal to Noise Ratio:
25.0 min.
25.0 min.
25.0 min.
PhotoResponse:
2200 min.
2000 min.
1800 min.
Halo:
n/a **
n/a **
n/a **
EBI:
2.5 max.
2.5 max.
2.5 max.
Resolution:
64 lp/mm min.
64 lp/mm min.
64 lp/mm min.
Max Spots Allowed in Each Zone, Spot Size (in.)
ZONE
1___2___3
ZONE
1___2___3
ZONE
1___2___3
...........>.012 - .015
0___0___0
0___0___0
0___0___0
...........>.009 - .012
0___0___0
0___0___0
0___0___0
...........>.006 - .009
0___0___1
0___0___1
0___1___1
...........>.003 - .006
0___0___2
0___0___2
0___2___2
GEN III Tube Specs
MIL GRADE HP+
MIL GRADE P+
COMMERCIAL P
Power Supply:
Pinnacle
Pinnacle
Pinnacle
Signal to Noise Ratio:
25.0 min.
20.0 min.
16.2 min.
PhotoResponse:
2200 min.
1750 min.
1350 min.
Halo:
n/a **
n/a **
n/a **
EBI:
2.5 max.
2.5 max.
2.5 max.
Resolution:
64 lp/mm min.
64 lp/mm min.
57 lp/mm min.
Max Spots Allowed in Each Zone, Spot Size (in.)
ZONE
1___2___3
ZONE
1___2___3
ZONE
1___2___3
...........>.012 - .015
0___0___0
0___0___0
0___0___0
...........>.009 - .012
0___0___0
0___0___0
0___0___1
...........>.006 - .009
0___0___1
0___1___1
0___2___2
...........>.003 - .006
0___0___2
0___2___2
0___2___3
WHITE PHOSPHOR & XLS
WHP
WP
XLS-1
XLS-2
Power Supply:
Pinnacle
Pinnacle
Non Gated
Non Gated
Signal to Noise Ratio:
25.0 min.
16.2 min.
16.2 min.
16.2 min.
PhotoResponse
2200 min.
1350 min.
1350 min.
1350 min.
Halo:
n/a **
n/a **
n/a **
n/a **
EBI:
2.5 max.
2.5 max.
2.5 max.
2.5 max.
Resolution:
64 lp/mm min.
57 lp/mm min.
57 lp/mm min.
57 lp/mm min.

Max Spots Allowed

ZONE
1___2___3
ZONE
1___2___3
ZONE
1___2___3
ZONE
1___2___3
...........>.012 - .015
0___0___0
0___0___0
0___0___0
0___0___0
...........>.009 - .012
0___0___0
0___0___1
0___1___1
0___1___1
...........>.006 - .009
0___1___1
0___2___2
0___2___2
0___2___2
...........>.003 - .006
0___2___2
0___2___3
0___2___3
1___2___3
GEN III Tube Specifications for Systems without Gain Control
GEN III Tube Specs
MIL SPEC-ULT
MIL SPEC-VG
MIL SPEC-YG
Power Supply:
Pinnacle
Pinnacle
Pinnacle
Signal to Noise Ratio:
30.0 min.
28.0 min.
25.0 min.
PhotoResponse:
2400 min.
2200 min.
1800 min.
Halo:
n/a **
n/a **
n/a **
EBI:
2.5 max.
2.5 max.
2.5 max.
Resolution:
64 lp/mm min.
64 lp/mm min.
64 lp/mm min.
Max Spots Allowed
ZONE
1___2___3
ZONE
1___2___3
ZONE
1___2___3
...........>.012 - .015
0___0___0
0___0___0
0___0___0
...........>.009 - .012
0___0___0
0___0___0
0___0___0
...........>.006 - .009
0___0___1
0___0___1
0___1___1
...........>.003 - .006
0___0___2
0___0___2
0___2___2
GEN III Tube Specs
MIL GRADE HP+
MIL GRADE P+
COMMERCIAL P
Power Supply:
Pinnacle
Pinnacle
Pinnacle
Signal to Noise Ratio:
25.0 min.
20.0 min.
16.2 min.
PhotoResponse:
2200 min.
1750 min.
1350 min.
Halo:
n/a **
n/a **
n/a **
EBI:
2.5 max.
2.5 max.
2.5 max.
Resolution:
64 lp/mm min.
64 lp/mm min.
57 lp/mm min.
Max Spots Allowed
ZONE
1___2___3
ZONE
1___2___3
ZONE
1___2___3
...........>.012 - .015
0___0___0
0___0___0
0___0___0
...........>.009 - .012
0___0___0
0___0___0
0___0___1
...........>.006 - .009
0___0___1
0___1___1
0___2___2
...........>.003 - .006
0___0___2
0___2___2
0___2___3
WHITE PHOSPHOR & XLS
WHP
WP
XLS-1
XLS-2
Power Supply:
Pinnacle
Pinnacle
Non Gated
Non Gated
Signal to Noise Ratio:
25.0 min.
16.2 min.
16.2 min.
16.2 min.
PhotoResponse
2200 min.
1350 min.
1350 min.
1350 min.
Halo:
n/a **
n/a **
n/a **
n/a **
EBI:
2.5 max.
2.5 max.
2.5 max.
2.5 max.
Resolution:
64 lp/mm min.
57 lp/mm min.
57 lp/mm min.
57 lp/mm min.
Max Spots Allowed in Each Zone, Spot Size (in.)
ZONE
1___2___3
ZONE
1___2___3
ZONE
1___2___3
ZONE
1___2___3
...........>.012 - .015
0___0___0
0___0___0
0___0___0
0___0___0
...........>.009 - .012
0___0___0
0___0___1
0___1___1
0___1___1
...........>.006 - .009
0___1___1
0___2___2
0___2___2
0___2___2
...........>.003 - .006
0___2___2
0___2___3
0___2___3
1___2___3
Application Comparison of Night Vision Devices
| | | | | | | | | | |
| --- | --- | --- | --- | --- | --- | --- | --- | --- | --- |
|   | Hand Held | Head Mount | Camera Mountable | 1 Eye | 2 Eyes | Weapon Mountable | Short Range | Medium Range | Long Range |
| ENVIS | X |   | X | X |   |   | X |   |   |
| PVS-5 |   | X |   |   | X |   | X |   |   |
| PVS-7 | X | X |   |   | X |   | X |   |   |
| PVS-7 w/3X | X | X |   |   | X |   |   | X |   |
| PVS-7 w/5X | X |   |   |   | X |   |   |   | X |
| 5X Binocular | X |   |   |   |   |   |   |   |   |
| PVS-14 | X | X | X | X |   | X | X |   |   |
| D740 4X Weaponsight |   |   |   | X |   | X |   | X | X |
| D760 6X Weaponsight |   |   |   | X |   | X |   |   | X |
System Technical Specifications

Generation

3

Resolution   
  57 - 64lp/mm
Objective Lens   
  100mm f/1.5

Photoresponse

  1350 - 2400

SNR Ratio

16.2:1 - 30.0:1

Magnification

4X

Field of View

10° FOV

Diopter Adjust

+3 to -4 Diopters

Weight

32 oz

Power Source Lithium

(2) AA  Batteries

Battery Life

60+ Hours

Dimensions

7.08" x 3" x 2.95"

Warranty

1 Year