EOTech EXPS2 Series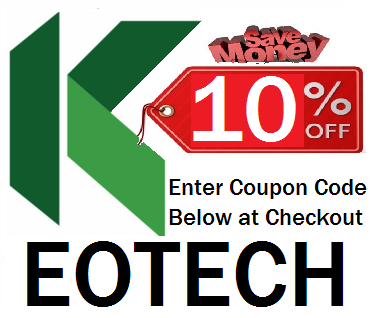 If an item is showing out of stock and you want to put one on order with no up front costs, please give us a call at (702) 324-6463. 
Description
The EXPS2 offers true 2-eyes-open shooting and provides an unparalleled targeting experience.  The all-purpose EXPS2 features easy-to-adjust side buttons and a quick-detach lever. It has a transversely-mounted lithium 123 battery. The increased height of the EXPS provides iron sight co-witness access in the lower third of the viewing window.
Whether you're using the sight for law enforcement or hunting, the EXPS series sights are the premier optics in the line.  
If you like this model but need night vision-compatibility, look at the EXPS3 Series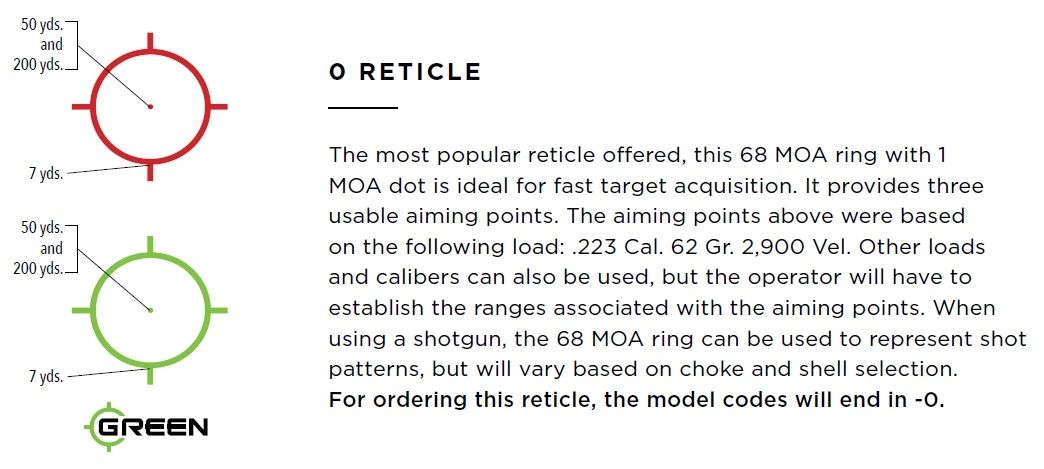 Ordering Information
EXPS2-0
UPC: 672294600275
EXPS2-2
UPC: 672294600268
Operation
Optics
Transmission Holography - 100% Parallax Free
Magnification
1X
Eye Relief
Unlimited
Sealing
Fog proof Internal Optics
Waterproof
Submersible to 33'
Adjustment (per click)
0.5 MOA (1/2" at 100 yards)
Adjustment Range
+/- 40 MOA Travel
Mount (Adjustable for Width)
1" Weaver or MIL-STD-1913 "Picatinny" Rail
Return to Zero
Repeatable to 2 MOA after Re-Mounting
Heads-Up Display Window
Optical Surfaces
Anti-Glare Coating
Window Dimensions
1.2" x 0.85" (30mm x 23mm)
Front Window Material
1/8" Solid Glass
Rear Window Material
Shatter Resistant Laminate 3/16" Thick
Field-of-View (100yds)
30yds (28m) at a 4" Eye Relief
Standard Reticle

EXPS2-0: 68 MOA Ring and 1 MOA Dot (Red or Green)

Standard Reticle
EXPS2-2: 68 MOA Ring and (2) 1 MOA Dots
Electrical
Brightness Adj. Range
146,000:1 brightest to lowest
NV Brightness Range:
N/A
Function Button Location
Side
Power Source
(1) 123 Lithium Battery
Battery Life
600 continuous hours at nominal setting 12
Brightness Settings
20 Settings with Scrolling Feature
Auto Battery Check Indicator
Flashing reticle upon start-up
Auto Shut-down
At 8 hrs- programmable to 4 hrs
DIMENSIONS
Length
Width
Height
3.5" (91.4 mm)
2.4" (60.9 mm)
2.8" (71 mm)
Weight
11.2 oz (317 grams)
ENVIRONMENTAL DATA
Temperature Range
-40ºF to 150ºF (AA Lithium)
-20ºF to +140 (AA Alkaline)
Max Storage Temp.
-80ºC (176ºF)
Night Vision Compatibility: No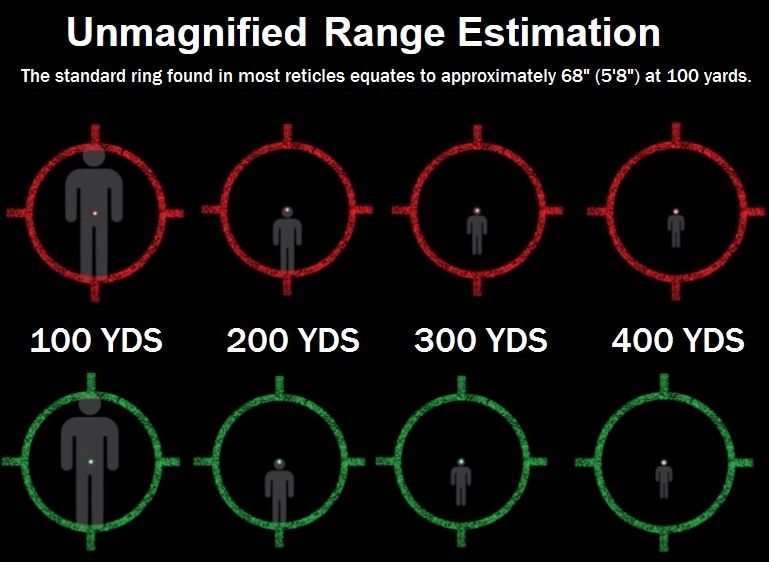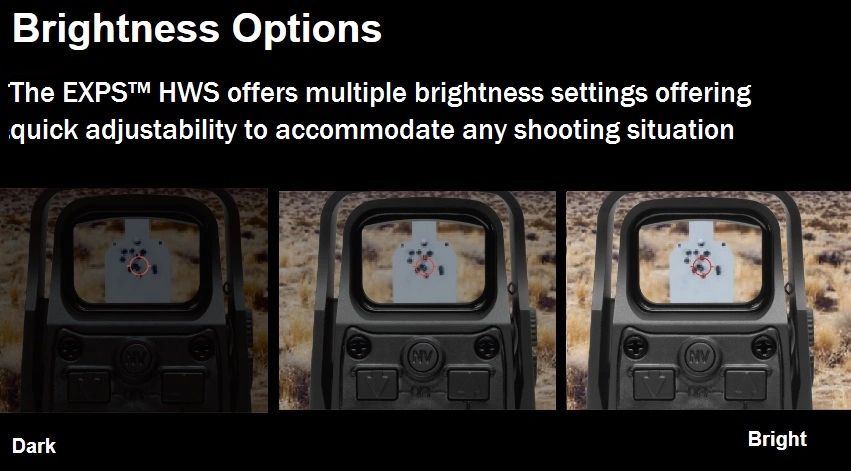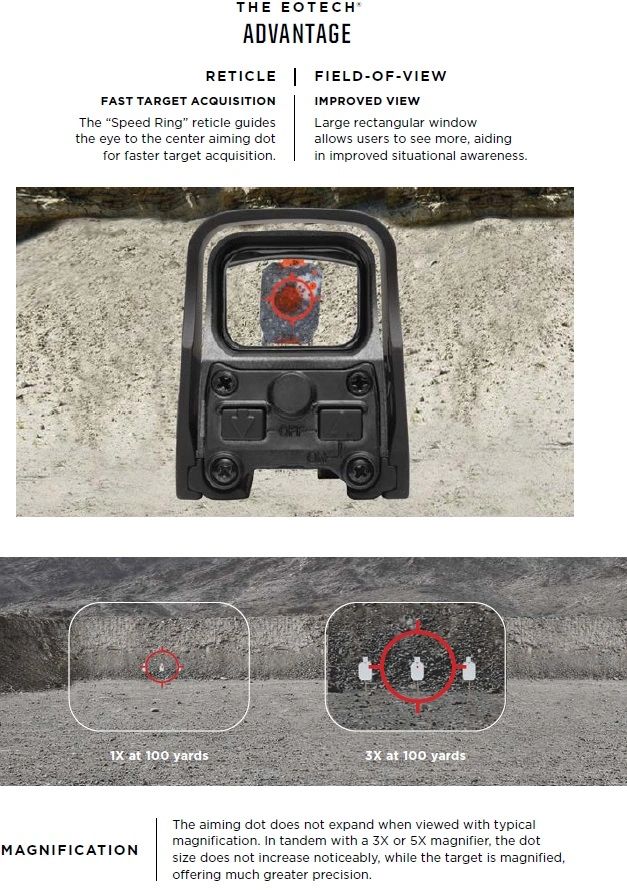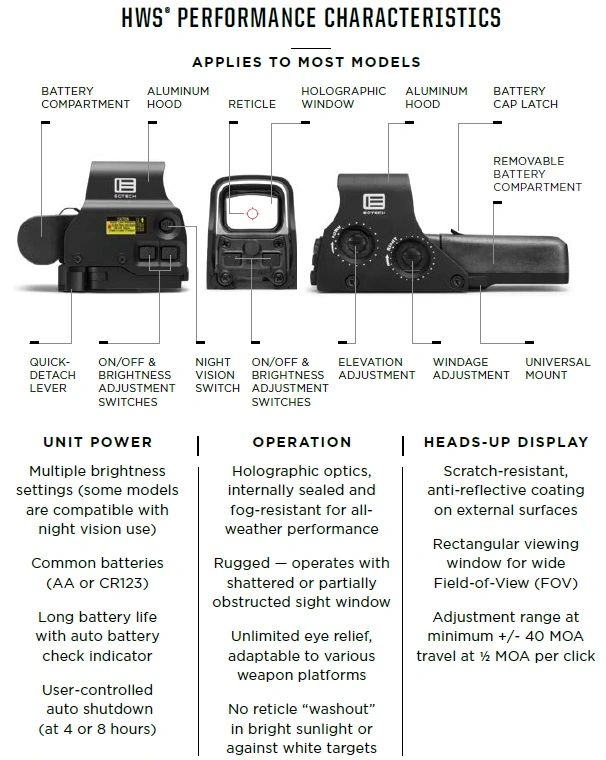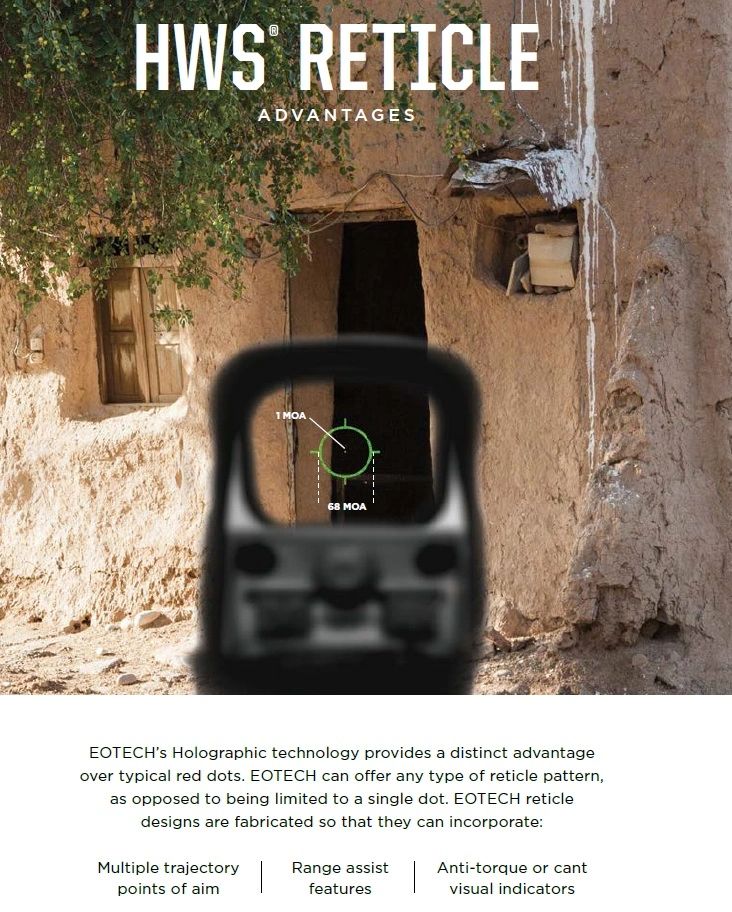 *This Holographic Weapon Sight must be exported from the United States in accordance with Export Administration Regulations ECCN 0A987. Diversion contrary to U.S. law is prohibited. In accordance with U.S. law (Title 15 CFR part 746 and Supplement No. 1 to Part 774; and Title 31 CFR) resale/re-export or transfer of Holographic Weapon Sight Models 552, 551, 512, 511, 4X magnifier and 3X magnifier to certain designated countries is prohibited without prior written consent of the U.S. Department of Commerce. The Holographic Weapon Sight Models 553, 557 and 555 are controlled under U.S. International Traffic in Arms Regulations (ITAR) and may not be exported without proper authorization by the U.S. Department of State.
* These EXPS2 models are not Night Vision compatible, for Night Vision compatibility see the EXPS3 sights