GL35R RICO-G LRF 384
RICO G-LRF 384 3X 35mm LASER Rangefinding Thermal Weapon Sight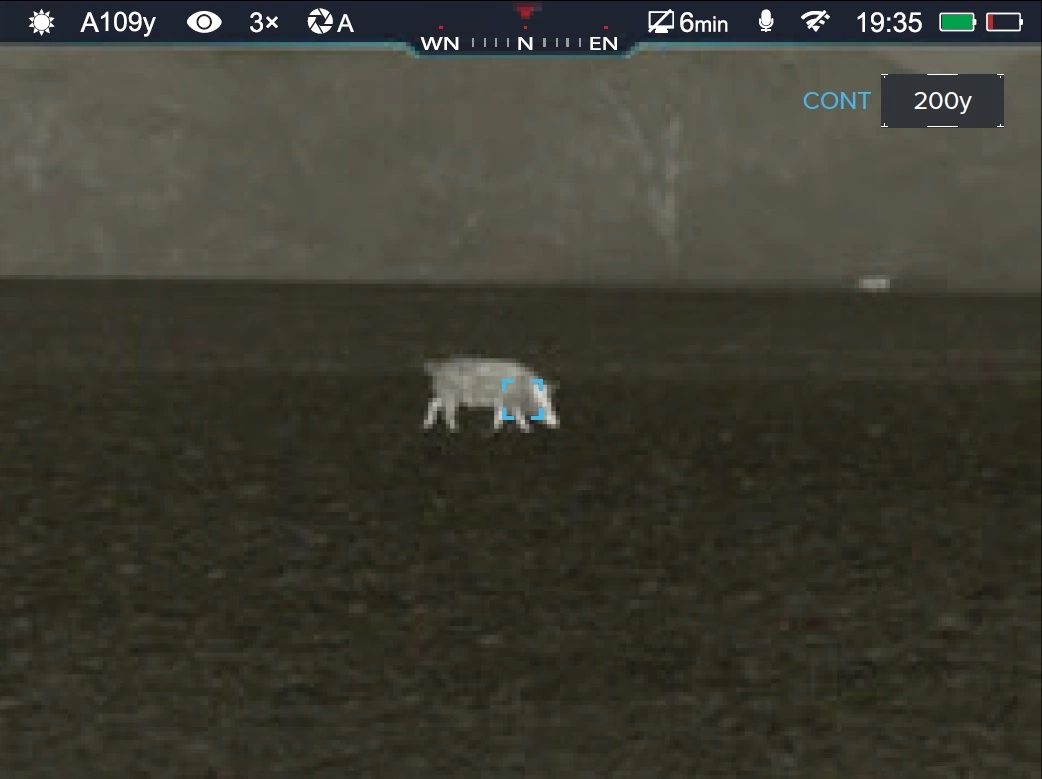 The G-LRF Series models are equipped with an integrated, precision LASER rangefinder which allows the user to measure the distance to objects up to 1000m away, with ±1m accuracy up to 1km. The LASER rangefinder has continuous range finding which allows the user to adjust quickly to changing distances for better shot placement.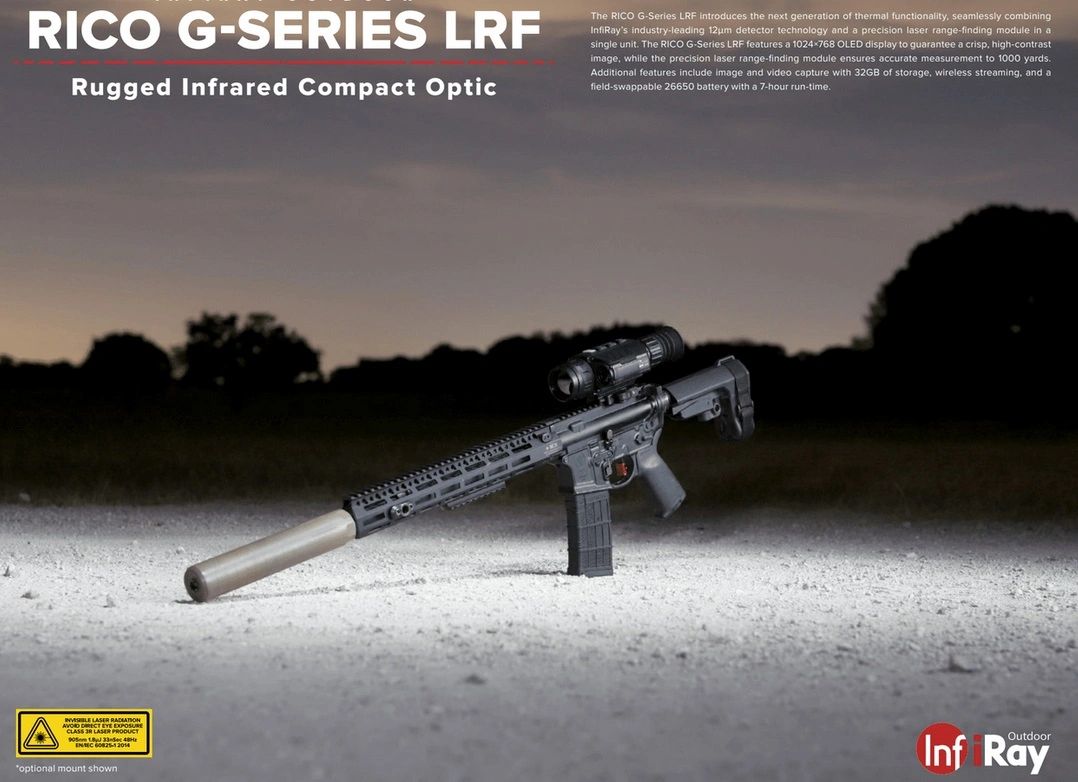 The RICO G-LRF is the first addition to InfiRay Outdoor's family of Rugged Infrared Compact Optics(RICO) to include an integrated laser rangefinder. Designed as a more compact and affordable alternative to it's full size RICO Mk1 counterpart, the RICO G-LRF is available in two models; 384x288 35mm and 640x512 50mm.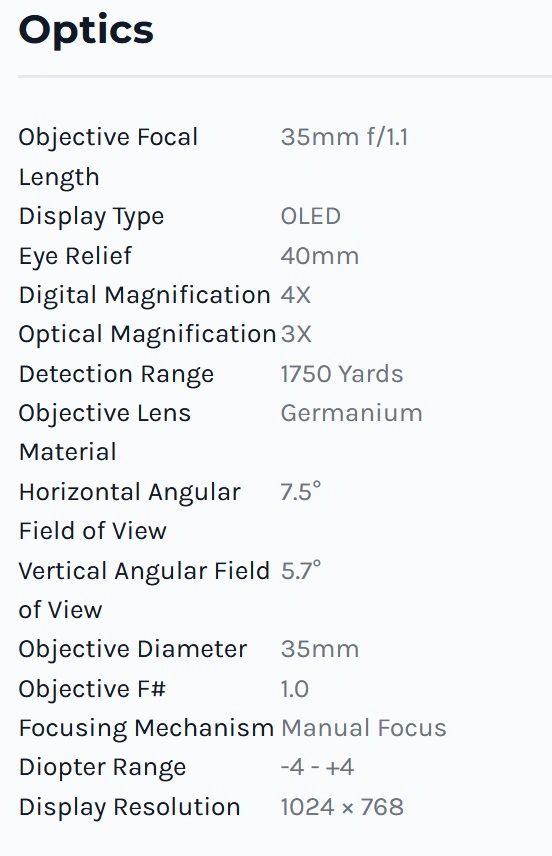 Although smaller in size, the RICO G-LRF still maintains many familiar RICO Mk1 characteristics including a 4 button layout, compatibility with the AD-RQD quick release mount, similar software style and menu functions, high speed germanium objective optics, and an HD OLED display. In addition to the features it carries over from the Mk1, the G-LRF brings never-before-seen features to market for InfiRay Outdoor including a new high density 26650 battery configuration, and InfiRay Outdoor's newly integrated high performance 905nm LRF micro-module. This advanced class 3R LRF module uses the latest technology in laser ranging to decrease physical laser input receiver size while maintaining accuracy and range capabilities of modules that are much larger, heavier, and more power hungry.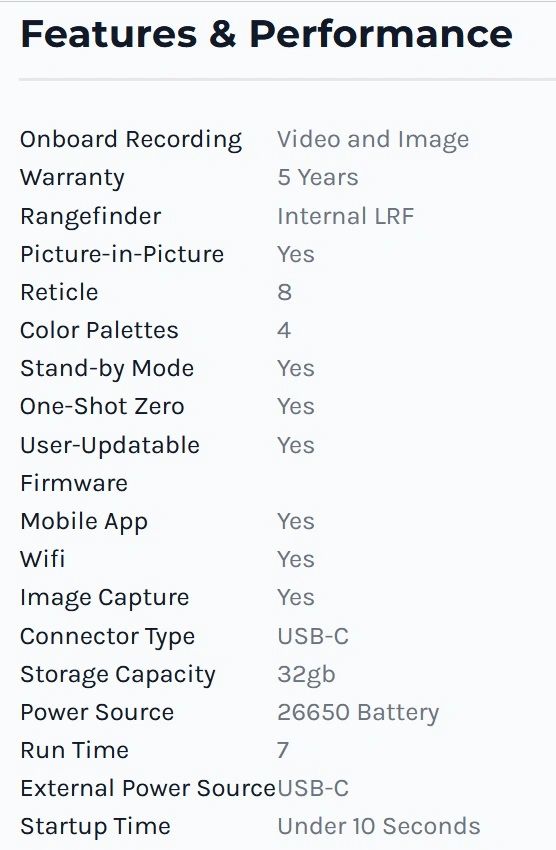 Other notable design characteristics to achieve the desired smaller stature are a smaller chassis, shorter eyepiece focal length, barrel-style manual focus objective optics, and a high density battery configuration. All these features combined make the RICO G-LRF an excellent option for hunters that need no more than 4 (GH50R) or 7 (GL35R) hours per battery swap and require decreased size and a integrated rangefinder. A single 26650 battery was chosen to power the system as a space saving and high value alternative to multi battery designs. 26650 style batteries are commercial off the shelf and widely available across the globe from premium battery manufactures such as NITECORE.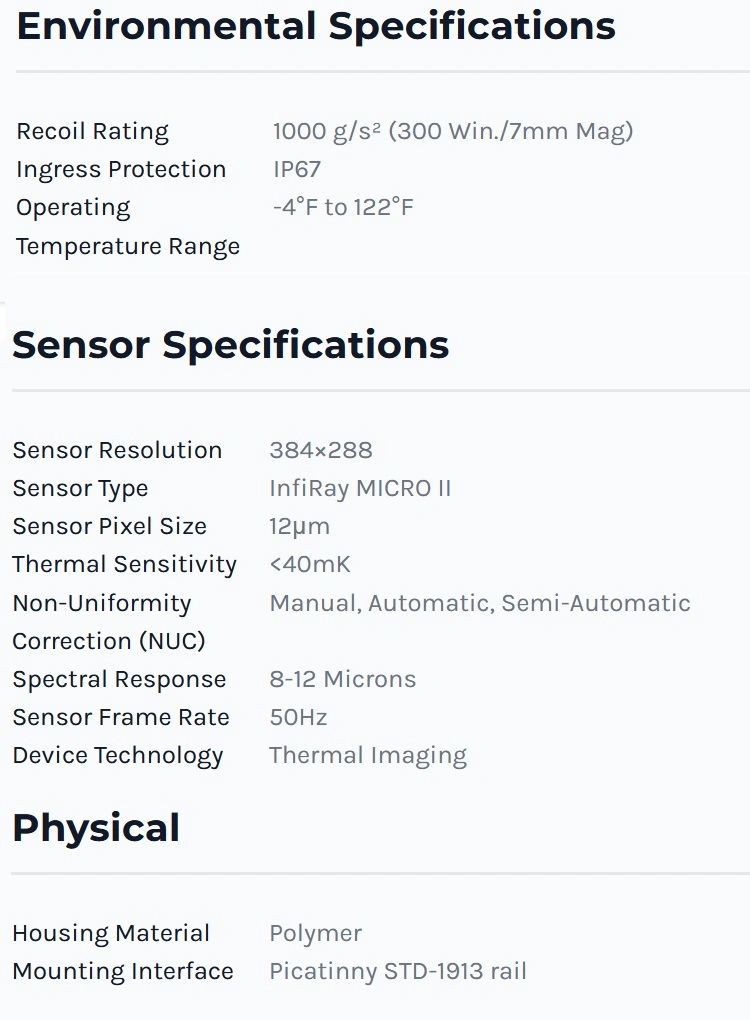 The RICO G-Series LRF seamlessly blends InfiRay Outdoor's industry-leading 12μm detector technology, a built-in laser range-finding module and an intuitive user interface in a single product. The G-Series LRF also supports image and video capture, wireless data transmission, electronic compass, multiple reticles, and a 4-7 hour run-time, guaranteeing it's never been easier to detect, range, and connect on your next hunt.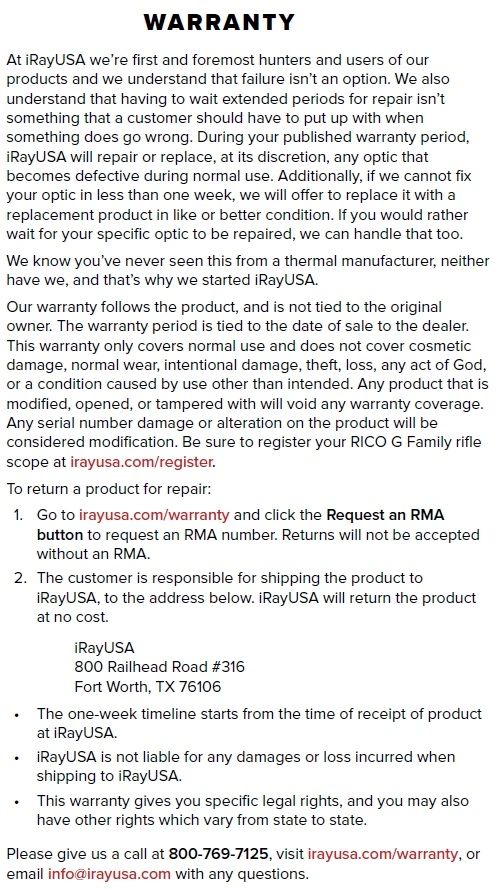 International Traffic in Arms Regulation (ITAR)
When purchasing an ITAR restricted item you must be a legal US citizen. Export of the commodities described herein is strictly prohibited without a valid export license. A statement will appear at the bottom of each restricted product's page indicating export restrictions apply in accordance with the International Traffic in Arms Regulation.
If needed you will be

contacted within 24 hours

of placing your order. (Such as but not limited to a completed ITAR compliance acknowledgement form with your original signature and/or a government issued ID.

 

If

 additional documentation is requested, your order will not ship until it has been completed.) For more details please click the ITAR Compliance Acknowledgement Form below.

Export of the commodities described herein is strictly prohibited without a valid export license issued by the U.S. Department of State Office of Defense Trade Controls prescribed in the International Traffic in Arms Regulation (ITAR), Title 22, Code of Federal Regulation, Parts 120-130.