Steiner HX Hunting Binocular

Binoculars
German-engineered So Nothing Escapes You No Matter Where In The World You Are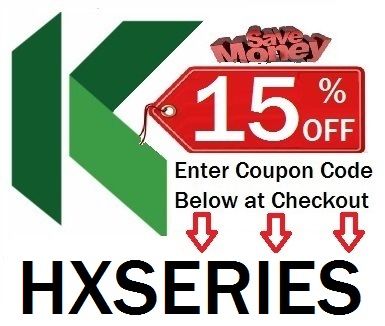 Steiner binoculars utilize the latest in German optics technology to deliver the finest binocular lines in the world for hunters, law enforcement and military personnel, and adventure-seekers on land and sea.
Compare our prices against the so called "Big Boys" and see for yourself that we are much lower, plus we offer Free S&H.

If you find a lower price, please give us a chance to meet or beat that price.

Our customer service is second to none. We answer our phones and email to answer your questions and we provide you with 100% satisfaction, before, during, and after the sale.
Take another 15% Off the Sale Price Listed
Models 2014 & 2017 are DISCONTINUED



Your Quarry Didn't Survive the Hunt, But Your Optics Will

Hunting Binoculars
Once you're after that trophy, nothing can hold you back. So in addition to providing the deadliest image you can get, Steiner optics survive the worst conditions you can face. Low light or heavy glare, high water to deep cold, rock slams and grit storms, no matter. The view is always crystal clear and dead certain. Even after countless monster-obsessed pursuits, Steiner optics are eager for more and ready to go. Not unlike yourself.
---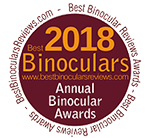 The Steiner HX Series Hunting Binocular model 2018 (15x56) won two "Best of 2018" awards from BestBinocularReviews.com, for best hunting binocular and best high power binocular: "For such a high magnification, the brightness and general quality of the view is you get through these is also super impressive. I was particularly blown away by the very low level of color fringing, which on high powered devices is usually far more obvious.
"With the innovative HX Series, you've got a new arsenal of optics to match your style and quarry. The high-precision roof prism design, advanced lens coatings, ergonomic rubber-armored polycarb frames, and four specific-performance models let you focus on your individual adventure like never before.
Pick your challenge, and there's new HX to master it. From dark woods to sunlit ridges, lowland bogs to the high plains, new optical approaches and frame designs promise brighter, clearer images, extended field of view, easier handling, and all-weather toughness to bring more success to every hunt.
From close up to far away, this mid-size binocular delivers bright, crisp images without added bulk or weight.
Product Features: 
New Frame Design

- Makes the HX Binoculars easier to grip, more comfortable for extended scouting

Bright Crisp Images

- Are the result of new lens coatings that increase light transmission across the spectrum

Wider Field-of-View -

Helps you spots wildlife more quickly and at greater distances than before

Fast-Close-Focus

- central focusing wheel requires minimal rotation for quick, absolute sharpness from close up to infinity.

Makrolon

® -  housing is durable polycarbonate with NBR Long Life rubber armoring, creating a lightweight, rugged chassis that withstands 11 Gs of impact. Impervious to harsh conditions for generations of trusted use.

N2 Injection

™ system seals 14-psi pressurized dry nitrogen into the optic, for fogproof clarity in any condition - from artic cold to desert heat.

Ergonomic Eyecups

  - Shield against side light and drafts for a clear, crisp view

Steiner Nano-Protection

  -

Hydrophobic Molecular Coating creates a lens surface so smooth (How smooth is it?) Water sheets off it...and Dirt, Dust, Snow, and Fingerprints are repelled
The housing is made of a lightweight and impact-resistant Makrolon Polycarbonate material that is encased in an oil-, petroleum-, and chemical-resistant NBR synthetic rubber armor that offers improved grip security, especially in cold and wet weather. Its optical tubes are O-ring sealed for an IPX4-rating to be weather resistant against rain and snow, so your day isn't over if the weather takes a turn.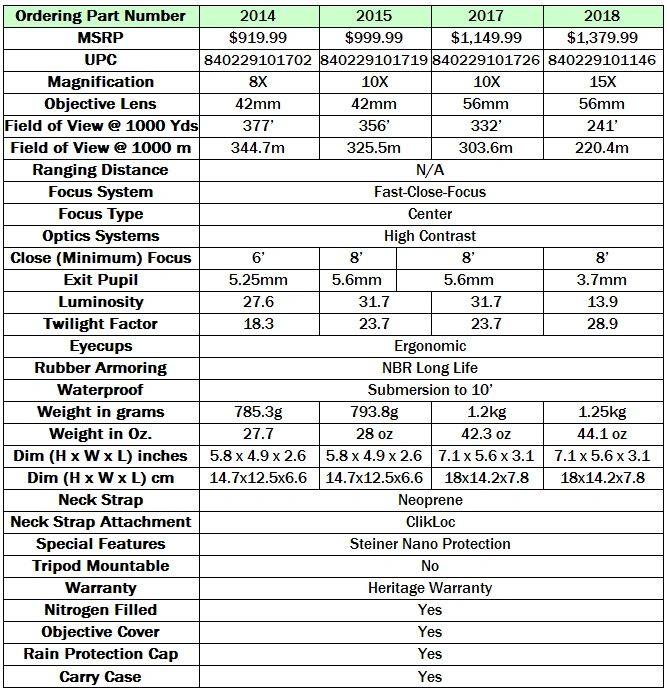 Small enough for effortless carry, with a wide field to sweep distant terrain and put you on game faster. 8x magnification brings wildlife close and clear: perfect for bow hunting or eastern whitetail hunting where game is active at dawn and dusk
FEATURES
·         High 8X (2014) or 10x (2015, 2017 & 2018) power allows detailed observations of distant subject
·         42mm (2014 & 2015) or 56mm (2017 & 2018) Objective Lenses increases Low-Light Capabilities without adding weight; keeping the overall form factor small which helps make carrying and using the binocular for long periods comfortable
·         Traditional Porro Prism optical path affords a richer depth of field versus similar roof prisms
·         High-contrast CAT (Color-Adjusted Transmission) lens coatings greatly improve contrast and color rendition to more easily pick out game hiding in dense foliage and shade
·         377' (2014) / 356' (2015) / 332' (2017) / 241' (2018) FOV @ 1000 yards

·         Ergonomic Rubber Eyecups shield against side light and keeps side drafts out
·         Generous Eye Relief reduces eyestrain
·          Wide apparent angle of view helps to produce an immersive experience while minimizing the distracting hand shake that is common when holding high-power optics
·         5.25mm (2014) / 5.6mm (2015 & 2017) / 3.7mm (2018) Exit Pupil will cover most pupils in lower light conditions
Design & Construction
·         Lightweight and impact-resistant Makrolon polycarbonate chassis remains a comfortable temperature regardless of air temperature and resists expansion/contraction common in metal chassis that can cause the optics to move out of alignment over time
·         IPX4-rated to be weather resistant against rain and snow
·         Oil-, petroleum-, and chemical-resistant NBR synthetic rubber armor offers improved grip security, especially in cold and wet weather
·         Winged Angled Eyecups block stray peripheral light from interfering with views while improving contrast and limiting distractions
·         Weighs in at only 27.7oz (2014) / 28oz (2015) / 42.3oz (2017) / 44.1oz (2018)