HYH50W RICO Hybrid
RICO-Hybrid HYH50W 640x512
TAKE ANOTHER 10% OFF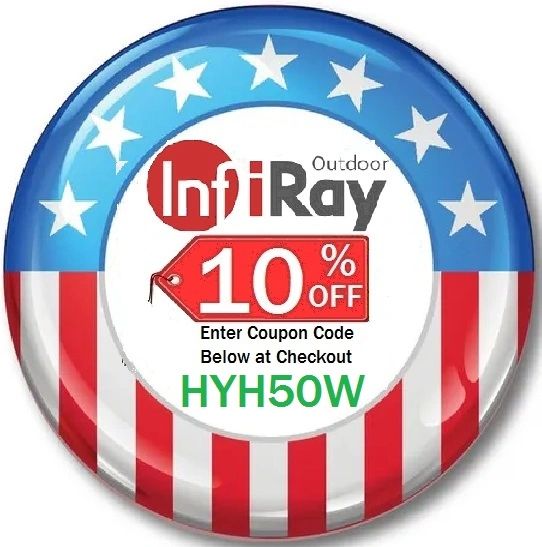 The RICO HYBRID fuses the capabilities of a thermal clip-on and a thermal weapon sight to create a new breed of thermal device. This new HYBRID breed gives you never-before-seen versatility and performance boasting a 2,400 yard detection range as a dedicated thermal sight or an inline clip-on sight with day optics up to 10X.  The combination of the HYBRID's low-distortion orthoscopic eyepiece paired with a 1.03" 2560x1920 UHD display allows for an extra large sight picture with edge to edge clarity. The HYBRID's extra large sight picture is comfortable viewing as a dedicated sight, and still maintains the pixel density and resolution for use as a clip-on optic. The HYBRID also unlocks advanced new features such as compatibility with a 2,000 yard laser rangefinder, a custom reticle generator,Bluetooth, and an onboard ballistic solver.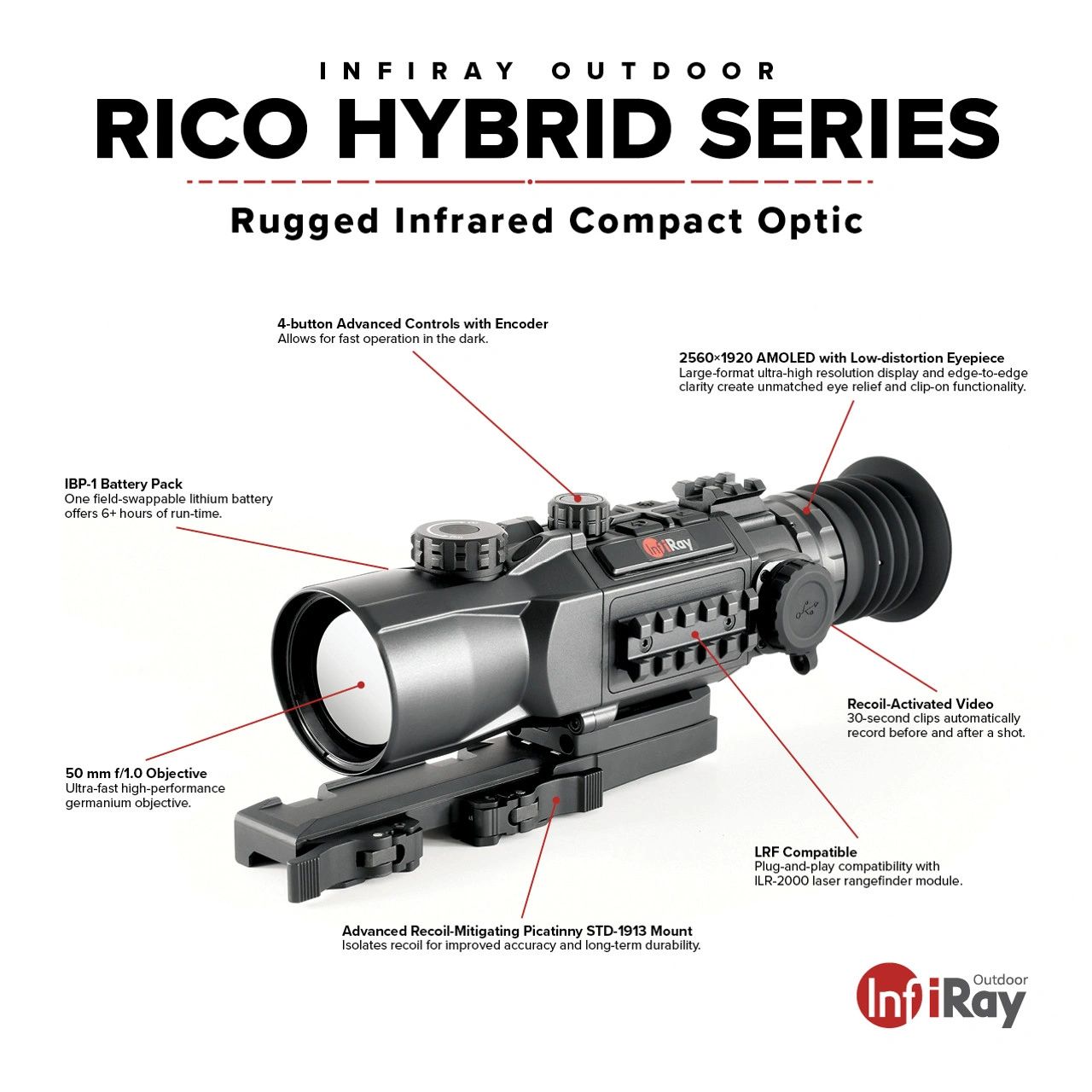 This Hybridized class of Weaponsights/Clip-On Thermal Device has long been requested by the Night Vision community, but never before has a product been delivered to meet this need. Because of recent technological advancements in the resolution and pixel density of Ultra-HD micro displays, InfiRay Outdoor has received what others could not; a true weaponsight that also functions as a Clip-On in one device.
Ballistic Solver
The HYH50W supports ballistic calculation via a user-uploaded .xlsx file. Calculate your ballistics with your preferred software, then export and upload your trajectory in 5 meter increments. Once you have a ballistic profile loaded, plug in the ILR-2000 laser rangefinder and the HYBRID can calculate your drop and display a second reticle in split second.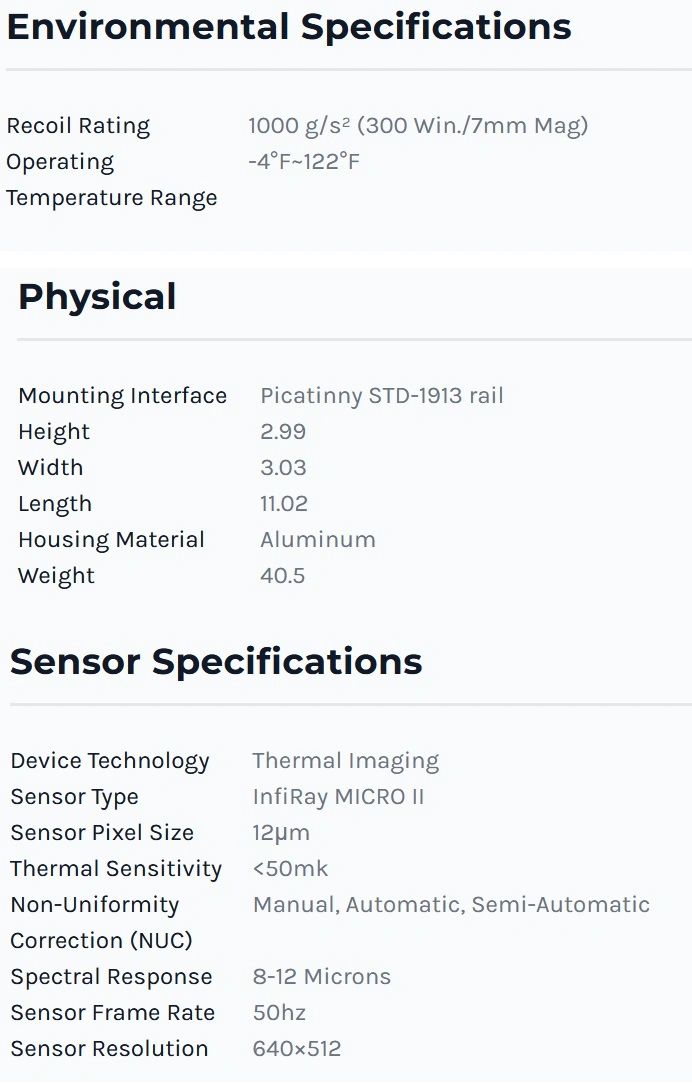 The full size RICO G is available in three models; GL35 384x288 35mm, GH35 640x512 35mm, and GH50 640x512 50mm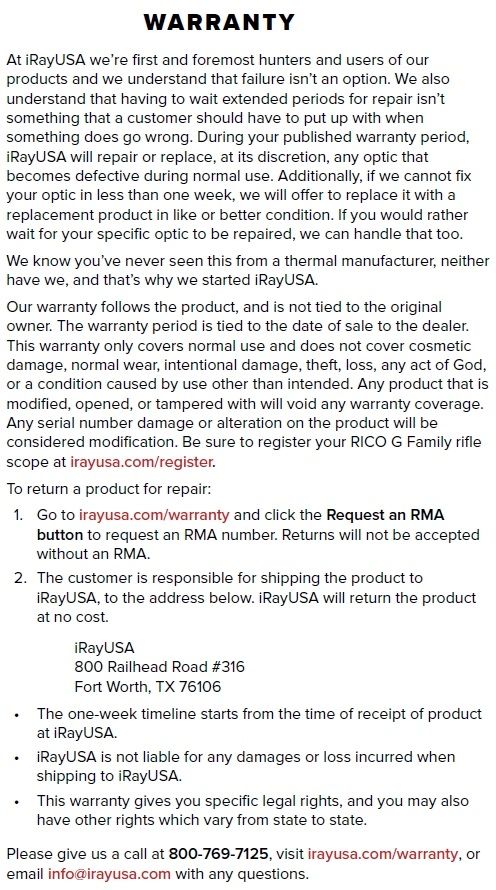 International Traffic in Arms Regulation (ITAR)
When purchasing an ITAR restricted item you must be a legal US citizen. Export of the commodities described herein is strictly prohibited without a valid export license. A statement will appear at the bottom of each restricted product's page indicating export restrictions apply in accordance with the International Traffic in Arms Regulation.
If needed you will be

contacted within 24 hours

of placing your order. (Such as but not limited to a completed ITAR compliance acknowledgement form with your original signature and/or a government issued ID.

 

If

 additional documentation is requested, your order will not ship until it has been completed.) For more details please click the ITAR Compliance Acknowledgement Form below.
Export of the commodities described herein is strictly prohibited without a valid export license issued by the U.S. Department of State Office of Defense Trade Controls prescribed in the International Traffic in Arms Regulation (ITAR), Title 22, Code of Federal Regulation, Parts 120-130.