Steiner M5Xi 3-15x50mm
DISCONTINUED - Information Purposes Only
OUT of STOCK
Military: M5Xi 3-15x50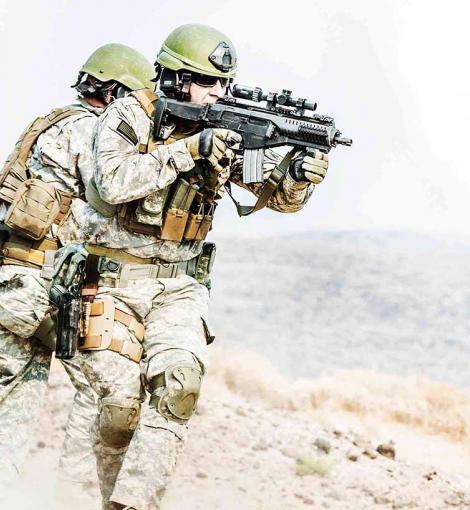 The M5 Series features hand-picked, premium German Glass and is designed to withstand up to the rigorous Military torture tests. This German-made M5Xi series features world-class engineering and optical systems, built to strict military specs and precisely crafted for victory – on the battlefield, or in competition. The 3-15x is for mid-range shooting, ideal for snipers using the M10 platform or competition shooters with precision bolt guns.
Medium range scope with 34mm tube, etched glass G2B Mil-Dot Reticle, patented DuoScale™ Elevation Adjustment with a second-rotation scale that's hidden when inactive.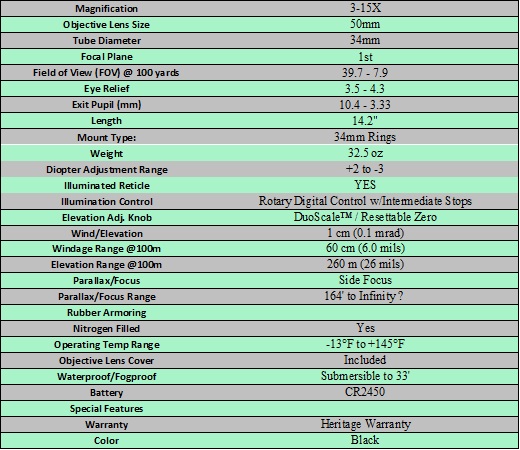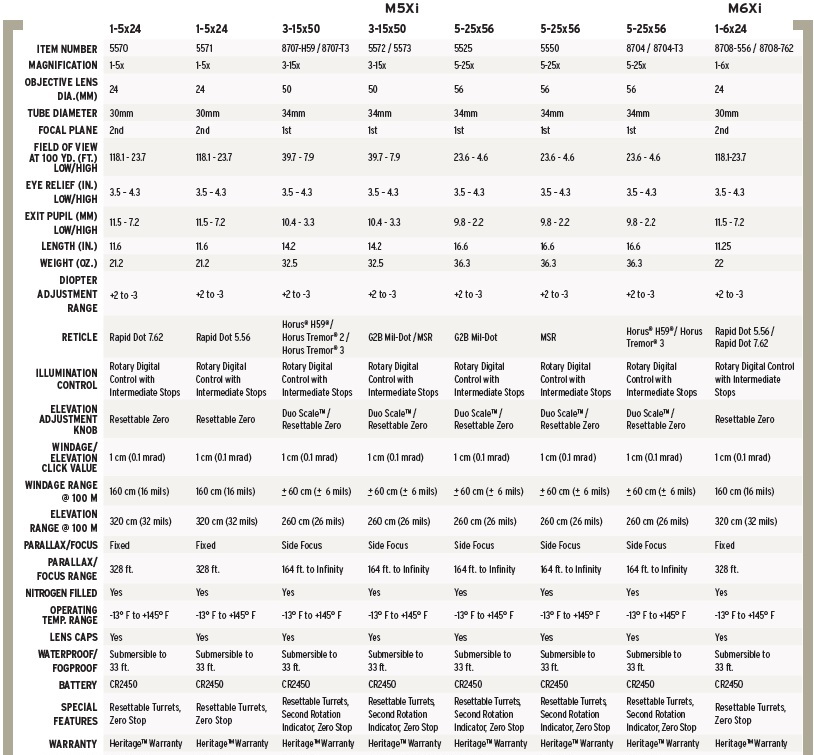 ---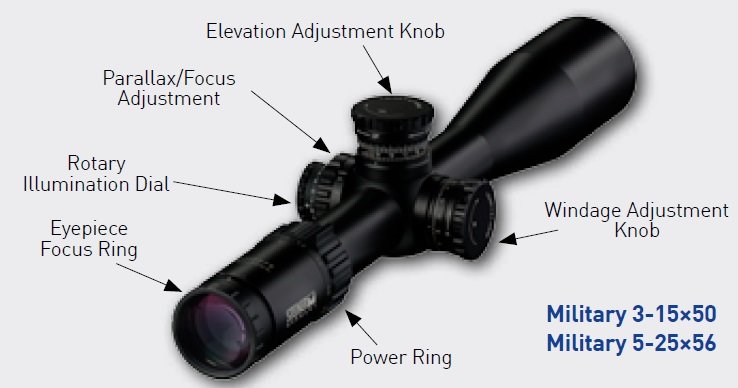 This Close Combat Military Scope sports a One-Piece 34mm Tube, etched Illuminated Reticle and 5X power magnification to engage distant targets.
Magnification 3X - 15X
Tube Diameter 34mm
Length 14.2"
Battery CR2450
1st Focal Plane
     The ability to see what others don't. That's what Steiner brings to your side: razor-edge image clarity, optimum depth And color, superior ability to probe, plan and engage with force-multiplying stealth, surprise and impact. After 67 years of deployment and constant improvement, no optic serves your mission and your troops better.

ONE PIECE OVERSIZED 34mm TUBE...increases strength and reliability and provides greater Elevation and Windage adjustments for longer ranges.
BROADBAND ANTI-REFLECTION COATINGS...For 94% light transmission to ensure optimal performance in low light.
OPTIMIZED EXTERIOR DESIGN...with larger, positive grip Elevation, Windage, Parallax, and Illumination Knobs along with Non-Slip Diopter and Magnification Adjustment.
5X ZOOM...Provides maximum range at the high end, wider Field of View (FOV) at the low end and eliminates any tunneling effect. The M5Xi provides true eyes-open situational awareness at low magnification.
PRECISE WINDAGE/ELEVATION ADJUSTMENT...is easy for repeated accuracy with tactile click-by-click feedback you can hear and feel.
OPTIMIZED TUBE & KNOB DESIGN...for more mounting option and optimum performance with different rifles and added equipment.
ILLUMINATED RETICLE...with 4 Day/7 NV levels with (2) "Off" positions at each end, and quick standby levels between each for fast return setting.
WATERPROOF/FOGPROOF/SHOCKPROOF...durable construction you can trust to stand up to any cold or wet conditions...Waterproof to depths of 33 feet...and rugged enough to withstand impact testing to 900 G's on all optical & electronic components.
     This Reticle is a popular choice for precision shooters who engage targets at long distances. It is a mil-based reticle with ballistic hash marks between mil dots for more precise aiming, for determining distance to targets and for determining holdover and hold-off for wind. The center section of the Reticle is illuminated with 11 levels of light intensity making the Reticle easier to view during daylight and nighttime operations. The lowest levels can also be used with night vision devices.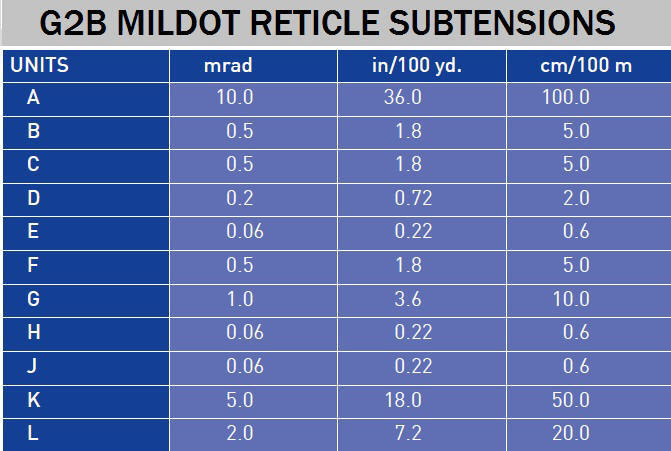 The Multi-Purpose Sniper Reticle is a mil-based Reticle that was initially designed for snipers but has become very popular with precision, long-range shooters. The Reticle is divided into three parts that include the main Reticle, a fine milling scale in the lower left quadrant, and a rapid ranging scale in the lower right quadrant. Located on the first focal plane, it also features an illuminated center crosshair. The vertical and horizontal hairline offers a continuous 1mil scale with 1/2-mil division marks for precise aiming.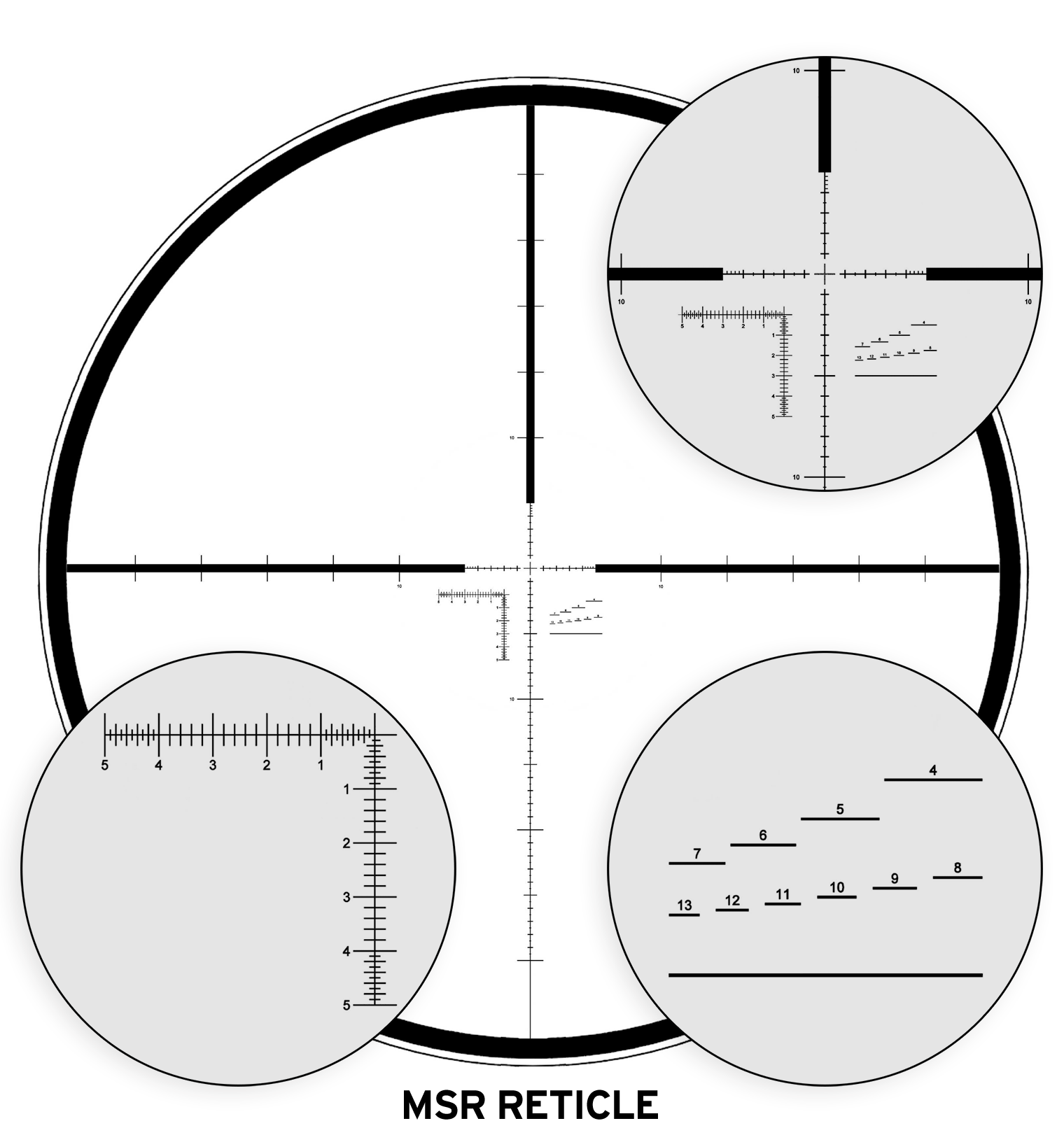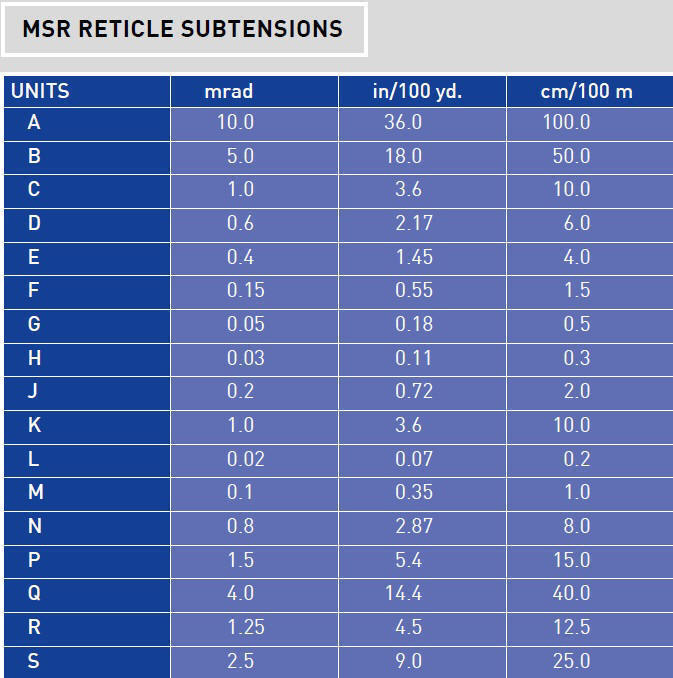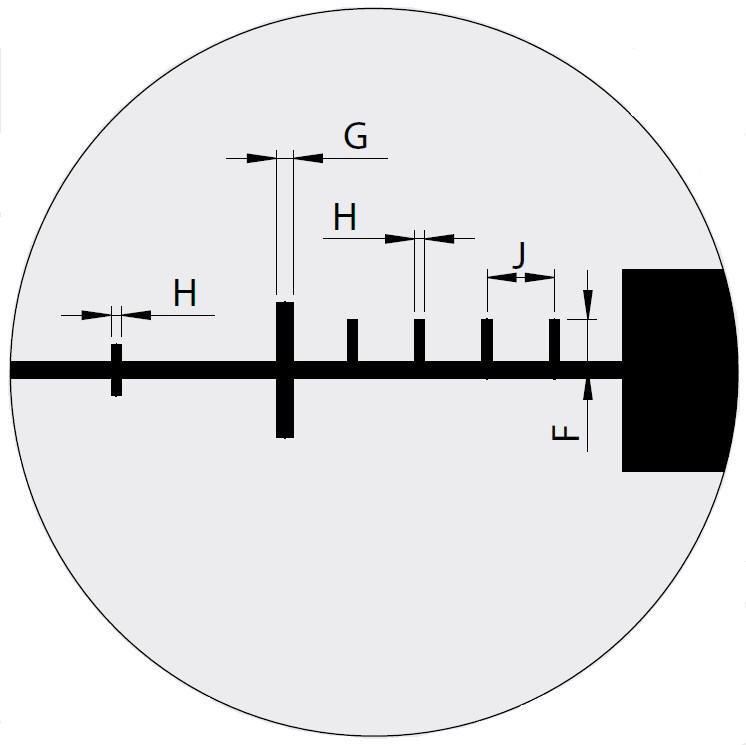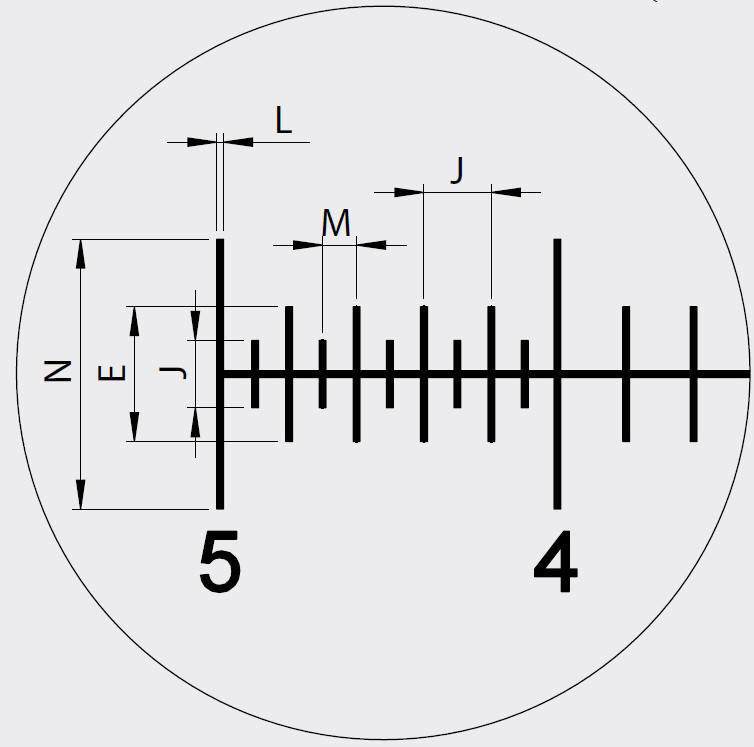 ---
HORUS H-59 Reticle: H59 Technical OPMAN     
No Longer Available Information Purposes Only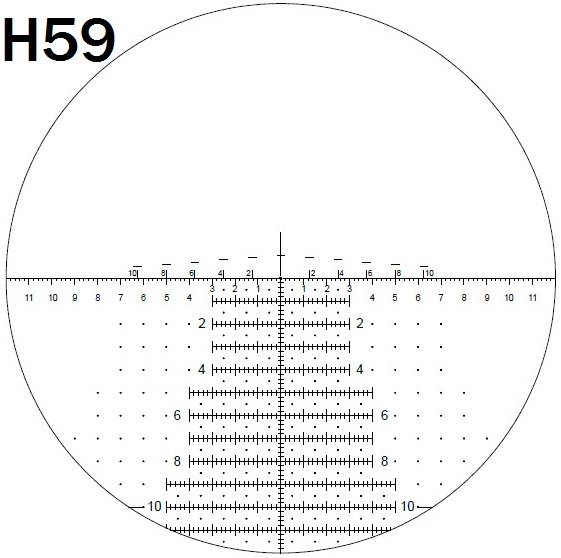 Licensed from Horus Vision, the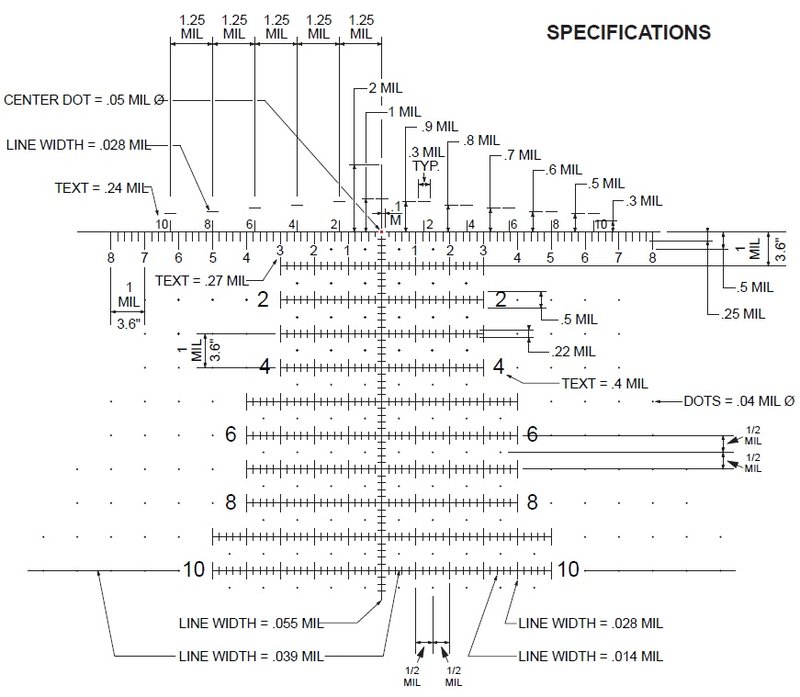 H59™ Reticle is a "field-tuned" version of the H58 that is designed for speed shooting out to 600 meters. The Horus Grid lets you visually place the target on the appropriate horizontal and vertical grid lines to correct for Elevation and Windage visually without turning knobs or counting clicks. The H59 Reticle is also illuminated for use in twilight and low light conditions.

---
No Longer Available Information Purposes Only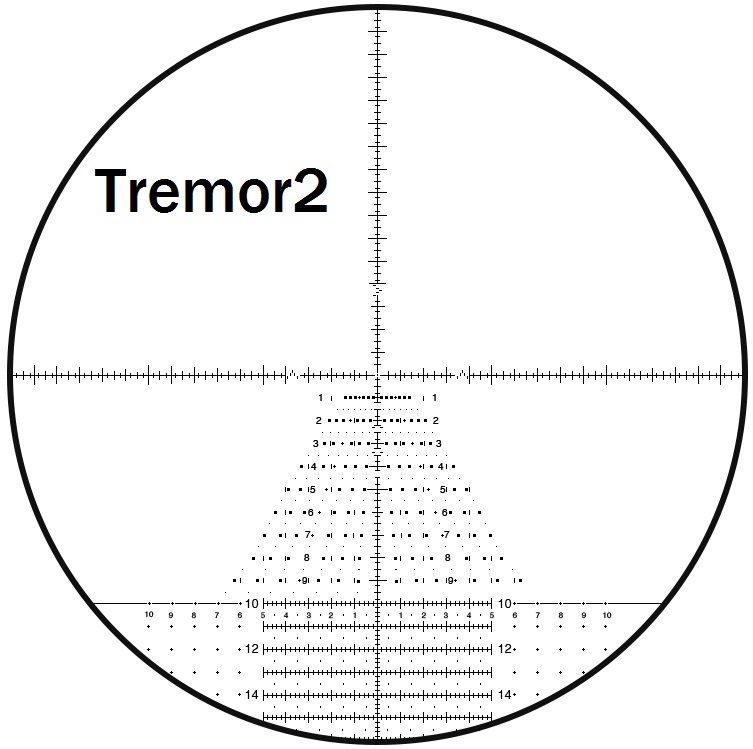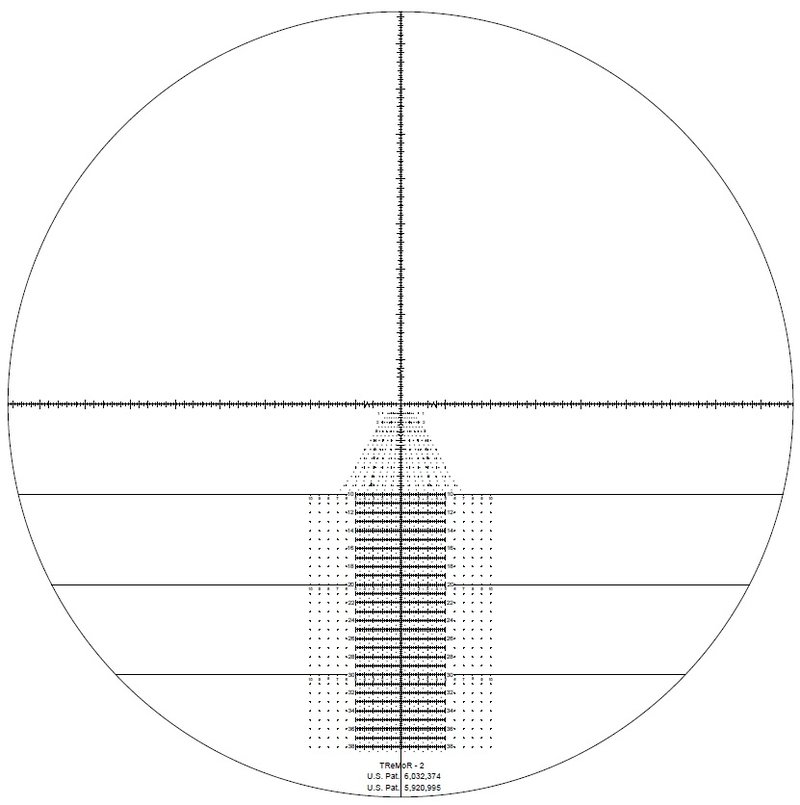 The TReMoR2™ Reticle is all about faster shooting. It's field proven to make wind calls easier. The open field of view above center Reticle allows clear observation and spotting. The very fine reticle design aids in precise aiming at high power and distant ranges. Refined "chevron" mil markers subtend to 0.1 mils and versatile marker groupings occur throughout the Reticle making it easier to measure targets.
Drop line numbers 1-9 serve as 4-mph Moving Target Holds.
---
TReMoR3 Reticle: TReMoR3 Technical OPMAN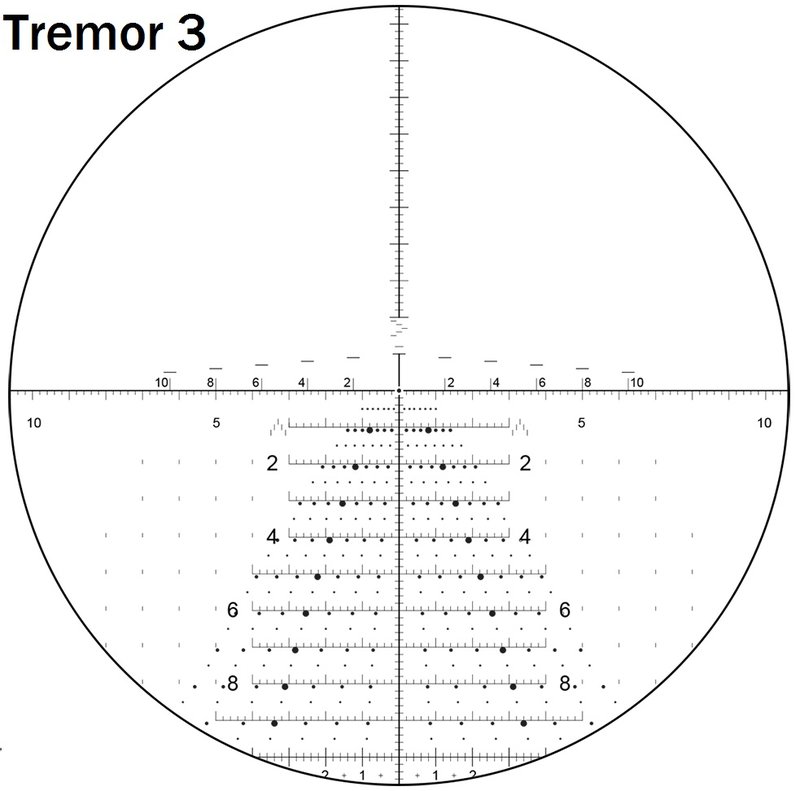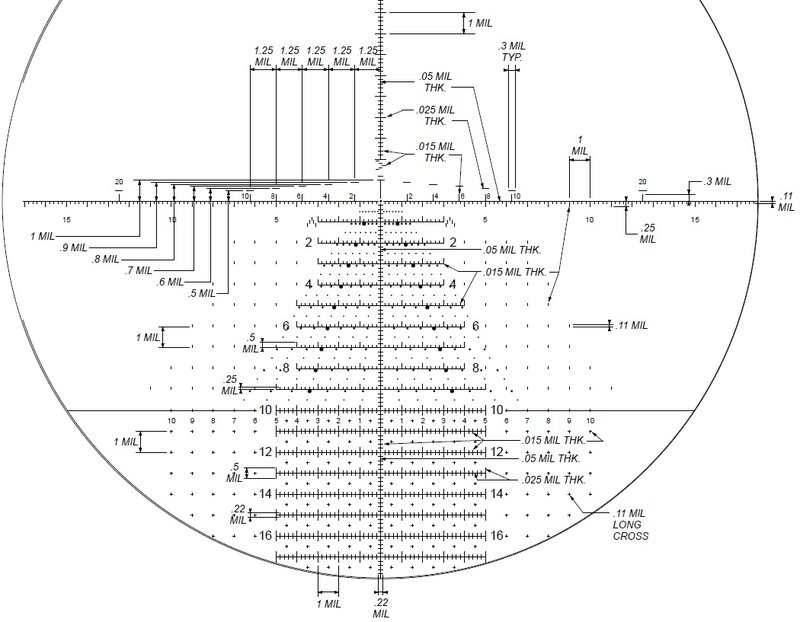 The TReMoR3™ Reticle is similar to the TReMoR2™ with a mil grid that can be used for Windage and Elevation. What sets the T3 apart are wind holds that are built-into the Reticle grid. The Wind Dots give the shooter the ability to visually quantify the wind's effect on the bullet. They are located on the bottom half of each horizontal Mil Stadia. Wind dots are caliber specific and can be calibrated using a Kestrel with Horus ATrag software.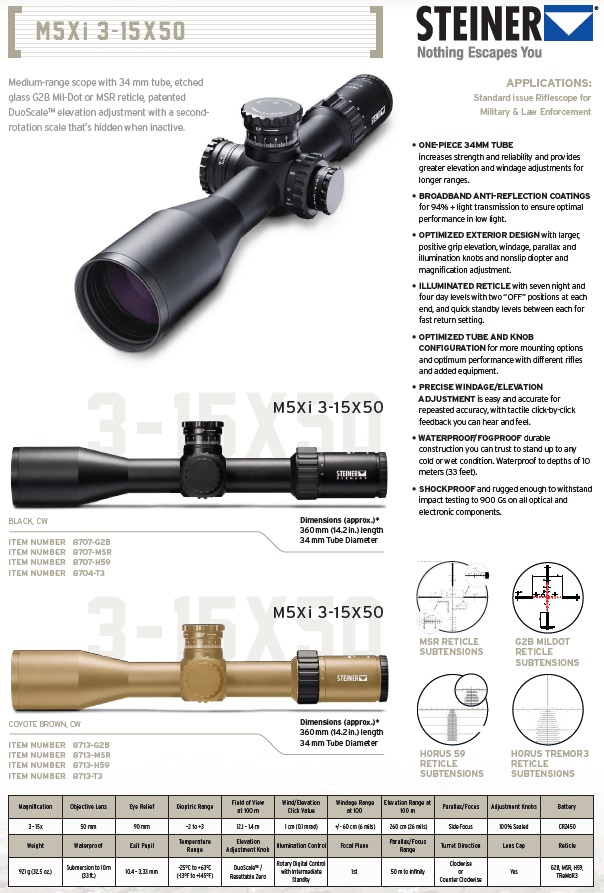 KEY FEATURES
Horus Rapid Range Bars for quick range estimation for common-sized targets.
Very fine reticle to aid in precise aiming at high power and distant ranges.
Refined "chevron" mil markers subtend to 0.1mils.
Versatile marker groupings for measuring targets occur throughout the reticle.
For speed shooting out to 600 meters using our patented speed shooting features on the Horus reticle.
Patented wind dot features double as a wind hold tool allowing accurate windage corrections when dialing a shooting solution.
Holdover crosses to extend wind and elevation hold points beyond the Horus™ Grid while maintaining a clear uncluttered view.
Central dot at crosshair intersection for refined aiming point and un-obscured view.
Open field of view above center reticle for clear observation and spotting.
Numbered leads along the reticle's main horizontal stadia for targets moving up to 60 mph.
The Horus Grid lets you visually place the target on the appropriate horizontal and vertical grid lines to correct for elevation and windage visually without turning knobs or counting clicks.
Secondary horizontal lines allow precise elevation holds.
The standard spacing between the secondary horizontal lines is exactly 1 mil.
To compensate for wind, drift, speed of target, etc.: each secondary horizontal stadia line is calibrated with "large hash marks" spaced exactly 1 mil apart; between each of the large hash marks, there are smaller evenly spaced hash marks that are exactly 0.2 mils apart.
The Horus reticle is the only reticle that facilitates the rifleman to make an accurate Second Shot Correction™ should he fail to dispatch the target with his first round. For details,see our Tactical Manual.
The Tremor3 reticle offers illumination for twilight and low light conditions.
KEY FACTS
Speed Shooting range: from 0 to 600 meters.
Horus Grid range: from 0 to extreme long range.
Excellent milling capability with 0.1 mil resolution milling chevrons, allowing extremely fine mil estimation.
Reticle hold points subtending to 0.2 mil.
Central targeting grid calibrated in USMC mils (6283 mils/circle) (1 mil = 3.60 inches at 100 yards) (10cm at 100 meters).
Precise calibration of measurements to within less than 0.5%.
Ability to perfectly calibrate wind dots to ballistics of your choice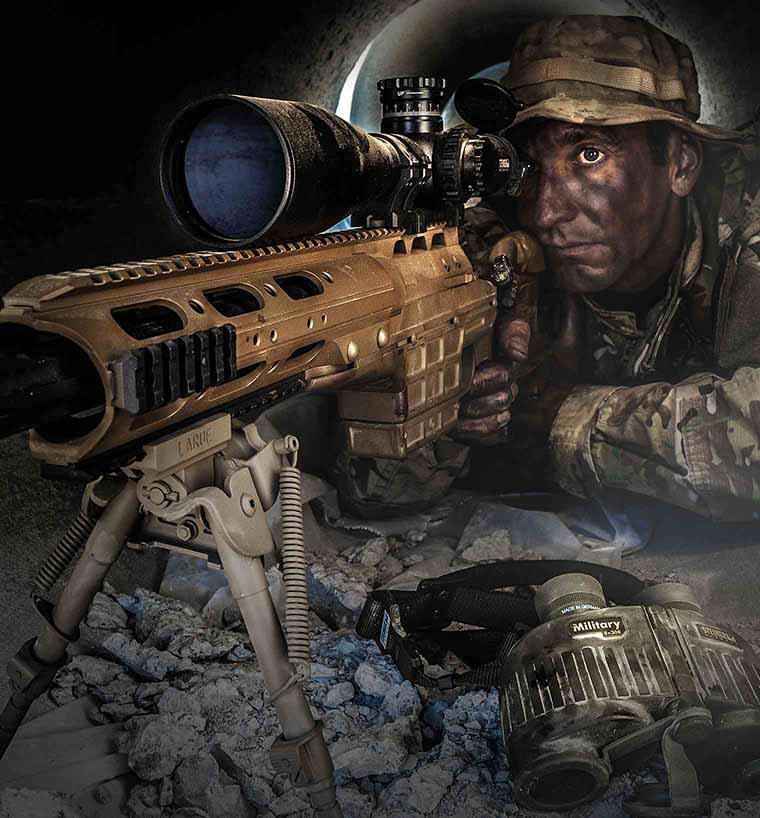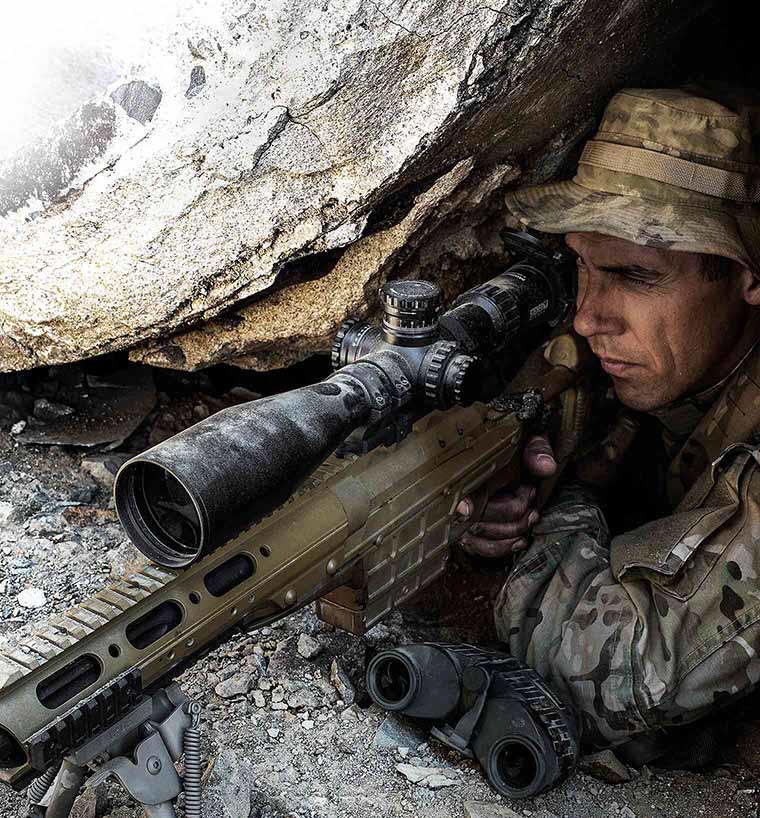 ---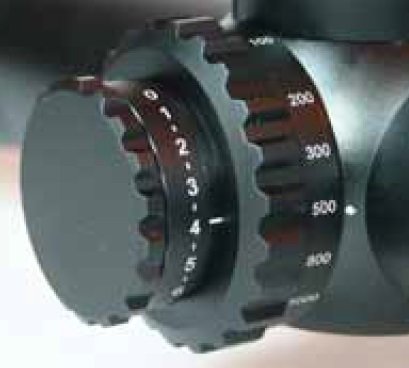 The Windage and Elevation knobs are designed for precise adjustment. The dials are calibrated so that 1 click = 0.1 mRAD. The Windage knob, located on the right side of the tube, is calibrated for up to 6 mRAD of adjustment left and right. Adjustments are indicated by detents and audible clicks. Hard stops at both ends of the adjustment range prevent shooters from getting lost on the dial.

For shooting at extreme distances, the elevation knob offers up to 26mRAD and two full revolutions of adjustment. The indication occurs through a patented double scale. The first revolution of 149 clicks are indicated on a rotating scale. When turning past 149 clicks the scale disappears to the top and a second scale ranging from 150 to 260 clicks appears from below.
This Riflescope is shipped from the factory with the optical center (knob at '0' position) set below center. Without tapered bases the initial sight-in or bore-sighting will likely produce an initial point of impact considerably high. Because of the Zero Stop feature, as shipped from the factory the scope has no immediate capability for downward point of impact adjustment.
STEINER offers this Riflescope with a choice of Windage/Elevation knobs that offer both Clockwise and Counterclockwise adjustments. Use the following procedure whenever you need downward point of impact adjustment:
1 Turn the elevation adjustment knob clockwise to "0". (Steps 2-5 below are for scopes with clockwise Windage/Elevation adjustment. For counter-clockwise knobs, just reverse the indicated direction.)
2 Use the hex wrench supplied with the scope to loosen the set screw (half turn only!) on the Elevation adjustment knob located just below the top of the knob.
3 Pull up slightly on the adjustment knob to the second white hash mark on the turret. Turn the knob clockwise slightly more than the number of mils needed to achieve zero.
4 Re-tighten the set screws. Adjust the elevation down the required amount.
5 Once the elevation adjustment is complete, once again loosen the two set screws and reset the knob to "0". With the screws loose, push down firmly on the knob until it is fully seated on the turret base and then re-tighten the set screws.
Note When re-tightening set screws on elevation knob, maintain pressure on the top of cap to ensure proper seating of adjustment dial.
Attention It is recommended not to remove the elevation adjustment knob! If the knob is removed, it is possible to rotate the Rotation Indicator actuator, which controls the elevation rotation indicator pin, to a position which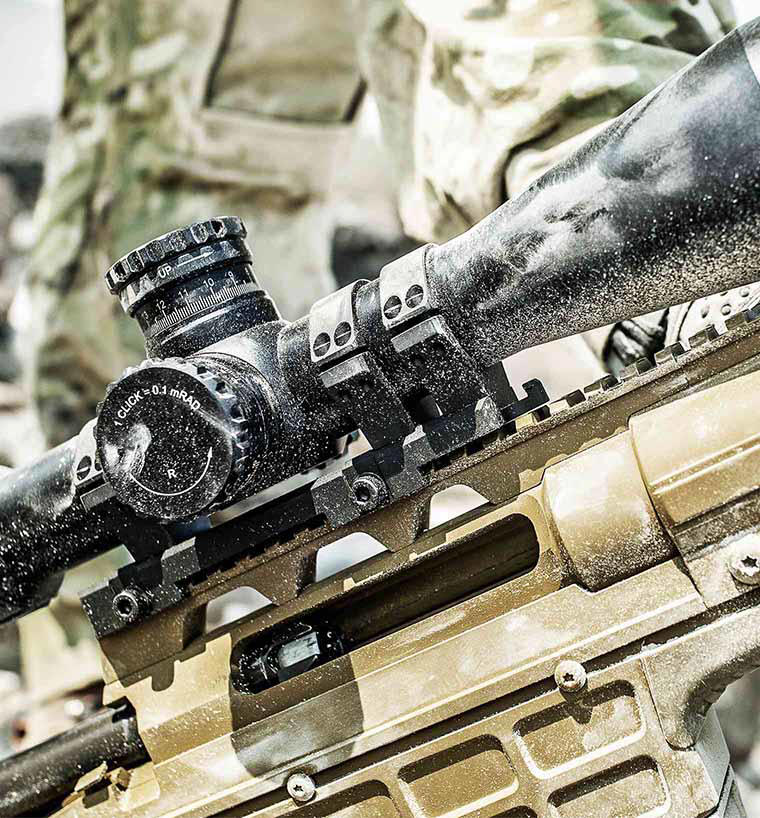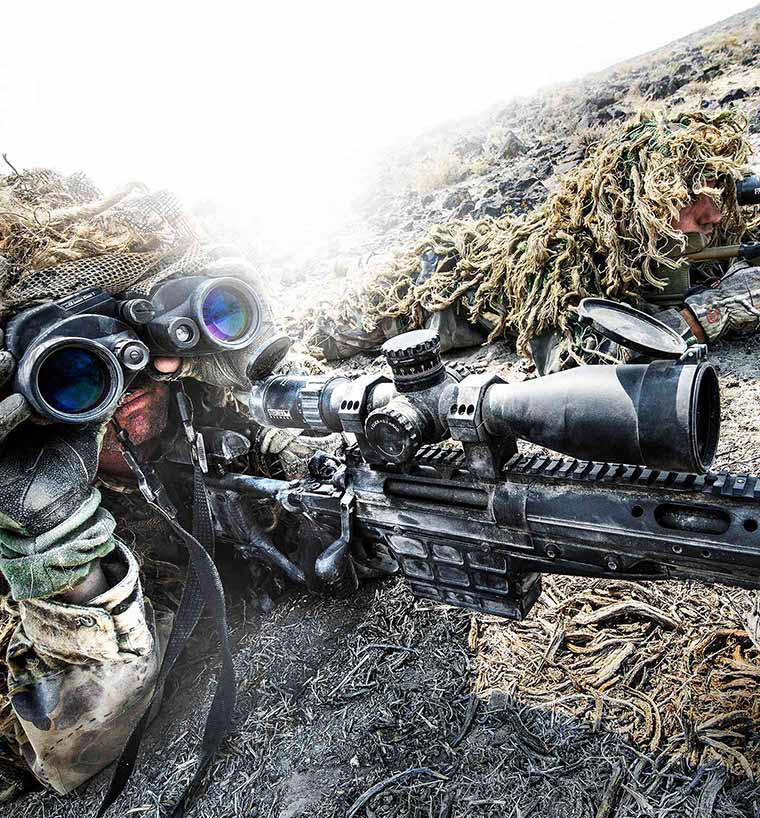 ---
For Military 3-15×50mm: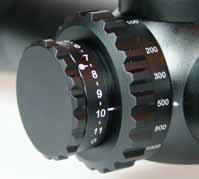 Parallax is the apparent movement of the reticle in relation to the target when the eye is not directly in line behind the center of the scope.
     Images from different distances focus in front of or behind the scope's reticle. Parallax is more noticeable with higher magnification scopes and scopes with a larger objective lens.
     To use the parallax/focus adjustment, rotate the knob on the left side of the adjustment turret until the numeral corresponding to the known target distance lines up with the reference mark. If the distance is unknown, rotate the adjustment knob until the target image is sharply focused.
     When the scope is set parallax free for the distance you are viewing, you should be able to move your eye side-to-side or up and down without seeing the reticle move appreciably in relation to the target.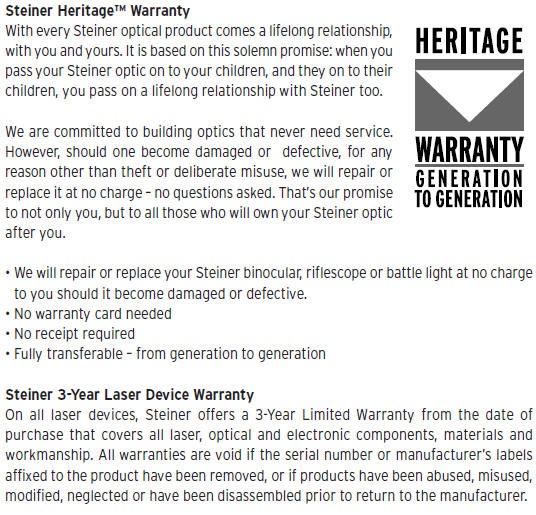 ---