Steiner 8704 MSR2 M5Xi 5-25x56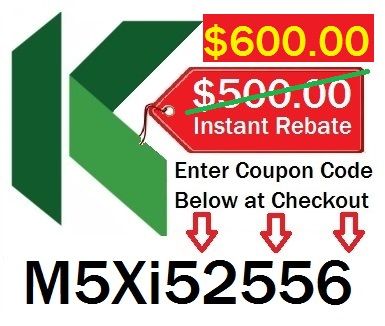 If an item is out of stock and you want to put one on order, please give us a call at (702) 324-6463.
Some Delivery Schedules can take 90 Days+ from the time of your order placement. If you wish to place an order for an "Out-of-Stock" item and pay for it when it ships, please call (702) 324-6463 and place the order by phone.
Once your order is placed, we will contact you for your T-Shirt Size and Hat Color Preference.
Compare our prices against the so called "Big Boys" and see for yourself that we are much lower, plus we offer Free S&H and other Goodies. Our customer service is second to none. Ask ANYONE who has ever bought from us. We answer our phones and email to answer your questions and we provide you with 100% satisfaction, before, during, and after the sale.
Military M5Xi 5-25x56
    The M5 Series features hand-picked, premium German Glass and is designed to withstand up to the rigorous Military torture tests. This German-made M5Xi series features world-class engineering and optical systems, built to strict military specs and precisely crafted for victory – on the battlefield, or in competition.
8704-MSR-V2 (Old PN: 5550), 5-25X56mm MSR-V2 Reticle
---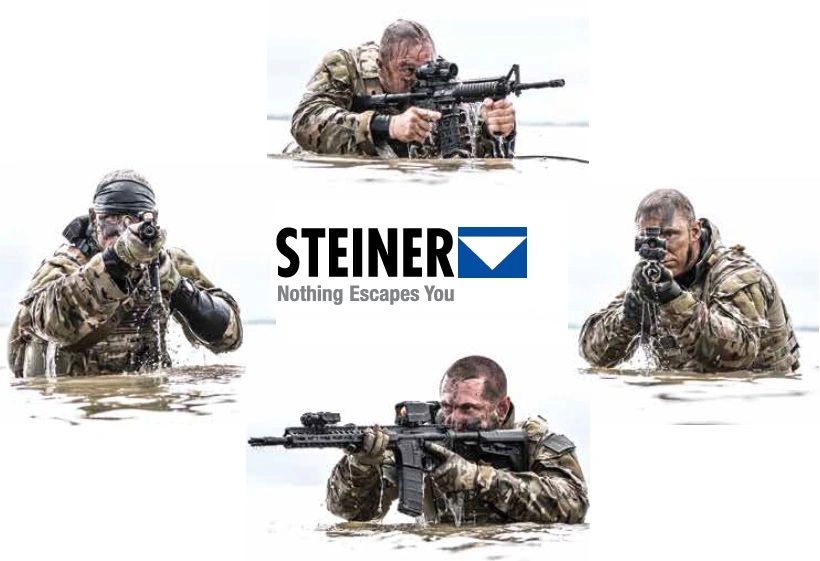 STEINER is one of the largest manufacturers of high-quality optics in the world. STEINER products represent the highest level of precision and technology.
STEINER Military Scopes were especially developed in close cooperation with international weaponry experts for the tough requirements of military missions around the world. They are field-tested and combat proven by special forces and successfully withstand the harshest conditions.

STEINER Military Riflescopes represent a new class in terms of performance, quality and reliability. They are ideally suited for tactical, military and law enforcement operations.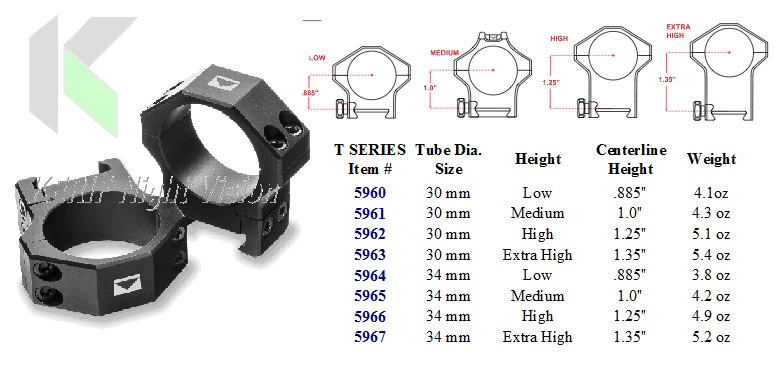 The Steiner T-Series cantilever mount offers the perfect mounting solution for AR-15 and flattop platforms. Machined from rugged aluminum alloy to be incredibly strong, yet lightweight.
This cantilevered mount combines ruggedness, lightweight and adaptability to be the perfect addition to your platform.
#5970: 30mm diameter, 35 mm height
#5971: 30mm diameter, 40 mm height
#5972: 34mm diameter, 40mm height, 25 MOA Cantilever
T-SERIES AR CANTILEVER MOUNT FEATURES:
Available in two heights: 35mm and 40mm
Mounts to any Picatinny style rail
Designed to offer perfect eye relief on modern AR-pattern rifles
Bubble level on the rear ring for maximum accuracy and consistency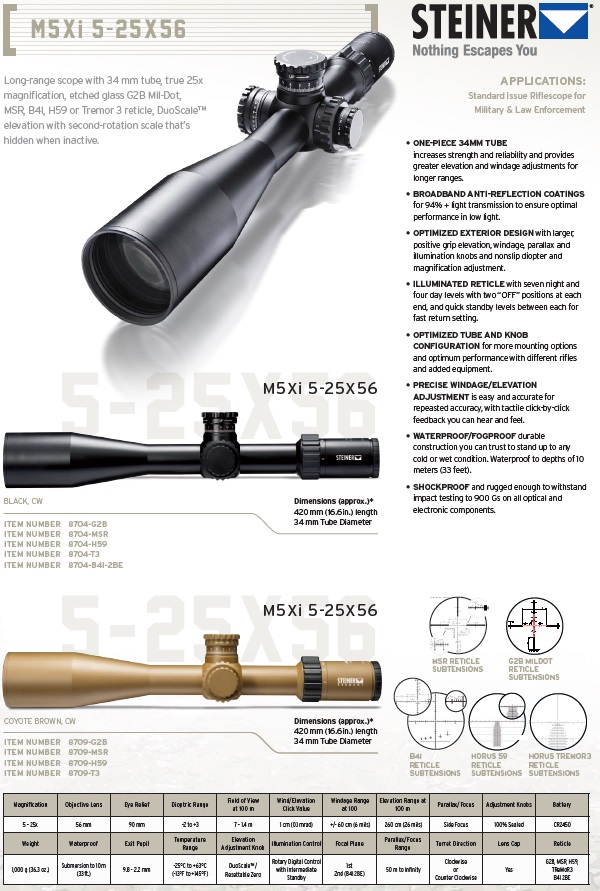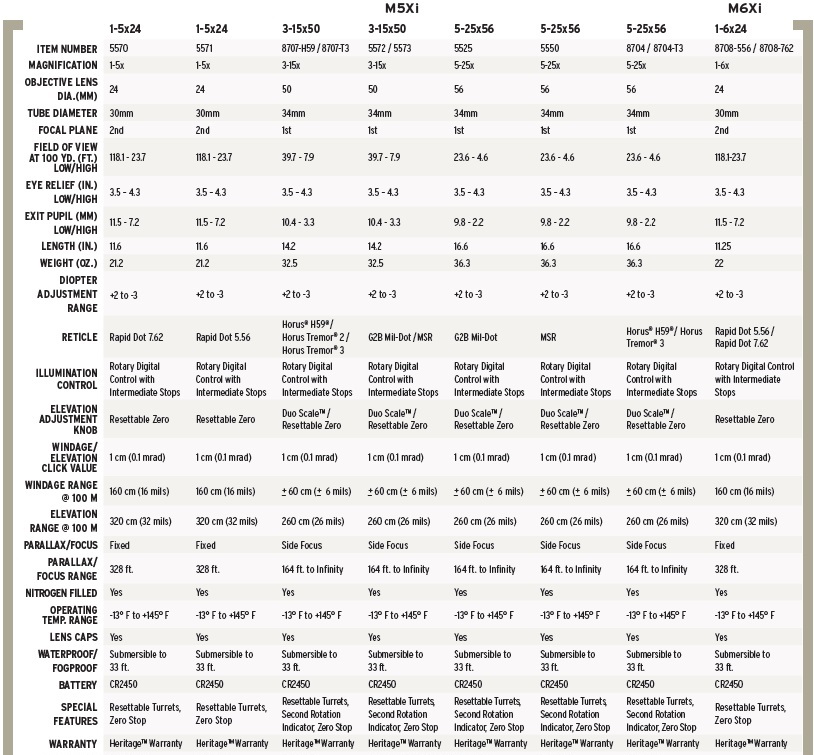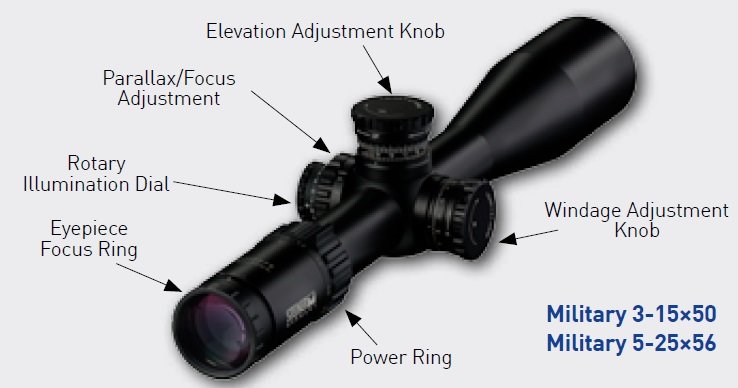 This Close Combat Military Scope sports a One-Piece 34mm Tube, etched Illuminated Reticle and 5X power magnification to engage distant targets.
Magnification 5X - 25X
Tube Diameter 34mm
Length 16.6"
Battery CR2450
1st Focal Plane
     The ability to see what others don't. That's what Steiner brings to your side: razor-edge image clarity, optimum depth And color, superior ability to probe, plan and engage with force-multiplying stealth, surprise and impact. After 67 years of deployment and constant improvement, no optic serves your mission and your troops better.
PRODUCT FEATURES:
ONE PIECE OVERSIZED 34mm TUBE...increases strength and reliability and provides greater Elevation and Windage adjustments for longer ranges.
BROADBAND ANTI-REFLECTION COATINGS...For 94% light transmission to ensure optimal performance in low light.
OPTIMIZED EXTERIOR DESIGN...with larger, positive grip Elevation, Windage, Parallax, and Illumination Knobs along with Non-Slip Diopter and Magnification Adjustment.
5X ZOOM...Provides maximum range at the high end, wider Field of View (FOV) at the low end and eliminates any tunneling effect. The M5Xi provides true eyes-open situational awareness at low magnification.
PRECISE WINDAGE/ELEVATION ADJUSTMENT...is easy for repeated accuracy with tactile click-by-click feedback you can hear and feel.
OPTIMIZED TUBE & KNOB DESIGN...for more mounting option and optimum performance with different rifles and added equipment.
ILLUMINATED RETICLE...with 4 Day/7 NV levels with (2) "Off" positions at each end, and quick standby levels between each for fast return setting.
WATERPROOF/FOGPROOF/SHOCKPROOF...durable construction you can trust to stand up to any cold or wet conditions...Waterproof to depths of 33 feet...and rugged enough to withstand impact testing to 900 G's on all optical & electronic components.
MSR-V2 "Multi-Purpose Sniper Reticle"
History
The original MSR concept was released in 2009. The idea for this reticle was born from the needs of long-range field shooters.
Guidelines for the concept were practicality, versatility and accuracy within the footprint of modern sniper rifles systems.
The principles are also valid and carry over to many sport shooters and hunters - those who appreciate and need practical usable precision in any situation and all conditions. The original design team was put together by FinnAccuracy, and consisted of various types of experienced professionals, active and retired military, Law Enforcement Officers and competitive long range shooters.
Many - if not all - members of the design team were also passionate hunters at the same time, so design was considered from all possible perspectives.
Now, after many successful years from that original release, MSR2 features are updated and optimized to match or exceed even the most demanding modern needs. Since its original inception there have been many advances, and many things have changed within the shooting world. Scope magnification ratios have increased just to mention one - but also the general knowledge among advanced scoped rifle users has improved in big leaps.
The original MSR key points were a clean overall look with separate areas for precise but simple multitasking. Some of the features in MSR2 were envisaged for the original MSR design, but were intentionally not added to it.
New version
MSR2 has several new features, yet with further development of original design features, all carefully benchmarked and fine-tuned for the most optimized usability. Dozens of test combinations were used in the development phase, some have been incorporated into final prototype scopes for further evaluation and final analysis. Countless individual aspects had to be considered in design and development, especially line or object weight balancing which is always difficult with any reticle. This was a particularly sensitive issue with MSR2 where optimization had to be balanced uniquely for various types of use, and design had to perform with several magnifications. In some applications, MSR2 also requires and takes advantage of the latest reticle lens etching technology that was not available during the original MSR development.
Magnification Ranges:
The reticle can now be used at very low magnification powers starting from 3…5x for spotting and general observing, whilst still be used at these powers for very close range and rapid aiming situations.
Midrange magnifications from 10…15x offer the very traditional 1/0.5mrad deviation feel for any shooting where larger FOV or simple classic look is needed. In heavy mirage or with moving targets, for instance. The stadimetric 400m-1300m instant ranging scale becomes more usable starting from this power range. Several additional aiming references for ELR/ULR also available due to relatively large FOV.
From 15…20x power and up, the smaller center area details for long range precision appear and become visible. The center cross has added hash-marks, as well as very fine surrounding alignment crosses whilst still keeping the clean and simple overall feel without any unnecessary distraction.
For magnification above 25x, FOV limits the usage to the center area of the reticle. The illuminated center cross has 0.2mrad deviation hash-marks in the horizontal axis. These marks were kept light to keep the center area as clean as possible while still offering functionality with new aiming references. The reticle 0.04mrad hairline thickness in 5-25x scope class can be considered to be slightly on the thick side, but the incorporation of a center aiming dot enables aiming at even the smallest and most distant target. The center aiming dot was considered for the original MSR design, but it seemed too radical for such a new design concept back then. However now with scope magnifications up to 35x and even more, this feature guarantees precise aiming in any situation. MSR2 incorporates design features which are particular functionality extension to extremely long shooting distances.
After almost 2-years on the project, we are confident and happy to assure anyone that nothing was lost from the original idea.
The New MSR2 is still simple, versatile and efficient – but now with detailed precision and extended usability for those who appreciate more.
MSR2 key features
- Proven MSR look and feel - with more features
- Optimized functionality out to ultra-long shooting distances
- Aiming usability starting from the lowest magnification and very close ranges. Heavy bar scaling offer close-range aiming reference
- Clear traditional feel in mid-range 10...15x magnifications. Details needed for finest precision available in 20x and above
- Numbered bars and hash-marks for general observing down to very lowest magnifications: scale in both horizontal and vertical axis
- Center cross area optimized to highest magnification powers - center cross hash-marks and dot offer precision without distraction
- Modern FFP scope large variation of apparent reticle size exploited: a truly functional multipurpose reticle trough whole magnification range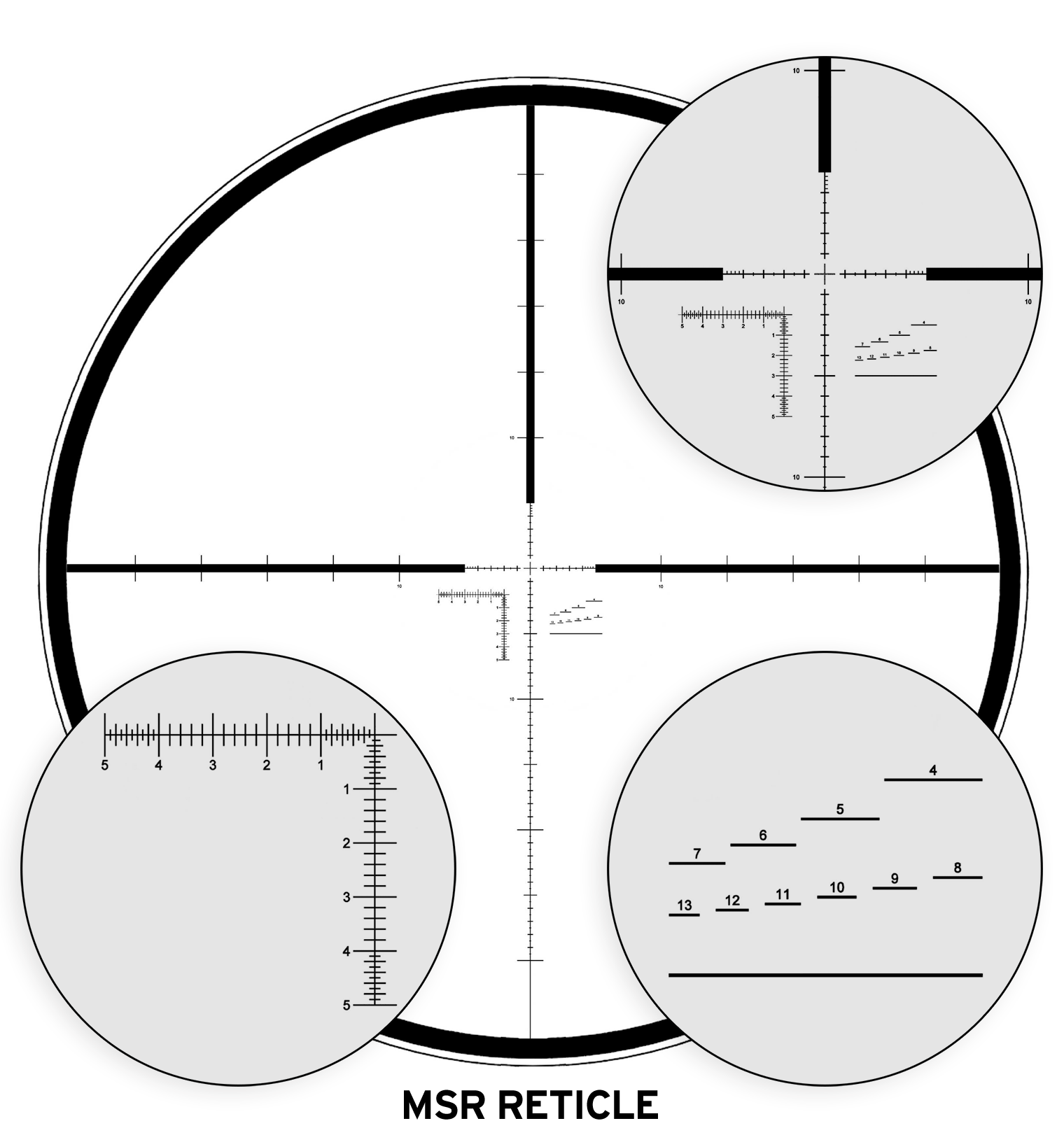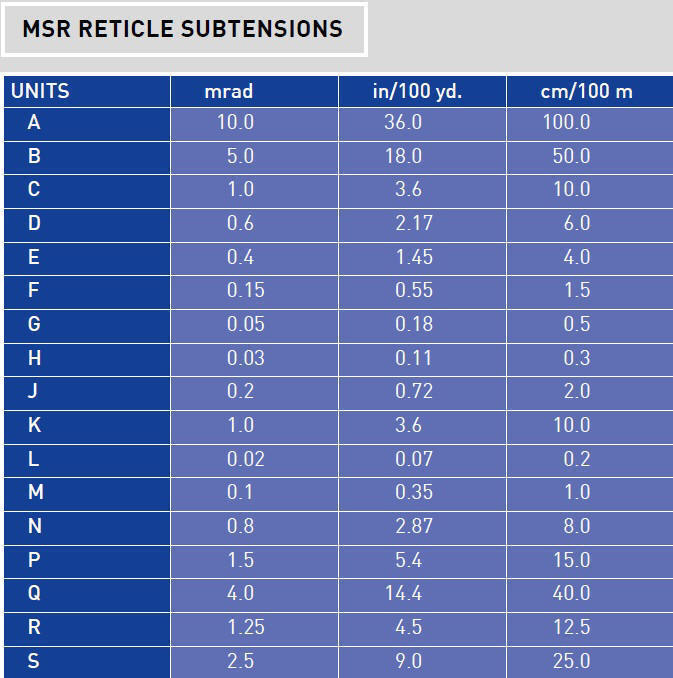 ---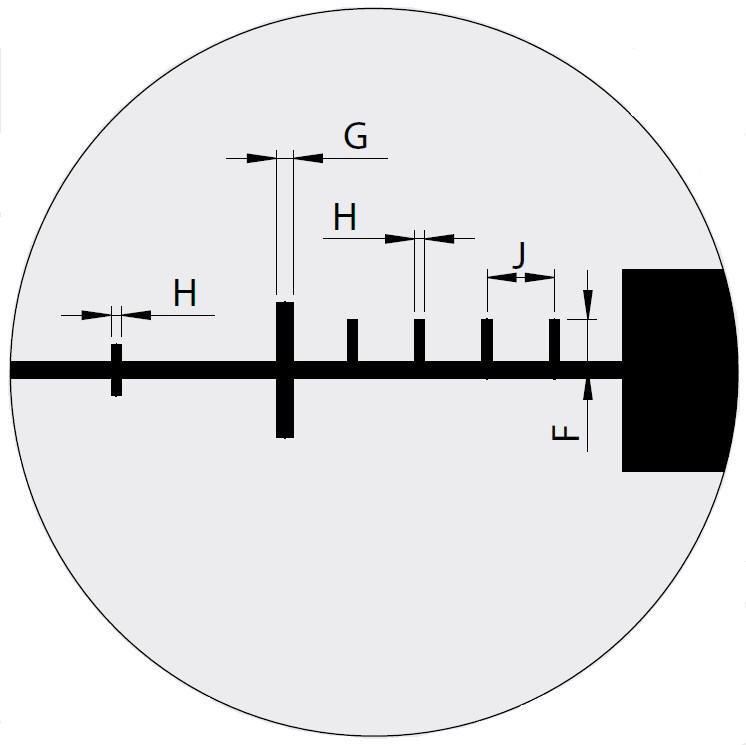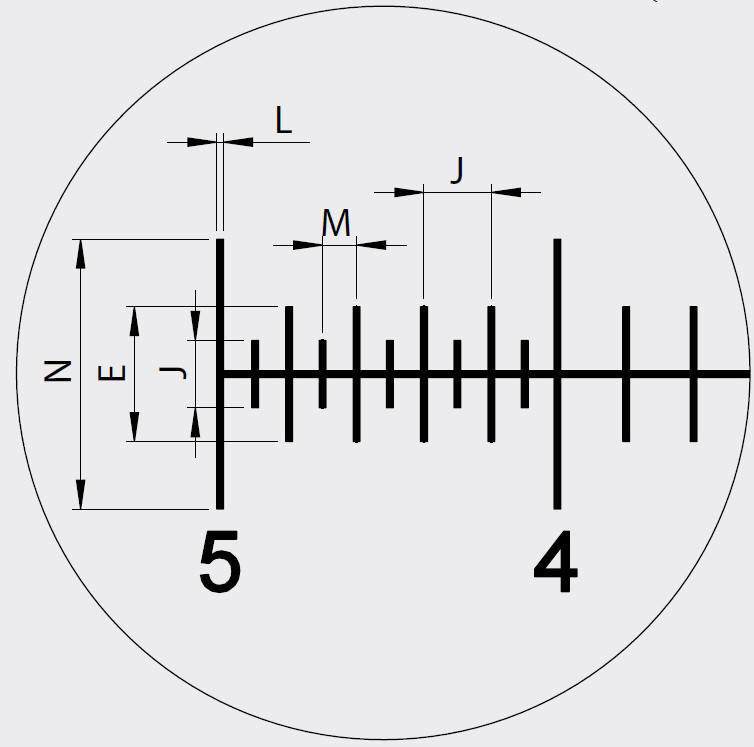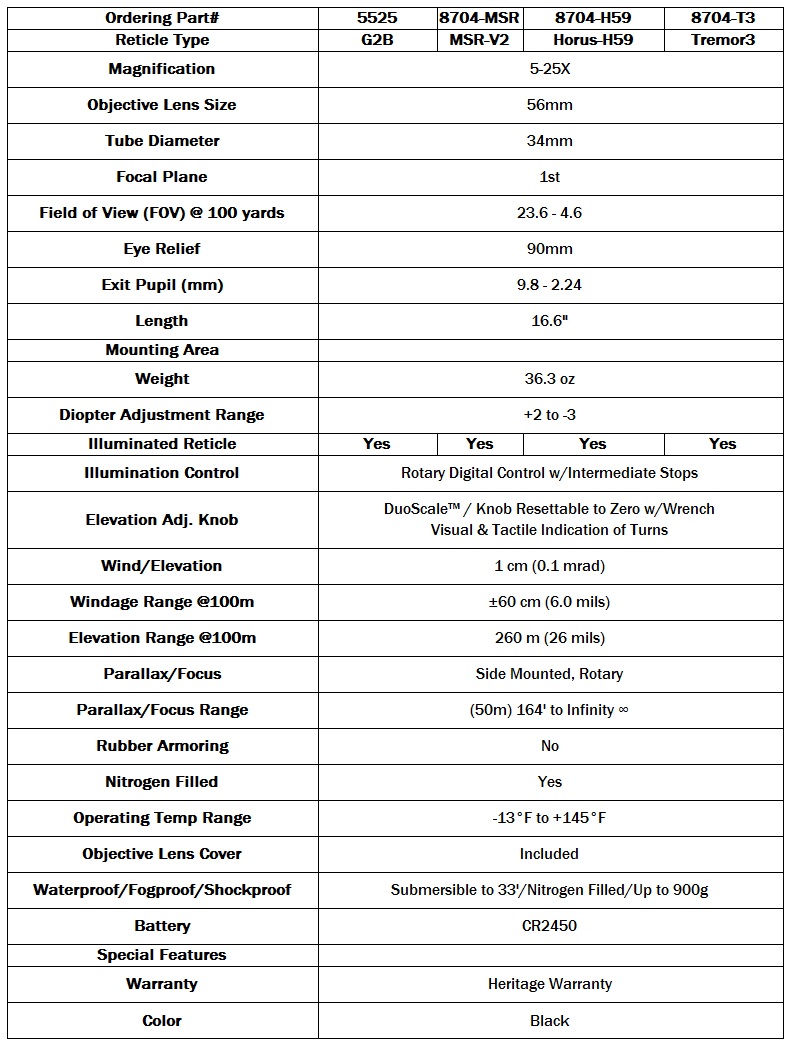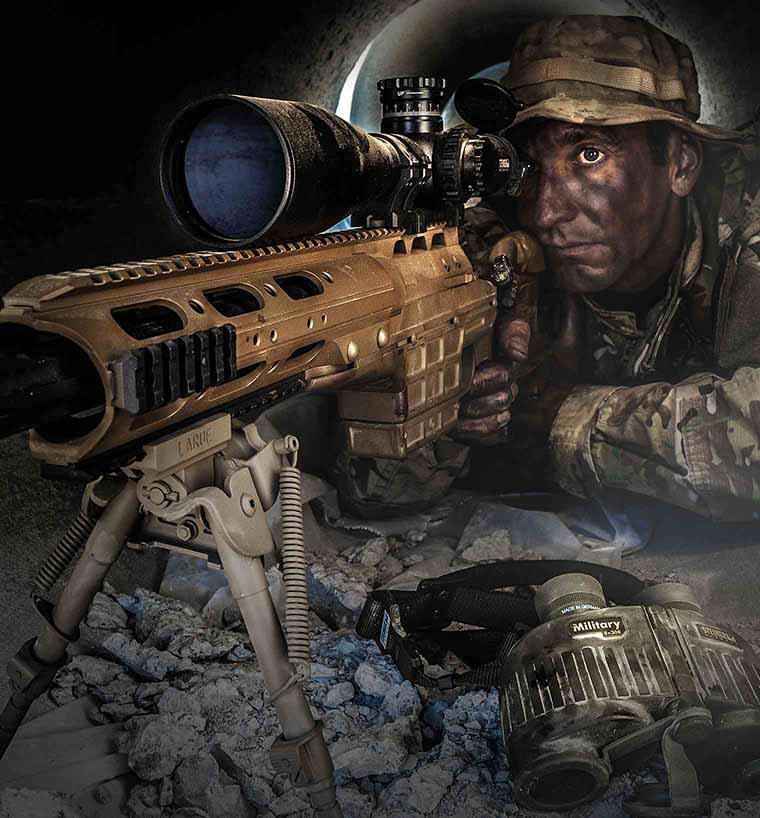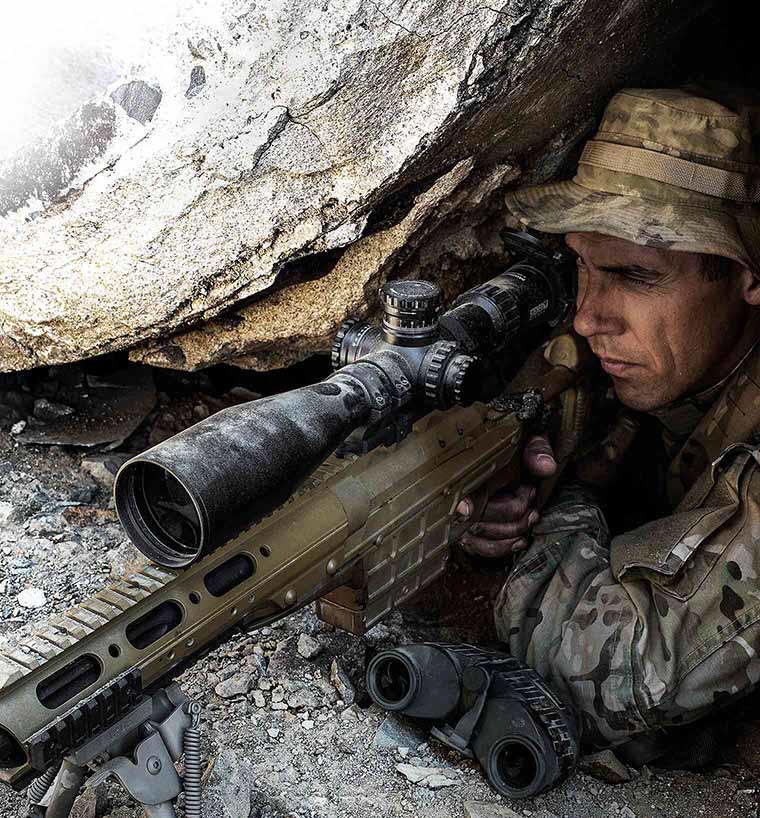 ---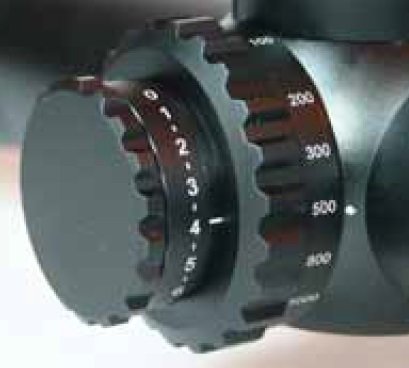 The Windage and Elevation knobs are designed for precise adjustment. The dials are calibrated so that 1 click = 0.1 mRAD. The Windage knob, located on the right side of the tube, is calibrated for up to 6 mRAD of adjustment left and right. Adjustments are indicated by detents and audible clicks. Hard stops at both ends of the adjustment range prevent shooters from getting lost on the dial.

For shooting at extreme distances, the elevation knob offers up to 26mRAD and two full revolutions of adjustment. The indication occurs through a patented double scale. The first revolution of 149 clicks are indicated on a rotating scale. When turning past 149 clicks the scale disappears to the top and a second scale ranging from 150 to 260 clicks appears from below.
This Riflescope is shipped from the factory with the optical center (knob at '0' position) set below center. Without tapered bases the initial sight-in or bore-sighting will likely produce an initial point of impact considerably high. Because of the Zero Stop feature, as shipped from the factory the scope has no immediate capability for downward point of impact adjustment.
STEINER offers this Riflescope with a choice of Windage/Elevation knobs that offer both Clockwise and Counterclockwise adjustments. Use the following procedure whenever you need downward point of impact adjustment:
1 Turn the elevation adjustment knob clockwise to "0". (Steps 2-5 below are for scopes with clockwise Windage/Elevation adjustment. For counter-clockwise knobs, just reverse the indicated direction.)
2 Use the hex wrench supplied with the scope to loosen the set screw (half turn only!) on the Elevation adjustment knob located just below the top of the knob.
3 Pull up slightly on the adjustment knob to the second white hash mark on the turret. Turn the knob clockwise slightly more than the number of mils needed to achieve zero.
4 Retighten the set screws. Adjust the elevation down the required amount.
5 Once the elevation adjustment is complete, once again loosen the two set screws and reset the knob to "0". With the screws loose, push down firmly on the knob until it is fully seated on the turret base and then retighten the set screws.
Note When retightening set screws on elevation knob, maintain pressure on the top of cap to ensure proper seating of adjustment dial.
Attention It is recommended not to remove the elevation adjustment knob! If the knob is removed, it is possible to rotate the Rotation Indicator actuator, which controls the elevation rotation indicator pin, to a position which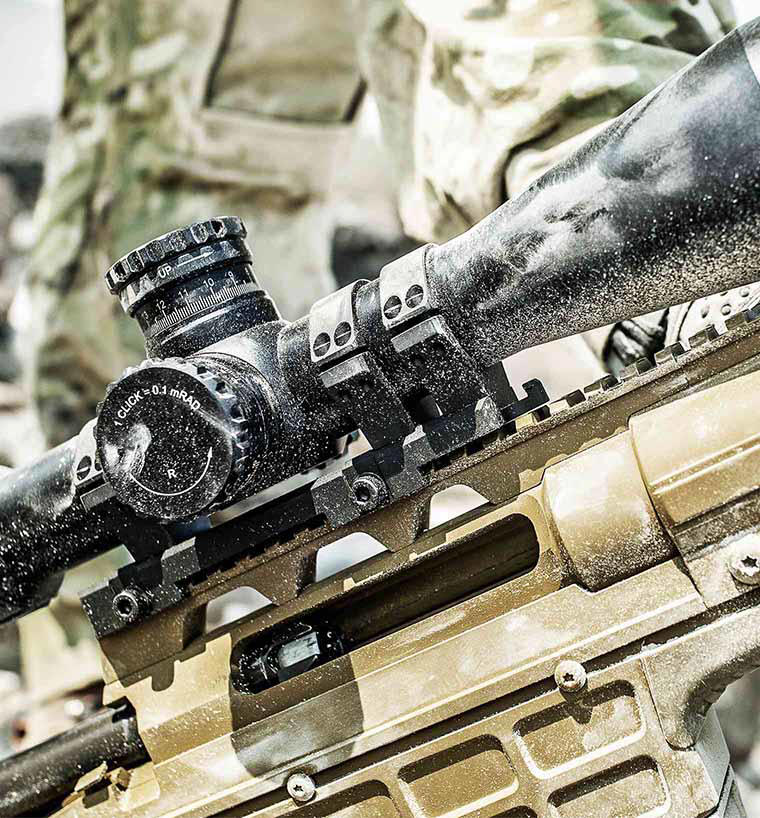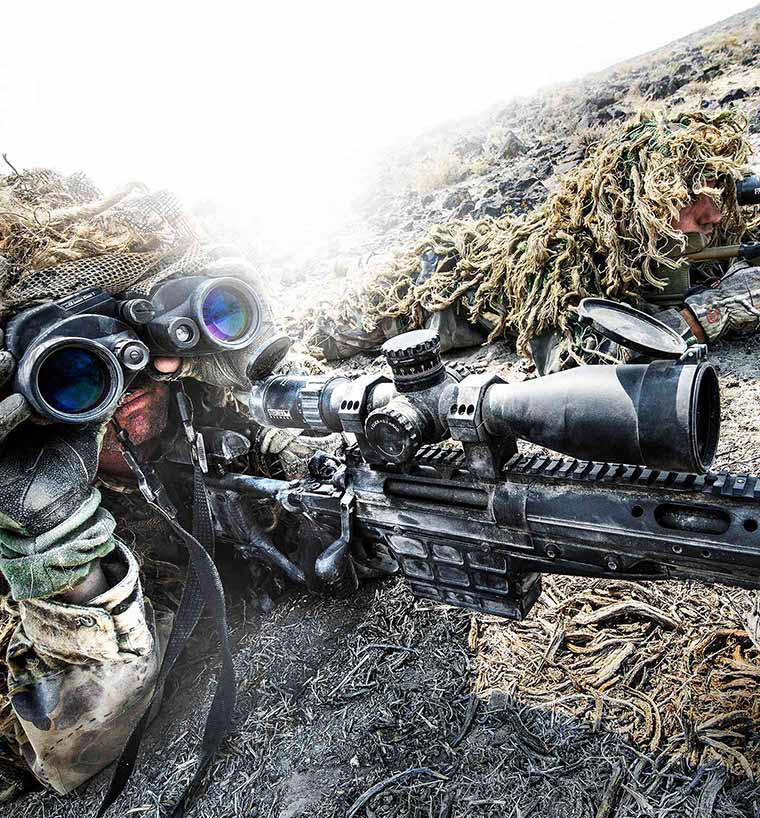 ---
For Military 5-25×56mm: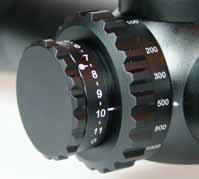 Parallax is the apparent movement of the Reticle in relation to the target when the eye is not directly in line behind the center of the scope.
     Images from different distances focus in front of or behind the scope's Reticle. Parallax is more noticeable with higher magnification scopes and scopes with a larger objective lens.
     To use the parallax/focus adjustment, rotate the knob on the left side of the adjustment turret until the numeral corresponding to the known target distance lines up with the reference mark. If the distance is unknown, rotate the adjustment knob until the target image is sharply focused.
     When the scope is set parallax free for the distance you are viewing, you should be able to move your eye side-to-side or up and down without seeing the Reticle move appreciably in relation to the target.
---
| | | | | | |
| --- | --- | --- | --- | --- | --- |
| |   | Accessories |   |   |   |
| Color | Part# | Product Description |  MSRP  | Sales Price  | UPC Code |
| Black | 950 | Steiner Pouched Lens Cloth | $7.99 | $4.99 | 000381809506 |
| Matte Black | 5901 | M5Xi 50mm Military Scope ARD | $124.99 | $107.99 | 000381859013 |
| Matte Black | 5902 | M5Xi 56mm Military Scope ARD | $124.99 | $107.99 | 000381859020 |
| Black | 5903 | M5Xi 50mm Military Scope Sunshade | $89.99 | $67.99 | 000381859037 |
| Black | 5904 | M5Xi 56mm Military Scope Sunshade | $99.99 |  $70.99 | 000381859044 |
| Matte Black | 5927 | Throw Lever T5Xi/P4Xi | $79.99 | $59.99 | 000381859273 |
| Brown | 7611 | Leather Sling | $79.99 | $69.99 | 000381876119 |
| Black | 7612 | Nylon Sling | $49.99 | $42.99 | 000381876126 |