Steiner M6Xi 1-6x24 Riflescopes
DISCONTINUED - Information Purposes Only
OUT of STOCK



Once your order is placed, we will contact you for your T-Shirt Size and Hat Color Preference.

DO NOT select these freebies at checkout unless you want to pay for spares.
Compare our prices against all others and see that we are much lower, plus we offer Free S&H, and other Goodies. Our customer service is second to none. We answer our phones and email and we provide you with 100% satisfaction, before, during, and after the sale.
Military Scopes
The ability to see what others don't. That's what Steiner brings to your side: razor-edge image clarity, optimum depth and color, superior ability to probe, plan and engage with force-multiplying stealth, surprise and impact. After 67 years of deployment and constant improvement, no optic serves your mission and your troops better.
Steiner optics survive the worst conditions you can face; Low light or heavy glare; high water to deep cold; rock slams and grit storms; it doesn't matter. The view is always crystal clear and dead certain. Even after countless monster-obsessed pursuits, Steiner optics are eager for more and ready to go. Not unlike yourself.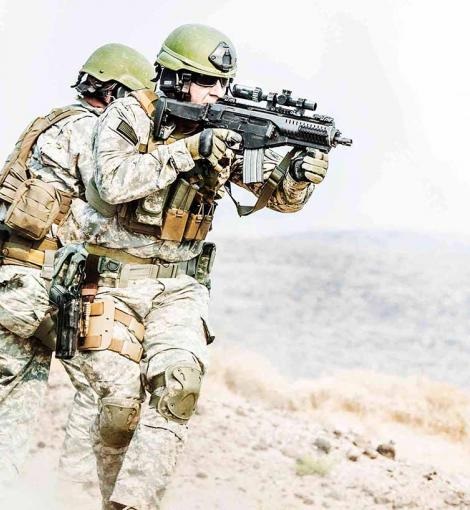 Steiner's 1-6x24 M6Xi Riflescope offers strength, precision, and durability. Its optical system gives users a generous 1-6x zooming capability, a wide Field of View, and bright and clear images, thanks to broadband anti-reflection coatings. For making accurate shot placements, the riflescope also has an illuminated Rapid Dot 5.56 reticle with two short horizontal posts around an illuminated target dot and a short vertical post with ballistic subtensions. The reticle lies in the second image plane and has a minimal footprint on the Field of View. For matching the brightness to the environmental conditions and your preferences, the scope has a rotary brightness knob with incremental adjustments and intermittent off positions. The reticle is parallax free at 328 feet.
Specifications
ONE-PIECE OVERSIZED 30 MM TUBE - increases strength and reliability, and provides greater elevation and windage adjustment for long ranges
6X ZOOM - provides maximum range at the high end, wider field of view at the low end, and eliminates any tunneling effect
SHORT OVERALL LENGTH - 11.25"
ILLUMINATED RETICLE - with 7-Night/4-Day levels with 2 off positions at each end, and quick standby levels between each for fast return to setting
PRECISE WINDAGE/ELEVATION ADJUSTMENT - and additional turret covers to protect from dirt, dust and possible damages.
WATERPROOF/FOGPROOF - durable construction you can trust to stand up to any cold or wet condition. Waterproof to depths of 10 meters (33 feet).
SHOCKPROOF - and rugged enough to withstand impact testing to 900 Gs on all optical and electronic components.
BROADBAND ANTI-REFLECTION COATINGS - for superior light transmission to ensure optimal performance in low light
The Anodized Aluminum housing is Nitrogen filled and sealed for fog and waterproof performance and will endure temporary submersion to 33 feet. It also features a 30mm Main Tube, graduated exposed Windage and Elevation Turrets, and an eyepiece with a knurled zoom ring. The Windage and Elevation Turrets are re-settable to zero and have a 32 MRAD elevation range, a 16 MRAD windage range, and 1/10 MRAD click adjustments.

Optical Performance
·         1 - 6x Optical Magnification
·         24mm Objective Lens Diameter
·         Broadband Anti-Reflection Coatings
·         118.1 - 23.7' at 100 yards linear field of view
·         Parallax-free at 328 feet
·         11.5 - 7.2mm Exit Pupil
Use and Handling
·         1/10 MRAD Impact Point Correction
·         32 MRAD Elevation Range
·         16 MRAD Windage Range
·         3.5 - 4.3" Eye Relief
·         +2 to -3 Diopter Correction
Construction Details
·         30mm Main Tube Diameter
·         Aluminum housing with Anodized finish
·         Exposed graduated re-settable turrets with zero stop
·         Rotary knob for illumination with intermittent off positions
·         Accommodates a CR2450 battery
·         Nitrogen filled, Fogproof
·         Waterproof, Submersible to 33'
Rapid Dot 5.56 Illuminated Reticle
·         Second Focal Plane
·         Red illuminated target dot
·         Two short horizontal posts around a target dot
·         Short vertical post with Ballistic Stadia under the dot
·         Incremental illumination with intermittent off positions
High-contrast optics delivers clarity at dusk and dawn with light transmission greater than 90%.
A powerful all- around Hunting Riflescope. Lightweight, with a large Field of View (FOV). High light transmission and precise illumination adjustments delivers perfect performance in any light.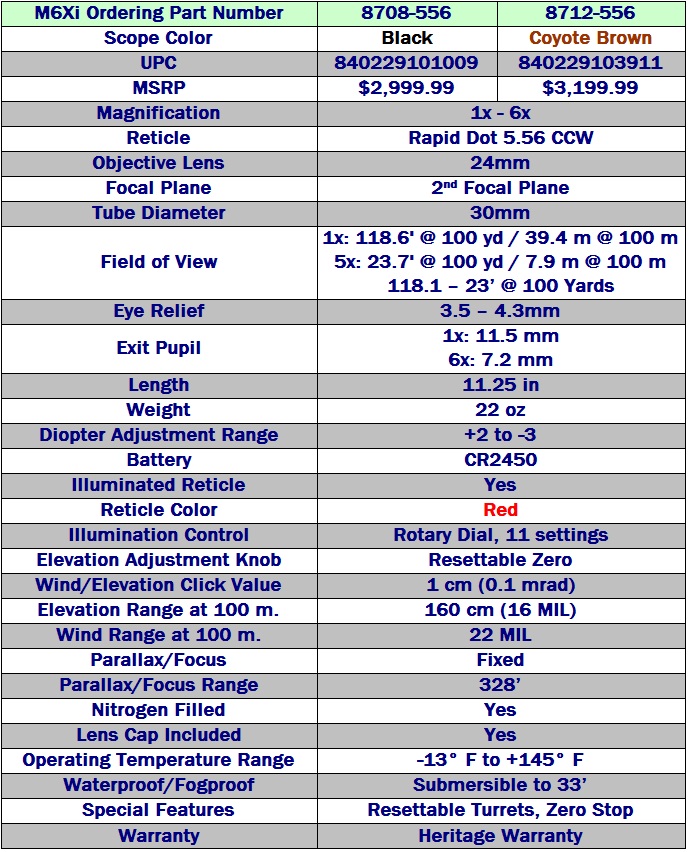 Steiner's powerful all-around Tactical Scope. The 1-6x model fits the sweet spot for most competition shooters, with enough field-of-view and forgiving eye-box to make in close shots easy, but 6 times zoom for longer distances.

Made in Greeley Colorado, but implementing some of the better European-demanded features, like the 24mm objective end. It gathers immense light, making this scope crystal clear and bright even in very poor conditions.
High-contrast optics deliver clarity at dusk and dawn with light transmission greater than 90%.
Lightweight, with a large field of view. High light transmission and precise illumination adjustments delivers perfect performance in any light.
Uses the Rapid Dot 5.56 CCW Reticle. This is an illuminated scope with 11 brightness settings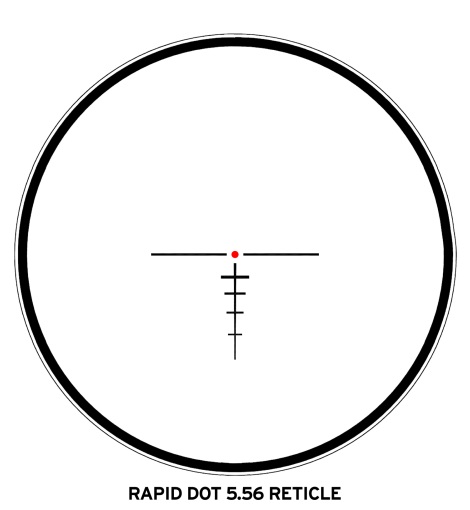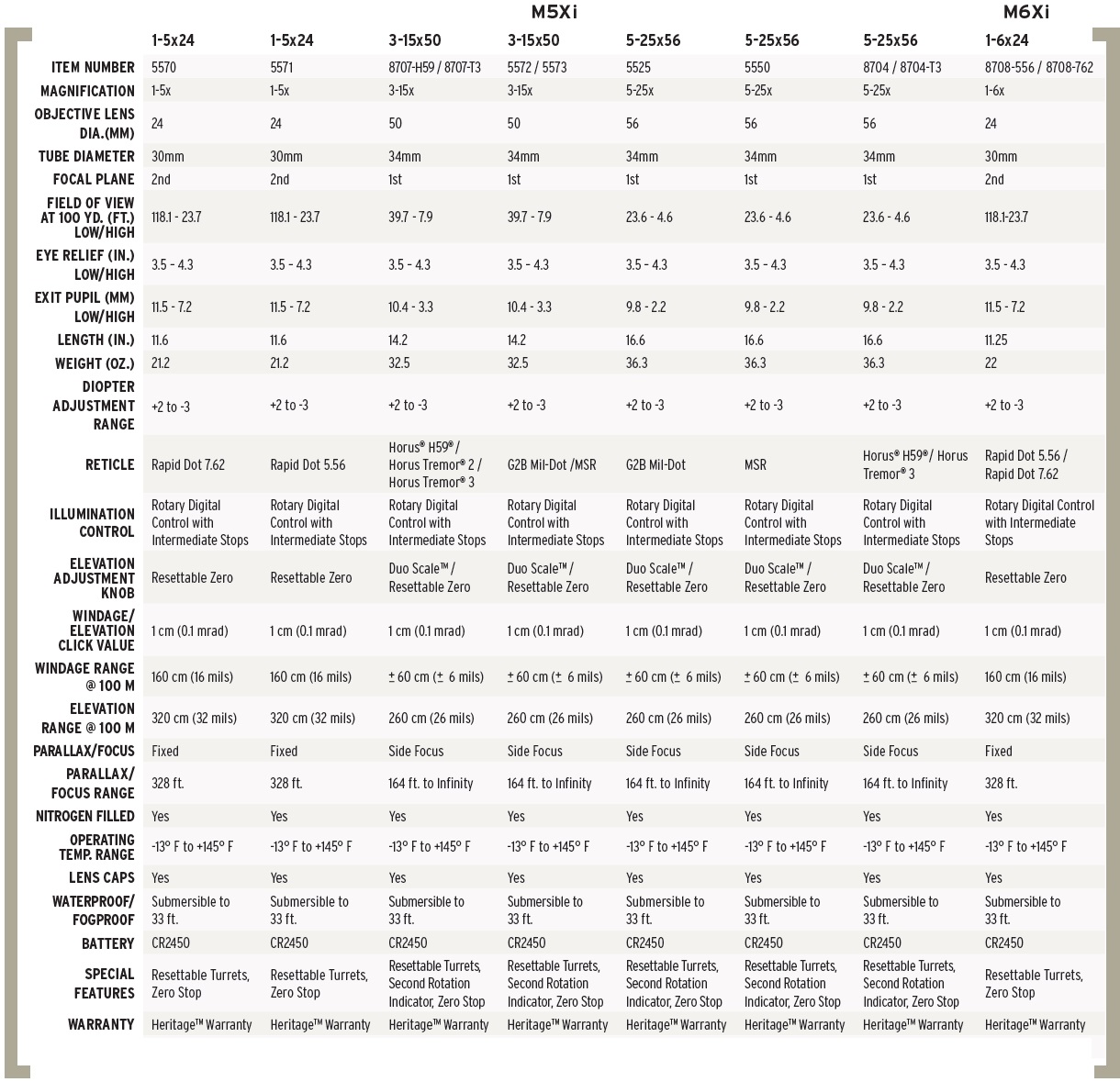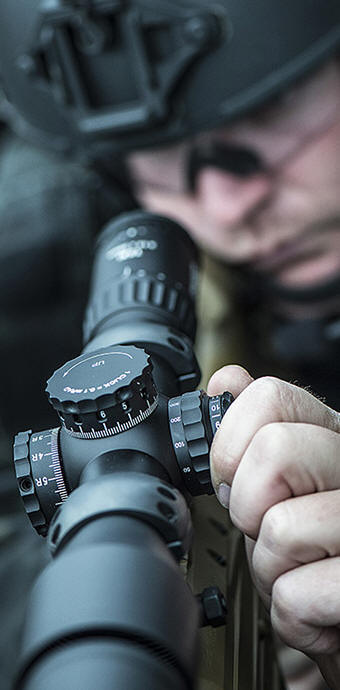 There's an illumination adjustment dial on the left side of the scope, and the illuminated reticle is powered by a CR2450 battery that can be replaced by simply unscrewing the cap. The M6Xi offers no less than 11 different illumination settings with an intermediate off position between each brightness level. This is a particularly important feature for hunters since you may be waiting to take a shot at an animal in low light and, while waiting for it to take a few more steps, you can turn off the illumination and rest your eyes. When the shot presents itself you simply turn the illumination knob to the next position and the reticle automatically turns red.
     Technology might have changed the scope market, but there are some constants regarding optics. One of those is that you can't get a crisp, clear image without good lenses and premium coatings, and the M6Xi offers both of those. The lenses are made of precision-ground German glass and the lens coatings repel dirt, dust, moisture and debris so you'll be able to see clearly each time you climb behind your rifle regardless of the weather or conditions. Steiner uses superb components that provide edge-to-edge clarity in the field.
With incredible light gathering potential, a versatile reticle and precision-ground German glass, the Steiner M6Xi should be on the top of every sportsman's wish list this year
Very few corners of the hunting market have advanced as quickly as optics. Features like illumination, custom turrets, second focal plane reticles and 30mm main tubes where once limited to very pricy, high-end scopes that were rarely seen on hunting rifles but today hunters rely on all of these advancements to help them shoot more accurately and at greater distances in a wide range of light conditions.

Steiner has been at the forefront of the hunting optics revolution, and this year the M6Xi, M7Xi, and M8Xi scopes topping the list. The one-piece main tube measures 30mm in diameter, and that combined with the high quality German Optics propel these sight to the top of the market. Old, mature animals oftentimes don't break cover until the last light of day, and in those conditions having the right optic might make the difference between filling a tag and going home empty-handed. The Steiner offers class-leading 96% light transmission, and that means you'll be able to see more clearly at first and last light.
Other Steiner controls include low-profile, capped windage and elevation adjustment turrets and a Diopter adjustment dial. The durable aluminum body tube has a matte finish that won't alert game and stands up well to the elements. Despite all the options these scopes offer and their durable design they aren't extremely large or heavy. The 1-6x24 weighs in at a mere 22 ounces, and measures just 11.25-inches long. That's considerably lighter than most. This M6Xi also offers 3.5 – 4.3-inches of eye relief, plenty of room to prevent an unsightly eye hickey. The scope is also nitrogen filled so internal fogging won't be an issue.
Once the scope is set securely in place with the Steiner H-Series or T-Series 30mm Rings [T-Series Cantilever Mount can also be used], bore sighting is simple. The 0.1 mrad click adjustments proved to be accurate, and it's possible to walk the point of impact into alignment with the scope very quickly using this optic.
Includes a lens cloth, warranty information, manual, reticle booklet, Steiner decal, and lens covers with the M6Xi. It ships in a very nice box with closely-cut closed cell foam protecting the scope.
Steiner M6Xi Series Overview
As optics designed for the field, the German-designed and made M6Xi series from Steiner are meant to be an all-purpose shooting tool. Lightweight for their size, the M6Xi scopes feature quality lenses designed to provide 90% light transmission. Capped turrets and illuminated reticles are standard features, and you can choose from two colors, Black (PN: 8708-556) or Coyote Brown (PN: 8712-556).
The series is touted by Steiner to be hunt-proof, whether you're talking about the weather or harsh lighting conditions. While their feature sets may appear to be rather slim, the simplicity in the no-nonsense layout is a definite strength.
Unpacking and Physical Description
Externally, the M6Xi is an attractive optic. There are no sharp transitions or corners anywhere on the scope. Everything blends together at the turret housing and objective bell with gentle radiuses. The only external controls are the reticle focus, power knob, and illumination settings. All are extremely low-profile and snag-free, and the optic itself is finished with a smooth, matte coating.
The M6Xi is completely nitrogen purged, and totally waterproof down to 33 feet. This waterproofing depth is MILSPEC rated.
Turrets and Tracking Testing
The M6Xi is one of the most versatile in the M-Series and the 1x-6x will match perfectly with any tactical or competition rifle. It comes with capped turrets so unscrewing the metal caps reveals simple, yet robust, finger-adjustable knobs which are functional and easy to do their intended job.
After zeroing the M6Xi, resetting the turrets is as simple as grabbing the numbered ring beneath the gripping surface and turning it to the zero mark. It's held in place by friction alone, and spins rather freely.
Reticle Illumination
The bottom portion of the Rapid Dot 5.56 Reticle on the M6Xi is illuminated. Powered by a CR2450 battery, it offers 11 different brightness settings optimized for both day and low-light use. Illumination is definitely day bright, but it's not going to bloom or wash out in full sun. It's more of a dawn/dusk tool, as it should be.
Illumination settings are controlled by a knob on the left-hand side of the scope, which also houses the battery. These settings also include an off position in between each one, a feature that's becoming common on higher-end scopes.
The battery casing has contacts that totally surround the battery and a cap that firmly mashes it in place. Reticle flickering due to recoil is not an issue with the M6Xi.
Zoom Ring
There's not much to say about the zoom ring on the M6Xi. It is rubber coated, and features a raised ridge to aid in traction while switching power. Power ranges from 1x to 6x on this model, with clearly seen numbers displayed on the top of the ring.
Steiner Heritage Warranty
The warranty on the M6Xi is as good as it gets in the optics industry. If anything bad happens to the scope that causes performance to suffer, they will replace or repair it for free. Naturally, this doesn't cover theft or deliberate damage from "torture testing," so it should cover just about everybody. I do want to point out that electronics are only covered for three years, so take that into consideration.
There are no warranty cards or receipts needed, and the Heritage warranty is fully transferable to future owners. If it breaks, they fix it. It's that simple.