Steiner M7Xi 4-28x56 Military Riflescope

Buy any M7Xi Scope and take an extra
10% Off

+ Get a Free Steiner Pouched Lens Cloth, Steiner Hat, KERIF T-Shirt + FREE S&H!
DO NOT select any of these freebies at checkout unless you want to pay for spares. Once your order is placed, we'll contact you for your T-Shirt Size and Hat Color Preference.
Please note that due to this recent nonsense of de-funding the police and COVID-19 delays, inventory levels are hard to maintain and some products may not be available for weeks. Please call before you place your order if you are not willing to wait to make sure the item is available. The credit card company will NOT return the processing fees (up to 3.5%) so you will NOT receive a full refund if you cancel.
Typical Delivery Schedule can take 90 Days+ from the time of your order placement.
If you wish to place an order and pay for it when it ships, please call (702) 324-6463 and place the order by phone with no cancellation penalty.
Military: M7xi 4-28x56


Compare our prices against the so called "Big Boys" and see for yourself that we are much lower, plus we offer Free S&H and other Goodies.
Our customer service is second to none. Ask ANYONE who has ever bought from us. We answer our phones and email to answer your questions and we provide you with 100% satisfaction, before, during, and after the sale.

Steiner's new M7Xi & M7Xi IFS
Long-Range Military Riflescopes
Always stay on target.
Steiner sets the new standard for Sniper Riflescopes by entering the digital world.
Based on the outstanding success of the M5Xi - used today by Special Forces around the globe, Steiner sets a new benchmark with the ultimate long - range riflescope M7Xi IFS 4-28x56 with a 7x zoom and an impressive Field of View (FOV) of 1.42-9 m at 100m. 
     The Intelligent Firing Solution with integrated customizable display provides all the important information in real time to the operator.
     The built in Ballistic Calculator and Sensor Suite determines the bullet Point of Impact (POI) in real time (temperature, air pressure, inclination, and wind drift). Just turn the turrets until the distance and wind correction in the display matches the information provided by the spotter and you will be on target.
     The display provides information about leveling and the current turret setting. Display and user interface can be customized to user needs. All this information can be moved freely or can be deactivated if needed, via your Bluetooth Connected Smartphone App.

     The impressive 7x zoom gives the operator more flexibility and a higher resolution for all distances while the large Field of View, and the outstanding optical quality, create a perfect overview of the surroundings at all times.

     The short overall length of the scope creates more rail space for Clip-On Night Vision Devices, like the AN/PVS-30, AN/PVS-27 and AN/PAS-13 for superior operational capabilities in any combat situation.

     Low profile turrets provide outstanding situational awareness and additional mounting options for add-ons and accessories.

     The new Steiner M7Xi IFS inherited and enhanced the legendary Steiner ruggedness. The M7Xi IFS is Waterproof up to the MILSPEC rating of 20m (66 Feet) and the operating temperature range is -40°C to +64°C. It can withstand up to 900Gs of shock.

The new M7Xi IFS is available in Black or Tan with your choice of the following reticles.
MSR2 & TReMoR3 Reticles
| | | |
| --- | --- | --- |
| 8720-MSR2IFS | M7Xi 4-28x56 MSR-V2 IFS CCW TAN | 840229104345 |
| | | |
| 8719-MSR2 | M7Xi 4-28x56 MSR-V2 Black | 840229104222 |
| 8720-MSR2 | M7Xi 4-28x56 MSR-V2 TAN | 840229104321 |
| 8719-MSR2-IFS | M7Xi 4-28x56 MSR-V2 IFS Black | 840229104260 |
| 8719-T3 | M7Xi 4-28x56 TReMoR 3 Black | 840229104215 |
| 8720-T3 | M7Xi 4-28x56 TReMoR 3 TAN | 840229104314 |
| 8719-T3-IFS | M7Xi 4-28x56 TReMoR 3 IFS Black | 840229104253 |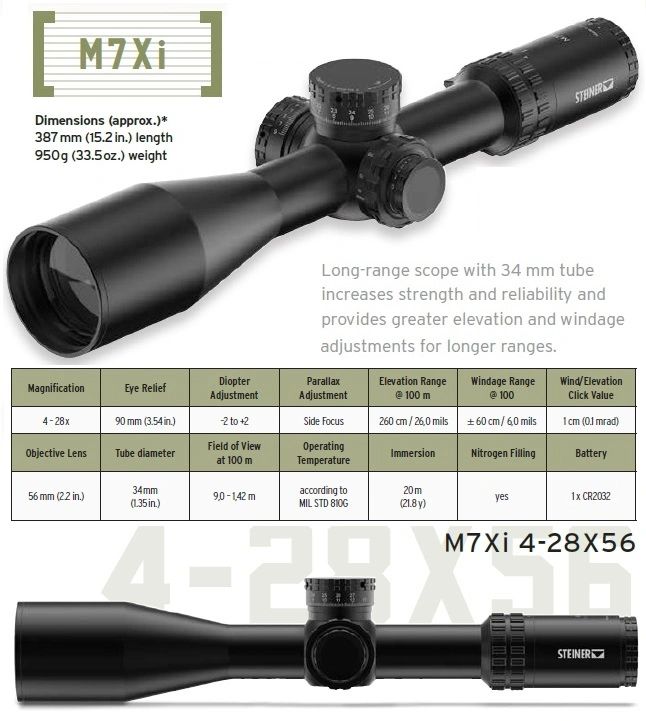 PRODUCT FEATURES:
SHORT OVERALL LENGTH...of the scope creates more space for Clip-On Night Vision Devices for superior operational capabilities in any combat situation
BROADBAND ANTI-REFLECTION COATINGS...For 94% light transmission to ensure optimal performance in low light
ENHANCED STEINER RUGGEDNESS...of the scope creates more space for Clip-On Night Vision Devices for superior operational capabilities in any combat situation
OPTIMIZED EXTERIOR DESIGN...with larger, positive grip Elevation, Windage, Parallax, and Illumination Knobs along with Non-Slip Diopter and Magnification Adjustment
7X ZOOM...Provides maximum range at the high end, Wider Field of View (FOV) at the low end and eliminates any tunneling effect. The M7Xi provides true eyes-open situational awareness at low magnification
PRECISE WINDAGE/ELEVATION ADJUSTMENT...is easy for repeated accuracy with tactile click-by-click feedback you can hear and feel
LOW PROFILE TURRETS / OPTIMIZED TUBE & KNOB DESIGN...for more mounting option and optimum performance with different rifles and added equipment
ILLUMINATED RETICLE...with 4 day/7 NV levels with (2) "Off" positions at each end, and quick standby levels between each for fast return setting
WATERPROOF/FOGPROOF/SHOCKPROOF...durable construction you can trust to stand up to any cold or wet conditions...Waterproof to depths of 20m (66 feet)...and the operating temperature range is -40°C to +64°C...and rugged enough to withstand impact testing to 900 G's on all optical & electronic components

ONE PIECE 34mm TUBE...Increases strength and reliability while providing greater Elevation & Windage adjustments for longer ranges
VARIETY OF RETICLE...The new M7Xi is offered with the MSR-V2, G2B or Horus TReMoR3 Reticle
AVAILABLE in TAN or BLACK

  STEINER is one of the largest manufacturers of high-quality optics in the world. STEINER products meet the highest standards in precision and technology. The Riflescopes were developed in cooperation with international weapons experts for the particularly strict requirements of military missions all around the globe. They have been tested in harshest operating conditions by Special Forces in the field and proven highly successful in combat. The Riflescopes from STEINER set new standards in terms of performance, quality, and reliability. They are perfectly suitable both for military missions and official operational purposes.
     The latest generation of STEINER Riflescopes are available with Intelligent Firing Solution (IFS). The IFS provides all relevant data in real time at any given time.
     The integrated ballistics calculator with environmental sensor system (temperature, atmospheric pressure, inclination, wind drift) determines the projectile's point of impact. The display provides information about leveling and the current turret setting in the field of view.
The display can be customized to user needs. All the displayed information can be easily added, moved or deactivated if needed with a smart phone or mobile app. To do so, the Riflescopes with IFS are equipped with a Bluetooth interface.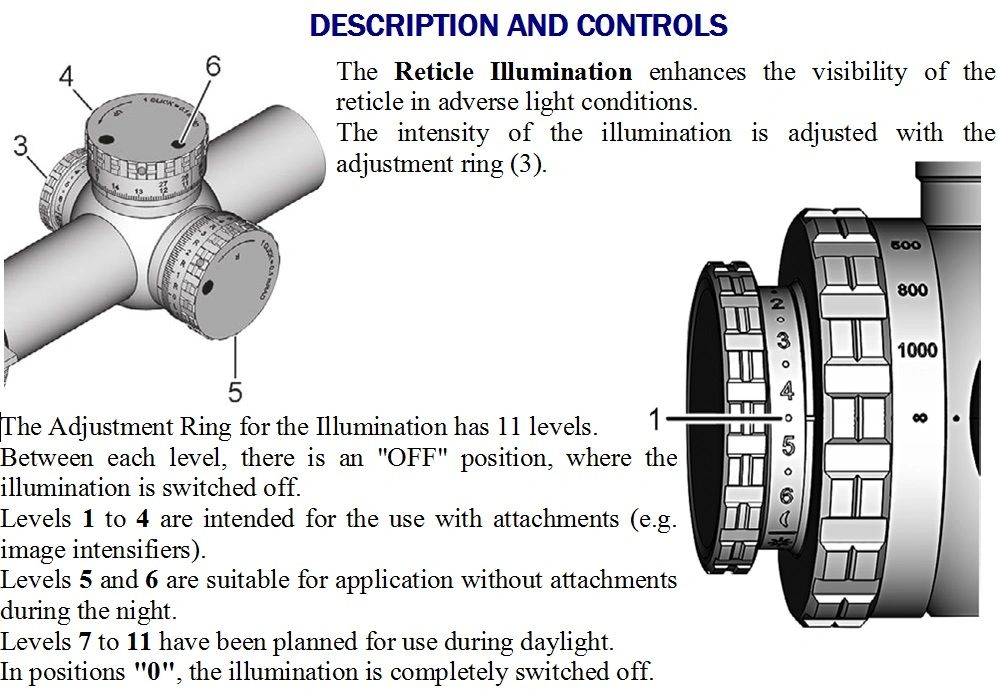 On the M7Xi Riflescopes, the adjustment ring (7)[see image below] is used to correct the parallax.
The M8Xi Riflescopes are adjusted to be parallax free at 100 m.
The Adjustment Scale Rings for Elevation and Windage (4 and 5) are calibrated such that one click represents
0.1 mrad (= 1 cm over 100 m).
270 clicks (M7Xi / M8Xi)) are available for elevation adjustment, and 60 clicks both to the right and to the left for windage adjustment.
The adjustment can be felt and heard with audible clicks.
Mechanical stops at both ends of the adjustment range serve as reference points.
A pin coming out of the housing after the first full turn of the adjustment scale ring for elevation (4) serves as Second Rotation Indicator (6). In this way, a perceptible control of the elevation adjustment is possible.