Nighthunter S35 Thermal Scope
Nighthunter S35
DISCONTINUED
Outstanding Display Quality
Experience exceptional performance on the darkest of nights with crisp, clear images with the Steiner S35 Nighthunter Thermal Riflescope, powered by Quantum Vision.
A perfect combination of a state-of-the-art thermal sensor, outstanding display quality and proprietary software. Quantum Vision technology, together with outstanding usability, handling and legendary ruggedness, creates a superb night hunting Thermal Riflescope.

This is an ITAR Controlled item available to all domestic US Customers...NO EXPORT!
If you want more information or wish to pay by check or Bank Wire Transfer (Extra 3% Discount) please email sales@kerifnv.com or call (702) 324-6463 and we will be happy to help. Please note: You will be required to complete an End User Agreement when ordering. FREE S&H Over (90) Units IN STOCK and Priced to Sell! Take an ADDITIONAL 15% Off Sale Price Listed. Call Today!

Steiner's S35 Nighthunter Thermal Scope - 
Easily detect coyotes and pigs past 2,000 yards and recognize within 500 yards taking predator and invasive species control to the next level. Customize color output, including Amber and display settings to maximize eye comfort on long nights behind the scope.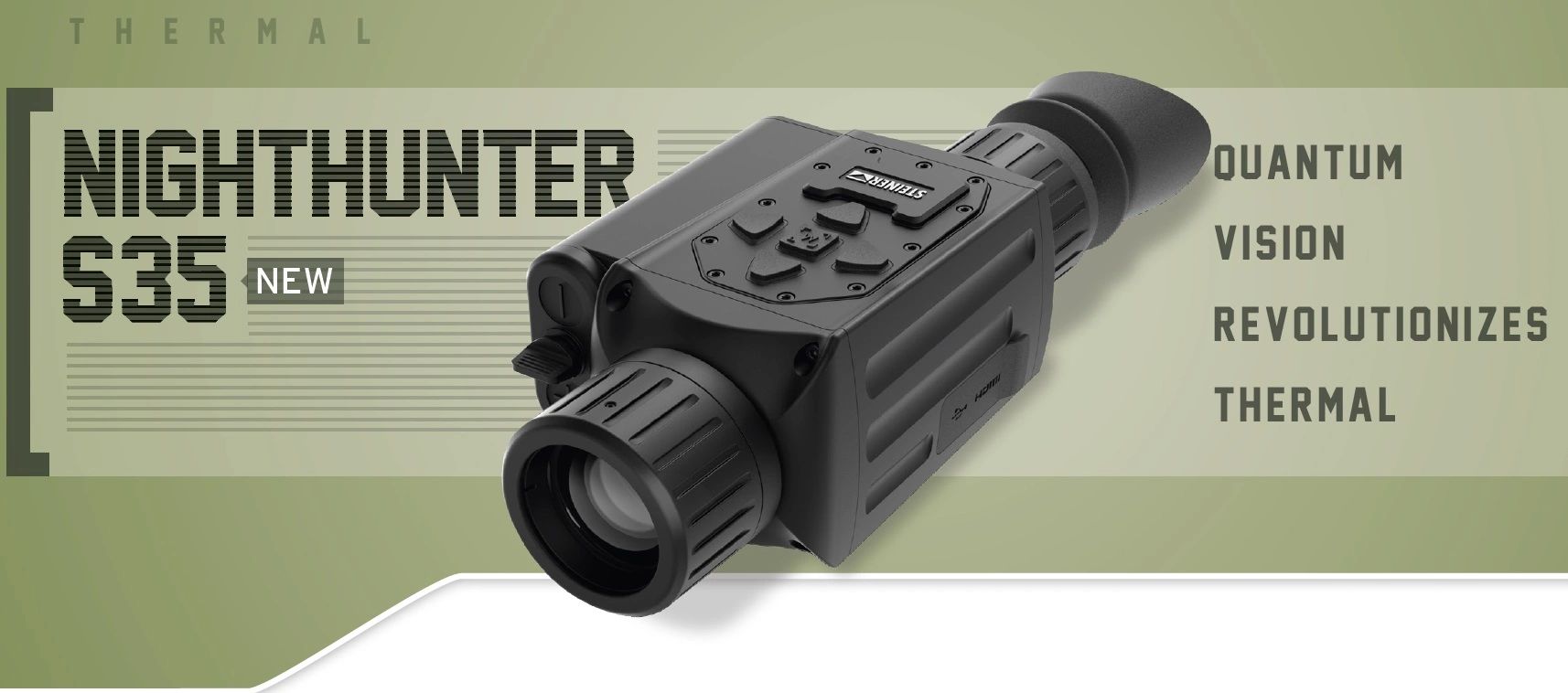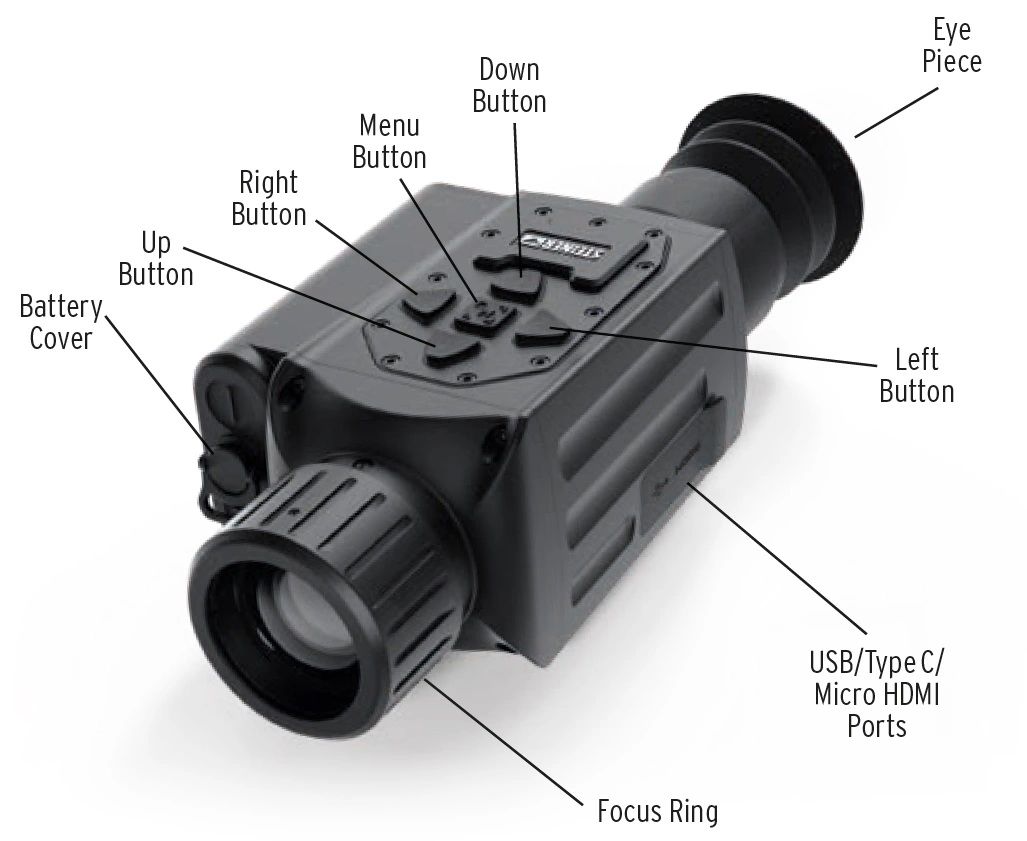 FUNCTION DESCRIPTION
These key features can be accessed via the menu system to allow further user customization:
Scene mode: There are three preset scene modes that can be selected:
Standard, Enhanced, and Highlight (or detect*).
Color Palettes: There are multiple color palettes: White Hot, Black Hot, (adjustable*) Red Hot, Iron, Blue Hot (or fire*) and Amber.
Brightness:Adjustable from levels 1 – 10. Note: the adjusted brightness value will be saved in the current scene mode.
Screen brightness: This is the amount of light coming out of the micro-display, and is adjustable from levels 1-10. At night, it may be
more comfortable to look at a dim display. During the day, the user may prefer a brighter display.
Contrast: Adjustable for user preference, from levels 1 – 10.
Calibration mode: This modifies how often the imager performs its Non-Uniformity Correction (NUC). The default is Automatic.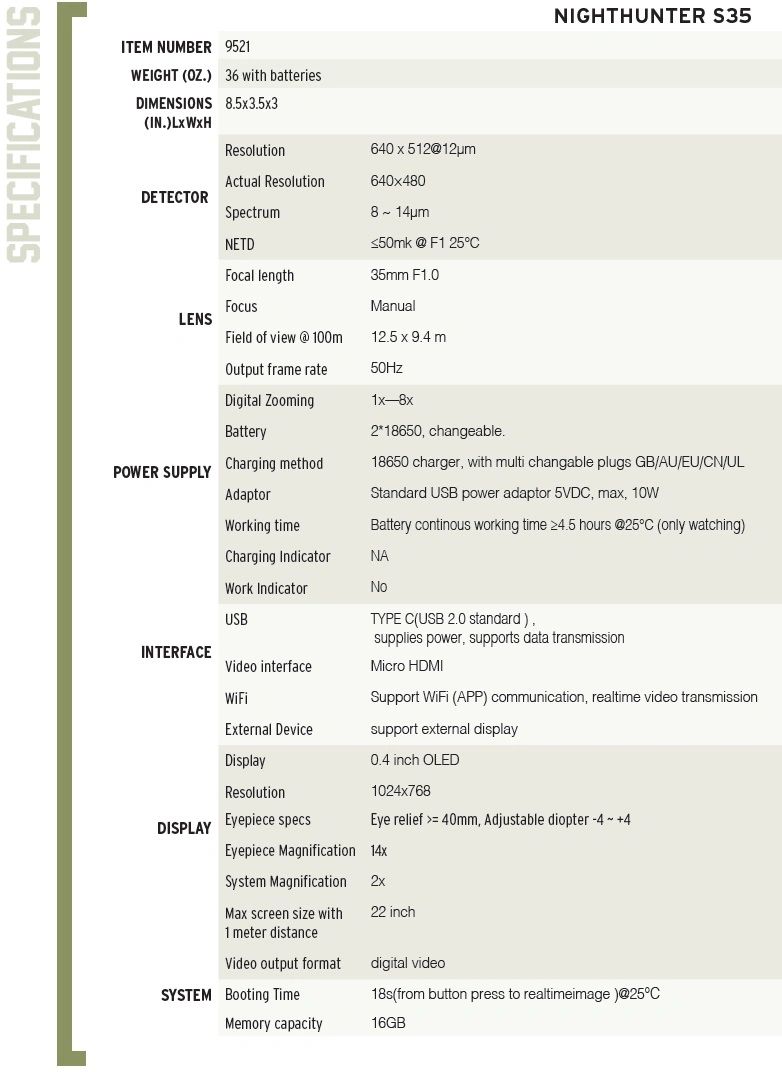 NIGHTHUNTER S35 
OVERALL FEATURES
• QUANTUM VISION
• 640 x 480 12μm
• 50HZ
• 35MM F/1.0 FOCAL LENGTH
• PICTURE AND VIDEO RECORDING
• 16GB INTERNAL STORAGE
• 2.4 GHZ WIFI
• MOBILE APP CONNECTIVITY
• 6 COLOR PALETTES
• HOT SPOT TRACKING
• 9 RETICLE OPTIONS
• EASY ZERO PROCESS
• 5 BULLET OR RIFLE PROFILES
• PICTURE-IN-PICTURE
• STADIAMETRIC RANGEFINDER
• SCENE AND SHUTTER CALIBRATION MODES
• 3 SCENE MODES
• MICRO HDMI VIDEO OUT
• USB-C
• RUGGED DURABILITY
• MANUAL OBJECTIVE FOCUS
• > 5.5 HOUR BATTERY LIFE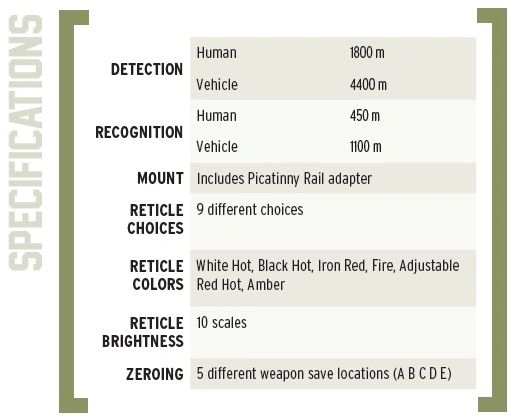 QUANTUM VISION
Core/Thermal Sensor
The Sharpest Thermal Images
Real-time Imagery: Fast and smooth automatic calibration
Clear Pictures of Moving Targets
Steiner Algorithm
Wherever - Whenever: Steiner high-speed software
See While Others Guess: High contrast and outstanding sensitivity
Customizable Output: Various modes and color palettes
Display
Optimal Visibility - in any Light Condition: High quality OLED display
Comfortable Observation: 1024x768 Resolution

Warranty: The Nighthunter S35 thermal is covered by the Steiner 2 Year Warranty and Steiner will repair or replace your product if it is defective. Do not disassemble the thermal imager as this will void the warranty. Contact your nearest Steiner dealer for assistance.
 Download PDF of Specifications

Stadiametric Rangefinder: Utilizing the distance between the two stadia lines on the screen, the distance to targets of known size can be estimated. The position of the bottom line remains unchanged. Use the up/down buttons to move the upper line, bracketing the target. Distance is then displayed in the upper left corner of the screen.
WiFi: WiFi can be used to transmit real-time video to a mobile device. Turn on WiFi using the menu system on the imager, noting the network name displayed at the top of the screen. Then, connect to this network via Settings on your mobile device. At this point, a user can utilize the Steiner Connect App to access photos/videos on the imager, stream live video, or modify device settings.
Reticle Type: There are multiple reticles to choose from, for various use cases.
Reticle Color: There are several reticle colors to choose from, to suit user preference and to stand out against any chosen color palette. Reticle colors are black, white, green, red and blue.
Reticle Brightness: This setting adjusts only the brightness of the reticle, without affecting other screen / display controls. Adjustable for levels 1 – 10.
Weapon Zeroing Profiles: The user can store zeroing-settings (ie reticle location) for up to five individual weapons, denoted as A, B, C, D, And E. Each storage position saves the reticle type, color, brightness, position and magnification.
Auto Stand-by: The Automatic Stand-by timer can be set to 5/10/15 minutes. If no buttons are pressed within the pre-set time, Sleep Mode will be entered. During Stand-by (Sleep Mode) the display will be off, but the thermal camera will remain on (and drawing battery power) to ensure a quick restart.
Automatic Power-Off: The automatic power-off timer can be set to 15/30/60 minutes. If no buttons are pressed within the pre-set time, the imager will automatically power itself off.
Energy Saving (Power Saving*): This mode can be turned on when the user desires extended runtime. When enabled, the internal microprocessor will switch into a low power mode, which mayeffect image processing speed. Additionally, the display brightness will remain fixed at 20% output (it cannot be adjusted higher) and the WiFi will be disabled.
Watermark Setting: When enabled, the user can select between time only, date only, or both date and time. Watermark can also be turned off. There are several options for time and date format to suit user preference.
Time Adjustment: The user can adjust the device's internal clock, setting the time and date.
Language Setting: English / German / French / Italian / Spanish.
Memory (card*) Formatting: The user can re-format the internal memory. CAUTION–performing this operation deletes all saved photos and videos from the device. Select "No" to cancel the operation.
Restore Default: This operation restores all parameters to factory settings (but does not affect stored photos / videos). Select "No" to cancel the operation.
Battery Power Display: When the imager is turned on, a battery indicator will be displayed in the lower left corner of the screen highlighting an estimate of power remaining. Note: When the power is low, please replace the batteries with freshly charged ones. * depending on firmware version
MOUNTING OF THE THERMAL SCOPE
1. To mount the S35 to the rail, turn the mount adjusters CCW until full stop is reached.
2. Place the S35 scope on the weapon's rail.
3. Turn the mount adjusters CW to secure the scope to the rail. Do not over-tighten the adjusters.
ZEROING OF THE THERMAL SCOPE
Please note that for zeroing the thermal riflescope, you need to do it in a shooting range, aiming either a 100 m/y or 50 m/y target.
Attach a hand warmer or similar device to your target with tape. Aim at a specific location on the hand warmer using the reticle on the thermal scope and fire a three-shot grouping.
Once you have your shot done, it's necessary to measure in cm/inches the distance of the bullet from the aim, in both vertical and horizontal direction.
Thermal Optics Product Manuals