Steiner 9052 OTAL-A
DISCONTINUED

The OTAL-A (Offset Tactical Aiming Laser) series is the "advanced" generation of the OTAL-C that has served reliably in the harshest conditions.
The OTAL-A features an offset laser module that allows it to be mounted at the 12 o'clock position on an AR-15 weapon system with a standard front sight base.
The laser is offset just enough to clear the front sight base.
Equipped with a Visible Green LASER that will range out to 750 meters.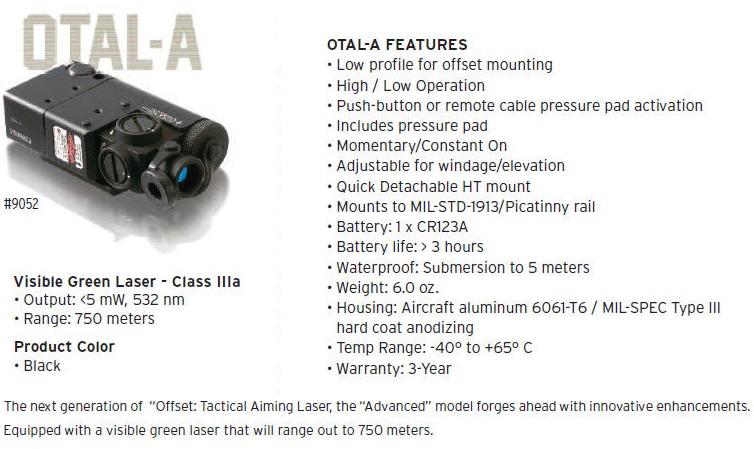 Visible Green LASER
Weight 6.0 oz.
Submersible to 5 meters
Item No. 9052

Manufactured in the USA using the finest quality materials
Comes Standard with a 3 Year Warranty.

LICENSE REQUIRED TO EXPORT (KERIF NIGHT VISION DOES NOT EXPORT) 

Features
  *  Integrated Activation Switch
  *  <5mW, 532nm Visible Green LASER
  *  Powered by (1) CR123 Battery for a 3+ Hour Battery Life
  *  Rugged Aerospace Aluminum housing meets MIL-STD-810G standards, MIL-SPEC Type III Hardcoat Anodized
  *  Hi-Power & Lo-Power (Class I) modes of operation
  *  Fully adjustable for Windage & Elevation for Pin-Point Accuracy
  *  Mounts on all MIL-SPEC-1913 rails
  *  Remote Cable Port for included Pressure Pad Switch
  *  Low profile allows them to be mounted in front of scopes
  *  Activation Mode Switch - Off/Momentary/Constant On
  *  Compact Design to keep weight at 6 oz w/Battery
  *  Temp Range: -40 to +65 Degrees Celsius
  *  Waterproof to 5 Meters
 
Supplied with:
Quick Release HT Mount, (1) CR123 Battery, 7" Right Angle Remote Cable Pressure Pad Switch
Wavelength - Visible Green Laser 532 nm
Beam Divergence - Green Laser < 0.8 mRad
Range Night/Day - Green Laser 750 m / 15 m
Temperature -40° C to +55° C
Battery CR 123A Battery Life (mode dependent) > 3 hours
Material Aircraft Aluminum
Color Black
Weight (with battery) 6.0 oz.
Dimensions 3.8 (L) x 1.8 (W) x 1.45 (H)
Waterproof Submersible to 5 m
Mount QD HT Mount
Windage & Elevation Adj. Yes
Activation Switch Integrated
Push Button Remote Cable Pressure Pad Yes
Warranty 2 Years
Special Features Low Profile for Mounting in front of scopes, holographic or NV sights