RB35 RICO BRAVO
RB35 RICO BRAVO 384x288 35mm TWS
The RICO BRAVO RB35 ships with everything you need to get out and hunt. The items included are:
Thermal Imaging Riflescope, ADM RQD Picatinny Mount, Protective Objective Lens Cap, MOC to USB Cable, Hard Shipping/Storage Case, Eye Guard, Operator's Manual

The RICO BRAVO is a groundbreaking thermal imaging riflescope, powered by a 50Hz 12 μm sensor featuring innovative ergonomics, cutting-edge connectivity, and InfiRay's MATRIX III algorithm that pushes the boundaries of 384x288 long-wave performance. The RICO BRAVO is optically and electronically optimized to squeeze every ounce of performance out of InfiRay's MICRO II 12 μm sensor and F1.1 Germanium lens.
FEATURES

• Stadiametric Rangefinder
• Picture in Picture Capability
• 12μm High Resolution Thermal Detector
• HD Display: 1280x960
• Tactile Ridge Positioning (TRP) button system
• ADM RQD Picatinny Mount
• Ultra Rigid, glass-filled polymer housing
• Sniper Grey finish
• Maximum Detection Range: 1750 Yards
• Field swappable CR-123A power supply
• High frame frequency: 50Hz
• Digital Zoom: .1/.2/.3/.4
• Built-in 16 GB storage
• Image capture and video recording
• Wireless connectivity for data transfer
• Real-time streaming via App.
• Digital compass and motion sensor
• Multiple reticle types and color options
• Highlight & Ultra-Clear modes for image detail
• Pixel calibration function
• User friendly interface
• Designed, Engineered & Assembled in Texas.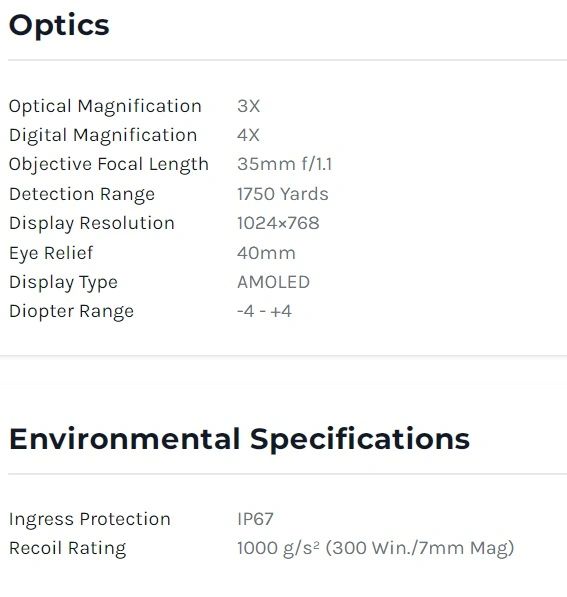 iRayUSA's all new Magnetic Omni-Directional Connector, Hard Stop Buttons, and Tactile Ridge Positioning system combine to create an unmatched user experience on a high-definition display. Additional performance-focused design features include multiple dynamic reticles, Stadiametric Rangefinder, image and video capture, wireless connectivity, and an American Defense Manufacturing RQD quick release mount. If you are looking for a lightweight and compact thermal optic that is designed by hunters for hunters, look no further than the

RICO BRAVO

.

The BRAVO is designed to also be used with an external power supply, such as a mobile power bank (5V/3A). To use an external power bank, connect the external power supply to the MOC on the BRAVO riflescope using the provided MOC cable. The riflescope will automatically switch from battery power to power from the external power supply. If the external power supply is disconnected, the riflescope will automatically switch over to the internal batteries without powering off.
EXTERNAL POWER SUPPLY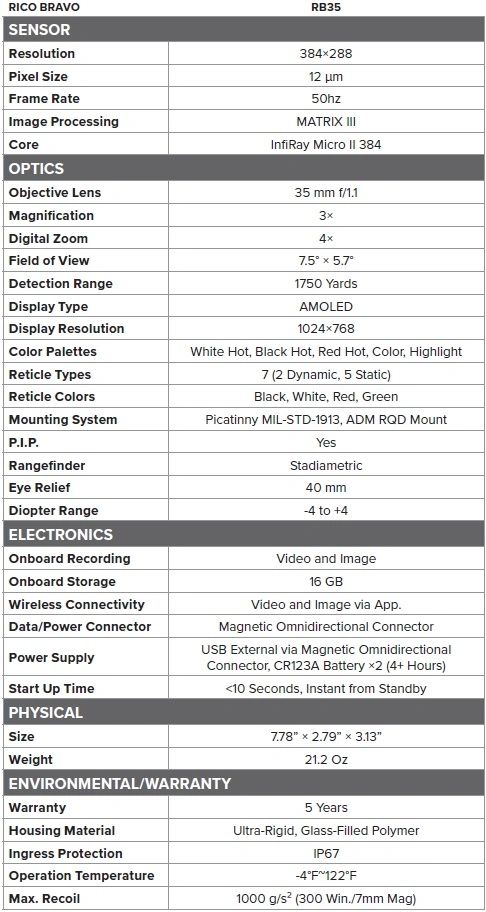 RETICLE
The reticle selection area will provide access to options for: zeroing profile (A, B or C for multiple platforms or ammunition types), reticle style (seven choices) and reticle colors (white, red, green, and black). A reticle must be used to zero the lighting process.