SAI 6 1-6x24mm FFP

The SAI™ 6 optical sight provides a rugged and versatile solution for a variety of sighting requirements in variable magnification. With an LED-illuminated First Focal Plane Reticle, ranging and ballistic hold-off is accurately achieved at any magnification. The proprietary Rapid Aiming Feature™ reticle and superior FOV (Field of View) enhance close-quarter effectiveness. The rugged 30mm tubular design allows for a variety of modular mounting solutions.
The SAI™ 6 series is designed to accommodate advanced optical sighting system enhancements such as flip covers, Anti-Reflection Devices, LASER filters, and Polarizers. SAI™6 series sights are designed for brilliant optical performance in rugged environments.
Includes:
Tenebraex Tactical Tough Lens Covers
Tenebraex KillFlash Anti-Reflection Device
Adjustment Cap Retaining Lanyard
Battery Removal Disc
The Ring/Mount (Not Included) shown in the above image is the AeroPrecision Ultralight 30mm Scope Mount, SPR - FDE Cerakote PN: APRA210610 and is being offered as an Add-On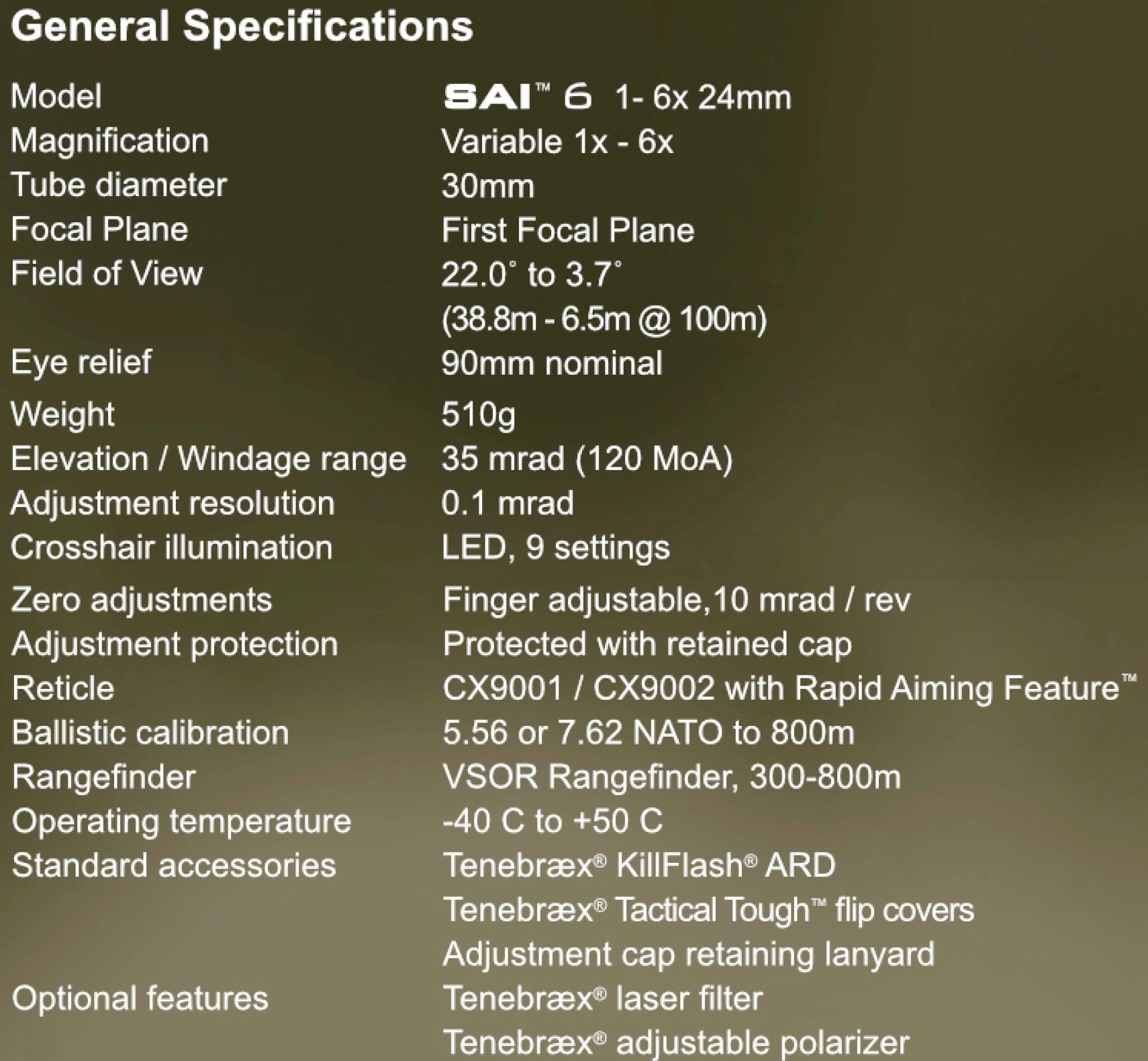 Brilliant performance in rugged environments
The SAI 6™ Optic incorporates a 24mm Objective Lens and 38mm eyepiece, which provide excellent image quality in low light levels. It also provides for rapid target acquisition and identification at short, intermediate, and long ranges.
The sight incorporates an LED for reticle illumination under low light conditions. The reticle consists of a cross hair with Rapid Aiming Feature™, ballistic compensation, and auxiliary stadia lines and dots to assist in shooting at various ranges. The vertical Subtention Optical Rangefinder (VSOR) allows the user to accurately estimate range