Sentinel Goggles
Includes: Tube/System Data Sheet, Soft Carry Case, Operator's Manual, Neck Cord, Objective & EP Lens Caps (X2), Eye Cups (X2), Demist Shields (X2), Sacrificial Windows (X2), Tissue, One Lithium CR123 Battery, Dovetail Mounting Adapter, Ball Detent Mounting Adapter
SENTINEL BNVS
Prices Subject to change without notice.
Please call (702) 324-6463 or email sales@kerifnv.com if you have any questions.


Multiple Tube Configurations Available
     The Adams Industries SENTINEL™ Binocular Night Vision System or BNVS is a unique Dual Tube Night Vision system, that was developed as an alternate to the ANVIS-6/ANVIS-9 Goggles. Responding directly to the ground deployment of ANVIS Aviation Goggles, and their subsequent breakage due to not being rugged enough for that environment, the AI/SENTINEL provides the operator with a host of useful features not found in other goggle systems. The SENTINEL™ program was developed by Adams Industries as a way to outfit ground forces with an up-armored version of their typical ANVIS goggles. Special Operations Forces have long used ANVIS goggles on the ground because of the superior performance of the optics and tubes compared to conventional systems, but aviation goggles were never designed to be deployed outside the protection of a cockpit and their more fragile nature has been the Achilles Heel to SOF units.
    The SENTINEL™ program began as a way to utilize the desired features operators required, in a rugged package that makes you wonder why it wasn't considered before. Features like a light-weight yet highly rugged machined composite housing, reinforced by an aluminum front and rear bridge plate. In addition, the SENTINEL™ meets MILSPEC standards for submersion to 66′ which is crucial to anyone who has ever tried to use ANVIS goggles in the rain or snow.
     Some of the working features of the ANVIS systems that user's liked were improved, like the interpupillary adjustments that are on a worm drive which eliminates the characteristic creaking and rattling noises found in the aviation goggles.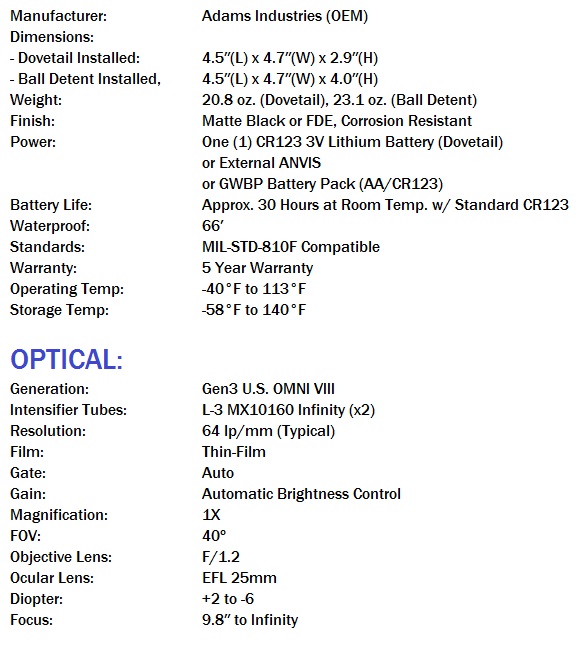 One of the most unique aspects of the SENTINEL™ Goggle is the user-swappable interface mounts.  The SENTINEL™ can be field-adapted to use either standard dovetail mounts or ANVIS-Style ball detent mounts.  When used in the standard dovetail configuration, the SENTINEL™ is powered by a single CR123 lithium battery, which is built into the housing. Power can also be supplied by a remote battery pack on the back of the helmet and allows for longer run times.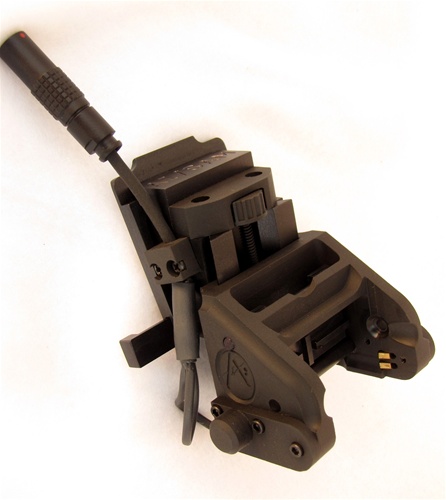 The SENTINEL™ plugs into all standard dovetail helmet mounts such as the Wilcox L4 Series Mounts and the Norotos INVG. Switching mount interfaces is quick and easy by removing only four screws and swapping the dovetail with the ball detent. Oh, by the way, both mounts are included with your purchase so you won't be nickel and dimed to death! The ball detent adapter interfaces with standard ANVIS goggle mounts such as the popular Adams Industries Surface ANVIS Mount (SAM), the Rugged ANVIS Mount (RAM) or the ITT ANVIS mounts (Sold Separately).