SFK-7 Soldiers Field Kit
MUST CALL TO ORDER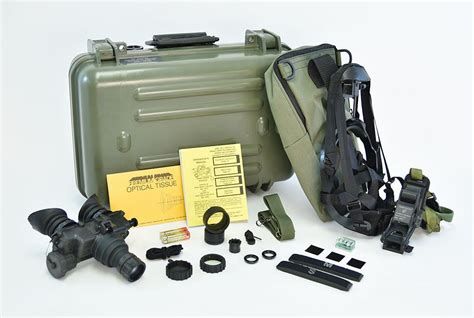 "Soldiers Field Kit" SFK-7D Kit, AN/PVS-7 Single Tube Goggle Kit
Includes: Hard Shipping/Storage Case, Soft Case, Headmount Assembly, MICH Helmet Mount (PASGT Available), Slip-On Magnetic Compass, Slip-On Infrared Spot/Flood illuminator, Sacrificial Filter, (2) Demist Shields, Day Light Lens Cover, (2) Rubber Eyecups, Lens Cleaning Paper, Phoenix Jr (IR-14) or Guardian IR Beacon, (2) AA Batteries and Operator's Manual
Optional Slip-On (or Threaded) 3X & 5X Magnifiers Available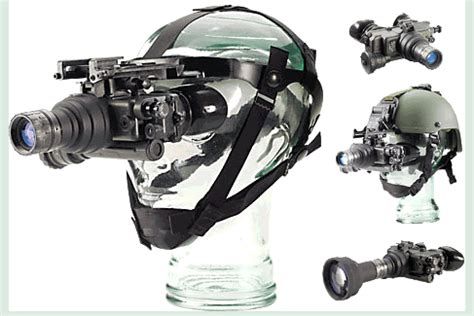 The  SFK-7D (AN/PVS-7D) series uses a MILSPEC AN/PVS-7 housing and incorporates a GEN III (Choice of Tubes from Commercial Pinnacle to full MILSPEC OMNI) and includes an impressive assortment of accessories required for field operations. With the use of a single image tube and a dual eye configuration, the AN/PVS-7 provides outstanding night vision performance without the high cost of the Dual tube configuration. The AN/PVS-7D is an upgraded version of the AN/PVS-7B with dramatic improvements in gain and resolution. The Seven-Delta was designed for US ground forces and incorporates the new GEN III, "Delta" grade image intensifier tube. This is an extremely versatile system that delivers exceptional gain and resolution on the darkest of nights.
The AN/PVS-7D has State-of-the-Art performance with a quick-release fastener for one-hand mounting and dismounting, Automatic Brightness Control, a built-in IR illuminator with ON-indicator, EMI-RFI Protection and a low-battery indicator.
     With simple user controls and fully automated image tube protection, this system allows the user to have complete freedom of movement while maintaining equilibrium and balance in a hands free application. The PVS-7 also incorporates an infrared illuminator with a momentary and continuous on switching function. Infrared operation and low battery indicators are displayed within the user's field of view.
     Interpupillary adjustment (distance between eyes) can be made as well as an Objective Lens Focus. With the separate Diopter adjustment rings (left/right eye focus) users get unparalleled comfort and optimum vision. Intricate tasks "close work" such as reading and repair are facilitated using the Built-in IR illuminator.  For complete darkness situations the Slip-on IR Spot/Flood greatly enhances the image and brightens the room. Optional Infrared Spot Lights covertly illuminate larger areas, just as regular Spotlights do for visible enhancement.
     A detector located on the goggle's body called the High-Light Cutoff will automatically shut off after 70 (+/- 30) seconds of operation in daylight or bright room light to protect the image intensifier tube. Headlights, flashlights or other concentrated light sources will not actuate the High-Light Cutoff unless focused directly on the detector.
     Included accessories include an Infrared Flashing Beacon designed to create an (IR) Infrared signal for marking points of interest, personnel, vehicles, shorelines for Boaters or campsites for Hikers & Hunters. For Security Details, the Beacons can be carried in a pocket to keep your client covertly marked, even in large crowds at night.  The slip-on Magnetic Compass provides directional information in the field of view.
    Optional accessories include a Slip-On 3x Afocal Magnifier lens to facilitate field conversion for long-range observation & surveillance.
These NVG's are 100% built in the USA and have ergonomically designed interface controls that comprise of interpupillary and vertical/fore-aft/tilt adjustments for improved situational awareness and enhanced ergonomics.
     These AN/PVS-7's are the choice for many Law Enforcement Agencies, Homeland Security Teams, Fire Departments, and Private Security Firms because of their battle proven effectiveness with our own US Military. You can utilize the AN/PVS-7 Goggle for general surveillance, target detection and special operations missions where low/no light conditions exist. Other uses include general navigation outdoors or in urban environments. Security personnel can utilize the AN/PVS-7 goggle for general surveillance and security functions in low light conditions. Users can detect approaching people and vehicles and perform general patrols at night.
     This system is designed to operate with Infrared aiming LASER's and illuminating devices.
Tube Specifications

Comm-P+

Comm-P

Comm-P-

Signal to Noise Ratio:

20:0 min.

18:0 min.

16:2 min.

Photocathode Response:

1750 min.

1500 min.

1350 min.

Halo:

n/a **

n/a **

n/a **

Electronic Background Input: (EBI)

2.5 max.

2.5 max.

2.5 max.

Resolution:

64 lp/mm min.

57 lp/mm min.

57 lp/mm min.

Max Spots Allowed
Spot Size (in.)

ZONE
1 2 3

ZONE
1 2 3

ZONE
1 2 3

...............>.012-.015

0___0___0

0___0___0

0___0___0

...............>.009-.012

0___0___1

0___0___1

0___0___1

...............>.006-.009

0___2___2

0___2___2

0___2___2

...............>.003-.006

0___2___3

0___2___3

0___2___3
Tube Specifications

MILSPEC-ULT

MILSPEC-VG

MILSPEC-YG

Signal to Noise Ratio:

28:0 min.

25:0 min.

25:0 min.

Photocathode Response:

2200 min.

2200 min.

1800 min.

Halo:

n/a **

n/a **

n/a **

Electronic Background Input:

2.5 max.

2.5 max.

2.5 max.

Resolution:

64 lp/mm min.

64 lp/mm min.

64 lp/mm min.

Max Spots Allowed Spot Size (in.)

ZONE
1 2 3

ZONE
1 2 3

ZONE
1 2 3

...............>.012-.015

0___0___0

0___0___0

0___0___0

...............>.009-.012

0___0___0

0___0___0

0___0___0

...............>.006-.009

0___0___1

0___0___1

0___1___1

...............>.003-.006

0___0___2

0___0___2

0___2___2
 

PVS-7 Accessories

NSN

A-A-50177

Lens Cleaning Tissue, Pack

6640-00-240-5851

A3144263-1

Demist Shield, PVS-7B/D, (2) Required

5855-01-246-8272

5009737

Killflash, Light Interference Filter (5855-01-328-5134) (DOD ONLY)

5855-01-379-1410

A3144264

Sacrificial Filter

5855-01-240-8271

1728010-2

Facemask Assembly

 

275121-2

Facemask Assembly

5855-01-515-2102

A3144268

Headmount Assembly

5855-01-246-8266

A3144436

Brow Pad, Assembly, Thick (Large)

5855-01-297-7847

A3144435

Brow Pad, Assembly, Medium

5855-01-355-8600

A3144280

Brow Pad, Assembly, Thin (Small)

5855-01-355-8599

A3144318

Objective Cap, Daylight Lens Cover (5855-01-373-6660)

5340-01-397-6608

A3144422

Rubber Eyecup, 2 Required

5855-01-246-8273

A3256345

Shuttered Eyeguard, Rubber, Compress Star Opening, 2 Required

6650-01-444-1229

A3144394

Battery Cap Assembly, PVS-7

5855-01-246-8265

A3187430

Magnetic Compass, Slip-On

5855-01-381-6052

A3187392

Soft Carry Case

5855-01-398-4284

A3144262

Soft Carry Case, OD Green (OLD)

5855-01-246-8269

A3144267

Shoulder Strap

5855-01-250-2431

A3144306

Neck Cord

4020-01-023-6271

A3187441

IR Spot/Flood Lens, Slip-On, Adjustable

5855-01-382-5169

A3256368-1

PASGT Helmet Mount, w/chin strap, strapped or bolted

5855-01-457-2953

A3256368-2

MICH Helmet Mount, w/chin strap, strapped or bolted

5855-01-441-0401

A3264350

Hard Shipping/Storage Case, HC-7 Padded Ammo Can, OD Green

5855-01-246-6805

TM115855262102

Operator's/Training Manual AN/PVS-7B/D

 

HC-161006

Hard Shipping/Storage Case w/Molded Insert (16x10x6)

 

IFF-980S

1" IFF-980 squares, 3/Pack

 

902111IR

Phoenix Jr. (880nm-IR), 48ppm (Firefly)

5855-01-438-4588

902124IR

Phoenix Jr 123, Infrared Beacon 880nm, Belt Clip

 

NVAC-107

Commercial Afocal, 3X Lens, (f/1.5) 13 deg FOV

 

A3256391

MILSPEC Afocal, 3X Lens, (f/1.5) 13 deg FOV  (5855-01-461-2741)

5855-01-423-0817

NVAC-110

Commercial Afocal, 5X Lens, (f/2.4) 7.7 deg FOV

 

275095

MILSPEC Afocal, 5X Lens, (f/2.4) 7.7 deg FOV (550-1503-001)
(5855-01-391-7026)

5855-01-511-8594

TS-4348/UV

Test Set 4348

 

268549

Purge Kit

5855-01-442-8781

KNV-NVAC-124

NV Purge Kit, Hard Case, 20 cu.ft. Nitrogen Tank (empty), Regulator, Purge Box, Hand Pump, Purge Adapter, Hoses, OPMAN, PVS-7, PVS-14, GT-14, G15, BNVD, BTS, MTS

 

ANV-126A

Hoffman Test Set

 
| | | |
| --- | --- | --- |
| Part Number | NSN | Description |
| A3144394 (300033-G1) | 5855-01-246-8265 | Battery Cap Assembly |
| A3144422 (300194-1) | 5855-01-246-8273 | Eyecup |
| A3144318 (300206-1) | 5340-01-397-6608 | Lens Cap, Objective |
| A3144305 (300001-G2) | 5855-01-246-6807 | Objective Lens Assembly |
| A3207330 (300029-G1) | 5855-01-381-6048 | Wired Body Assembly |
| contact us | n/a | Image Tube |
| A3144310 (300111-G1) | 5855-01-246-6810 | Rear Cover Assembly |
| A3144306 (300049-2) | 4020-01-446-8097 | Neck Cord |
| A3172531 (300056-G1) | 5855-01-246-6808 | Collimator |
| A3144404-2 (300168-G1) | 5930-01-246-8264 | ON/OFF Knob Assembly |
| A3144268 (300070-G2) | 5855-01-246-8266 | Headmount Assembly |
| 11-5855-262-10-2 | n/a | Operator's Manual |
| 205689-067 | n/a | Litton Operator's Manual |
| 11-5855-262-23 | n/a | Maintenance Manual |
| 5009737 | 5855-01-379-1410 | Light Interference Filter (LIF) |
| A3187441 | 5855-01-382-5169 | IR Spot/Flood Lens |
| A3256368-1 | 5855-01-457-2953 | PASGT Helmet Mount |
| A3187430 | 5855-01-381-6052 | Compass, Magnetic |
| A3144257 (300114-G2) | 5855-01-246-6805 | Hard Case |
| A3297307 | 5340-01-509-1467 | ACH/CVC Kit, Front Bracket |
| A3144263 (300221-G1) | 5855-01-246-8272 | Demist Shields (2) |
| A3144267 | 5340-01-250-2431 | Carry Strap |
| 274049-1 | 4310-01-096-1353 | Camera Adapter |
| A3144264 (300060-G1) | 5855-01-246-8271 | Sacrificial Window |
| 275121-2 | 5855-01-515-2102 | Facemask Assembly |
| 274424 | n/a | MICH/ACH Clip for Helmet Mount |
| A3260933 | 5340-01-451-7737 | Retaining Cord |
| A3144292 | 5340-01-306-9354 | Strap, Elevation |
| A3144290 | 5855-01-297-7846 | Neckpad |
| A3144293 | 5340-01-469-1710 | Strap, Side |
| A3144436 | 5855-01-297-7847 | Browpad, Thick |
| A3144435 | 5855-01-355-8600 | Browpad, Medium |
| A3144280 | 5855-01-355-8599 | Browpad, Thin |
| A3144286 | 5855-01-283-2870 | Strap, Chin |
| A3187392 | 5855-01-398-4284 | Carrying Case, Unmarked |
| A3264350 | 8145-01-515-0612 | Shipping Case, Unmarked |
| TM-F5001-1 | n/a | Operator's Manual (Non-U.S. Military) |
| MS51957-4B | 5305-00-224-0783 | Screw, Pan-Head |
| MS15795-802B | 5310-00-433-3599 | Washer |
| MS28775-044 | 5330-01-098-1232 | Quad Ring |
| A3144315 | 5305-01-266-9341 | Screw, Purge |
| A3144316 | 5331-01-356-7219 | O-Ring, Purge |
| A3144314 | 5310-00-043-4708 | Washer |
| A3260939 | 5935-01-448-6355 | Battery Cap Retainer Kit |
| MS28775-027 | 5330-00-729-4992 | O-Ring, Battery Cap |
| MS28775-032 | 5330-01-049-7374 | O-Ring, Objective |
| A3187446 | 5855-01-444-5248 | Adapter |
| 266699 | 6640-01-496-2324 | Lens Paper |
| 272003 | n/a | GOI Ground Helmet Mount |
| 272427-2 | n/a | ACVC Helmet Mount |
| 275131-1 | n/a | RBR Helmet Mount |
| A3256368-2 | 5855-01-551-4525 | MICH Helmet Mount |