Vehicle Stealth Illuminator
---
 Infrared Vehicle lights come in a wide variety of options and are plentiful, what isn't so common are lights that can take the punishment of military vehicles. This series of lights, created by Adventure Lights, more than do their duty in the harshest environments, and with features not found on other vehicle lights while enhancing soldier safety. The Stealth Illuminator is now an installed factory kit on many new HUMVEE'S and can be installed on most other vehicles where extreme use and covert illumination is needed.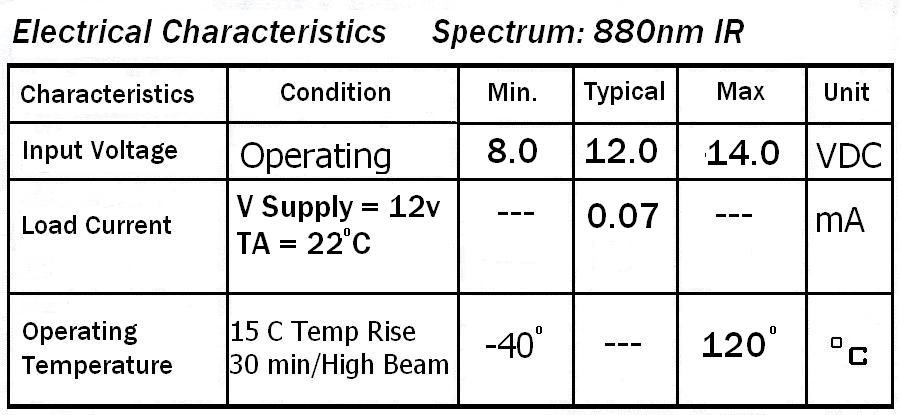 SPECIFICATIONS

Length

8.9 cm (3.5")

Width

38 cm (1.5")

Height

6.4 cm (2.5")

Temp Range

-40°to 150°F (-40°to 50°C)

Waterproof

350 feet / 100 meters

Weight

.8 kg (16 oz)

Warranty

1 Year 
---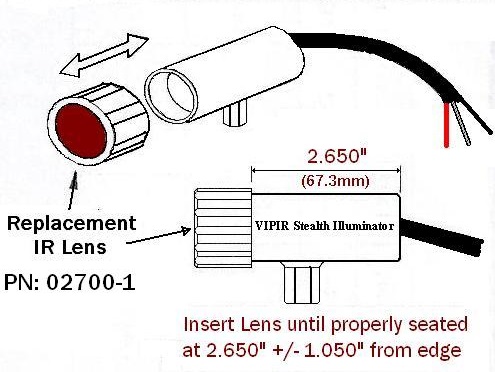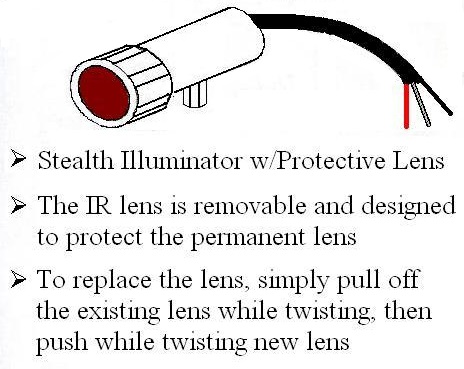 P/N: 02700-1 Protective IR Lens for all Stealth Lights:

 To prevent road abuse and damage, the illuminator is best used with the removable lens which also reduces glare and reflections. Designed to be replaced, but can be secured with adhesive.
---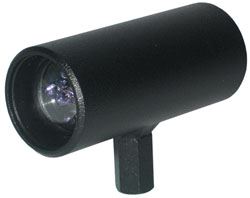 P/N: 02701 NSN: 5855-20-004-3118  for 12 Volt Vehicles
P/N: 02702 for 24 Volt Vehicle Systems: Special Order
These 5 Infrared LED lights are factory kits on many HUMVEE'S and are used as a running lights (low beam) for low speed maneuvers.
P/N: 02710 NSN: 5855-20-003-1024 w/Auto Voltage Sensing  
These lights contain 14 Infrared LED's and are used as running lights 50 yards for low speed maneuvers and High Beam - 150 yards for high speed maneuvers.
Automatic voltage sensing for use on either 12V or 24V systems.
---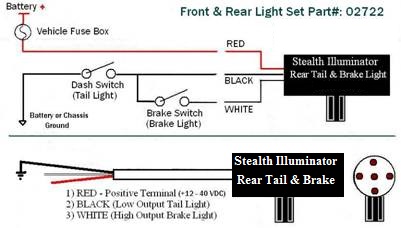 P/N: 02722 NSN: 5855-20-004-3120 Stealth Kit w/Auto Voltage Sensing:

(2) FRONT & (2) REAR Lighting Kit (4 Total)
Same function and operation as above. Front Light set for High/Low Beam and Tail Light set for Tail Lights and Brake Lights. Automatic voltage sensing for use on either 12V or 24V systems.
KIT CONTAINS:
(2) each - FRONT light w/Auto Voltage Sensing: contains 14 Infrared LED's
(2) each - REAR light w/Auto Voltage Sensing: contains 5 Infrared LED's
Both models have auto voltage sensing for either 12V or 24V systems
---