Steiner Predator Hunting Binocular
Take another 15
% Off at Checkout

German-Engineered
Nothing Escapes You No Matter Where In The World You Are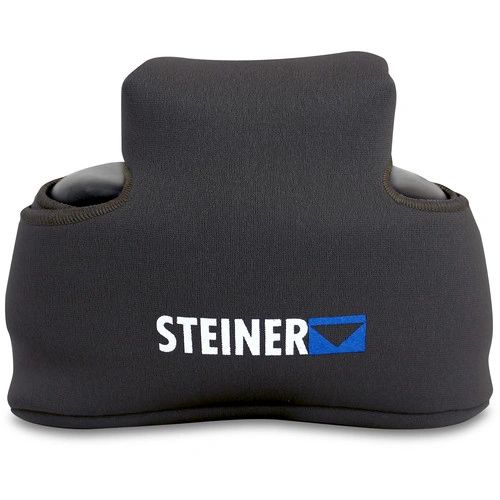 7704 Holds 8x42/10x42 Roof Prism Binoculars
Store, transport, and protect your 8x42 or 10x42 roof prism binoculars in this black Binocular Bib Cover from Steiner.

LASER Range-Finder Bino's
Steiner binoculars utilize the latest in German optics technology to deliver the finest binocular lines in the world for hunters, law enforcement and military personnel, and adventure-seekers on land and sea.
Compare our prices against the so called "Big Boys" and see for yourself that we are much lower, plus we offer Free S&H.

If you find a lower price, please give us a chance to meet or beat that price

. Our customer service is second to none. We answer our phones and email to answer your questions and we provide you with 100% satisfaction, before, during, and after the sale.
Your Quarry Didn't Survive the Hunt, But Your Optics Will

Hunting Binoculars
To High Definition optics we add the Predator diamond coating - a secret Steiner technology that generates superior light transmission and high contrast imaging. All this in compact, lightweight design that provides the military ruggedness and durability you expect from Steiner.
Decades of range-finding binocular experience packed into an innovative hunting binocular.
LASER Textured Housing
- Provides a good grip for these compact and lightweight models making them ideal for hunting, boating, hiking, bird watching or any outdoor excursion
Angle Compensation
- Built-in angle compensation provides the information hunters need, displaying an automatically adjusted distance or line-of-sight and angle of observation.
Predator Diamond Coating
- Added to High Definition optics, the secret Steiner technology generates superior light transmission, high contrast, and high definition imaging.
Fast-Close-Focus
- The Central focusing wheel requires minimal rotation for quick absolute sharpness from close-up to infinity.
Compact in design yet big in performance, the 2058 8x42 & 205910x42 Predator Binoculars combines premium High Definition optical elements with a Military ruggedness and durability you expect from Steiner.  These roof-prism binoculars utilize fast HD glass with Steiner's Diamond Coating for sharp contrast that shows bright details even under low-light conditions.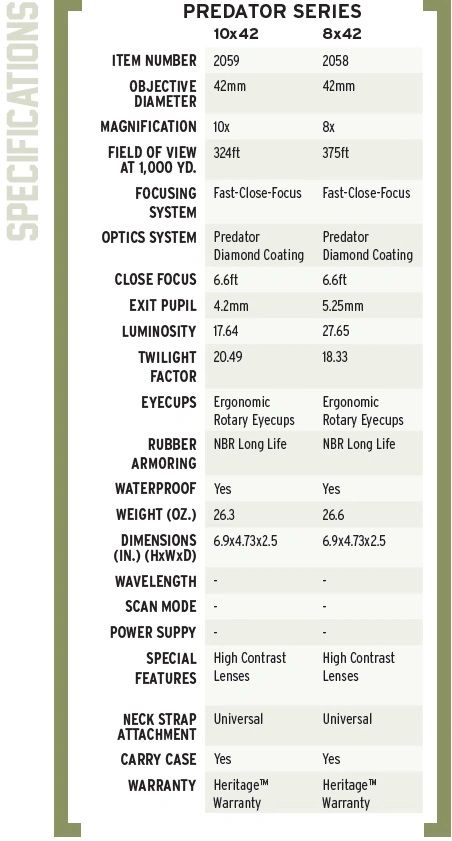 Specifications for Steiner Predator Roof Prism Binocular:
| | |
| --- | --- |
| Magnification: | (2058 - 8X) / (2059 - 10 x) |
| Objective Lens Diameter: | 42 mm |
| Prism System: | Roof |
| Luminosity: | (2058 - 17.64) / (2059 - 27.65) |
| Twilight Factor: | (2058 - 18.3) / (2059 - 20.49) |
| Eye Relief: | (2058 - 17.25mm) / (2059 - 16 mm) |
| Exit Pupil: | (2058 - 5.25mm) / (2059 - 4.2mm) |
| Binoculars Focus System: | Fast Close Focus |
| Eyecups: | Ergonomic Rotary Eyecups |
| Close Focus: | 6.6 ft |
| Weight: | (2058 - 26.6oz) / (2059 - 26.3oz) |
| Weather Resistance: | Yes |
| Neck Strap Type: | Universal |
| Finish: | NBR Long Life Rubber Armoring |
| Nitrogen Filled: | Yes |
| Package Type: | Box |
| Magnification Type: | Fixed |
| Fogproof: | Yes |
| Shockproof: | Yes |
| Compass: | No |
| Carry Case: | Yes |
| Height: | 6.9 in |
| Warranty: | Heritage Warranty |