Steiner ShadowQuest 8x56
ShadowQuest 8x56
THE EVOLUTION OF A LEGEND
DISCONTINUED - Information Purposes Only
OUT of STOCK

Questions? Please Call or email
P/N: 2039 8x56mm Rubberized Binocular, UPC: 840229103089
Hunting Binoculars
Once you're after that trophy, nothing can hold you back. So in addition to providing the deadliest image you can get, Steiner optics survive the worst conditions you can face. Low light or heavy glare, high water to deep cold, rock slams and grit storms, no matter. The view is always crystal clear and dead certain. Even after countless monster-obsessed pursuits, Steiner optics are eager for more and ready to go. Not unlike yourself.
Product Features: 
Best in the industry light transmission (96% +/-) - With the industry's highest light transmission, they add critical minutes to your hunt.
Clarity in low light - With Steiner's proprietary Diamond Night™ lens coating formula uses rare-earth materials to deliver virtually all available light to your eye.
Sports-Auto-Focus - Lets you focus each eyepiece to your vision once, then keeps images razor sharp from 20 yards to infinity. No more chasing focus on moving objects.
Steiner Lumiclip - Is simple and innovative. The luminescent clip glows with just enough light to easily locate your binoculars in the darkest hours.
Military ruggedness, precision and performance – Provides more than half a century of battle-proven reliability and built to perform in the toughest conditions.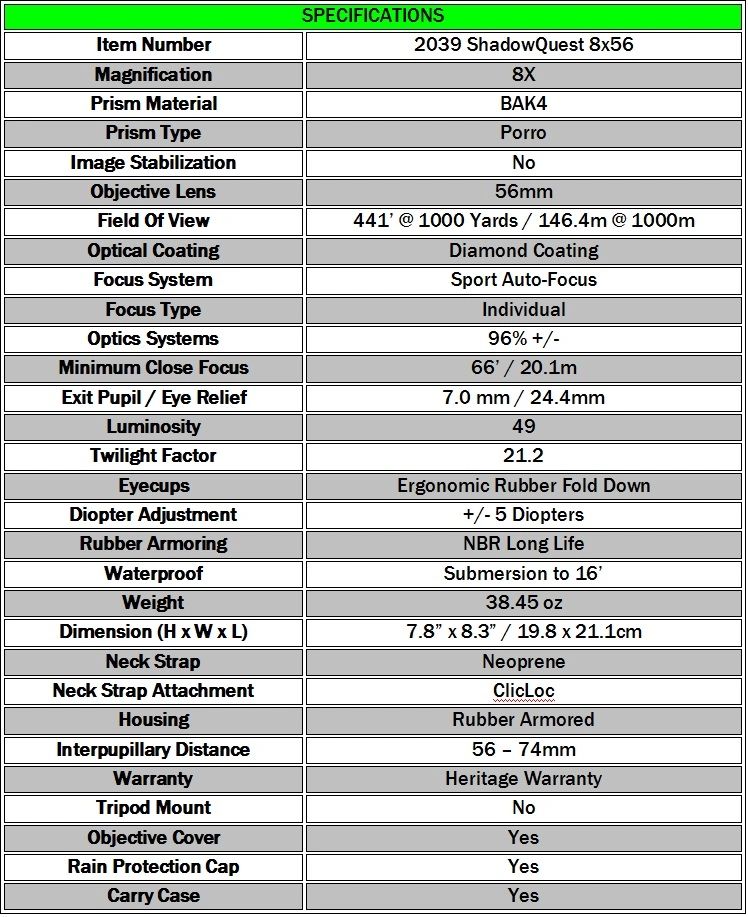 THE EVOLUTION OF A LEGEND
The new ShadowQuest 8x56 delivers the industry's highest light gathering optics to find and identify game in low light. Steiner's Diamond Night™ lens coatings increase your odds for success.
Experience the next evolutionary step in low- light binoculars. This technology, combined with Steiner's hunting heritage, produces the ultimate optic for low-light hunting. The new Steiner ShadowQuest — it's almost like having an unfair advantage.
The Steiner's ShadowQuest 8x56 Binoculars make use of large objective lenses and Steiner's Diamond Night lens coating to optimize light transmission, making this a top binocular for low-light conditions. Another helpful feature for dim lighting (or even no lighting) is the Lumiclip, a luminescent clip that helps you locate the binocular when ambient light isn't enough. The ShadowQuest employs Sports-Auto-Focus, a system that relies on your eyes' natural ability to focus. This binocular is built with the durability that Steiner is known for: Weatherproof, Fogproof and shrouded with shock-resistant NBR rubber armor.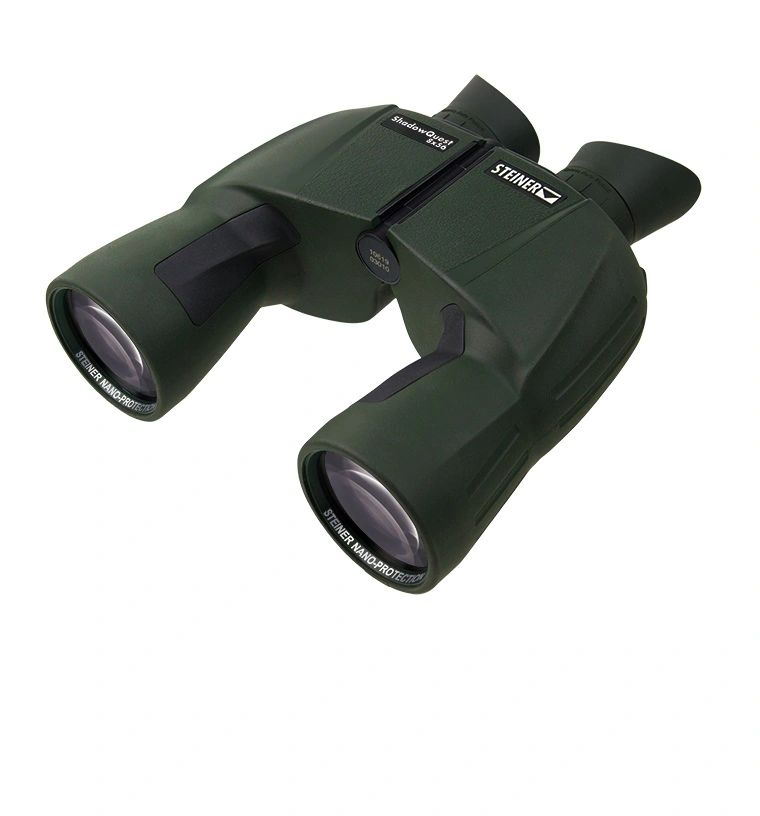 Its performance starts with the combination of moderate magnification and over-sized objectives. At 56mm the objectives draw in the copious amounts of light required for seeing in low-light, while the 8x power produces both a large exit pupil and wide angle of view. A wide exit pupil ensures that the light leaving the eyepieces completely cover the user's pupils when they are fully dilated in low-light to take full advantage of the wide viewing angle. The optics are fully multi-coated with Steiner's proprietary Diamond Night lens coatings which are engineered to maximize light transmission through the light path. All of these features, when coupled with the traditional Porro prism light path, present the user with an immersive observational experienced defined by bright and clear high-contrast views and accurate color rendition. Winged eyecups conform to the user's face and eye sockets to block stray peripheral light and improve the contrast of the view while limiting distractions.
Complementing the optical performance are construction details that allow the ShadowQuest to withstand the rigors of the outdoors. These details begin with Steiner's Sport Focusing System which allows the user to focus each eyepiece, just one time, and eliminates the need to refocus again regardless of how near or far the subject is — or if it is moving. Speaking to the low-light-use purpose, an innovative Photo Lluminescent Lumiclip system is employed that glows with just enough light to be able to find them in low or no light. The chassis is made of a lightweight and impact-resistant Makrolon polycarbonate material that is wrapped in an oil, petroleum, and chemical-resistant NBR synthetic rubber armor that offers improved grip security, especially in cold and wet weather. Its optical tubes are nitrogen-filled and O-ring sealed to be waterproof to a depth of 16-feet, and resistant to internal fogging when moving through extreme temperature changes and environmental conditions.
From dawn to dusk to piercing thickly wooded stands, the ShadowQuest binocular has been engineered to provide outstanding performance in the most challenging light and environmental conditions possible.