Steiner T5Xi 1-5x24

If an item is out of stock and you want to put one on order, please give us a call at (702) 324-6463.
Enter Coupon Code T5Xi1524 at checkout.
Compare our prices against the so called "Big Boys" and see for yourself that we are much lower, plus we offer Free S&H and other Goodies. Our customer service is second to none. Ask ANYONE who has ever bought from us. We answer our phones and email to answer your questions and we provide you with 100% satisfaction, before, during, and after the sale.


Tactical Scopes:  T5Xi 1-5x24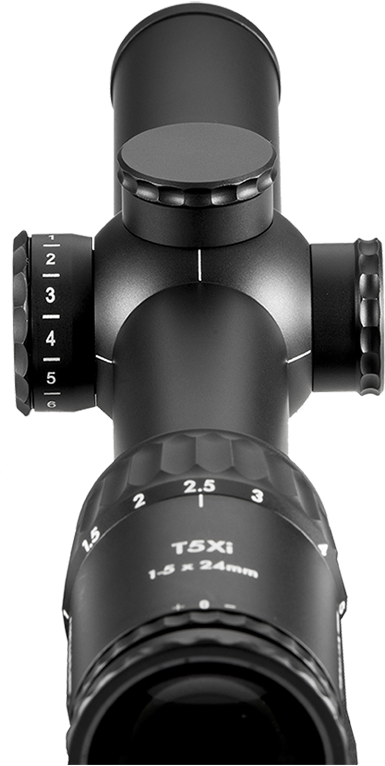 The ability to see what others don't. That's what Steiner brings to your side: razor-edge image clarity, optimum depth And color, superior ability to probe, plan and engage with force-multiplying stealth, surprise and impact. After 67 years of deployment and constant improvement, no optic serves your mission and your troops better.
Included Accessories: Battery, Lens Cloth, Lens Cover, Sunshade, Allen Wrench, Throw Lever
P/N: 5101 (5.56) 1-5x24mm 3TR Reticle
Tactical Rifle Scope UPC: 000381851017

P/N: 5102 (7.62) 1-5x24mm 3TR Reticle
Tactical Rifle Scope, UPC: 000381851024
The T5Xi 1-5x24 is designed as a close-combat scope. It features a 30 mm tube, 3-Gun Tactical Reticle™ (3TR) calibrated in 5.56 or 7.62, with true 1x eyes-open capability for situational awareness and 5x power to engage distant targets.
The T5Xi 1-5x24 is a close combat scope with a 30mm tube.
Select model 5101 for 5.56 rounds, or 5102 for 7.62 rounds.
     The T5Xi series Riflescopes are the next generation of rugged, dependable optics from Steiner. Featuring an optical system that was engineered  in Germany, yet proudly designed, machined and assembled in the USA. Three models offer the ultimate in precision, ruggedness and versatility. The compact 1-5x42mm offers true eyes-open 1x magnification for situational awareness and fast target acquisition. At 5x zoom, targets out to 750 meters can be accurately engaged.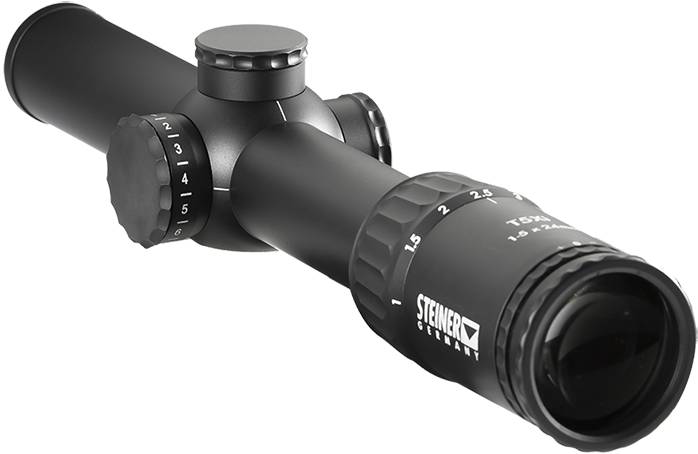 PRODUCT FEATURES: 
ONE PIECE 30mm TUBE...
For increased strength and reliability.
5X ZOOM...provides maximum range at the high end and a wider Field-of-View at the low end and eliminates any tunneling effect normally attributed with true "eyes-open" situational awareness at low magnification.
BROADBAND ANTI-REFLECTION COATINGS...for greater than 94% light transmission to ensure optimal performance in low light conditions.
LOCKING DIOPTER...to prevent accidental rotation of the Diopter.
TENEBRAEX LENS COVERS...easily attach to a built-in Lens Cover Adapter.
THROW LEVER...that allows for quick, easy magnification changes
CONSISTANT EYE RELIEF...and a generous eye box throughout the magnification range eliminates the need to reposition your eye when changing magnification
LOW PROFILE TURRETS / ILLUMINATION CONTROLS...are less likely to hang up or snag during movement.
ILLUMINATED RETICLE...with 4 Day & 7 Night illumination levels with "Off" positions between each setting that completely disconnects the battery at each position to prevent battery drain.
WATERPROOF/FOGPROOF/SHOCKPROOF...durable construction you can trust to stand up to any cold or wet conditions. Waterproof to depths of 10 meters (33 Feet) and impact tested to 900 G's on all optical and electronic components.

Ordering Part#
5101
5102
Magnification
1-5X
Objective Lens Size
24mm
Tube Diameter
30mm
Focal Plane
2nd
Field of View (FOV) @ 100 yards
108 - 21
Eye Relief
8.9 - 109 cm (3.5 - 4.3 in)
Exit Pupil (mm)
11.5 - 4.8mm
Length
11.3" (28.7cm)
Turret Direction
Counter-Clockwise
Weight
19.4 oz (550 grams)
Diopter Adjustment Range
+2 to -3
Reticle
3TR
Illumination Control
Rotary Digital Control w/Intermediate Stops
Elevation Adj. Knob
Re-settable Zero
Wind/Elevation
1cm (0.1 mrad)
Windage Range @100m
300cm (30.0 MILS)
Elevation Range @100m
300cm (30.0 MILS)
Parallax/Focus
Fixed
Parallax/Focus Range
91.4 m (100 yards)
Rubber Armoring
 
Nitrogen Filled
Yes
Operating Temp Range
-13°F to +145°F
Objective Lens Cover
Included
Waterproof/Fogproof
Submersible to 33' (10m)
Battery
CR2450
Special Features
 
Warranty
Heritage Warranty
Color
Black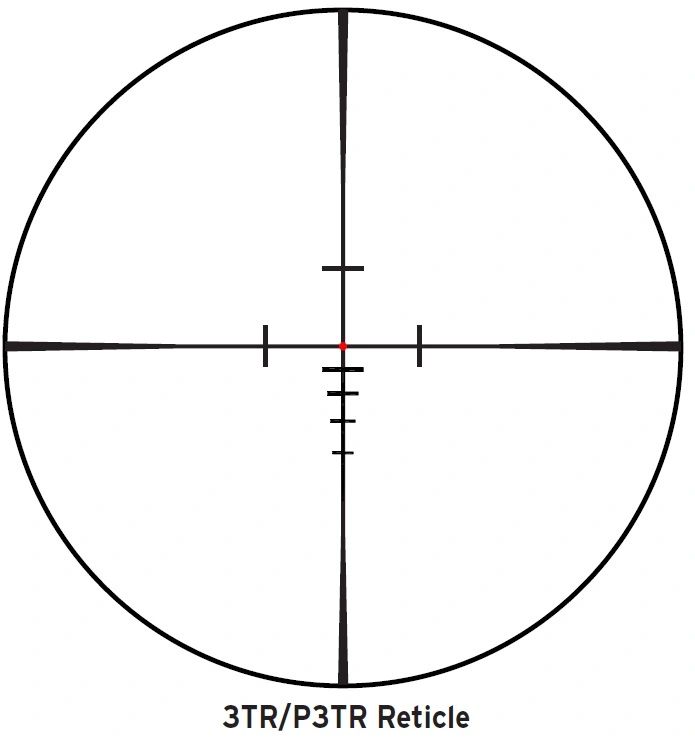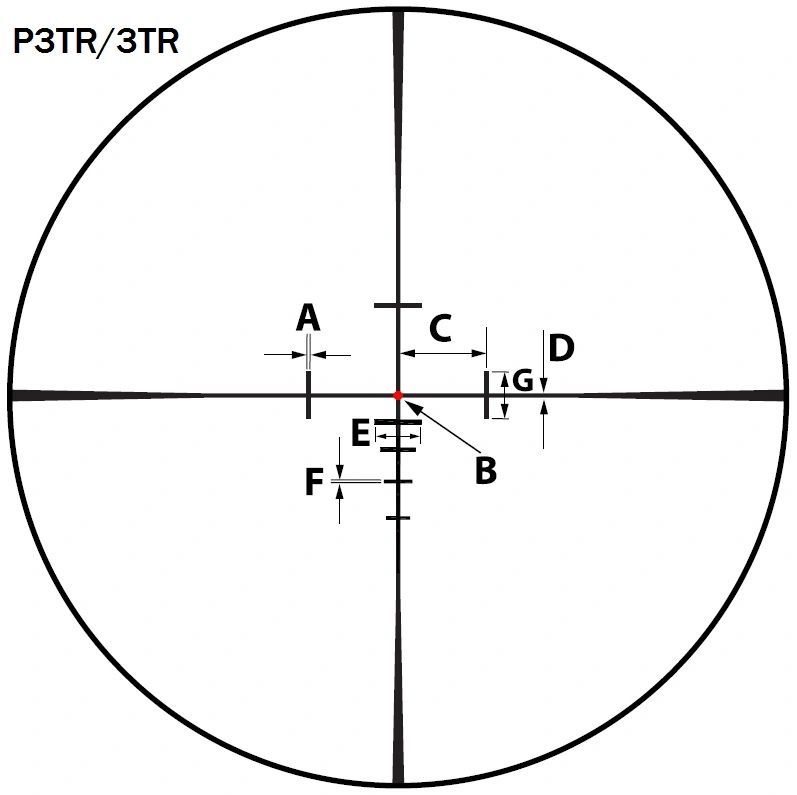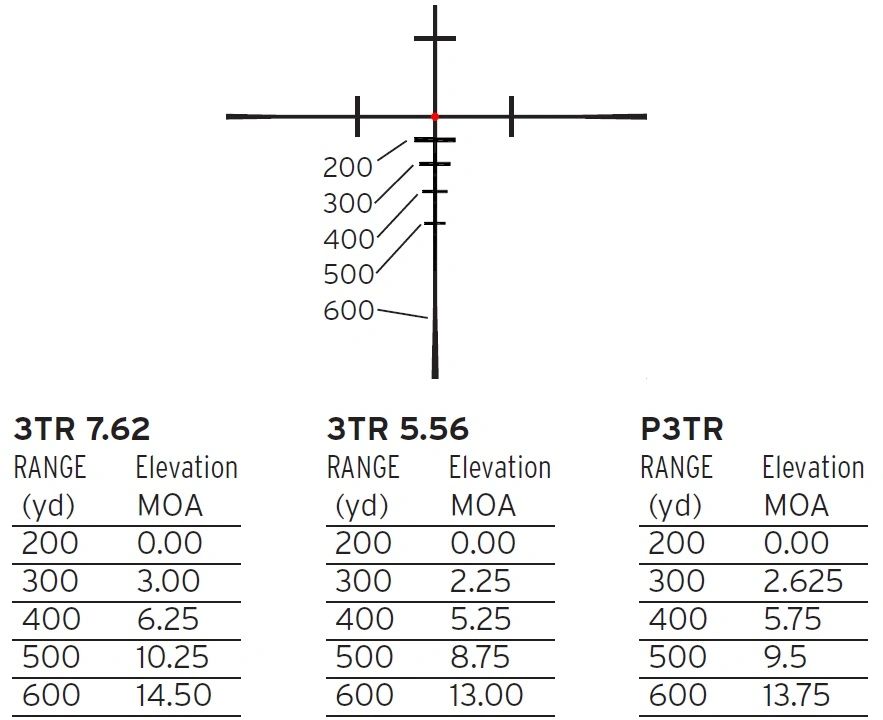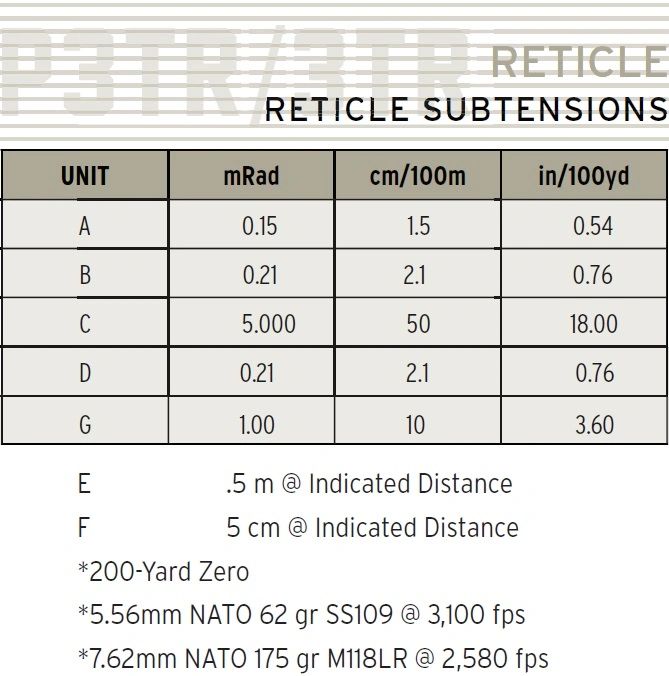 ---