Zero Lens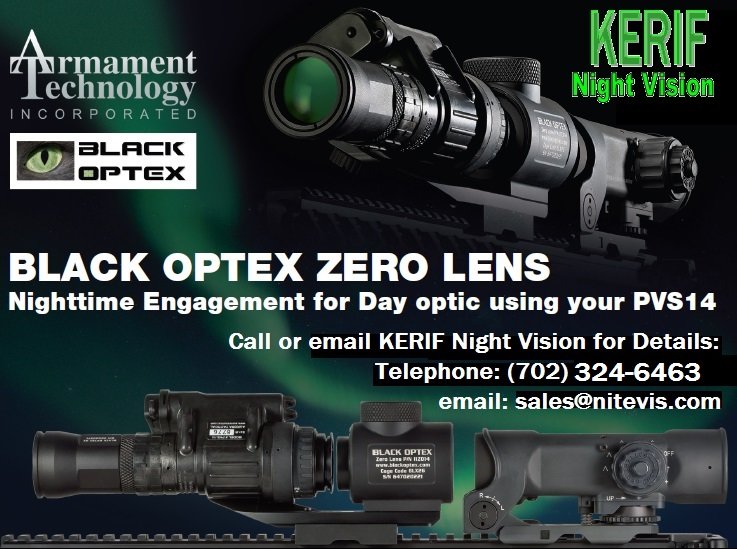 *Please call (702) 324-6463 or email for Mil/LE Discounts*

Stand Alone Kit Includes: Zero Lens, 3X Lens, Quick-Disconnect Mount for MIL-STD 1913 Rail, Hard Case, Lens Cleaning Kit, Operator's Manual
PVS-14 Not Included in Kit (shown for information purposes only)
Optional Items:
Night Vision Monoculars (Thermal or Image Intensified) 

FEATURES:
Non-Electric - Does NOT use Batteries




MIL-STD 810F Compliant

Quick-Disconnect Throw-Lever Mounting System, MIL-STD 1913 Rail
Simple Elevation/Bearing Adjustments

Conveniently Aligns to your Day Optics

Robust, Compact Design

Maintains Consistent Eye-Relief



        The Zero Lens™ is an optical alignment adapter that enables the use of PVS-14 Night Vision Monocular in front of day sights to add nighttime engagement capability with no zero shift. This configuration is more efficient and user friendly than when the PVS-14 is mounted behind the primary sight.
This passive system counters an enemy force's ability to detect active IR laser pointers and illuminators.
     Image intensification efficiency of the PVS-14 is maintained by front mounting, and resolution of the produced image is improved as it passes through the Zero Lens™. Front mounting also allows the operator to maintain the same shooting position, muscle memory, and eye relief with his primary sight.
     The standard quick detach mounting system enables rapid installation and removal, allowing easy transition of the PVS-14 between handheld, helmet mounted, or weapon mounted use as needed during operations. Once set, the Zero Lens™ will maintain alignment between the Day Sight and the adjusted PVS-14 when it is re-installed.

     The Zero Lens™ is a rugged, non-electronic, compact device that adds capability to your existing inventory of optics at a fraction of the cost of adding new stand alone systems.

Proudly manufactured in the USA

With the right mount (Tripod Type), Zero Lens™ can be used with Night Vision Monocular's such as:
PVS-14
PVS-18
MUM-14
Thermal PVS-14
 ...to add nighttime capability to:
Electronic Sights
Optical Scopes
Video Camera
Zero Lens Specs




Optics FOV
Optics FOV
14°(w/3X Lens)
f Number
1.1
Optical Axis above Rail
40mm (1.57")
Azimuth Adjustments
0.5 MOA/Click
Elevation Adjustments
0.5 MOA/Click
Size w/Mount
145 x 82 x 64 mm

5.7 x 3.2 x 2.5 in

Weight w/Mount
457g

16.1 oz

Operating Temp
-51°C to +49°C

-60°F to +120°F

Storage Temp
-51°C to +85°C

-60°F to +185°F