ELCAN DFOV14 SpecterDR
ARMS MKII Mounts now Available w/ELCAN
All SpecterDR 1x/4x Dual Role Optical Sights come equipped with standard integral A.R.M.S. but you can add Adjustable A.R.M.S. levers as an option. 
The New MK-II Lever®
 features a built-in precision adjustment wheel allowing finger tip (no tool) selection to desired tension to fit variations in 1913 Mil-Std Dimensions.  The mounts adjustment wheel comes pre-gauged and locked to the center of the Mil-Std dovetail specs.  The hash marks to the left or right of the adjustment wheels white marked indicator line, represent .002
NO ADDITIONAL FEES or S&H!
Dual Field of View 1X - 4X SpecterDR, 
Black
DFOV14-C1 5.56 CX5395 Ballistic Reticle 
DFOV14-L1 5.56 CX5395 Ballistic Reticle, ARMS MKII
DFOV14-C2 7.62 CX5396 Ballistic Reticle
DFOV14-L2 7.62 CX5396 Ballistic Reticle, ARMS MKII
FDE (Flat Dark Earth Models)
DFOV14-T1 5.56 CX5395 Ballistic Reticle 
DFOV14-F1 5.56 CX5395 Ballistic Reticle, ARMS MKII
DFOV14-T2 7.62 CX5396 Ballistic Reticle
DFOV14-F2 7.62 CX5396 Ballistic Reticle, ARMS MKII
If you have any questions about these sights, please give us a call at (702) 324-6463.
INCLUDES: CR2032 Battery, Operator's Manual, Anti-Reflection Device or ARD/KILLFLASH + Front & Rear FLIP-COVER SET plus FREE Priority Shipping & Handling and the BEST CUSTOMER SERVICE YOU'LL EVER GET!
Combine any ELCAN SFOV4, DFOV14 or DFOV156 with a $429.00 XOPTEK Micro Reflex Sight and take $50.00 Off, PLUS we'll include the $87.50 Mount absolutely FREE
The DFOV14 SpecterDR is a revolutionary optical design that combines the best of close and precision fire ranged combat features into a single, low profile Dual Field-Of-View (DFOV) sight. Unlike typical sights with zoom mechanisms, the SpecterDR offers an optimized optical path and identical eye relief design in both 4X and 1X modes.
Armament Technology is pleased to announce the arrival of the new Micro Reflex Sight XOPTEK™
Available in both 4 MOA and 6 MOA dot sizes, the optic includes everything you need to mount the product to your Specter scope. A Picatinny rail mount is also available.
Phone Orders, please call (702) 324-6463 or email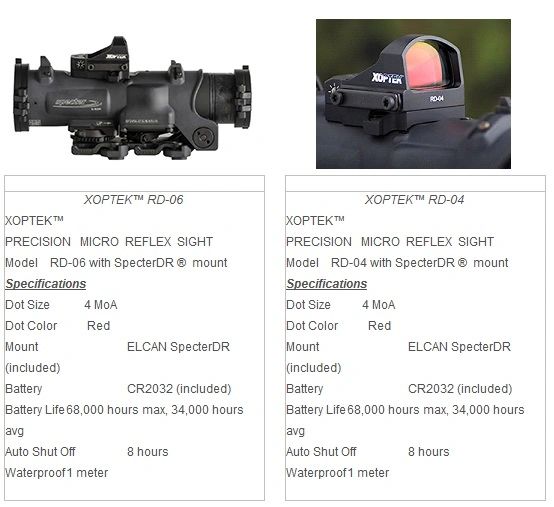 The SpecterDR 4x/1x Dual Role Optical Sight represents a revolution in optical sight design. The world's first truly dual field of view combat optical sight, the SpecterDR switches instantly from a 4x Magnified Sight to a 1x CQB sight with the throw of a lever. Unlike zoom sights, the SpecterDR offers an optimized optical path and identical eye relief in both 4x and 1x modes.
Depending upon the situation, the user may adjust the sight to illuminate the crosshair or just a brilliant red dot in the center. In 1x mode, the SpecterDR has by far the largest Field of View (FOV) in the industry. In 4x mode the SpecterDR offers a generous Field of View, long eye relief, and ELCAN'S legendary crystal clear image.
The SpecterDR 4x/1x offers the best single solution for both Medium Range and CQB engagements and is designed to withstand the rigors of modern professional use.
The SpecterDR™ Dual Fields-of-View (DFOV) sight provides both close quarter and precision fire ranged capability in a single package.
 Whether utilizing the Red Dot in DFOV14 (1x) or the DFOV156 (1.5x ) Magnification or the Ranging Reticle in 4x or 6x mode, the SpecterDR™ DFOV sights provide ultra-wide viewing angles for optimal situational awareness and unmatched low-light performance. The SpecterDR™ DFOV sights allow the user to safely and effectively transition in and out of building for close quarter or extended range without changing sights.
The 1x FOV provides a generous viewing angle of 26° and an extremely fast, "both eyes open" target acquisition capability.
The second FOV provides 4x Magnified sight provides a 6.5° FOV; a range compensating reticle, long-range target identification and precision marksmanship capability.
The two unique Fields-of-View are easily and quickly interchanged by means of the patent-pending, locking lever mechanism on the side of the optical housing.

     The new FDE (Flat Dark Earth) ELCAN SpecterDR DFOV14 optical sight is now available. Call (702) 324-6463 or email sales@kerifnv.com today and ask about our discounts. Dealers Welcome. We offer the most competitive prices anywhere and our customer service is untouchable.
SpecterDR with its Dual-Role capability, comes with an integrated LED that illuminates just the center in Red Dot (1.5 MOA) 1X mode and lets officers move safely through buildings or confined areas, and then switch instantly to (6 MOA) 4X Magnification, illuminating the crosshair for long range, low light use to accurately engage enemies at extended range without changing sights.  The reticle itself also has 5 Red LED illumination settings, 2 are NV compatible. When using the 4X Magnification, the ballistic reticle provides aiming marks for various extended ranges. Most ranges are labeled beside the aiming mark. The main horizontal line is intended to provide a reference to the marksman, which coincides with the 100 meter aiming point. This is the range you zero the sight to.
Once in a while, the question comes up about why the reticle isn't illuminated across the entire crosshair and here is ELCAN's official reply to it.
  "It's totally normal; the reason it doesn't show completely across the vertical axis, or uneven in some cases, is because of the dual illumination feature, (the center dot and the cross hairs illuminating independently) the reticle is never illuminated fully across the entire crosshair with the single source of light. It's typical behavior "The DR has the dual illumination feature (dot or reticle) which is unique in the industry. One of the design aspects of this feature is a non-centered illumination of the reticle which gives these sorts of artifacts. The reticle is etched into the glass and is visible during the day regardless of the illumination setting. If you need to illuminate the reticle to enhance your targeting, it's because the outside lighting is subdued. When viewed at night in conjunction with Night Vision or used at Dusk/Dawn or even in an overcast environment, an illumination of the entire reticle would be overkill and detrimental to the target area because it would wash out what you want (need) to see."  
  I'd also like to point out that if the crosshair is too bright it could potentially damage your Night Vision Scope and interfere with your body's natural Night Vision*. As the range increases, the size of your target area decreases, therefore the "feathered" edged illumination is an attribute, not a detriment. It would be like shining a flashlight at your face while trying to look outward into the dark. There is absolutely no reason to illuminate the outer edges of the reticle other that aesthetics.
     The Vertical Subtention Optical Rangefinder or VSOR allows the marksman to estimate the distance to targets by matching the height of a known object within the Field-Of-View. The vertical distance for range estimation is 76 centimeters or 30 inches. By selecting the set of rangefinder lines that best fit the object, the marksman may read the correct range at the top of the rangefinder. Once the range is known, the marksman may engage targets at the range by aiming from the appropriate ballistic aiming mark in the reticle.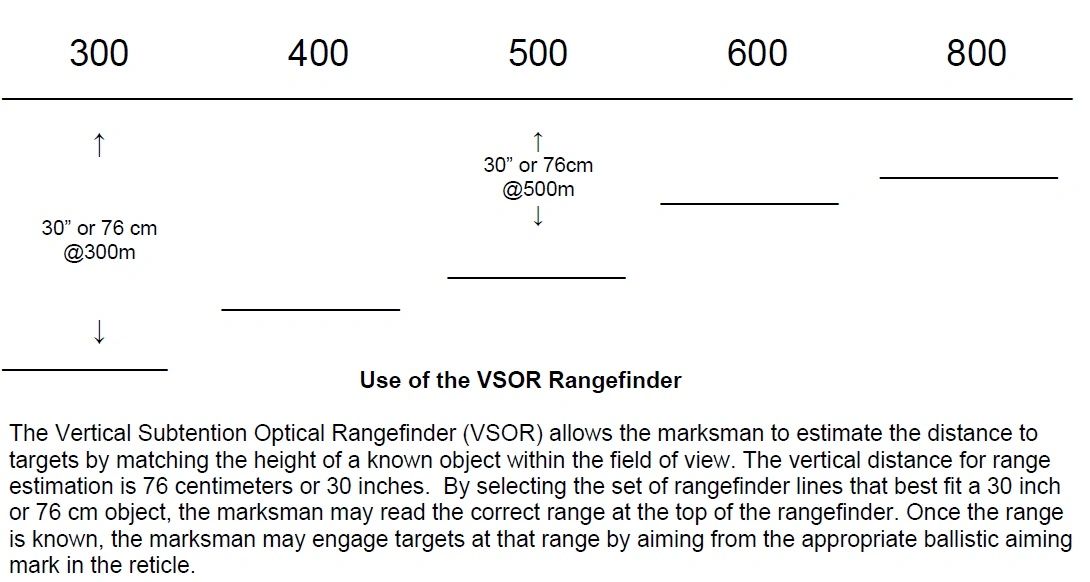 SpecterDR is half the weight and twice the capability of carrying two scopes, without compromise to mission effectiveness or reliability. Attached onto a Mil-Std-1913 Picatinny base with A.R.M.S. throw lever mounts, zeroing is incorporated in the integral mount.
As part of their SOPMOD kit, Naval Surface Warfare Center Crane has purchased ELCAN optical sights under NSN:1240-01-533-0939, designated as the SU-230/PVS-C Articulated Telescope. Situational awareness in both magnifications is improved with Ultra-Wide viewing angles and unmatched viewing in low light conditions.
      The SpecterDR sight has two fields of view. The first is a 1X unity powered (reflex type) sight with an extra large 26°FOV (Field-of-View). The sight incorporates an LED illuminated red-dot reticle. This feature provides the shooter with a "both eyes open", extremely fast target acquisition, close combat sight that is necessary in modern urban warfare. The second is a 4X Magnified sight with a 6.5°FOV (Field-of-View) which provides long-range target identification and precision marksmanship capability out to 600 meters using a bullet drop compensated reticle.
 

 

DFOV14

DFOV156

TFOV139

●

70mm (2.756")

(1X) 78.6mm

●

70mm (2.756")

(3X) 70.4mm

●

 

 

(9X) 74.1mm

●

26º @ 1X / 48.8m / 146.3'

16º @ 1.5X / 28.7m / 86' 

16º at 1X

●

6.5º @ 4X / 11.4m / 34.2'

4º @ 6X / 7m  / 21'

06º at 3X

FOV @ 100 Yards

●

 

 

02º at 9X

●

<1.5 MOA between fields

●

39mm

 

 

●

30mm

42mm (1.65")

 

●

1.5X 6 MOA

●

6X 1.5 MOA

●

 

 

9X MOA

Ballistic Correction 5.56

●

100 - 600m Carbine
700 - 1000m LMG
 

100 - 1000m NATO

100 - 800m NATO

Ballistic Correction 7.62

●

100 - 1000m NATO

100 - 1000m NATO

●

Dual-Thickness Ballistic Crosshair w/Red Dot, VSOR Rangefinder, Area Fire (Beaten Path) Circles

●

C1/T1 = 5.56 (CX5395) ; C2/T2 = 7.62 (CX5396)

C1 = 5.56 (CX5455)
C2 = 7.62 (CX5456)

C1 = 5.56 (CX)
C2 = 7.62 (CX)

●

Battery Powered LED (650nm)

●

5 Brightness Settings Night Vision Compatible

●

5 Brightness Settings Night Vision Compatible

●

 

 <44mm @ 60m

 

Base Requirement

●

MIL-STD-1913 Picatinny Rail (Weaver Compatible)

Attachment

●

A.R.M.S. Dual Throw Levers

Quick-Disconnect Mount

Combat Modes

●

Iron Sight

Combat Modes

●

CQB

Combat Modes

●

Long Range

Combat Modes

●

Machine Gun

●

M4, M16, MK46, M249

7.62

●

M240, MK43 MK48, M60E4

●

1.485 lbs / 674g / 23.8 oz. 1.687 lbs / 765g / 27 oz.

1.9 lbs / 850g / 30.4 oz

●

153 x 74 x 78

183 x 75 x 73 

265 x 81 x 74

Size in inches (L x W x H)

●

6.024 x 2.913 x 3.071

7.205" x 2.953" x 2.874"

10.43 x 3.19 x 2.91

●

± 60 MOA

± 60 MOA

 

●

0.5 MOA (Minute of Angle)

0.1 mil/click Elevation & Windage

●

120 MOA (Minutes of Angle)

Elevation +90 MOA / -30 MOA min

●

120 MOA (Minutes of Angle)

Azimuth +60 MOA / -60 MOA min

●

28mm (1.102")

42mm (1.654")

(1X) 12mm

●

28mm (1.102")

42mm (1.654")

(3X) 30mm

●

28mm (1.102")

42mm (1.654")

(9X) 30mm

●

8mm (0.315")

7mm (0.2756")

(1X) 11.7mm

●

8mm (0.315")

7mm (0.2756")

(3X) 10mm

●

8mm (0.315")

7mm (0.2756")

(9X) 3.33mm

●

20m to infinity (.7874")

●

37.5m @ 1X / 150m @ 4X

105m @ 1.5X / 300m @ 6X

●

Lanyard Retained

 

●

DL 1/3 N, 3V Lithium

CR2032

●

600 Hrs Minimum @ Max Brightness / 3000 Hrs Typical

300 Hrs Minimum @ Max Brightness / 2000 Hrs Typical

●

Class III Hard Anodized Aluminum

●

Grey/Black or FDE

Grey/Black

Grey/Black

●

-50°F to +120°F (-45.56°C to +48.89°C)

●

66' for 2 hours

●

>40 Hrs @ 5%

●

NBC & Cleaning

●

450 g's
The sight can quickly be re-configured to a 4x magnification telescopic scope by moving a lever on the side of the sight. This 4x configuration provides the shooter with long-range target identification, surveillance and with a precision marksmanship capability out to and beyond 600 meters range.
An affordable Weapon Sight designed specifically for Military, Homeland Security, Police and Security Professionals. The uses a bright Red Spot for fast Close-Quarters aiming, plus a ranged NSN Reticle for accurate engagement to 600 meters. Built to the same legendary rugged standards as other ELCAN® weapon sighting systems, the SU-230/PVS-C is shock and water-resistant and will withstand the forces generated by repeated recoil.
      Once sighted-in to a particular weapon, the sight may be interchanged with other ELCAN® optical and Electro-Optical sights zeroed for the same weapon in a matter of seconds and without noticeable change in point of impact.
Accessories: Please visit our ELCAN Accessories Page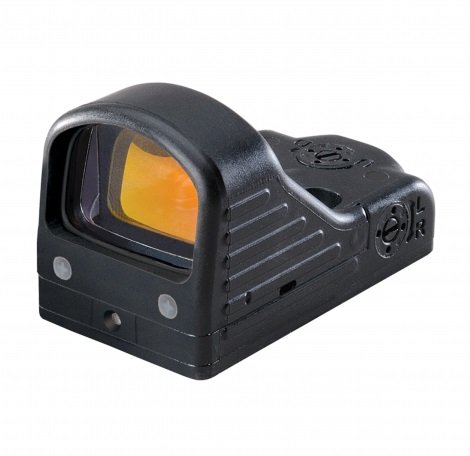 The EOTech/L-3 Warrior Systems Mini Red Dot Sight (MRDS) is a PASSIVE, Red Dot, Reflex Weapon Sight designed for ranges of less than 150 meters. It may be used as a stand-alone primary sight or as a secondary back-up sight when mounted on top of another optical sight, such as the ELCAN SpecterDR.
---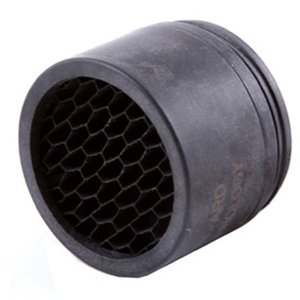 ELCAN ARD KillFlash for SpecterDR 1X-4X Rifle Scope. It cuts down on reflection from the lens caused by the sun or other sources of ambient light. Failure to utilize the ARD or take other tactical measures to hide your lens reflection in bright daylight could reveal your position.
---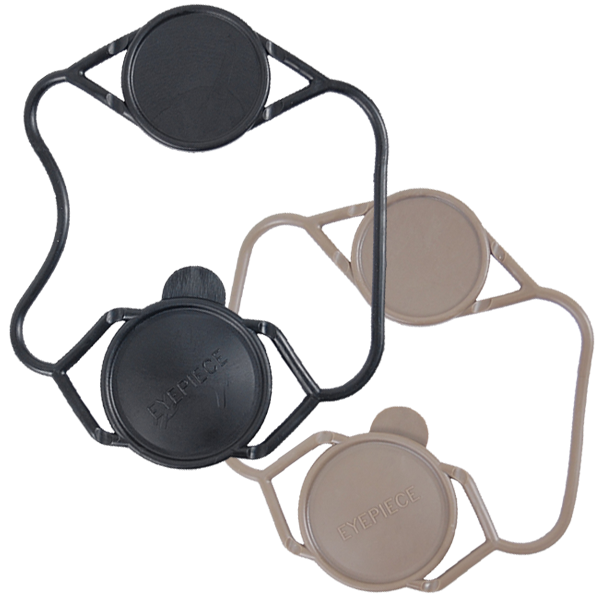 ELCAN SpecterDR Bikini Covers Flexible rubber lens cover seals out unwanted moisture and debris. It comes equipped with a rubber pull tab for fast installation and removal.
---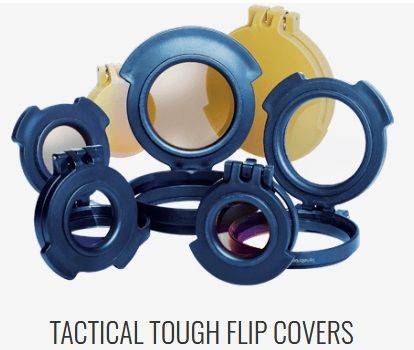 ELCAN Tactical Flip Covers for SpecterDR 1X-4X Rifle Scope. Tenebraex Flip Covers provide protection for your optic and can conveniently flip up and out of the way when it's time to shoot. These Tenebraex Flip Covers for the ELCAN SpecterOS, SpecterDR (DFOV14 & DFOV156), and TFOV139 Sights are a great way to protect your expensive lenses from dirt, debris, and scratches.
---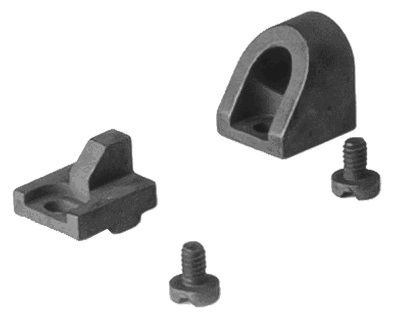 ELCAN Back-Up Iron Sights BUIS for SpecterDR 1X-4X Rifle Scope.
PLEASE NOTE: The information below applies to the 1X-4X ONLY (this does not apply to the 1.5X-6X).
There used to be 2 different hole/screw sizes for the BUIS, however around 2012 ELCAN starting using all the same size and we were unaware for quite some time. People were calling in and saying that the screws they got with the 4X kit were too small. As a general rule, pretty much anything with the new CR2032 battery housing & a "new" serial # (ATI-31, ATI-32, ATI-55, ATI-56, ATI-45, ATI-46…etc) would all take PSK-SDR6-B for either the 4x or 6x. These are all post 2016 models.
Anything w/the old 1/3N Battery and ATI-10, ATI-12 serial #'s use Part Number PSK-SDR4-B for the 4x. (PSK-SDR6-B for everything else).
I only use the year 2012 as a guide line because the optics sold between 2012 & 2014 are a mix, so it's a guessing game for those ones on which kit it takes. We know for sure models Pre 2012 still take the 2 different sizes.
PSK-SDR4-B    (Old) Back-Up Iron Sights w/Screws (OEM Replacements)
PSK-SDR6-B    (New) Back-Up Iron Sights w/Screws (OEM Replacements)