AN/PEQ-15 (ATPIAL-C) L3/EOTech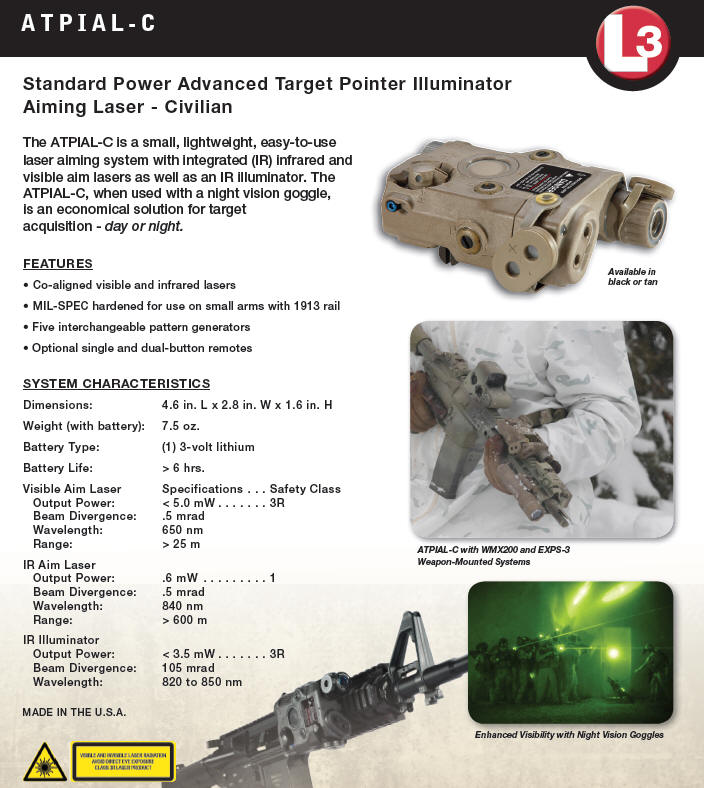 EOTech ATPIAL Standard Power Advanced Target Pointer and Illuminator is a lightweight, rugged, simple to use aiming system designed for use with or without a night vision device. This product features co-aligned visual and IR lasers, so the laser sight is still useful during the day. But the EOTech Standard Power ATPIAL is best used at night in conjunction with a night vision rifle scope. The IR laser is perfectly visible with a Night Vision device, and you can also make use of the adjustable IR illuminator to boost the contrast of your night vision, even when there's no natural light to be found. Windage and elevation adjustments allow you to adjust this EOTech laser sight for precision accuracy, and the unit's durable and lightweight construction allow you to carry it into any dangerous combat zone without fear of it breaking. The EOTech Standard Power ATPIAL Night Vision Aiming Laser is a laser aiming system designed to give you a distinct advantage once the sun goes down.
The ATPIAL-C is the nearest thing you can get to the standard issue full power ATPIAL.